7 Content Marketing KPIs You Must Be Tracking In Your Strategy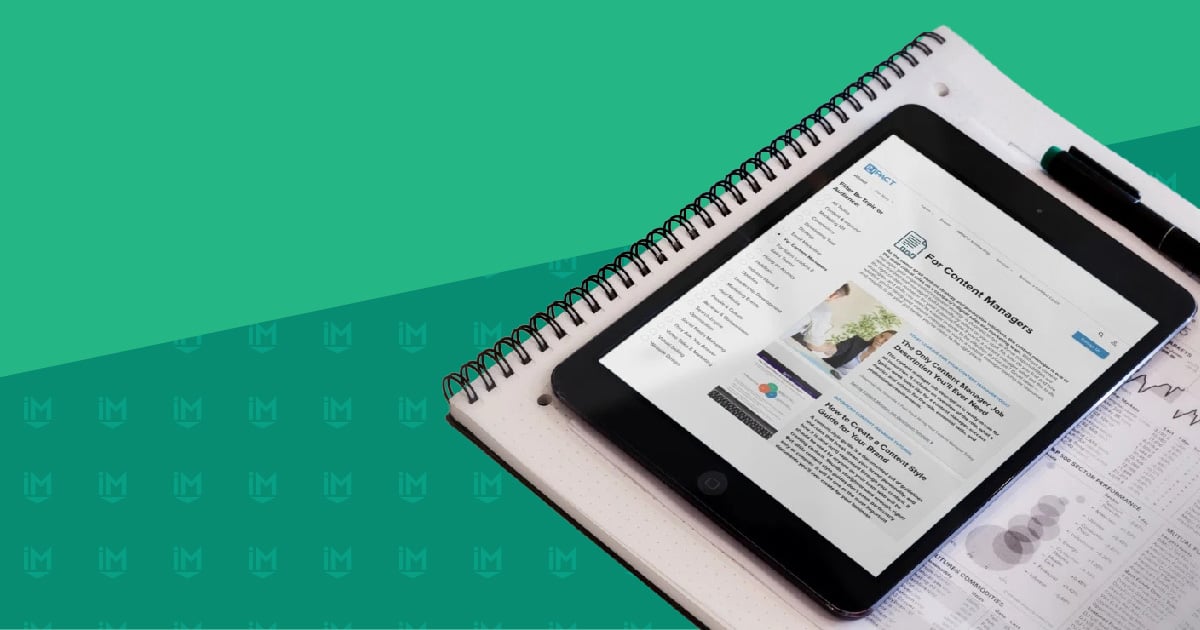 Content marketing KPIs you should track:
Number of content marketing pieces published per week.
Organic website traffic.
Session-to-contact rate.
Sales opportunities generated from inbound (SQLs).
Average length of sales cycle.
Ranking for important keywords.
New sales attributed to content marketing.
I don't know about you, but when I'm offered too many choices, I seize up like a dehydrated calf muscle after a 10-mile run. (Disclaimer: I've never actually run that far in my life, but I imagine the pain is excruciating.)
If you feel this way while staring at the long list of content marketing KPIs you could be tracking, wondering which to pursue or forgo, you're certainly not alone. There are thousands of content marketing metrics, spanning dozens of categories. And if this weren't overwhelming enough, all the experts and metric-tracking tools — including Google Analytics, HubSpot, and Semrush — have different recommendations of which work best.
After teaching thousands of companies how to build world-class content marketing programs — many recognized as some of the best inbound marketing case studies on the planet — we've narrowed down our list to 7 KPIs that generate the most content marketing wins.
But before we get to the list, we want to share with you the single most important thing your team can do to nail its content marketing goals.
The secret to incredible content marketing success
There is one move our clients make that consistently catalyzes their incredible content marketing results — such as the 1,500% increase in web traffic at Fire & Ice Heating and Air Conditioning:
… and the 900% organic keyword ranking growth for Anchor Foundation Repair Co.:
… or the 2,942% organic contact increase for Retrofoam of Michigan:

What's the one thing that enabled all of these companies to achieve such incredible success?
They all hired a full-time in-house content manager whose sole job was to own the content marketing for the company.
If you want to improve your content marketing wins — and fast — you need to hire an in-house content manager.
Whenever one of our clients starts a content marketing initiative without a true "owner" of the content, it never works out. Other priorities always take precedence, production is too slow, and the entire team never catches the vision.
Companies that hire an in-house content manager have one person whose only goal is to create content, and they are far more invested in the success of your content marketing program than any freelancer or agency could ever be.
Not only will your content manager ensure content is published regularly without fail, they will also:
Obsess over creating high-quality content that accurately reflects the true tone and spirit of your brand.
Interview your company's subject matter experts and capture their insights (and your company's unique perspective) and integrate it into your content.
Work directly with the sales team and help them integrate content into the sales process, allowing them to close more deals faster.
Monitor your organic search performance and routinely improve ranking and traffic results.
Update existing content to ensure it remains relevant and effective.
Oversee the other areas of your sales and marketing initiatives where content is critical (including your website, email, and social media).
As you can see, this role is truly a full-time job and someone has to own it. We've seen businesses add content marketing responsibilities to staff who are already wearing too many hats, and it's never worked out. You must have a content manager if you want to be successful.
We're often asked, "Can't we just outsource our content to a freelancer or an agency?"
The answer to this question is a definitive no. The majority of companies embracing inbound marketing take this path, and it's a path that leads to inconsistent, lackluster results.
We've seen it too many times.
No freelancer or agency is ever going to be able to give your content marketing efforts what they need to succeed. They aren't as invested as an in-house content manager would be; they will always be juggling your work with the needs of other businesses.
So, really — hire a content manager for your company.
At IMPACT, we're so serious about taking this important first step that we've created an entire course, "How to hire a content manager," to help you find the best one for your team. Our team of advisors is also happy to walk you through the process of hiring the perfect content manager for your business, which we offer as a free service. Schedule your free consultation with an advisor.
Content marketing KPIs to track for better results
Now that you have your content manager in place (you took that first step, right?), let's dive into the 7 content marketing KPIs the most successful content managers track — and your content manager should too.
1. Number of content marketing pieces published per week
The most important KPI to track — especially when you're first starting out — is publishing at least three pieces of quality content (articles, video, etc.) each week.
This is because search engines have one mission: Find information that best answers their searchers' questions and help them meet their goals. When you publish valuable and transparent content on a regular basis, search engines will recognize that your website provides lots of useful information, and you will rank higher and faster in SERPs.
In other words, if you want your website to rank well for lots of terms, and if you want Google to see you as an authority in your area of expertise, you MUST publish at a consistent rate.
Our data shows that when companies produce three or more pieces of great content per week, for at least one year, traffic and leads generally explode.
Some companies publish more to get bigger results even faster. But in general, three higher-quality articles, videos, or other content is what you need to get search engines to recognize your website and offering up your information in search results.
Take Ragan Roofing, for example. After publishing two articles per week, they weren't seeing much change in website traffic (they were getting around 200 to 300 page views per month, which were increasing slowly). After working with IMPACT to publish three pieces of content per week, they experienced a much faster increase in organic traffic with page views nearing 40,000 per month — that's 16 times the traffic!
Once again, in order to hit this metric, you need to hire an in-house content manager. It is extremely difficult to rely on freelancers or agencies to wrangle enough quality content per week to get you to this place. Your content manager, however, should be able to hit this metric easily (and even more).
Note: If you're still thinking three articles per week is too many, consider this: One great article should take a competent writer one day to produce. If this individual is good at their job, and assuming they have subject matter experts available to them (leadership should ensure this happens), three solid posts should absolutely be possible.
Another reason you MUST have a content manager on staff.
2. Organic website traffic
Despite what other sources might say, at IMPACT we believe organic traffic is an extremely important metric to track. For starters, it's one of the best ways to measure how well your company is educating people (more traffic means more people are finding you). Also, it's a leading indicator of more inbound leads and sales. The more people that are on your site, the more opportunities you have to convert leads.
Now, is all website traffic great? Of course not. Website traffic is only great if you have the right type of website traffic. And we can tell you definitively there is a surefire way to get qualified traffic — meaning real buyers looking for products and services like yours, on your website.
When Marcus Sheridan, one of the principals here at IMPACT, owned his pool business, he and his entire company, River Pools and Spas, almost lost everything to the 2008 recession. To save his business from going under, he published content on his website that answered the questions his customers were asking. But not in just any way — with honesty and complete transparency.
As a result, his website's traffic and sales erupted, saving the company – which is still thriving today.
After seeing so much success by using content to drive more traffic, Marcus analyzed the patterns that indicated which type of content was driving the best results. He discovered five topics that drove the most traffic — and this traffic was from real potential buyers, also leading to more sales opportunities.
These may seem simple to you or even obvious, but after teaching hundreds of companies his method and helping them get the same results, it's clear that most businesses aren't doing this at all, or at least not well (typically because most businesses are afraid to tackle these topics head-on). Marcus also found these can be effective in any industry, whether your business is B2B or B2C.
We call them The Big 5, and they are:
Pricing and costs: How much your solution costs (factors, considerations, what defines value, etc.).
Problems: The negatives about, or issues with, your solution that buyers ask about.
Versus and comparisons: How your product or solution compares to similar products or solutions.
Reviews: Honest and unbiased opinions and observations about your product, solution, etc.
Best in class: What the best solution available is.
When people keep coming to you for these answers, search engines feel more comfortable offering your content to other searchers. The result is typically organic traffic that increases steadily month over month, which indicates that the content you're producing is establishing a precedence of reliability and trust with prospects and search engines alike.
For most companies, picking between tracking organic traffic metrics such as "sessions" or "new users" doesn't matter too much. As long as you pick one, measure it consistently, and make sure you're seeing consistent improvement month over month to determine whether your content strategy is working.
If you'd like to learn more about how to write these topics most effectively, we have a free, detailed course led by our content coach Kevin Phillips called "How to Write The Big 5" that you'll find useful.
You can also talk to one of our advisors, who can give you more direction on writing these topics. They are always there to help walk you through how to approach The Big 5 and to answer any questions you might have.
To learn more, schedule a meeting with an advisor today.
3. Session-to-contact rate
After publishing lots of content, it's exciting to see the organic traffic pouring in; however, you want to be sure it's not just any traffic — but the right traffic.
Measuring your contact conversion rate can help you gauge this.
To calculate your contact conversion rate, divide new contacts by the number of total website sessions. A strong contact conversion rate means your website visitors are clicking on your calls-to-action (CTAs) and filling out forms, exchanging their personal information for content they find valuable. (A tool like HubSpot will manage this for you.)
Some of the high-performing content we see our clients use that drives the most conversions include:
Buyer guides
Ebooks
Webinars
Self-service or self-assessment tools
When you see an increase in conversions, it means your content is providing so much value that your prospects don't mind sharing personal information — such as their name, email address, and company name — to gain access to that content. This is difficult to do sometimes because we all want to guard our personal information and are reluctant to share it.
Take IMPACT client Sheffield Metals, for example, who experienced a dramatic increase in conversions (that ultimately led to a 480% increase in leads) with content such as their Metal Roofing Buyer's Guide: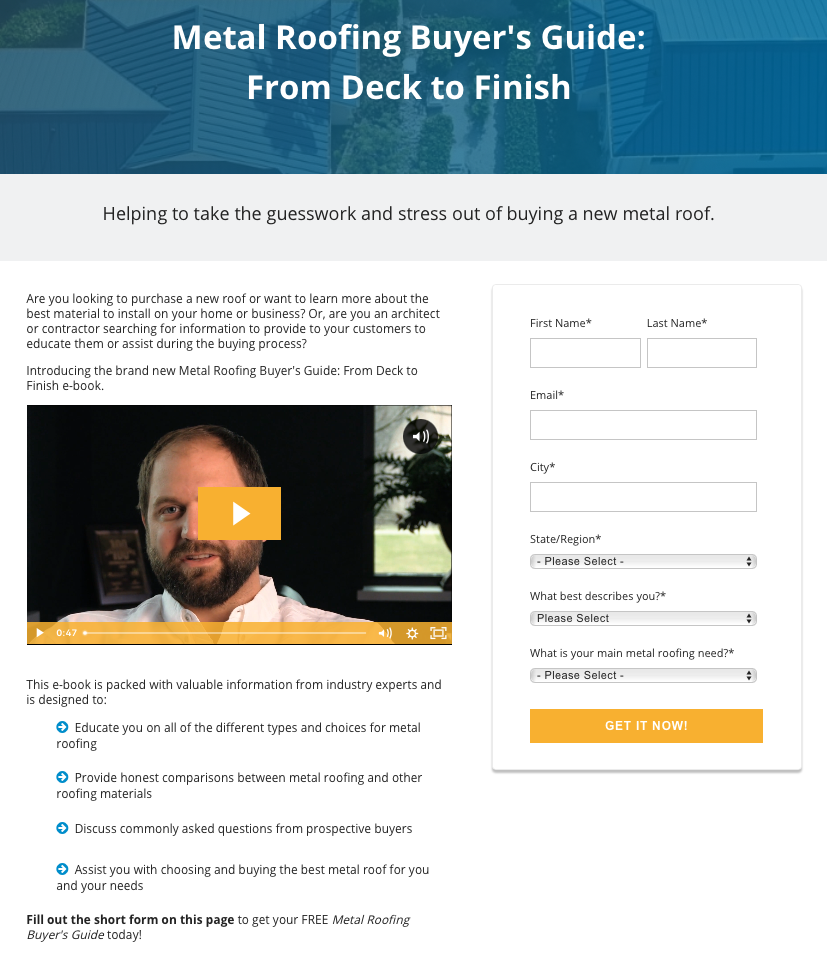 By working with IMPACT to create and publish content such as this (trustworthy and valuable), Sheffield Metals has increased their revenue by over $20 million per year — another example of how tracking KPIs can ensure your content is driving desirable results.
4. Sales opportunities generated from inbound (SQLs)
When you invest in a content marketing program, this is likely the KPI your company will pay the most attention to because you want to know the content you're creating is not only driving more organic traffic to your site but that it's also increasing sales opportunities.
By applying the principles of the previously mentioned The Big 5, you'll attract real potential customers who have problems that your company helps them solve. This creates more (and better) opportunities for your sales team.
This is because by the time your prospects reach out to you, they're already educated about your products and services. (Which is a direct result of the incredible content you're creating that answers their questions and helps them solve their problems.)
If done correctly, your website will be your company's best salesperson.
This was a discovery that slapped Marcus in the face back when he was selling for River Pools and Spas.
After receiving a request for a sales appointment, Marcus noticed that a prospect (whom we'll call "Mr. G.") landed on his site after searching "cost of a fiberglass swimming pool." He found that Mr. G.'s wife, Mrs. G., was also reading pages on the River Pools and Spas website. They stood out to him for one very peculiar reason: these two users had viewed over 500 pages of his website! Marcus went ahead and scheduled the appointment.
Not sure what to expect, Marcus went to Mr. G.'s home for a consultation — and his sales appointment couldn't be easier:
I walked into the house, and Mr. G. was standing in his living room with a spreadsheet in his hands. On one side of the sheet was a model of the swimming pool that he was planning to buy, and on the other side of the sheet he had listed every option and accessory he was buying to go with the pool.

Of course, all he needed from me was one little thing: the price.

I walked out of that appointment 45 minutes later with a $5,000 deposit and a signed contract in my hands. … It turns out that Mr. G. was not a freak, not a competitor, and not retired. Rather, he was a surgeon. But he was also a consumer — a consumer who, along with his wife, wanted to feel comfortable with a buying decision.
This couple wasn't alone. Marcus noticed that many of his prospects were spending a lot of time on the River Pools and Spas website. He realized that most buyers don't want to jump into a conversation with a salesperson — they want to do their own research first.
Marcus completed an analysis and noticed that if a prospect read 30 pages or more of content, they would purchase 80% of the time. If they read less, they would purchase only 30% of the time.
This shows how powerful content can be for educating prospects and helping them feel more comfortable with their buying decision, driving more qualified leads to your sales team, and shortening your sales cycle in the process. For more sales-related content ideas, view our course "4 content guides to convert leads, close deals, and delight customers."
5. Average length of the sales cycle
Speaking of shortening the sales cycle, one of the biggest lessons we teach at IMPACT is the importance of aligning marketing and sales. When your sales team and content manager are in step with which pieces of content your sales team needs to close deals more efficiently, the effect this has on your revenue can be incredible.
We call these revenue teams, where the key players in your sales and marketing teams meet weekly to ensure both departments are headed toward the same goal: increasing company revenue.
The revenue team is in charge of developing and executing a content strategy that can be used to increase closing rates and close deals faster — and we do this with the process of assignment selling.
Remember the incredible example of Mr. G.? He and his wife consumed over 500 pages of content and knew exactly what they wanted in a swimming pool.
When Marcus showed up for the sales appointment, it was a 45-minute visit versus the typical 2½ hours. And again, he didn't need to do any actual selling. The couple had their minds made up.
We're not saying you need to assign this much content (30 pages or more is key), but with assignment selling, you're sending prospects information about your products and services before they meet with sales. This way, when prospects reach out to you, they're more educated about your offerings and closer to being ready to buy.
With content tracking tools such as HubSpot, you can also see which specific pages prospects have visited. This saves your sales team time and helps them close more deals faster because they'll know what information they can leave out and quickly fill in the gaps of what your prospects need to learn to make a purchasing decision.
6. Ranking for important keywords
When your website starts ranking for the top keywords in your industry, it shows that your dedication to providing valuable content and being the No. 1 teacher in your space is paying off. You've hired your content manager, they're making sure you're publishing high-quality content at a regular cadence, and your prospects are finally finding you. Search engines are noticing, too.
This creates a snowball effect because as your content ranks well, your overall search engine optimization (SEO) success improves — which means more visibility on those search engine results pages (SERPs). In turn, the speed at which your content produces results increases.
IMPACT client AIS, a B2B technology company, saw these results when they addressed all The Big 5 questions in their industry. They initially thought it was too late to beat out their competition with content, and even worked with an agency — but when they addressed those difficult-to-talk-about topics, such as copier costs and comparisons (e.g., Sharp copiers vs. Kyocera copiers), they went from ranking for important keywords in about two weeks to a few minutes.
They even ranked for a very short, difficult-to-own keyword in their space: copier. And even more impressive, this keyword ranking is ahead of big-name companies in their space such as Xerox, Canon, and Konica Minolta.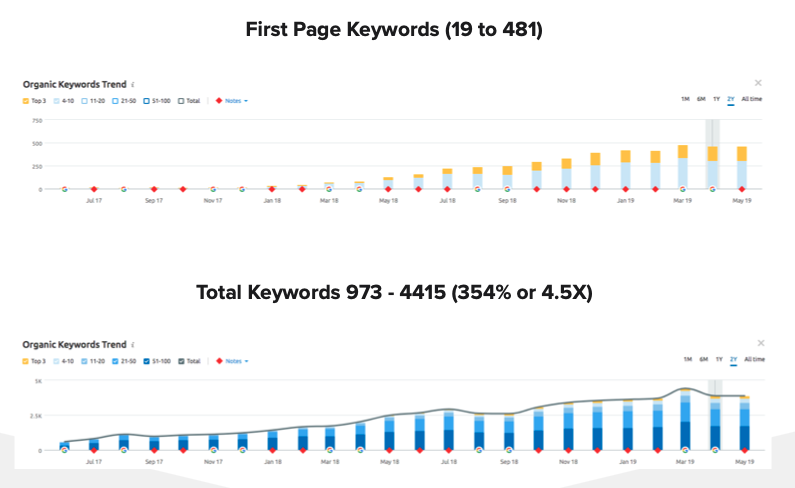 But it's not just AIS that has seen these keyword ranking increases. By implementing the content marketing strategy, the rest of our clients continue to see the same success.
7. New sales attributed to content marketing
When your sales are increasing as a direct result of the content you're creating, it's no surprise this indicates a content marketing win. Again, content-tracking tools such as HubSpot can tell you exactly where – specific articles or videos – a prospect entered your site, and how many pieces of content they touched before making a purchase.
You can use this information to tie back one piece of content to a specific dollar amount or ROI, and you can tell exactly how many new sales are coming in because of your content marketing program.
This means you will never second guess whether the time and energy you're putting into your content marketing initiative are actually worth it — you will have the numbers to back you up!
(If you are putting together a complete marketing program, check out this broader look at the marketing KPIs that matter.)
Optimize your current content marketing KPIs with an easy, no-fail inbound marketing framework
At the end of the day, all we really want to do is focus on creating amazing content that drives more traffic, leads, and sales. Figuring which KPIs to use can be confusing, especially when you're not sure if you're on the right path.
Trust us, we've been there!
All these examples we shared with you here illustrate some of the core concepts of the inbound marketing framework we teach our clients called They Ask, You Answer. As you can see, companies that implement They Ask, You Answer in their businesses, and do it well, have incredible inbound marketing success.
To take the first step at implementing They Ask, You Answer in your business, talk to one of our advisors, who can walk you through how to see these incredible results at your own company.
If you'd like to read more before you reach out, here are some additional resources:
With strategic coaching and hands-on training for your marketing and sales teams, we can help your company improve your marketing metrics and scale your business with content — more quickly and painlessly than you think!
Free Assessment:
How does your sales & marketing measure up?
Take this free, 5-minute assessment and learn what you can start doing today to boost traffic, leads, and sales.