How to build a thriving video culture with a new marketing team [Film School For Marketers Podcast, Ep. 28]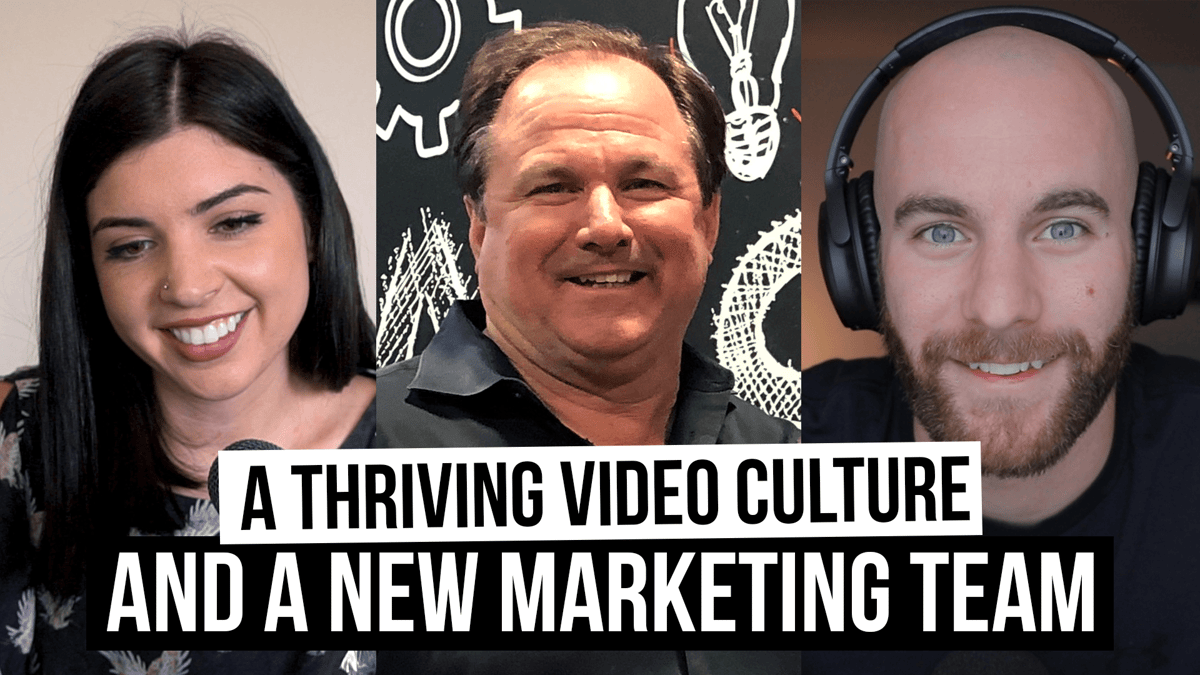 Today, we welcome special guest Keven Ellison, VP of Marketing at Advanced Imaging Solutions (AIS), an IMPACT client.
Keven is probably a familiar face because of his active involvement as a member of the Film School for Marketers community.
What makes him an even better guest for today's episode is that he's built a truly world-class video culture at his organization.
We have a ton of admiration for him and his team and are thrilled to have him with us to share their journey with content and video.
Join the IMPACT coaches for a deep dive on a new topic every month in our free virtual event series.
Listen to the full episode here (or scroll down to watch the video):
Meet Keven Ellison, VP of Marketing at AIS
Keven has been in the marketing world majority of his career and shares how he got started.
He even shares how he got his 15-minutes of fame with a viral video (one of the first viral videos that is).
Currently Keven works as Vice President of Marketing at AIS which is a copier, printer, managed IT services and IT outsourcing company based out of Las Vegas.
When he first started there, the company had been successful but had no marketing team.
Shortly after he started, the president asked him to read They Ask, You Answer and begin building out a solid content program.
Keven has since built a world-class team that helped establish a culture of content and video with the addition of a full-time content manager and full-time videographer.
Watch the success story about AIS and how they've become a leader in their industry with great content and implementing They Ask, You Answer.
What was it like building out a team?
When Keven started, it was just him writing content and going through video training by himself. He then brought a HubSpot expert and, at month six, hired two additional people, Marisa Olson (content manager) and David Tortosa (videographer).
Both started out as hourly employees, but based on the quick results they were generating they ended up bringing on both full-time.
Keven's goal has always been to build the team in a lean fashion, not asking for everything at once, but progressively showing wins and revenue that justify the addition of new team members.
Advice to people starting their content journey
First, it took a foundation from IMPACT, but at the same time, their team had to look at what types of content was already out there.
They focused on bouncing ideas around and formulating a plan.
They also focused on not just written content, but what they could do with video as well.
A major part of their strategy has been reflecting on their past written content, what's performed well or helped in sales conversations, and creating videos for those articles as well.
Keven mentions that having buy-in from the organization (on the importance of content) from the very beginning set them up for success. If they didn't have it, it would have been a much more difficult journey.
Today, they even have their executive team members writing one blog piece per quarter and it's tied to their quarterly bonus.
Uses of video outside of sales and marketing
Additionally, they are finding that video can be successful when using it for their service department. Their head of customer service noticed how they were getting a lot of calls from customers who were asking how to use a certain toner bottle which sparked the idea that marketing should create a video that could be used instead.
Not only that, but now they can send a video instead of a person to client locations without a loss in resolutions.
Last year they completed 30,000 calls with their service techs. If they can take a percentage back by creating video content that's more profits to the company, more efficient calls, and a happier customer.
Using video in the sales process
AIS was a finalist for the Video in Business Awards (Vidyard) for the category of "Sales Accelerator."
They're still learning, but they started with a video workshop with IMPACT which catered specifically to their sales department and related teams. They learned how to use video in their entire sales process and have been implementing ever since.
Now, not only do they use it for prospecting, but they found it's useful for the introduction process and opening new doors that were previously hard to get through with gatekeepers who make it difficult to reach a decision maker.
As we've heard before, AIS commonly hears prospects say they've never received a video before and it's the reason they answered their emails and set up an appointment.
In addition to 1:1 videos, they have also built out sales bio videos which have helped build trust and relationships. Their people are their greatest asset, and AIS wants to the world to see, hear, and know them.
In the future, they are going to create even more employee bio videos for anyone who is client facing.
How to handle being uncomfortable on camera
One of the things Keven has learned since getting started? Even he is very uncomfortable on video. The biggest takeaway is you just have to do it. You'll get used to it once you do it over and over again.
We also have some tips for how you can feel more comfortable on camera and how, as a producer, you can make people feel more comfortable.
What are the obstacles the sales team faced with adopting 1:1 video and how did they overcome them?
AIS has a young sales team and a seasoned sales team.
The young team were early adopters while the more seasoned team weren't completely comfortable with the idea of using 1:1 video.
One of the ways they are going about overcoming this challenge is developing their sales team as subject matter experts.
Each senior sales team member is responsible for a vertical like healthcare or legal, for example. Video helps them build their personal brand and position themselves as an expert within each one of those market segments.
What has not worked well with video?
It's a push to get people to continue to use video, and use content assets.
Their team has to continue to reinforce why they are doing things and the value of it.
To solve for this, they always focus on the wins.
Every time they have something that is successful, Keven has to be the major cheerleader and share why they did it and the success it brought. Also that it can be done by others.
This encourages others to latch on to doing the same and realizing it's not hard.
While positioning AIS as a media company, what effect did it have on the industry as a whole?
They aspire to be a media company and are small compared to others in their space. With all the content they are producing they are looked at as an innovator and a leader in the space. Part of their success has been that they've been open to sharing information.
It's something they want to see the rest of the industry do, and really set the bar for others.
Want to connect with Keven?
The best way to reach out is to send Keven an email at kellison@ais-now.com.
If you have questions, reach out as he has a ton of experience with building out a successful content program.
Also, be sure to check out The Copier Channel on YouTube to get a glimpse of what they've been working on.
We'd love to hear from you!
First, subscribe to our Film School For Marketers Podcast.
Second, leave us a review on iTunes or share the love with fellow marketers and sales professionals who could benefit from our content.
Lastly, have a question or idea for a future episode? Let us know!
Join the IMPACT coaches for a deep dive on a new topic every month in our free virtual event series.
Register Here
Join the IMPACT coaches for a deep dive on a new topic every month in our free virtual event series.
Published on November 19, 2019