Is The HubSpot Free CRM Actually Free?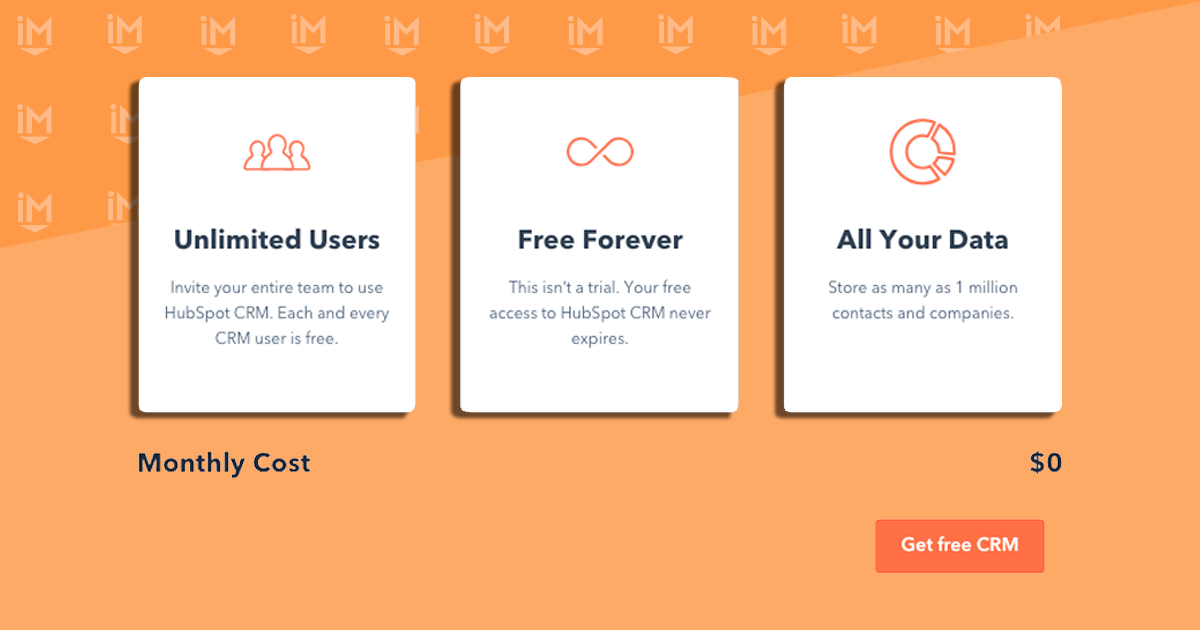 Is the HubSpot Free CRM actually free?
Yes, your marketing and sales teams can get started with a basic version of the HubSpot CRM for free, which includes five email templates, five snippets, and five documents, as well as one meeting scheduling link. These free sales tools will help you understand what the HubSpot CRM brings to the table, but can be limiting for larger teams and organizations.
For most businesses, customers and prospects are the most important asset they have.
Being able to communicate with potential customers in an efficient and informed way helps drive new sales, while staying apprised to the activities of existing and past customers can increase repeat business.
Plus, this information can provide insight into the performance of your website and content and inbound marketing overall.
Knowing this, it makes sense that your companies should have a centralized place to store and update all of the information. It helps them provide the most personalized value and experience long-term and be more efficient and effective in general.
This is where a CRM (customer relationship management) platform comes into play. In short, a CRM is a database for managing relationships with your customers and has become essential to any business operating in a digital space.
CRM software enables you to do a lot of valuable things with your contact base, such as keeping all contact information (including internal notes) in a centralized place, personalizing experiences, and automating different reminders.
It sounds almost too good to be true, right?
If you're a small or growing business, you may be on a tight budget. You may be asking yourself, how much does a CRM cost? Can you afford a tool that accomplishes all of these things?
These questions have especially been posed by many organizations coming into the inbound space and wanting to experiment with HubSpot's free CRM.
In a world of gimmicks and hidden fees, some people understandably question if HubSpot is practicing truth in advertising when they promote their CRM as totally free.
They ask how much can we really get done without paying anything? Or more so, is there a catch? Will we outgrow it?
While HubSpot does provide a great CRM at no cost, it has its limitations, and I can't promise that you won't end up wanting or needing more with time, but we're getting ahead of ourselves.
Since its introduction in 2014, we have helped hundreds of teams get set up and successfully using both the free and paid HubSpot CRMs to manage their sales and marketing activities, and in this article, we'll dive into:
If the HubSpot CRM is really free
What's included in the free HubSpot CRM
The limitations of the free HubSpot CRM
How long you can stay on the free HubSpot CRM
How to choose the right HubSpot CRM package for you
Is the HubSpot CRM actually free?
Yes, it's really free — but it does have its limits.
So, to start, let's go over what you get access to with the HubSpot free CRM. If you're not totally familiar with the basics of what a CRM is, start with this article.
What's included in the HubSpot CRM?
With the totally free version of the HubSpot CRM, you can store up to a million contacts in your HubSpot database, and you have an unlimited number of users on your team that can access that data. You also gain access to some of the tools to manage your database.
Free HubSpot CRM features include:
Content management
The ability to store companies that are associated with your contacts
The ability to store and track sales deals
The ability to track contact website activity
Gmail or Outlook integration
Limited sales productivity tools (like email scheduling, tickets, and meeting scheduling)
Access to email tracking, templates, and canned snippets
Access to calling
Access to third party integrations through the App Marketplace
Forms to capture leads throughout your site
Live chat and basic chatbots that can be embedded on your website
All of these features are a great way to get started using inbound marketing and inbound sales, especially as a small or new business, but there's a limit to what you can do with just these tools.
If your business is large or scaling quickly, the free HubSpot CRM may only be a short-term option. Let's cover the biggest limitations with this free CRM.
What are the limitations of the free HubSpot CRM?
I want to be clear that while you have access to a lot of great features in the free HubSpot CRM, like most SaaS products, those features are all limited.
These limitations can lead to some unexpected obstacles when trying to scale up and run a full sales process and marketing operation.
Time-saving tools that help organizations streamline repetitive manual processes while maintaining a human-like touch (i.e. marketing automation, email marketing) are really what is most helpful to an inbound organization.
Unfortunately, HubSpot knows this and does not include these features in its free version.
For instance, while you have access to some of the sales productivity tools, you only get access to five email templates, five snippets, and five documents.
Email templates and snippets can shorten the time you spend writing sales emails or live chat responses, by allowing you to use saved formatting and language. Time is of the essence when it comes to communicating with prospects and customers, so these HubSpot CRM features are extremely valuable.
Documents are also important, as these are files that HubSpot allows you to send to your prospects via email. In order to run a robust sales or marketing campaign, five of each of these key pieces likely will not be enough.
You will be spending an enormous amount of time getting all your materials ready, and if you are practicing the They Ask, You Answer practice of assignment selling in your sales process (which you should be), you will want to have more than five documents available to share with your prospects.
You will also be limited to one meeting scheduling link, which doesn't allow for customization or embedding.
A meeting schedule link makes it easy for prospects to schedule time with you in just one click, by showing available times based on your calendar. Through customization, you are able to attach your name to that link to make it even more personal.
Lastly, many organizations find it beneficial for each sales rep actively taking meetings with prospects to have their own meeting link, so lots of the time one just isn't enough.
And, as noted, you do not get access to any automated features, like sales automation workflows. If you are looking to limit all of the manual actions your sales team is responsible for, automated features like workflows and email sequences can be major time savers.
How long can you stay on the HubSpot Free CRM?
Simply put, if you can manage within the perimeters of the free CRM, you can stay on it forever.
For example, a solopreneur managing a small operation or a small business that isn't prioritizing growth wouldn't necessarily need or want these more advanced features in the paid versions of the HubSpot CRM. Their operations are likely easy to contain within the limitations of what is offered.
However, there may not be many growing companies that choose to stay with the free version for long.
Often, companies find themselves wanting more once they see what is possible. For instance, if you start using the meeting link to seamlessly book meetings, you may realize how beneficial it could be for all your sales reps to access.
Or, if you've tested the email templates, you may see the opportunity that would come with using those templates in an automated workflow to help nurture their prospects down the funnel.
In these cases, you need to start looking at the paid versions of the HubSpot Sales Hub.
If you do want access to the additional features mentioned in the last section, you'll need to invest in the HubSpot Sales tools, which then requires you to move to a price-per-seat model for the Sales Hub, paying for each user in your portal individually.
The Sales Professional package costs $500 a month, and you get five users included. Any additional users will cost you $100 per additional user.
For those who want to take advantage of personalization opportunities of the HubSpot CRM, you'll want to purchase the HubSpot Marketing Hub as well.
HubSpot Marketing Hub gives you access to great marketing-focused tools like SEO and content strategy, calls-to-action, email marketing, landing pages, custom reporting, and much more. When you sync it with the HubSpot CRM, you can customize experiences based on information in your database (i.e. name and location) or previous activity on your site.
Keep in mind, however, that HubSpot Marketing ditches that million contact limit, and you'll have to start paying for every 1,000 contacts you have in your database.
This can be frustrating for those who were expecting to be able to get up and running quickly with just the free version alone.
If you want more advanced features in HubSpot, it is a financial investment. Tools that are this robust come at a price, which is okay as long as you know the limitations of the free CRM upfront.
So, what HubSpot CRM package is right for you?
While the HubSpot CRM is free to everyone, you must be aware that there are additional tools that are super valuable that you're going to want to end up paying for.
Based on your organizational makeup and goals, the free version may not make sense for you in the long term. If you are looking to automate time-consuming processes and create easy and informed ways to nurture your leads, you should consider upgrading to a paid version of the HubSpot CRM.
However, if you are a small operation with a one-person sales team or just looking to get your feet wet and get a taste of what HubSpot has in store, the free CRM is a great place to start.
So while this solution is good for those who aren't ready to make a financial commitment, in order to maximize the value of the tool and, in turn, produce a better ROI for your organization, it will probably make more sense to level up.
Free Assessment:
How does your sales & marketing measure up?
Take this free, 5-minute assessment and learn what you can start doing today to boost traffic, leads, and sales.