6 expert small business video tips and strategies to get started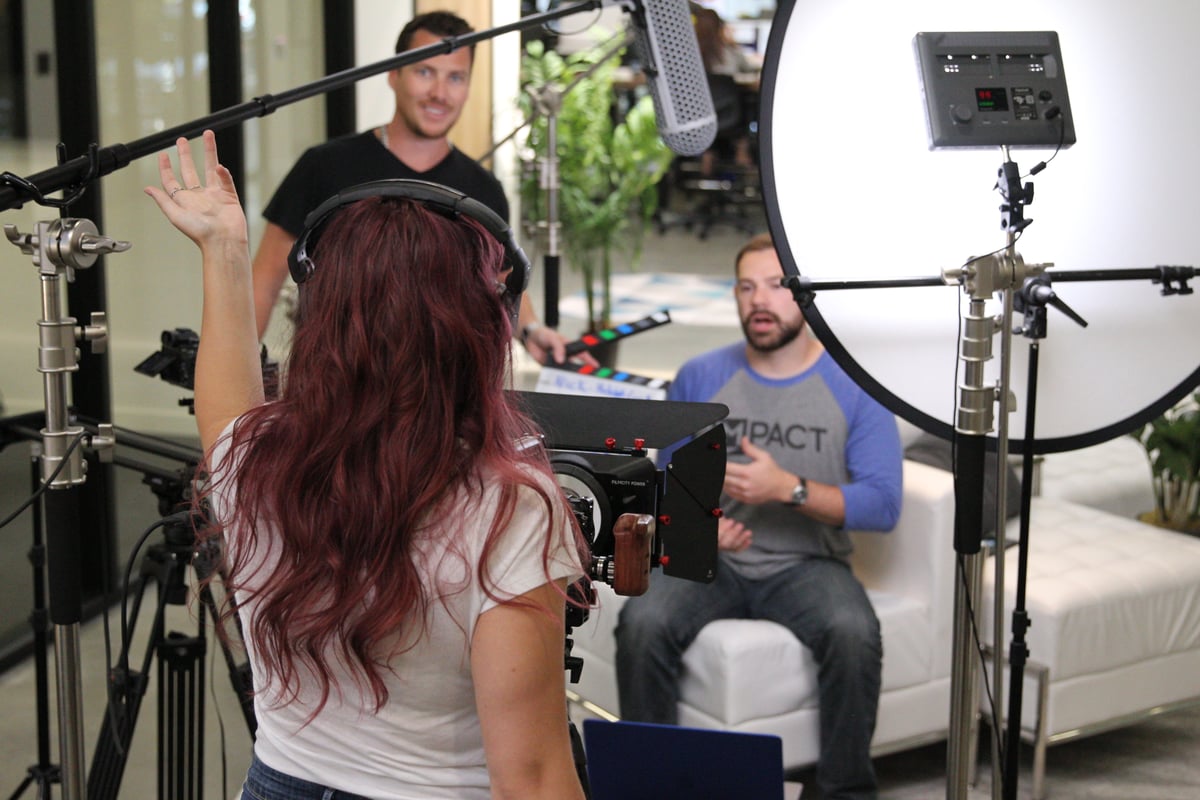 Best small business video tips
Hire an in-house videographer
Establish a culture of video at your company
Buy the right equipment (camera, audio, and lighting)
Focus on the seven videos that build trust
Use The Video 6 (the six proven components of a great marketing video)
Implement personalized, 1-to-1 video in the sales process
I'm going to assume you're reading this article because you're a small business and you've decided it's time to get started with video. Woohoo!
This is going to be one of the best investments you'll make for your company.
Video is a powerful tool. It allows you to build trust and engage with your audience in a way that no other type of content can. It's not just more engaging than written content, but video is shown to play a large role in helping increase revenue for organizations.
In fact, marketers who use video grow revenue 49% faster than marketers who don't.
I'm sure in this moment you're feeling a bit stressed at the uncertainty of what it involves.
Perhaps you aren't an expert in video, you don't know what makes a video strategy successful,, and ultimately what you need to do to make sure this effort drives revenue for your organization.
I'm here to make sure you're armed with the best small business video tips and strategies so that you don't spend time and energy on things that aren't going to work, but instead on things that will produce results.
You ready? Let's jump right on in!
1. Hire a videographer
I'm sure this wasn't one of the first tips you were expecting. In fact, this might have you a bit caught off guard.
Hire a videographer? How am I going to afford that or get that approved?
Let me be straight with you. If you are looking to see the most success with small business video, right out the gate you are going to be needing to produce video content frequently.
I mean, way more than once a month.
If you're planning on outsourcing consistent video content, it will get expensive real quick.
In fact, it's much cheaper for you to bring someone in house than hiring a video production company or freelancer regularly.
Having a videographer on staff also makes it much easier to create video as needed, and also makes scripting and editing content much more fluid than having to go back and forth with a production company.
Ultimately, making this move for your company will help you produce more content, save money and time in the long run.
It also allows you to have someone in-house with expertise to ensure that the content you're putting out there is quality. Not just from a cinematic perspective, but also from a selling stance.
🔎 Related: Download our videographer job description
If hiring someone internally isn't something you can make happen right away, talk amongst your organization and see if there is someone who would be interested in owning it in the meantime.
This will need to be someone who has video skills, or has the time and motivation to learn or teach themselves.
What you don't want to do is give this video production task to someone who can only dedicate a small amount of time to it.
If it's recommended as a full-time job, this person needs to make sure they are dedicating much more than say 10% of their role to it in order for you to see the most success.
Note: As I preach hiring a videographer in house, I don't think that using a video production company to ramp up your content while you're searching for someone in house is a bad idea. It's just not a great long term solution.
2. Create a culture of video in your organization
Hiring on a videographer doesn't mean they are the only person within your organization who should care about video.
In fact, in order for you to see the most success, your entire organization needs to see the importance of it. That means people from different teams and departments must be open to being on camera and contributing content.
This is something that people aren't normally that thrilled about or comfortable with right away.
Not many people feel great in front of the camera initially, but it's something that they'll need to get used to if you're looking to be the most trusted voice in your space.
Video is one of the easiest ways to be transparent and build relationships with your team, prospects, and audience.
With this in mind, your small business videos should showcase your subject matter experts.
At the end of the day, these are the people that know your product/services best.
They are the team members who live and breathe your product/services day in and day out and who new customers may work with. They're going to be able to speak about them better than anyone else.
🔎 Related: How to create video that drives revenue (Inbound Success Playbook)
To build a culture of video means having every person on board with understanding the importance of video in your entire organization.
Aside from getting your team on board with producing video content there are a few other things you should do to help with building out a culture of video such as investing in the right software. You want to ensure that you are finding a software that does the things you need it to, but also that it's easy to use so that no one has an excuse not to use it.
At IMPACT we don't just use video for marketing and sales, but we use it as a way to communicate across teams. We are a mostly remote company, and video allows leadership and other teams to share messages so that nothing is lost in translation via text. Even if you aren't remote it's a great way to communicate company updates and share follow-ups from meetings.
3. Buy the right equipment
Your videographer should have a good idea of the equipment you'll need, but if you aren't able to hire someone right away and someone on your team has decided to take on producing video here are some items you should consider purchasing.
There are three big things you're going to need to invest in: camera, audio, and lighting.
When I say invest I don't mean you're going to break the bank. In fact, you can find some great deals on second-hand equipment, or find things that are lower budget to just get started.
Here are some items I pulled from Zach Basner's article on setting up a strong video studio on a beginner budget:
Camera
Audio
Lighting
If your budget is almost non-existent don't let that stop you from producing video.
Producing something is better than nothing. Smartphones have incredible cameras nowadays and if that is where you need to start, have at it.
4. Focus on building trust
Simply producing video for the sake of having video content isn't a smart strategy.
You need to be thinking about the types of video that are going to drive results for your organization.
We've seen that the videos that drive the greatest success are those that build trust with your audience. You do that by obsessing over the questions your prospects have and answering them.
There are seven types of sales and marketing videos that we find to be the core of any successful video strategy. We call them The Selling 7.
When thinking through what videos you want to start producing, these should be the ones at the top of your list, as they are going to be the ones to bring you the quickest ROI.
1. 80% videos
For these type of videos you're going to want to approach your sales team.
80% videos are videos that answer the most common questions all of your prospects ask. Some of these might also be questions that your prospect hasn't even thought of yet that you can be proactive about.
These videos help do a lot of things like shorten your sales calls, get more qualified leads but ultimately they help build trust with your audience.
Think about it, a lot of other organizations make someone get on a call to answer the majority of their questions which isn't always the greatest experience. Consumers just feel like they're going to sit down and hear a sales pitch.
Someone is going to trust you more and have a better experience with you if you're willing to answer the majority of their questions without taking up their time on a call.
It saves them time, but it also saves you time.
2. Employee bio videos
Employee bio videos are another way to build personal trust. You want prospects to be able to see, hear, and know you before you see, hear, and know them. This makes conversations more comfortable and less intimidating.
Creating employee bio videos allows for you to capture the human side of your organization and allow them to get to know your team and who prospects would be interacting with before they enter enter the sales cycle.
3. Product/service page videos
One of the most effective ways for you to communicate the value proposition of your product or service is through video. It's one thing for you to say it in website copy or an article, but it's another for someone to hear it from an actual person.
A product video allows the person talking about the value proposition to tell the story behind the product (or service) in a deeper way and really give more emotion and life to its value.
It also allows the viewer to build a relationship with the person they are hearing and seeing vs. just reading it through copy. These are great videos to include on the product/service pages of your website.
4. Landing page videos
Every one of your landing pages on your site should have a video letting visitors know exactly what happens when they fill out the form and the value they'll be getting.
Including a video on your landing page can help increase conversions by 80%, according to this Neil Patel article.
5. Bad-fit videos
Your sales team should be spending their time communicating with the most qualified leads.
A bad-fit video is an opportunity for you to talk about who a good fit client is, but also what constitutes someone who isn't the best fit for your organization and why.
Having a bad-fit video on your site not only saves your sales team time from talking with people who are unqualified, but it also saves the person who is connecting with your team time as well.
Your leads will appreciate the fact that they can determine on their own if they're a good match for your product or service without going through your whole sales process. .
6. Social proof and testimonials
Social proof and testimonial videos are a great way to show how happy and successful your clients are, but also allows you to show your differentiators.
In the videos, your clients should be talking about why they chose you, what their experience has been with you versus others in your industry, what sets you apart for them, and why you're better. These videos should be a powerful tool to help close more business.
If you're struggling to figure out how to get the most powerful case studies from clients, this article can help put you on the right path.
7. "Claims we make" videos
Creating this type of video allows you to actually prove the claims you make about your company, what it does, and why someone should decide to choose you over a competitor.
Everyone can talk about why they are great and different from others, but it's another thing to be able to show exactly why you are different through video.
It allows you to make a case for the statements you're making, rather than hiding behind words which many people can do.
5. Learn the anatomy of a great sales and marketing video
As you're starting to produce consistent video content, you're not going to want to feel like you're starting from scratch every time you start a new video project.
There is a formula we teach that will help improve the quality of your videos and cut down on your production time called The Video 6.
It outlines the six features that every truly effective sales and marketing video should include:
1. Teaser
This is the first 10-30 seconds of your video. It's your opportunity to get them intrigued to continue to watch. If your teaser is poor, chances are you might not keep them much longer to even watch the video.
2. Logo bumper
These are the motion graphics on your video that include the logo. It allows you to brand your videos and give a more quality production feel.
3. Intro
This is your opportunity to explain the value of why someone should stick around to watch your video.
4. Segments
These are going to help with breaking up the content and improve your view duration. Keeping things in bite-sized pieces makes it easier for the person to not only consume, but recollect the information you're providing.
5. Call-to-action
You don't want to leave your viewer hanging without no next step after watching the video. You'll want to think through what that next step is, and provide a clear way for them to take it.
6. Use personalized, 1-to-1 video throughout the sales process
With free solutions like Vidyard's Google Chrome extension, modern sales teams now have one of the most powerful sales tools at their fingertips, which they can start using right away — video.
From prospecting to proposal, it is ridiculously easy for sales teams to start using video at every stage in the sales process right way. And considering how video is proven to shorten the sales cycle and build trust faster than any other type of content, you're going to want to.
🔎 Related: Our ultimate video for sales getting started guide
To see ROI with small business video, you need a solid strategy
All of these elements I've shared today aren't things you can pick and choose to do when getting started with video as a small business; they are crucial elements if you're looking to see success.
Why is this even more important to you as a small business?
You're making an investment. It's monetary and it's time, and you want to make sure that when you're diving into video that you're setting yourself up to see results.
It can seem overwhelming, and like a scary investment, but video is something every organization needs to begin producing and once you see remarkable results you'll understand why it's all worth it.
Free Assessment:
How does your sales & marketing measure up?
Take this free, 5-minute assessment and learn what you can start doing today to boost traffic, leads, and sales.