The Digital Marketing Plan to Franchise Your Business: They Ask, You Answer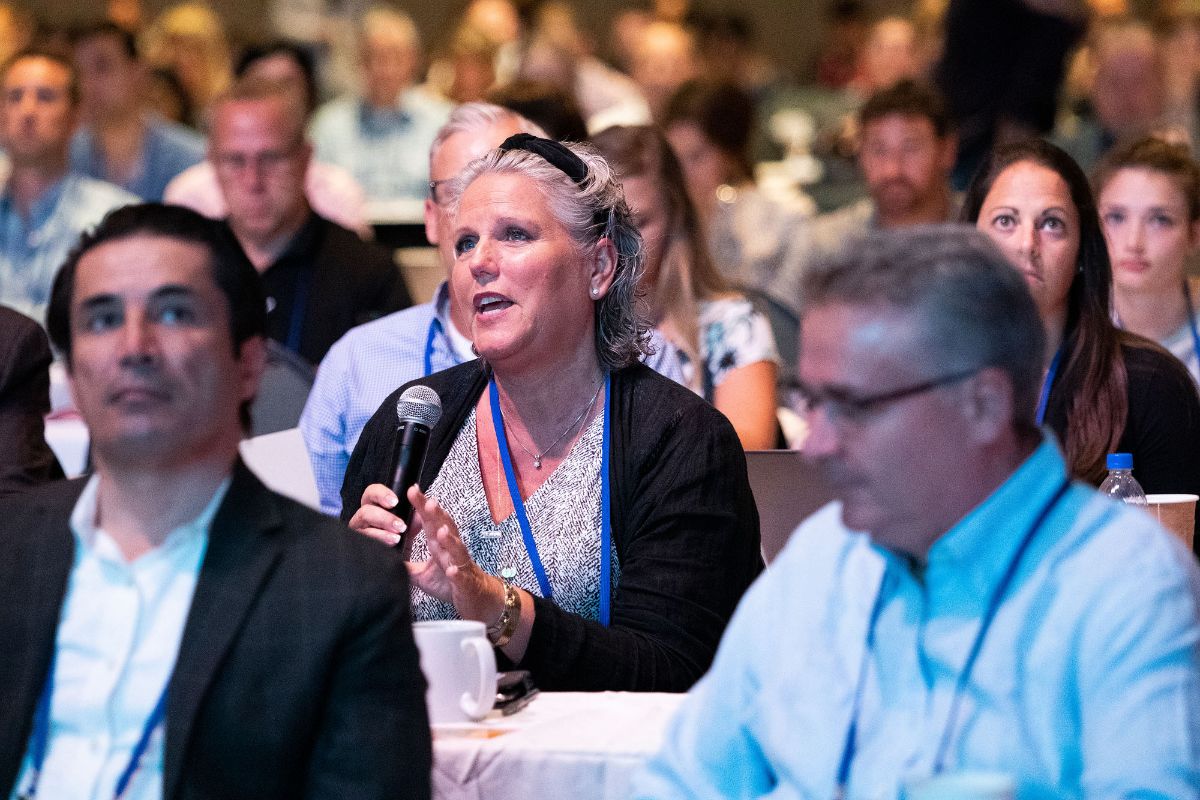 If you have a franchise or are thinking of starting one, you need the right digital marketing strategy. You need to deliver results for both the individual franchisees as well as the overall brand — in other words, a rising tide that lifts all boats.
With the right system, you can do both, and set your franchise up for long-term success.
They Ask, You Answer
When some friends and I started River Pools in Virginia nearly 20 years ago, we didn't intend to build a franchise business.
What we did intend to do was build a successful local pool manufacturer. To help that business grow, I developed a straightforward inbound marketing strategy: If a customer had asked a question, I answered it, openly and honestly, on our company website.
When it came to content, nothing was out of bounds. Customers wanted to know about installation costs, so we wrote about it. They wanted to know the pros and cons of fiberglass pools. We covered that, too. Anything they asked, we answered.
As you might guess, I called my strategy They Ask, You Answer.
Over time, the content I posted generated a lot of traffic — and a lot of business. Our pool company was doing very well, all because people found us on the internet and liked what we had to say.
At the same time, I started advising other businesses on They Ask, You Answer. Soon, my strategy became a book. Then it became a global business movement.
But through it all, the core concept was the same: If a customer asks a question, you should answer it.
Today, I'm co-owner of IMPACT, a consulting business that helps companies around the world implement our They Ask, You Answer framework. The stories of the success our clients have seen are incredible.
Each year, the movement grows.
In fact, Just last year, They Ask, You Answer, was named the best marketing strategy book of all time by BookAuthority.
Expanding to a franchise
River Pools has since become a franchise, with locations in nine states (I'll tell you how in a minute).
The reason this was able to happen so smoothly was simple: The articles we were writing weren't just generating traffic from people in Virginia. Pool buyers all over the world were landing on our content and building a relationship with our brand.
Because we had written the content that drove traffic, we already had a recognizable brand with a robust web presence. A franchisee could start a new River Pools business in a new location much more easily than they could start a pool company from scratch.
If you're ready to do They Ask, You Answer correctly, you can be laying the groundwork for exciting expansion opportunities.
And, if you're already a franchise, They Ask, You Answer is a way your central office can help all of your separate locations bring in a steady flow of leads.
Franchises: The power of brand
The allure of a franchise — that it's a known, established commodity — doesn't just attract consumers. It benefits individual franchisees as well.
No matter the industry — whether it's food service or car repair or banking — franchises do better. According to government data, the success rate for franchises over the first two years in business is 8% higher than independent businesses.
Although the success or failure of a business depends on a number of factors, the benefits of a franchise are clear:
The brand at the heart of the franchise helps provide the leads by way of brand recognition and market presence.
The franchise helps eliminate the learning curve of starting the business.
A business with a steady flow of leads and a proven process for sales and marketing is more likely to be poised for success.
Because so much of the guesswork is removed and because processes are already in place, a franchisee can focus on building a great team and running the business well.
Inbound marketing for franchises
If a franchise is effectively following the They Ask, You Answer principles and succeeding with inbound marketing, it will have established a strong online presence. Let's face it, marketing is one of the hardest and most daunting aspects of starting a new business.
If a central brand already ranks highly and has a team dedicated to content production, this can be a huge boon to a fledgling franchisee. They're already on a winning team, with traffic and domain authority to drive leads and sales.
If a prospect Googles a question, your franchise could be the first organic result that comes up because the central brand has already earned that spot — if you've worked hard to get there.
A digital footprint is one more way that franchisees can benefit from being part of the brand.
Our They Ask, You Answer framework is particularly well-suited to the franchise model for one simple reason: Great content creates leads beyond your geographic area, just like with my swimming pool company.
If you're an HVAC company in Colorado doing They Ask, You Answer, your content could be accessed and read by people in Michigan or Massachusetts who have the same questions about heating and cooling their home.
But you can't install a boiler across the country — unless you branch out and start a franchise.
How They Ask, You Answer works in a franchise model
River Pools was the original laboratory for They Ask, You Answer. It was my experience selling pools (and answering the same customer questions over and over) that inspired me to address those questions on our website.
Over time, our content strategy expanded to include sales enablement resources, video production, self-selection tools, and more — but it started with candid, straightforward blog articles that drove tons of traffic to our site.
Today, if you Google "How much does a fiberglass pool cost?" you'll find our page at No. 1. It's the same page I wrote more than a dozen years ago (with plenty of updates along the way).

That one article has generated countless leads and millions of dollars in revenue for my company.
River Pools became a franchise model precisely because we had built such a strong digital presence. Investors came to us and wanted to be a part of the movement we'd built. They knew they could get up and running faster, with qualified leads at the ready as soon as they opened their doors.
There are now 14 River Pools locations in nine states. The franchise in Salt Lake City installed 80 pools last year — in just their second year in business.
I know that number won't mean much to people outside of the industry, so let me put it in context: For the original River Pools in Virginia, it took us 10 years to get that big.
So for a newly opened pool company to do 80 pools in their second year is a huge deal, especially considering they're in a crowded marketplace.
That success simply couldn't happen if there was not already a wealth of content, an established online presence, and a prebuilt sales process.
Balancing general and local content
If you're a franchised auto repair center, most of the questions your customers ask in Miami are the same ones they ask in Wisconsin. Therefore, your "mothership" central franchise should be able to take care of most of your content needs. The same piece of content (whether that be an article, a video, or buyers' guide) can speak to all of those questions, just as a primetime ad for McDonald's promotes all the restaurants simultaneously.
However, a core focus of They Ask, You Answer is allowing your customer to build a relationship with your brand and your people before they even reach out. If all of your videos feature palm trees and deserts, clients in Wisconsin aren't going to feel like you're speaking to them.
Therefore, at River Pools we have our central office producing content that speaks to all pool buyers, and then we have geo-targeted content that is unique to each specific locale.
In practice, it looks like this:
Written content
Our content team works from our central office in Virginia to produce, update, and monitor all general written content that drives traffic to our central site.
From there, customers can get to the website for the location nearest them. Each franchise website is essentially identical, with a clearly defined service area featured just below the fold on the homepage, like this one from our Idaho branch: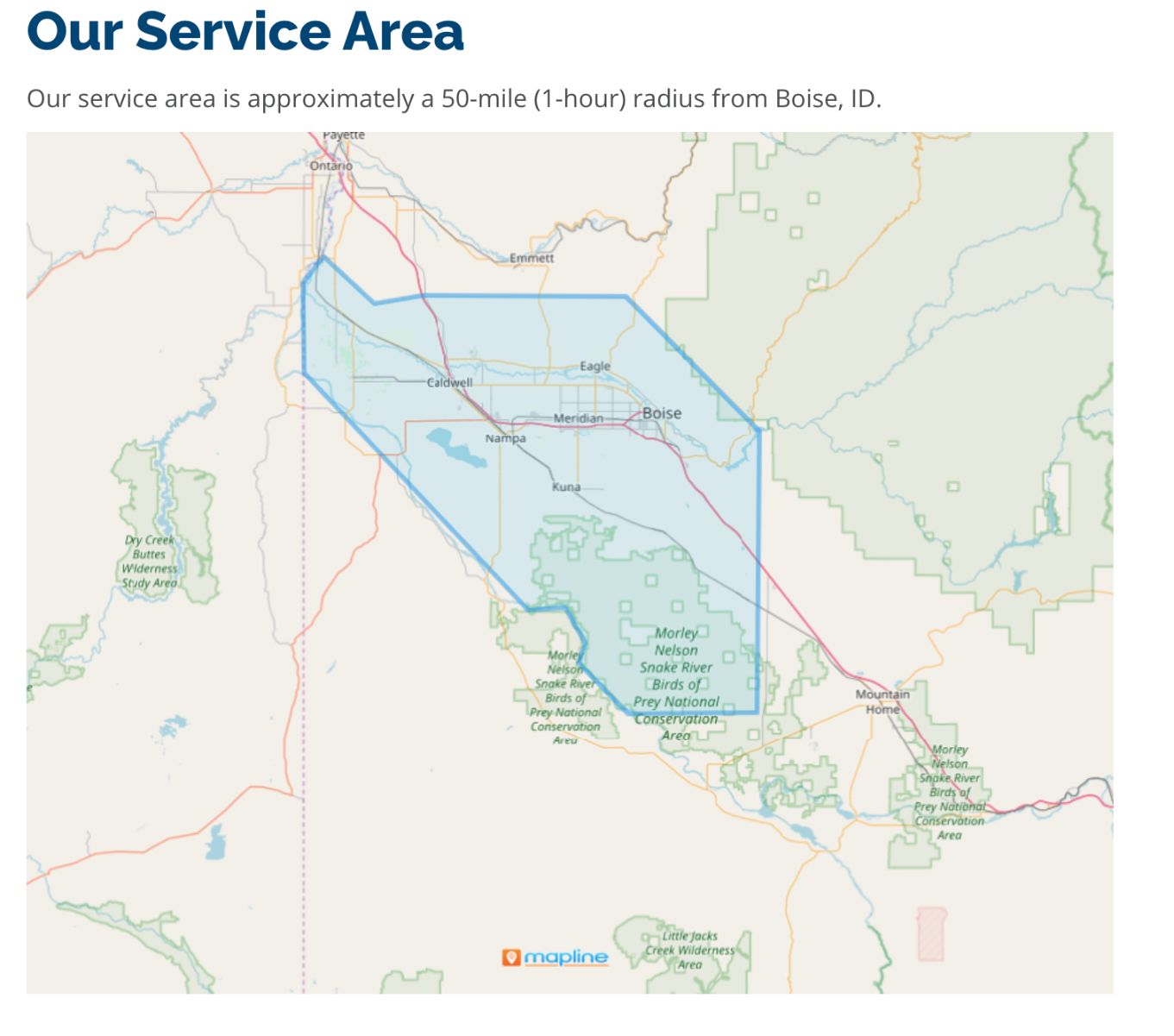 But the learning center and other elements are the same. If there are location-specific content needs, our central writers can handle them, with feedback from the local office.
Video content
For video, it's another story.
We have one full-time Virginia-based videographer who handles general content, and another videographer who travels between franchises and produces content that speaks to that specific region.
These videos introduce the franchisees and address unique needs and opportunities for each region.
In reality, the franchises only need a handful of geo-specific content, so this model works well for their needs.
If you're succeeding with They Ask, You Answer, you've done the hard part
The beauty of a franchise model is that it benefits both the consumers and the franchisees. Consumers have a familiar, durable option when they're looking to make a purchase. Franchisees have a ready-built brand that comes with a stable supply chain, an optimized product line, a well-built sales process, and an established marketing presence.
A company that's already succeeding with They Ask, You Answer should be particularly well-suited for franchising. It happened naturally with River Pools — as well as with other clients of ours at IMPACT: When they started getting more and more leads from outside their service area, they decided to branch out and develop into a franchise.
Success with They Ask, You Answer does not happen overnight. As many well know, it takes months and years of dedicated effort. But that's precisely what a franchisee is buying: A company name with an established web presence.
Image source: Seshu from connecticutheadshots.com
Free Assessment:
How does your sales & marketing measure up?
Take this free, 5-minute assessment and learn what you can start doing today to boost traffic, leads, and sales.