What I learned hosting a virtual marketing event for 3,000 people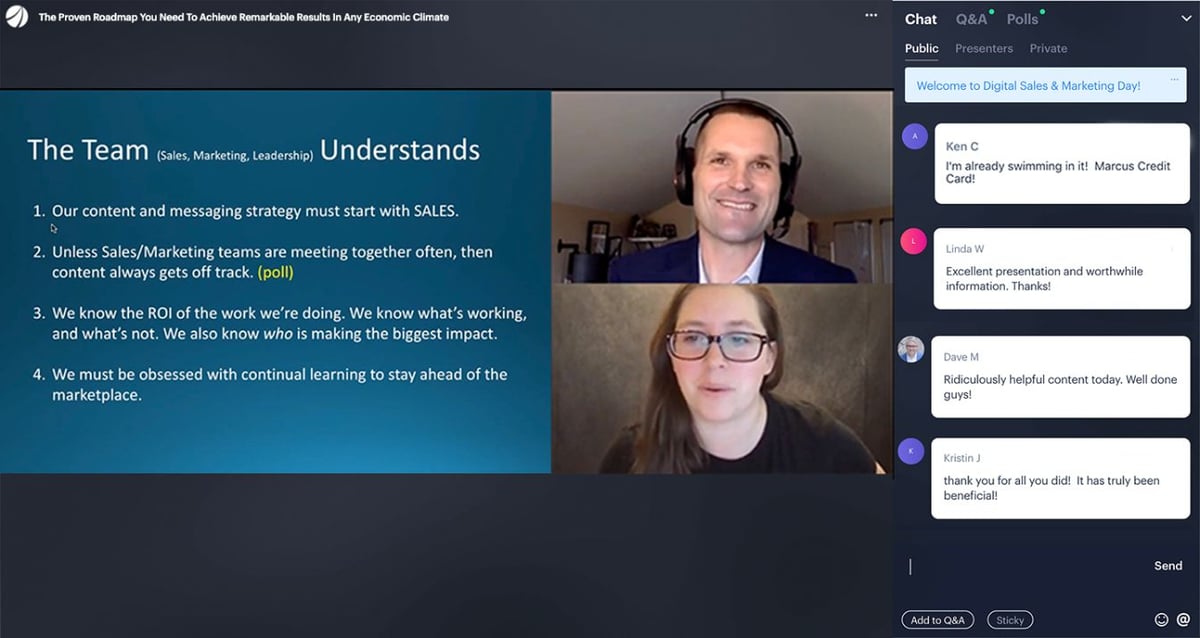 Back in February here at IMPACT, we were gearing up for what was going to be our biggest event ever — Digital Sales & Marketing World, planned for early April.
We were building on the success of IMPACT Live 2019, which drew an international crowd of marketers and business leaders last summer, but as COVID-19 spread and cancellations proliferated, we made the difficult decision to postpone the live event until late November.
While this was the right thing to do, we didn't want to leave our audience in the lurch.
What could we do with the date in April that was already circled on our calendar?
We decided to put on a full-day virtual conference, dubbed "Digital Sales & Marketing Day" or DSMD for short, that would provide relevant content and community connection at this difficult time.
We initially hoped for 1000 attendees at our in-person event, so our first estimates for DSMD were modest.
However, as more and more people bought tickets and registered, we kept adjusting our attendance goals: 1200, 2000, 2400.
We had 114 people register the day of the event, bringing us to 3001.
So, how did we deliver a world-class experience to such a big crowd? And what did we learn in the process?
My biggest fear about a virtual event
Our team at IMPACT had been working to troubleshoot the tech aspects of our event for weeks, and I felt confident that every last detail would be taken care of and double checked.
But, still, I found myself worried about the most basic of questions: What if people just didn't like it?
Let's face it: In 2020, there aren't many people who get excited for webinars.
We had to do something bigger, something better, something more engaging.
Could we make an event that felt big and exciting, while also feeling intimate and personal? Could we make it feel like more than just a series of webinars? Could we add tech aspects that enhanced the experience, rather than being a distraction?
In sum, could we harness some of the best parts of an in-person event in the virtual space?
What I learned from hosting a virtual event
While I wouldn't claim that everything was perfect, DSMD was a huge success.
Our careful planning paid off — and we feel well-prepared to host similar events in the future with some crucial lessons learned:
Use both live and pre-recorded sessions (both with chat functionality)
IMPACT decided to incorporate both live-stream sessions and pre-recorded sessions. There were several advantages to this.
First off, having live sessions is essential. Just like with an in-person event, the engagement and interaction offered by a live speaker is hard to match.
However, we also knew that our first attempt at a full-scale virtual event might bring with it some technical challenges. As such, we never had more than one live-stream session at any given time.
Doing this, we could focus our attention if anything needed to be fixed, rather than being pulled in two or three directions.
Being full believers in the power and magic of a great in-person, live event, we wanted to make sure we made our pre-recorded sessions equally engaging.
First off, we made sure our speakers were superlative, and we made sure their talks were exceptional.
Second, we asked our speakers to come and be a part of their own session.
In every session, we offered chat functionality. For live sessions, this allowed guests to chat, react, and respond to questions. For our pre-recorded sessions, the speakers were live chatting with guests while their pre-recorded talks were playing.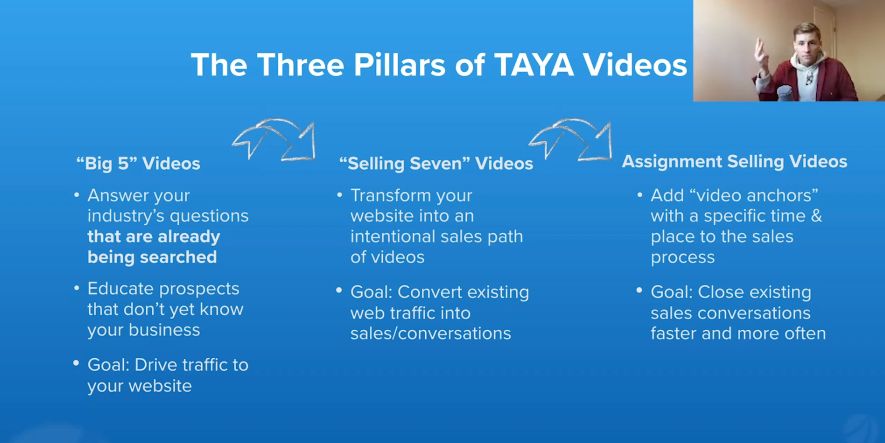 This allowed us to offer live engagement in a way that didn't draw speakers' attention away from their talk.
Immediate crowdsourced data
Our software solution, Big Marker, provided the ability to poll our guests with questions we'd prepared ahead of time. This way, we could collect real-time data that everyone could see as it came in.
Obviously, as a speaker, this can be difficult to plan around.
You have no idea what the audience might say. The data might come back exactly as you anticipate — or completely different from what you expected.
However, the value of real, immediate, crowd-sourced data is immeasurable. At any given live-stream session, we had 500 or more people who could instantly respond to a question.
In the COVID-19 era, as things change so rapidly, it was important to check in and take the pulse of the group before us.
At live events, I might ask for a show of hands or ask people to respond to a survey question on their phones or laptops, but that can feel distracting. At DSMD, it fit seamlessly into the platform and curriculum.
Don't underestimate the value of a co-host
In a virtual, live-stream session, I highly suggest you have a co-host.
Presenting a topic while trying to monitor chat and send out poll questions is very difficult — and you likely won't be able to do it all well.
Having someone there to help makes a world of difference.
The co-host can help vet questions from chat, monitoring the mood of the conversation.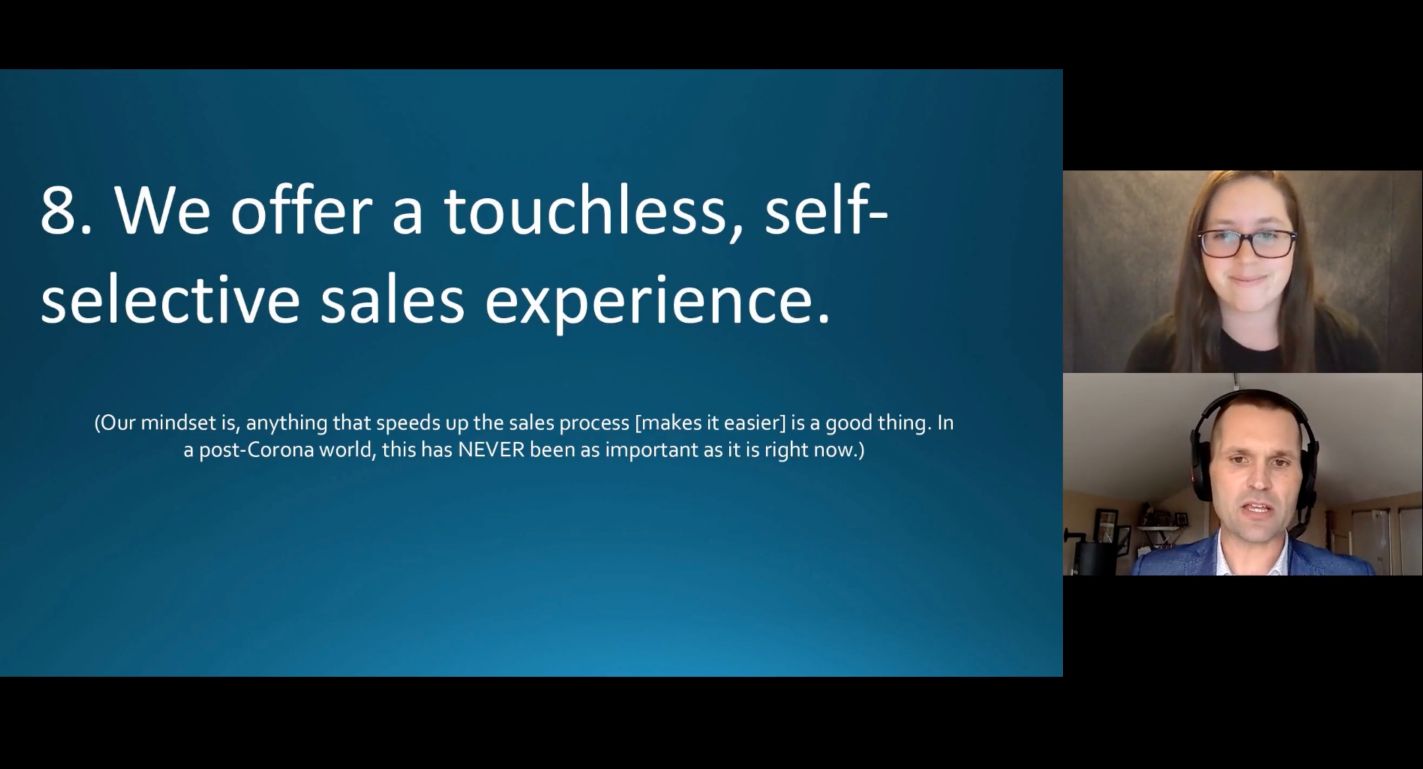 Interestingly, the co-host can serve as a sort of intermediary for both the audience and the speaker.
For the audience, they can see themselves in the co-host. They can hear their thoughts as the co-host's voice answers the speaker, and the co-host can be the one to voice the comments from chat.
For the speaker, the co-host can be one more person to present to, who feels more tangible than the avatars and names in the session.
The humanity of speakers
Part of the allure of the large-scale in-person event is the theatrics of a major stage presentation: lights, music, and cameras.
In the age of COVID-19, we're all doing everything on Zoom. So, how should presenters at virtual events prepare their "stage?"
I asked the audience at a recent virtual event which they would prefer.
Would they rather see speakers on the most professional, polished stage possible, with lights, white board, multiple camera angles, and high production values? Or, would they rather see the speaker in a more traditional home office, without all of the frills.
75% of the audience preferred the latter.
We enjoy going to events to hear leading speakers share their thoughts about our industry.
In the COVID-19 era, we are going to feel even more connected with those experts if we can also see their humanity on display.
As you plan your own virtual event, don't worry too much about sound-stage-level production values. That's not what your audience is looking for.
At a virtual event, everyone has the best seat in the house
It's something we don't think about often, but at an in-person event, every seat offers a slightly different experience.
Maybe you're in the back and can't see as well. Maybe you're behind people who won't stop talking.
The beauty of the virtual event is that everyone has the same experience, and everyone sits in the best seat. Internet permitting, they can see the presenters clearly and fully digest what's being shared.
The importance of this is central to the value of virtual events.
Should you consider hosting a virtual event?
Businesses, non-profits, and other organizations have been forced to cancel or postpone their in-person events, but all hope is not lost.
While I do not believe virtual events will ever truly replace in-person ones, I believe they are the only option for the present time, and I think that their current prominence will have a long term effect on all events in the future.
After the pandemic passes, we may see a new hybrid model emerge that incorporates the best of both worlds.
For now, we all need to be thinking virtually, and your event planning should be no different. You could be the first ones in your industry to run a virtual event. You could get there before anyone else.
45 days ago, most of the world didn't know how to use Zoom.
Now, they're video conferencing every day. Kids are doing it for school. Grandparents are using it to keep in touch with their families. Doctors are using FaceTime to conduct wellness visits.
COVID-19 has forced the world to change rapidly. Many of these changes are not going to go away — there are too many benefits of going virtual.
If your event promises to deliver value and build community, there's no reason you can't do the same things virtually. You just need to know how.
Free Assessment:
How does your sales & marketing measure up?
Take this free, 5-minute assessment and learn what you can start doing today to boost traffic, leads, and sales.