What is HubSpot Content Staging (& How Do You Use It?)
Tim Ostheimer also recommends this free website performance assessment.
Nobody likes doing monotonous tasks, and when it comes to a website redesign, there's usually at least one where someone will have to click a specific sequence of buttons a few hundred times.
Free Assessment: Website Performance Assessment
Maybe you're one of the lucky ones who hasn't had to do that (yet), or maybe you're supposed to be doing that right now, but instead started procrastinating by reading blogs.
Or, maybe, you are that person but you don't have an intern that you can freely force to do the work on your behalf.
Fortunately, HubSpot has given us a wonderful little tool that makes the process of preparing for a website launch so much easier -- Content Staging.
What is Content Staging?
Content Staging is a tool on HubSpot's CMS which helps make bulk publishing or replacing pages on your website easy.
So easy, that when you're ready to put your pages live, you'll only have to click one button (and then one or two more buttons to confirm you actually meant to click that one button).
In addition to that, Content Staging also helps you organize your new pages better by keeping them in a dedicated dashboard and away from your published pages.
The staged pages are hosted on a temporary HubSpot domain that will ensure users won't see anything before you're ready.
When Should You Use Content Staging?
Regardless of how you use HubSpot or the size of your site, Content Staging is a feature you'll want to know about.
Bulk Publishing and Routine Site Updates
The main purpose of Content Staging is to help you easily publish any number of pages. This can save lots of time during website maintenance, whether you're working on a brand new site, a PPC Campaign, or routine historical optimization.
Updating Existing Pages
When you're replacing an existing page on HubSpot you have the option of either creating a new page and publishing it at the same URL once it's ready or editing the old one directly and working with the preview until you're ready to publish. This can make it difficult to keep track of which pages have been updated and which pages have unsaved changes you may not be aware of. Content Staging helps prevent this confusion by allowing you to build your new pages in a separate staging environment.
It also helps prevents the circumstances where you may have to temporarily unpublish a live page in order to change its URL so you can publish a new page at the same URL.
This can help prevent search rank and crawling issues that could occur otherwise.
When Shouldn't You Use Content Staging


It Doesn't Work for Everything
Content Staging is limited to Website Pages and Landing Pages in HubSpot, which means Blogs and Emails don't get the benefits of this tool.

Smaller Projects
If you're only publishing one or two new pages, you may want to build them as you normally would. Content Staging doesn't take much effort to use, but the few steps it adds to the process means it may not be worthwhile to use for just a few new pages.
The tool is most useful for replacing existing pages in bulk since it automatically unpublishes and archives them as part of the publish process.
New HubSpot Sites
If you're working on building a new site but have yet to attach a primary domain to your HubSpot portal, and don't plan to immediately, then you can skip using Content Staging.
This is because you can simply publish your pages on the default sample HubSpot domain.
These pages won't be found by your users until a primary domain is added, so as long as you plan your site launch carefully, you can leave everything published in Website Pages or Landing Pages and they will go live once you add a domain and it finishes propagating.
If You've Already Started
Unfortunately, HubSpot doesn't make it easy to move drafted pages from the Website or Landing Pages area to Content Staging, so you don't want to decide to start using it half way through your project
If you already began creating new page drafts and want to move them into Content Staging, there is a workaround to get them there, but you'll end up using up most of the time you would've saved by using the tool in the first place.
HubSpot will only let you stage a new version of a published page, so in order to stage a drafted page, you'll have to temporarily publish the page(s), then add them as "Staged Clones" in Content Staging, then delete your original drafts.
It doesn't take very long to do this, but if you're already pretty far along with the build out of your new pages then you may just want to keep moving forward with that way you've already been doing it.
How to Use Content Staging
In order to use Content Staging, you'll need a HubSpot Marketing Hub (Professional or Enterprise) or the Website Add-On.
In the Marketing Hub navigation, go to Marketing > Website > Website Pages or Landing Pages.
Click More tools on the left, then Content Staging.
You'll see a dashboard like this:
At the top of the window, you can then select which domain you want to stage a page on.
Depending on what domain is chosen, you'll see a list of published pages on that domain in the Unmodified tab on the left.
If you want to create a new version of an existing published page, locate the page in your list of Unmodified pages, or use the search bar to help you find it.
Hover over the row of the page you want to update, then click Stage.
HubSpot will give you two options for how you want to start editing. You can either start with a blank page and choose a specific template or you can start with the current version of the page.
If you want to create a new page (one that is not replacing an existing page), click Create a new staged page in the upper-right.
Once you've created a Staged Page, you'll be able change the template or any of the module content just as you would in the page editor for any Website Page or Landing Page.
Once you've finished making all of your revisions to this new version of the page, click Publish to staging.
Don't worry, nothing is going to show up on your site yet. If you haven't finished editing your page yet you can return to it later.
In your Content Staging dashboard, you can find unpublished Staged Pages in the Staged draft tab of Content Staging, and published Staged Pages will appear in the Staged proof tab. Staged proofs are the published Staged Pages that you've determined are ready to be published to your live site.
Once you've finished publishing any of the Staged Pages that you want to publish to your live site, click on the Publish tab to begin.
If you see any warnings at the top of your screen, be sure to pay attention to them and review all warnings prior to continuing.
These messages mean that there is a conflict or discrepancy between one or more of your Staged Pages and a page on your live site.
A URL conflict means that one of your Staged Pages has the same URL as a live page.
If you continue without changing the URL, then the Staged Page will replace the live page. The live page will be unpublished and archived just as it would if the Staged Page were created as a staged version of the conflicting page.
A URL Discrepancy means that one of your Staged Pages which was created as a new version of an existing page no longer has the same URL as the original version.
If you continue without fixing the URL, then the Staged Page will be published at the new URL and the live page will still be unpublished and archived.
If there are no warnings, or you've reviewed your warnings and everything looks right, or you've fixed any of the issues, you're now ready to click Publish all to live domain.
If you still have any warnings, HubSpot will show you them one last time.
Ignoring these warnings may lead to a broken links, SEO issues, and overall, a poor user journey/path.
HubSpot will ask you to write a Job Name and Job Description for your bulk publish. This is strictly for organization purposes in case you need to review it later.
Once you've added that in you're at the last step before putting your pages live.
Review one final time and, assuming everything looks right, click This list is correct and I'm ready to roll and then Publish to let the tool do the rest.
HubSpot's system will begin unpublishing and archiving any pages being replaced and publishing any of your Staged Proofs. This may take a few moments depending on the number of pages being published.
That's it! Your new pages should now be live for all of the world to see.
Helpful Tips & Insights
To help you ease you into Content Staging a bit more here are a few FAQs:
Can I link CTAs, Forms, or Menus to my Staged Pages?
Yes! HubSpot will allow you to link CTAs, Forms, or Menus to Published Proofs in Content Staging in the same way that you're able to link to other pages on your HubSpot portal.
Can I use Content Staging but publish pages one at a time?
Yes! In the Publish tab of Content Staging, you can hover over a page and publish it individually.
What happens if I change the URL of a Staged Page?
As you saw above, HubSpot will warn you that there is a URL Discrepancy.
Your new page will be published at the new URL, and the old page will still be unpublished and archived. A 301 redirect will not be added automatically which means the old URL will result in a 404 unless you add one in.
What happens if I use a URL for a new Staged Page that is already in use by a live page, and the Staged Page was created as a new page rather than a staged version of the live one?
HubSpot will warn you that there is a URL Conflict. The new page will be published at the specified URL, and the old page will be unpublished and archived.
I already built my new pages as drafts in Website Pages or Landing Pages, can I move them into Content Staging without recreating them?
HubSpot will not show drafts in Content Staging and does not allow you to import drafts as Staged Pages. A workaround is to temporarily publish these pages so that a new version can be staged in Content Staging. You can then set up Staged Pages as clones of these pages.
Once you've staged a page in Content Staging you can unpublish and/or delete the original drafts from your Website Pages or Landing Pages. With this method you will see a URL Discrepancy warning for each of these since HubSpot will attempt to find your original page which has since been unpublished or deleted.
Save Time with Content Staging
Content Staging is a simple tool that can save you a lot of time.
Even if you're not planning to use it right away, you'll want know that it exists and how to use it. If you want some help with Content Staging or a website redesign, talk to us!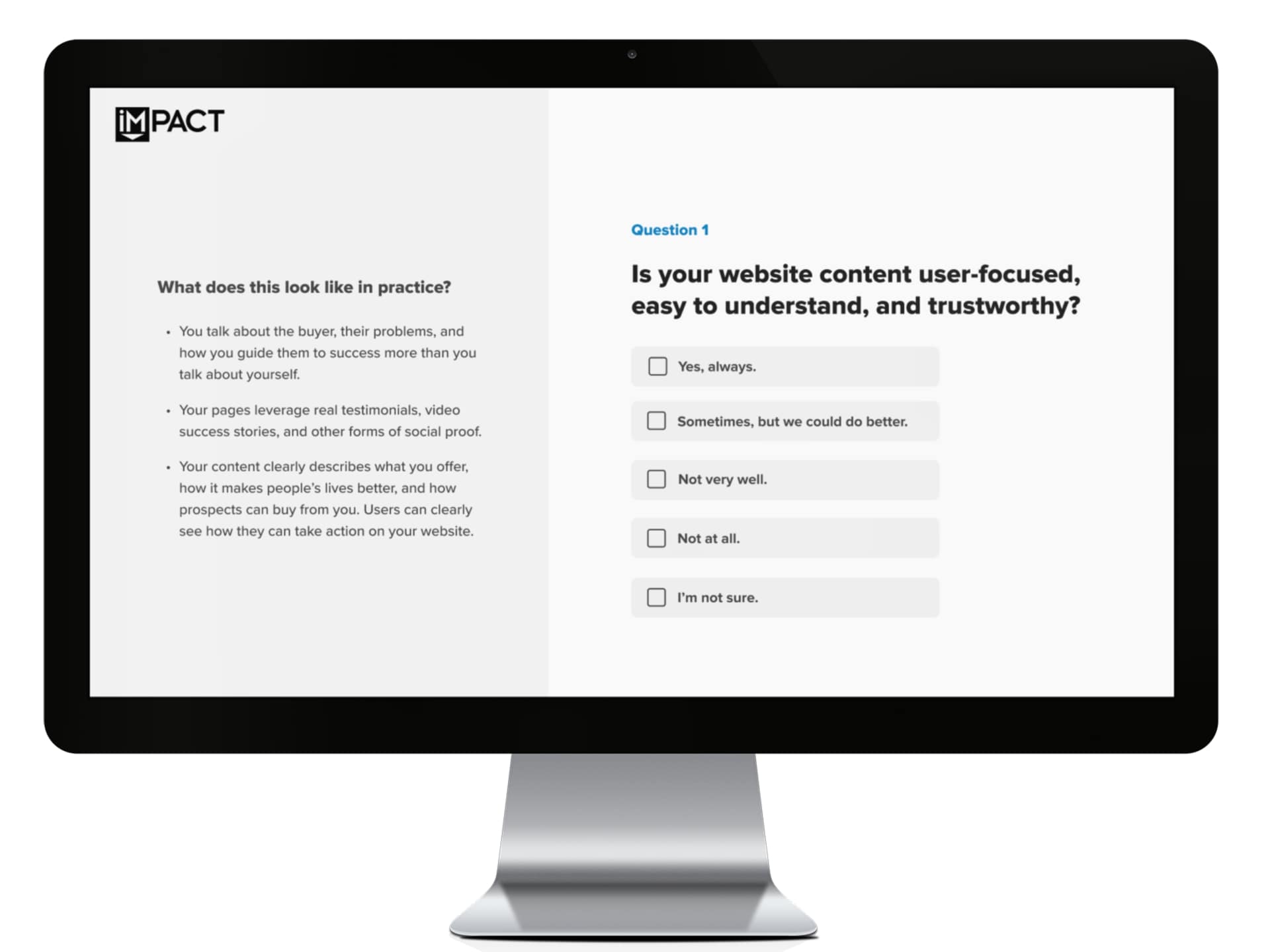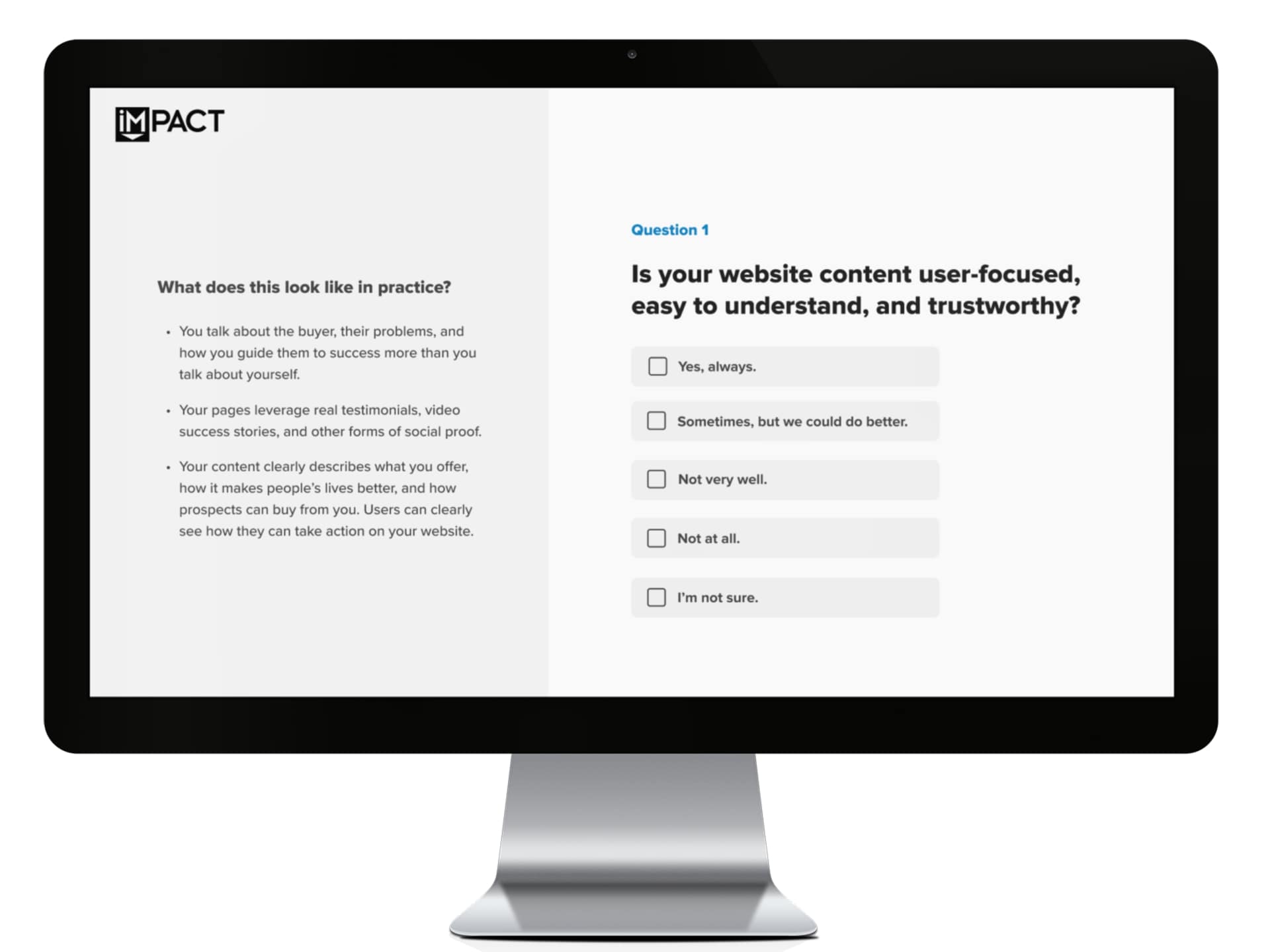 Free Assessment:
Website Performance Assessment
Does your website build trust with buyers and bring in revenue?
Take this free 10 question assessment and learn how your website can start living up to its potential.
Published on December 27, 2018