11 Common Business Blogging Mistakes To Avoid At All Costs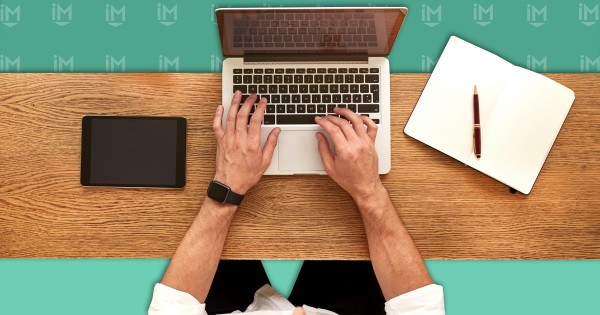 Common business blogging mistakes
Choosing the wrong blog topics
Not publishing frequently or consistently
Not having a single employee manage your content production
Content that's not user-focused
Articles that aren't comprehensive enough
Poorly formatted content
Not linking to other content
Not providing the next action
Not updating content
Not repurposing content
Terrible titles
If you've been writing blog posts for months and haven't seen any impact on your traffic and leads, you're probably growing frustrated. You may even be getting ready to give up and throw in the towel, thinking content marketing just doesn't work.
But before you give up hope and quit writing blog posts, let me offer a few tips to help you.
Blogging may be simple, but it's not easy — and far too many businesses get into it thinking they just have to publish some content and the traffic and leads will come streaming through their doors.
Writing blogs to drive organic traffic takes strategy and dedication. In other words, it won't happen without a plan, and it won't deliver overnight success. But if you've got a framework to follow and the dedication to see it through, you can drive incredible revenue growth for your business with inbound marketing.
As you start creating high-quality content, make sure to avoid the common business blogging mistakes that can doom your blog and undermine your success.
Below, I'll cover 11 of the most common business blog mistakes I see when I work with clients. The problem is, too many organizations don't see these errors for themselves, and they don't realize that their company's blog is doing more harm than good.
You can use this guide to help you post better content to your business blog — content that resonates with your audience and brings in high-quality leads.
I'll explain:
The framework I use to make blogging make sense
11 common mistakes to avoid in your content creation
Easy steps to take to fix bad writing
Let's dive in!
The basis of all blogging: Answering customer questions
When a business hears that blogging is the best way to stay relevant and competitive in the digital age, they fire up a blog on their website and start adding content to it for a few months, but they never see much of an uptick in traffic to their site.
Unfortunately, the majority of these companies drop content marketing and quietly go back to their old ways.
Whenever I visit a website for the first time, I always go to the blog, and it's disturbing how many of them are graveyards of forgotten content.
Scrolling through their most recent articles, I'll see business blogs that were once published monthly, weekly, and sometimes daily come to an abrupt end.
Looking closely, I can even see the date on the toe tag for these deceased blogs: All you have to do is look for when they published their last blog post and count the weeks and months since.
Often, I'll even look at the last article's title, and it's something like Join Us August 8, 2018 for the 5th Annual Downtown 5K.
Yup, with content like that, it's no surprise their blogs didn't have much of a heartbeat, and it's easy to see why they pulled the plug shortly after the race.
But I don't want to see that happen to your business blog.
It's not too late to get it into the ICU, breathe new life into it, and see it make a swift recovery.
The first step is understanding who your blog is for.
If you're writing mostly about you, your company, or your people, you're headed in the wrong direction. Your blog is for your customers, and it should focus on customer education. Answer their questions and show that you understand their needs. This way, the content you write will show up in search results when someone Googles a question about your industry.
With each new blog post, answer another customer question. This leads me to mistake No. 1.
1. Choosing the wrong topics
Easily the most common mistake I see in business blogging is that companies don't write on topics relevant to their audience.
They're not using their blog to answer questions their prospects have as they navigate their way through a purchase decision.
Instead, these companies use their blog to talk about themselves.
They write content that is more fitting as company news than as educational content. For the most part, your audience doesn't really care who got promoted to VP of sales, or what local sports team you sponsored, or who won your annual three-legged race. Yes, company culture and values are important, but they don't need to come first — and this type of content should occupy only a tiny fraction of your blog.
Your customers are trying to solve problems of their own, not watch you high-five yourself.
How to fix it
Talk with your sales team. What questions are prospects asking during sales meetings? What are their primary concerns that they want addressed before they buy?
Nearly every question a customer asks is a potential blog topic.
In fact, over the years of looking at the top-performing blog articles from hundreds of companies, I've identified several blog post types that customers actually read spanning across all business types.
For inspiration, check out 17 Business Blog Topics Your Audience Wants You to Write.
2. Not publishing frequently (or consistently) enough
If you're going to blog, you ought to do it right.
And a big part of doing it right is doing it frequently and consistently.
If you're only publishing to your business blog once per month or sporadically, with quick floods of content followed by long droughts and the occasional sprinkle, you're not going to get great results.
For clients that work with IMPACT, we recommend publishing three articles per week as the norm.
Why should you publish frequently?
For starters, every blog article you publish casts a wider net in search.
Your prospects are researching purchases online and have lots of questions. The more questions you answer, the more likely it is that you'll bring them to your site.
More content also means more opportunity to keep them engaged on your site as they continue to learn from you.
Regularly publishing content also shows search engines that your website has a healthy pulse.
Search engines will send their bots to crawl your site more frequently to check for new content if they know you're cranking it out at a consistent cadence.
Therefore, your new business blog content will get indexed faster and have a higher likelihood of ranking higher more quickly if you publish frequently than it would if you only publish every couple of weeks or intermittently.
How to fix it
Build a publication calendar and devote the necessary resources (people and time) to get content written and out the door. Then, commit to publishing on a consistent basis.
3. Not having one person manage the content
Putting out high-quality blog content frequently isn't an easy accomplishment.
For best results, you need someone in your organization to truly own the content.
And that's why you need a content manager.
In general, a content manager has many duties, including creating the editorial calendar; researching, writing, editing, and publishing blog articles; posting to social media sites; developing premium content; and reviewing analytics.
How to fix it
Too often, companies try to get by on an "everybody pitches in" approach to their business blog, and while I applaud any company that can get buy-in for their content marketing, you will still need a centralized person whose sole responsibility is to hold it all together.
Without this role, your efforts will undoubtedly unravel.
Either hire a new team member or deputize someone internally. But, if you choose a current team member, make sure to take other things off their plate so they don't get overwhelmed by the blogging schedule.
4. The content is not user-focused
The first three mistakes are ones that affect getting started and setting direction.
However, the majority of blogging mistakes I see occur on the page.
The most egregious of these is that the content doesn't have the reader in mind.
Rather than answering questions and truly helping buyers make a purchase decision, every single blog post turns into a promotional piece.
Most people's defenses go up when they feel like they're being sold to. If they land on an article to get answers and instead get a chest-puffing piece, they'll leave and find the article that is right for them.
Blog writing should always have the customer in mind.
How to fix it
We're not saying you can't promote yourself at all in your articles, but you do need to tone it down a bit.
We ask our clients to follow the 80/20 rule: 80% of a blog article should be educational and 20% should be promotional.
Really consider the question from the buyer's point of view.
Why are they asking the question?
What is their intent when searching for answers?
How can you answer the question without constantly referencing yourself and how great you are?
In some instances, like that of a blog reviewing a product or service, we suggest that you introduce yourself in the beginning of the article to establish why you should be trusted for the answer, make the body mostly educational, and then remind readers in the outro that you sell products and services related to the topic you discussed.
5. The articles aren't comprehensive enough
I've had many clients tell me, "we've been answering questions on our blog, but we're not getting any traffic to those articles."
But when I review their blog content, I often find the posts very short and thin on substance.
Now, I'm not saying you just need to fixate on length; you should focus on answering the question at hand fully with helpful, good writing.
People shouldn't finish your article and be left unsatisfied with the answer. If they are, they're going to leave your site and continue their search. In addition, it's clear search engines prioritize blog articles that are fairly lengthy. And there are statistics to back this up.
In two separate studies by SERP IQ and Backlinko, researchers reviewed the average length of copy for the top 10 results for millions of search queries. Both studies found that the top answers were close to or over 2,000 words long.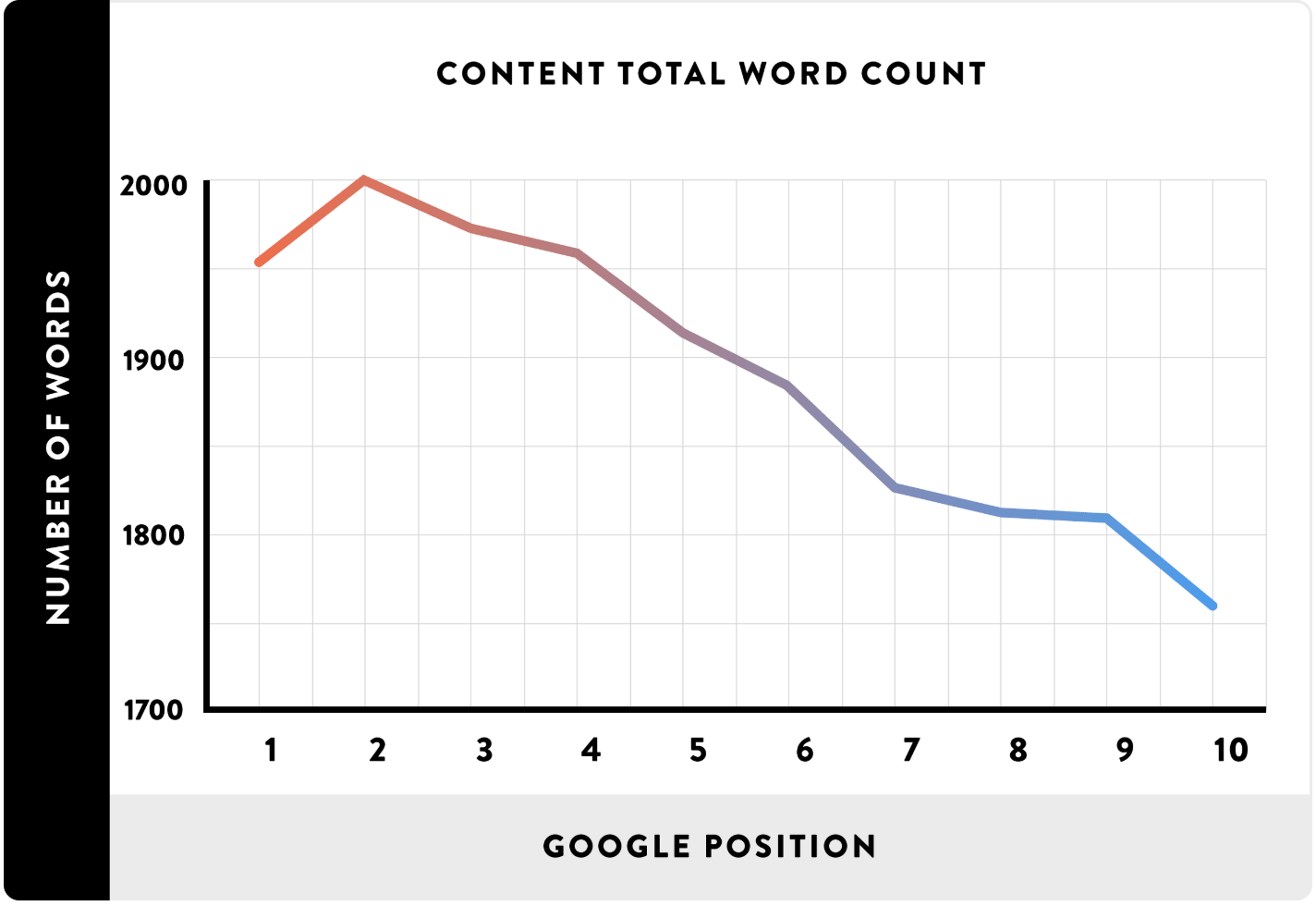 How to fix it
So what length should you shoot for?
There's no perfect answer, but I can at least give you a minimum: We tell all our clients that their blog articles should be at least 750 words long.
When I receive content shorter than that, I'm quick to send it back and ask for more copy.
When I get articles between 750 and 1,200 words long, without even reading the copy I can assume the article has a fair shot of ranking high in search results and attracting leads.
However, when I get content 1,500 words and up, I feel confident that the article has a good chance of being first-page quality.
And if it's over 2,000 words, it's rarely a question of if it will make it to the first page, but how quickly can it get there.
My recommendation is to write until you feel confident that you've answered the question completely.
6. The content is poorly formatted
Let's say you really strive to answer a question fully and comprehensively and end up with a very long blog article.
Your blog article might very well be the best answer to that question in the world, but if it's poorly formatted, nobody is going to read it.
How to fix it
So how can you fix your business blog content to engage readers? Add the following:
Clear sections with headers
Whitespace
Bullet points
Bolded text
Headers should act as signposts that let readers know what the next group of paragraphs is about. Make sure to include them.
Use lots of whitespace and don't have big blocks of text. (You may have noticed in this article there are very few lengthy paragraphs. Most are one to two sentences long and very few over three. Doing so makes the article easier to read.)
When readers see giant blocks of text, the copy appears dense and harder to read.
Simply adding more paragraphs and adjusting your line-height in your CSS styling can give the copy the appearance of being easier to read, and thereby keep your audience engaged.
Next, use bullet points and bolding to draw attention to key points.
Many people skim blog content instead of reading it, deciding if they want to read it in full. If you want essential information to pop off the page and grab your reader's attention, bullet points and bolded text can help.
7. Not linking to other content
Let's say someone finds your content through organic search. They read the entire article, and feel that it answered their question in full, but now they have other questions around the topic they want to explore.
Do you have those answers somewhere on your site?
Do you know of any sources that do have those answers?
The reader is left hanging, unable to take logical steps to other content.
How to fix it
To solve for this, include links in your business blog articles to help the reader navigate.
They want to keep researching, and if you have more content on your site that's relevant, links are the perfect way to move them from one of your pages to another.
There are huge SEO benefits to linking:
Linking to internal content helps search engines better understand your website architecture and what important pages you have.
Linking to outside resources helps establish you as an expert in your field that puts the reader's needs ahead of your own.
8. Not providing the next action
When you write an article, always keep in mind the next logical action your audience should take.
Are there other articles they should read?
Do you have any premium content that would be of value to them?
Is there a webinar or trial they can sign up for?
All too often, blog articles end without having the next action in place.
How to fix it
Unless they can make a purchase directly from a specific page, it shouldn't be the end of the journey.
Keep them engaged. Keep them learning from you with links that help extend their experience. You can list out a few articles they should read next or include a CTA (call-to-action) for a relevant offer that can take them further down the funnel.
9. Not updating older content
If potential customers come to your site and find content with outdated statistics and broken links, they're not going to leave with a great impression.
But if you're focused on writing and publishing new content, how often do you revisit older content to tweak, update, or revise it?
It's one thing to get your content to the first page; after that the challenge is keeping it there.
How to fix it
It's essential to regularly revisit older pieces of content (especially high-performing ones) and update them with new information to keep them ranking.
If an article consistently generates new traffic and converts leads for you, you're not going to want those results to slip.
How do you decide when to update content?
You could set a reminder to update articles a year from their publish date so you don't forget.
The beginning of a new year is another great time to sit down and revisit older content (especially articles that have the year printed in the title).
And any time new information emerges or old information is disproven is the perfect time for an update.
For example, I recently updated an article I wrote of a review of Semrush when they made tweaks to the interface. I also updated my Google My Business Tips article when new tools were added.
10. Not repurposing great content
Those high-performing pieces of content can work for you in other ways, too. In fact, if they only remain as blog articles, you're missing a great opportunity.
The same topic and subject matter could easily be used in other formats, whether that's podcasts, pillar pages, gated content, videos, guidebooks, infographics, or more.
How to fix it
Let's say you have a great article that gets lots of traffic and helps convert leads. What else could you be doing with that content? How could those same blog post ideas in long print form be converted into new mediums to reach a larger audience?
There's a good chance people are searching for similar answers on YouTube (the second largest search engine). So, why not shoot a video on that topic?
If you're a bit camera shy but could easily talk about that subject to anyone wanting to listen, why not turn it into a podcast episode?
You could also try boiling the information down and putting it into a neat and tidy infographic.
And, if you have several blog articles around a topic, you can package them together and create an awesome downloadable ebook.
When you limit your content to text only, you limit your ability to reach a larger audience.
11. Letting terrible titles get out the door
A great article with a terrible title is teetering on the edge of being a terrible article. That's how important titles are.
Titles serve two important functions for readers and search engines:
They tell people what the article is about.
They entice people to click and read the content.
Unfortunately, I see a lot of companies put painstaking effort into writing their blog articles only to casually tack on a lackluster title, almost as an afterthought.
How to fix it
As you write, develop a list with a few working titles. Once you've finished the blog post, sit back down and take the time to craft a winning title. Use your working titles as a starting point, and whittle down until you've got one that's perfect.
Tips for creating titles:
Use your target keywords
Make sure the title gives context to what the article is about
Be enticing without being clickbaity
Use interesting adjectives and superlatives
Use questions to target exact queries
Use numbers or years (if it makes sense)
There's no perfect formula for writing titles, so keep practicing and improving. Just don't be lazy with your titles. Make sure you're dedicating the necessary effort to put the best title you can on top of the piece you worked so hard on.
Turn mediocre writing into great blogging
Using your business blog to bring in more traffic and generate leads is both an art and a science.
Unfortunately, many bloggers get it wrong by succumbing to all-too-common errors that could be easily avoided.
This list should help set up your business's blog for success. Granted, hiring a teammate is more challenging than adding CTAs to your blog, but each step forward will represent an improvement. Whether you're just getting started blogging or are a seasoned writer looking to improve your craft, use this list to audit your content, your process, and your data to better connect with your audience.
If you can avoid making these common blogging mistakes, I guarantee you'll revitalize your content marketing efforts and finally start seeing some positive results.
If you're ever running out of blog topics, spend some time with your sales team. Listen to the questions they hear from prospects.
Or, use Semrush, Google Trends, Answer The Public, or another content marketing tool to figure out what helpful content you can produce for your intended audience. When you answer questions, you connect with potential new customers who are eager to learn from you.
Remember, a successful blog requires both strategy and dedication.
Free Assessment:
How does your sales & marketing measure up?
Take this free, 5-minute assessment and learn what you can start doing today to boost traffic, leads, and sales.