Content manager job description for all industries (ready to use)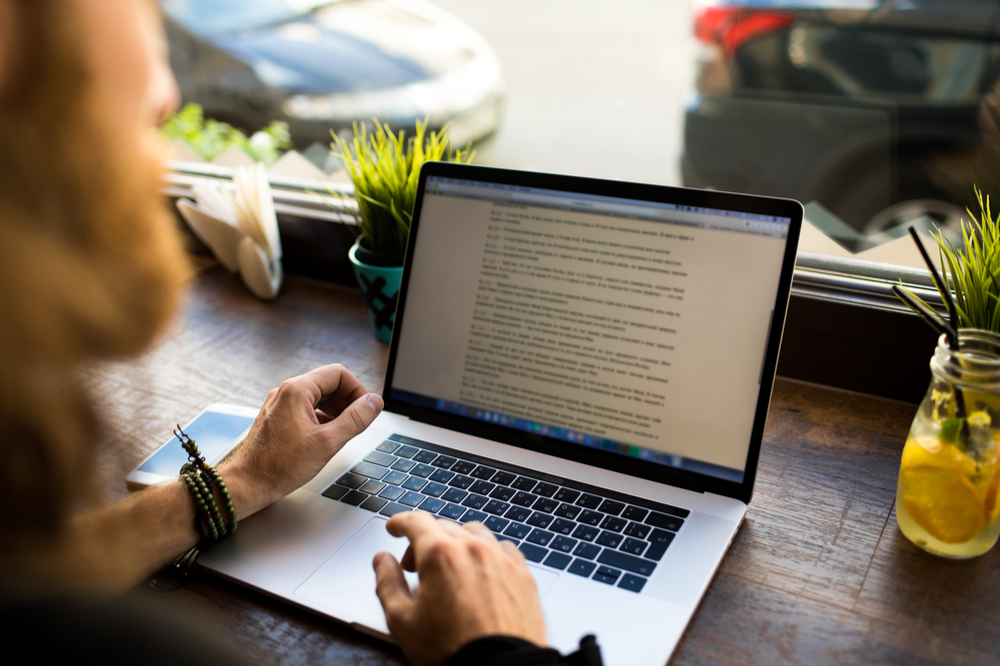 October 24th, 2019 min read
What is a content manager?
A content manager — sometimes also called a chief brand storyteller, content strategist, and so on — owns the creation and direction of all content marketing initiatives across multiple platforms and formats. The best content managers are well-liked, agile team players who are also expert storytellers, superb communicators, exceptional writers, and polished interviewers.
Do you ever have one of those moments where you realize you've forgotten to do something important?
This happens to me a lot.
I get into my car to run errands only to realize my car tends to operate more effectively when my car keys aren't still inside the house. Casseroles are more likely to bake when the oven is turned on. Coworkers won't ask you, "Wait, what meeting?" if you remember to actually add them to a calendar invitation before you accuse them of being a no-show.
And so on.
I bring this up because I recently realized a gross oversight on our part here at IMPACT.
We've published thousands and thousands of words about what we consider to be one of the most important roles any company will ever hire for their digital sales and marketing team — the content manager:
(If you've read They Ask, You Answer, this probably comes as no surprise.)
But in our earnestness to explain why content managers are so critical to digital sales and marketing success, what skills you need to look for, how to interview and evaluate candidates, and what they should be doing once you get your content manager hired, we missed one critical step.
We never shared a content manager job description you could use to get those good-fit candidates in the door to be interviewed and evaluated.
As our content director, I am very sorry about that, because that falls squarely upon my shoulders. And I'm going to fix that right now, with this very article.
Today, I'm going to share a ready-to-use content manager job description, along with a few tips on how to evaluate the responses you will receive to your posted job description, before you start inviting candidates in for interviews.
OK, now that we all know why we're here, as well as what digital marketing knowledge goodness you'll be getting out of this article, let's dive in...
Content manager job description
Position overview
The content manager will own the creation and direction of all content marketing initiatives across multiple platforms and formats. The ultimate goal of these efforts is to increase website traffic and drive engagement, qualified lead generation, customer retention, and other positive client-related outcomes.
The content manager will help define our brand story, in addition to developing consistency for our brand's storytelling. They will also have an obsession for content performance, reporting, and analytics.
Our content manager will lead the development of our content initiatives with a publisher/journalist mindset, in all forms, to drive new business and cultivate new opportunities with our current client base through their work.
The right candidate will have the heart of a teacher, with a love of learning, writing, and communicating in all forms. They will see the value of every person on our team and put them at ease, empowering them to tell their stories to our audience.
Typical weekly duties for a content manager
Publication of three or more new pieces of content, be it text (blog articles), video, or audio (podcasts).

Interviewing internal subject matter experts for content.

Company email marketing efforts, including newsletters, automated workflows, and so on.

Ownership of all analytics and reporting for content marketing efforts.

Search engine optimization (SEO) efforts for website and content.

Social media for community engagement and long-term content promotion.

Premium content production, including ebooks, white papers, webinars, etc.

Creating landing pages and conversion opportunities for lead generation.

General website updates and enhancements, e.g. new pages and calls-to-action placement.

Professional development and continued education in relevant areas (e.g., HubSpot certifications).
How success will be measured
The content manager will be measured on the continual improvement of customer nurturing and retention through storytelling, as well as the increase in new prospects, through the consistent development and deployment of content.
Specific measurements of this criteria include:
An increase in defined customer engagement metrics (i.e. conversions, submissions, purchases, etc.)

Growth in website traffic; specifically, organic reach and other inbound traffic sources.

Conversion metrics definition and growth.

Social media positive sentiment metrics.

Customer feedback and survey data.

Increases in key search engine keyword rankings.

Clearly defining content distribution during particular stages of the buying cycle (lead nurturing).
Primary criteria for success are customer and employee affinity. Success is measured around lifetime customer value, customer satisfaction, and employee advocacy.
Educational requirements
Bachelor's degree in English, Journalism, Public Relations or related communications field.
Required skills
The content manager role requires a combination of marketing and publishing mindsets, leading at all times with a "customer first" mentality. In essence, the content manager is the company storyteller and must be empathetic toward the pain points of the customer.
Specific skills required include:
Impeccable writing and editorial skills, with an outstanding command of the English language.

An understanding of common editorial style guides, e.g. AP Style, Chicago Manual of Style, etc.

Training as a print or broadcast journalist is a bonus. Great at telling a story using words, images, or audio, and an understanding of how to create content that draws an audience.

The ability to think like an educator, intuitively understanding what the audience needs to know and how they want to consume it.

A passion for new technology tools and usage of those tools within your own blogs and social media outreach.

Clear articulation of the business goal behind the creation of a piece (or series) of content.

Project management skills to manage editorial schedules and deadlines within corporate and ongoing campaigns.

Familiarity with principles of marketing.

Incredible people skills.

Needs to be continually learning the latest platforms, technology tools and marketing solutions through partnerships.

Able to screen out sales pitches and look for the relevant brand and customer story.
A few notes about how the above job description was created (and what you need to know)
At first glance, the content manager job description we've provided follows a familiar pattern. There's a summary at the top that functions as a little "table-setting" about the role itself, which is then followed by required skills, metrics for success, and so forth.
However, given that the content manager role is still one being embraced as a standard or norm by digital marketing teams, we've added quite a bit of context for the role itself, to make it easy for you to find the right candidate.
"The heart of a teacher..."
For example, in addition to the expected quantifiable skill sets and educational requirements, one of my favorite parts of the job description is a passage in the initial role summary:
"The right candidate will have the heart of a teacher, with a love of learning, writing, and communicating in all forms. They will see the value of every person on our team and put them at ease, empowering them to tell their stories to our audience."
You'd be surprised how many potential content manager candidates will seem to have the right qualifications on paper — they come from a communications or journalism background, they have an impeccable command of the English language, they thrive in fast-paced, deadline-driven work environments, etc.
Still, they will fail in the role because they do not embody its core spirit. Someone either has the heart of a teacher or they don't. And if they don't, it doesn't matter how qualified they might otherwise seem; they will never be a successful content manager.
In fact, they'll probably end up hating the job.
Typical weekly duties of a content manager
There's a good chance that, if you're reading this article, you haven't hired a content manager before.
Moreover, it's pretty likely the candidates you're going to be evaluating to fill the position will be fresh out of college or transitioning from a different industry — if not completely changing their career path — because they want a new challenge.
So, to help shorten the learning curve for both you and your job candidates, we included a section in the content manager job description that outlines what a typical week looks like for a content manager based on our experience, as well as battle-tested best practices for success.
Of course, this section can (and should!) be tailored to the unique needs of your company, but we wanted to give recruiters and business leaders a base understanding of how the role should function.
How to evaluate content manager job listing responses before you schedule interviews
Before you start inviting content manager candidates in for interviews or having them participate in situational activities for evaluation, you'll need to review all of the applications you receive and decide who will move onto the next round.
Lucky for you, I'm a former content manager who has also had to hire a few content managers throughout my career.
In my experience, I've seen a lot of... well, let's say interesting content manager applications. So, here are my top tips for finding the best candidates to advance — and how to spot those applicants who aren't worth your time:
Ignore anyone who is applying as a digital marketing generalist who doesn't articulate a clear passion for the content manager role, specifically. I'm not saying generalists can't excel in this role. But often candidates who may have some of the right qualifications will apply, as if it's a standard digital marketing manager role. They'll speak to broad experience that doesn't really touch on the spirit of the role — a content producer with the heart of a teacher and a calling to empower others. They're usually pretty easy to spot, because their application could be well-suited to a cookie-cutter digital marketing manager position, with little to no tweaking. Ultimately, these folks will not be happy in the role, so they are not worth your time.
If someone submits an application, resume, and cover letter with errors, typos, and/or a liberal interpretation of editorial style, they are not the right fit. I get that mistakes happen, but what does it tell you when a content manager candidate submits an application for a role where the requirements outline the need for an "impeccable" command of the English language, as well as a keen an eye for detail? I don't want to speak in absolutes by saying there is no circumstance under which I will allow someone to move forward in the content manager hiring process if they submit an application with typos or other issues — but it would be exceedingly rare for me to do so.
Absolutely no experience with interviewing someone for a piece of content is a big red flag. I don't care if their only interviewing experience was in an academic setting in journalism school or part of a few small ad hoc projects at one of their last jobs. One of the most important parts of the content manager role is making people feel comfortable, building rapport, and then extracting content marketing goodness out of subject matter experts in a short period of time. So, they need to have at least dabbled in interviewing. Otherwise, they'll go to the bottom of the list.
They've never heard of AP Style, Chicago Manual of Style, or other standard content style guides is another one. This likely won't be an issue if you're pulling candidates from journalism or communications backgrounds. But the person you hire needs to have at least some understanding of what a content style guide is, because they will be the one who needs to create one for your brand and then enforce it. Again, I'm not looking for someone who can recite those rules by heart — unless you're a J-school grad. It's more about a familiarity with the concept of content style; everything else can be taught.
Look for someone who clearly communicates they get the scope and demand of the job. Similar to my first tip about digital marketing generalist applicants, I'm generally wary of those who seem to only have a cursory understanding of what a content manager does, based on the amount of information we provide about the spirit of the role, the typical week of a content manager, metrics for success, skill and educational requirements, etc. If someone is looking to just be a copywriter, I don't care how great their portfolio is — they're a super-talented individual contributor, but they're not a content manager. Someone needs to communicate through their cover letter and application that they want this job specifically. How that manifests will depend on the individual, but you'll know it when you see it. The applications you should green-light for the next phase should show that they "get it."
One last word of caution
Before you take your content manager job description live for applications, I want to say something we've said before, across multiple articles. But it's so important, I feel the need to say it again:
Do not disqualify candidates who do not have industry experience.
Just ask any of our clients who have seen remarkable results after hiring a content manager — industry experience may seem like something that's a must, but it's really not.
Then there's our most recent content manager hire for IMPACT — the one and only John Becker. (The role is called "editorial content associate" under our roof.) John came from a higher education background and is a textbook example of why hiring an industry outsider as a content manager is often the right move.
Hiring someone for a job you've never had on your team and then saying, "Industry experience doesn't matter," sounds like an absurd leap of faith that runs counter-intuitive to how all other hiring is often handled for internal digital sales and marketing teams.
But what makes this role so magical is that, if you hire someone with the right skills and the heart of a teacher, they'll become an industry expert in the blink of an eye, just by doing their job. Whereas it's much, much harder to train someone who has industry experience on the fundamentals of being a content manager — those are the types of skills folks spend years cultivating in school and on the job.
With that, happy hiring!
Want to learn more about digital sales and marketing?
Master digital sales and marketing when you join IMPACT+ for FREE. Gain instant access to exclusive courses and keynotes taught by Marcus Sheridan, Brian Halligan, Liz Moorehead, Ann Handley, David Cancel, Carina Duffy, Zach Basner, and more.
Access hundreds of FREE courses and keynotes