6 tips for creating a successful HubSpot and Salesforce integration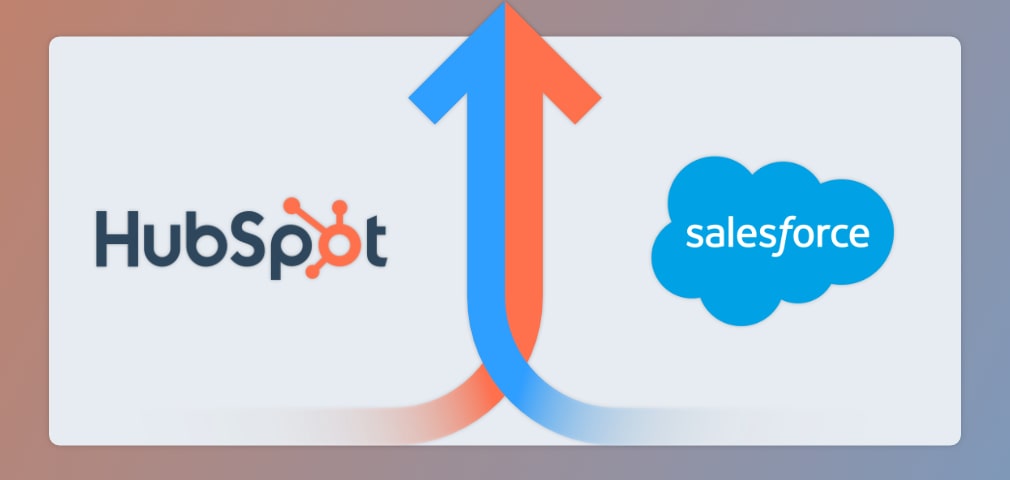 So you've made the jump and started using HubSpot Marketing to drive your marketing results sky-high, but are still using Salesforce as your CRM.
Now you're tasked with integrating the two —And. It. Scares. You.
Don't worry! I have worked with dozens of clients dreading working in separate platforms and the communication between marketing and sales having a huge disconnect.
Luckily, from its early days, HubSpot has made it fairly seamless to integrate with Salesforce.
It has an easy to set-up and use integration that allows data to sync between HubSpot and Salesforce automatically. The integration allows you to select what information you want syncing back and forth, and lets your team in Salesforce to see activity captured in HubSpot like page views, session information, and so on.
🔎 Related: Our 20 favorite HubSpot integrations for businesses
With these tools, together, Salesforce and HubSpot can help you run your business like a pro. However, before you start integrating the two platforms, check out these tips to help make your HubSpot-Salesforce integration a success.
1. Know you entire sales process
I can't emphasize this one enough. By knowing your sales process inside and out, you'll understand what information is most important, and what you'll need to capture in HubSpot to subsequently transfer over to Salesforce.
It will also help you understand exactly when that transfer or hand-off from marketing in HubSpot to sales in Salesforce should happen. What is the criteria? This helps make sure that the HubSpot/marketing team is only sending over leads that are qualified and ready to be in front of sales and in Salesforce. (More on that handoff and what it looks like between the two platform in this infographic.)
Start by outlining what information you need/want/desire about a prospect (you're doing prospecting calls right?). Then, move down to leads.
What qualifies them? Do you need their location because you have a service area? Do you care about their position or company size? Is there a single piece of information that automatically turns a lead from an MQL to SQL?
Digging into this type of information will help ensure that you're solving for every step of the buyer's journey and creating the proper fields in advance of setting up the integration. Knowing all of this before you even activate the integration in HubSpot will help you make the process extremely easy.
2. Understand the jargon and data differences between the platforms
Knowing how your Salesforce instance is configured can mean the difference between a stress-free integration, or you pulling your hair out trying to get the data to sync properly. Planning for the small intricacies of the different record types will help stop confusion down the line.
Simply put, some things are named and labelled differently between the two platforms. The fields that are used on each record are extremely similar, and usually will have the same values, but the actual field names will differ, and that's what matters.
The objects, or category of data, for each platform breaks down as such:
Salesforce: Contacts/Leads = HubSpot: Contacts
Salesforce: Accounts = HubSpot: Company
Salesforce: Opportunities = HubSpot: Deals
Knowing this will also help you understand the limitations of the integration. You are only able to connect data from the platforms that are in the equivalent objects. For example, Salesforce account data will only be able to sync with HubSpot company data. You can't connect Salesforce account data to HubSpot Contact data.
If you are using any custom objects in Salesforce, these cannot be synced with HubSpot with the integration.
3. Set your field mappings to sync important data
When you're setting up field mappings for the integration — meaning identifying where data from HubSpot will go to in Salesforce and vice versa — you will be able to go to each property or data point in HubSpot and specifically say how you want that data to sync, and which field to send it to in Salesforce.
That way, if the data is updated or coming from either platform, the integration will know which field to update on the other side.
You will also have very detailed control over how the fields will update including which platform should take priority. Below is an image of the rules you are able to set:
This is crucial to make sure that your team in HubSpot is not overriding important information or that changes aren't being communicated.
4. Create your inclusion list
When connecting the integration, you can create an "inclusion list." This is an active HubSpot list created to let you control contacts syncing with Salesforce from the marketing platform.
With this list, you are able to select the exact criteria needed for a contact to move from one platform to the other and essentially from one team to the other.
This goes back to the first point of understanding the sales process and what should be sent over to the sales team. You can use the inclusion list to say "don't send this contact to Salesforce unless it meets the SQL criteria, which is…"
This will further help with making sure you are not sending unqualified leads or leads that aren't ready to be in the sales process to your sales team. This also helps with making sure you are not cluttering the data in Salesforce by sending every contact from HubSpot.
5. Use the Salesforce data importer in HubSpot
Once you integrate HubSpot and Salesforce, your data will not automatically sync over your data between the two platforms. You need to take care of that, but luckily, you have a feature that will help.
In the import wizard in HubSpot, there is an option to import information straight from Salesforce into HubSpot.
This tool allows you to automate the import of everything you have in Salesforce, or select various records from Salesforce to get started in HubSpot .
🔎 Related: Ultimate Salesforce to HubSpot CRM migration checklist
This is the best way to move your data from Salesforce to HubSpot because it's fairly hands-off. You avoid exporting massive spreadsheets from Salesforce and manually importing your information into HubSpot and can also pull multiple categories of data at once.
For example, you can pull all your information from Salesforce, or you can select to only import companies or contacts.
The image below shows the various import options:
6. Only sync clean data
Make it a point to clean your data in Salesforce as much as possible before you even bring it into HubSpot. This means removing contacts that have previously bounced, old contacts that have never engaged with you, duplicate contacts, or any other qualifications that will help remove unwanted contacts.
Think of it like moving to a new house. You want to make sure everything you bring is useful and in the best functioning order. You wouldn't want to bring dirty furniture to your new living room, right? So make sure you thoroughly clean it first.
To go about clearing your data, you will want to start identifying records that may have been added incorrectly and will "bounce" if you try to email them or is just bad data. Especially those that were added manually into your system since that information didn't come directly from the contact. You can also fix any type of duplicates in your system, contacts that are unengaged, etc.
You also want to make sure if you are going to have HubSpot's GDPR settings turned on so you are not bringing contacts into HubSpot that haven't specifically given you permission to have their data or communicate with them. This can avoid any legal issues or fines you might run into for not complying with the GDPR laws.
Successfully using HubSpot and Salesforce together
Believe it or not, I have had companies say to me "setting up the Salesforce to HubSpot integration was actually easy." Taking advantage of the integration correctly can make the whole process a lot faster and hassle-free, and can help make sure your team on both platforms are able to work together.
The goal is to go about it properly (with the tips above) and make sure that the right people are involved so that we aren't backtracking or trying to clean up our systems after they are already connected.For help with integrating HubSpot and Salesforce or other projects like this, check out HubSpot training with IMPACT.
Free Assessment:
How does your sales & marketing measure up?
Take this free, 5-minute assessment and learn what you can start doing today to boost traffic, leads, and sales.