How to align your sales and marketing teams in 2021 [Interview]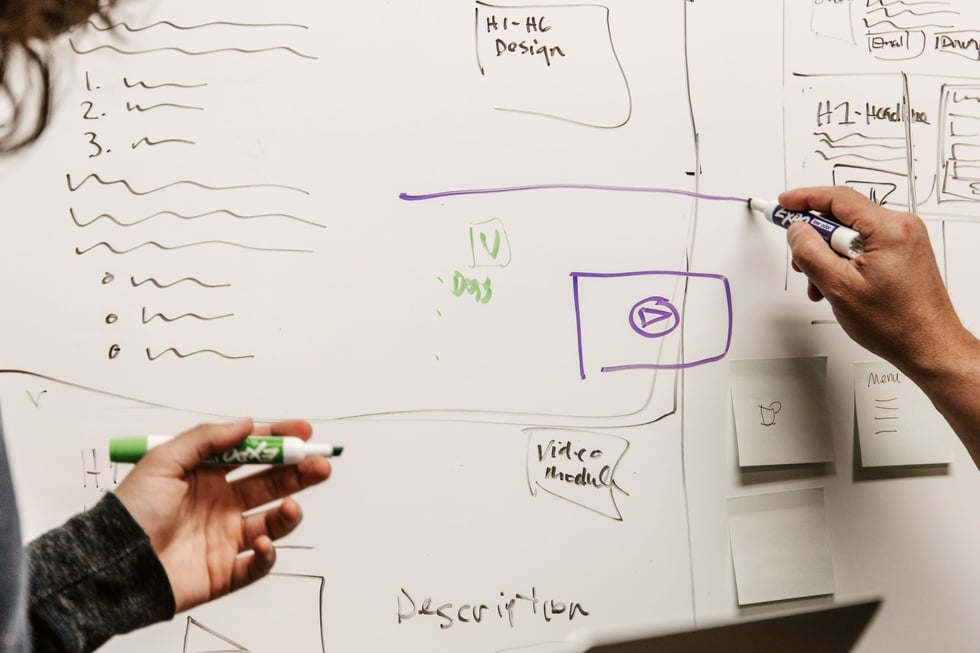 Revenue and Features Editor, Co-host of Content Lab, 15+ Years of Writing and Teaching Experience
January 23rd, 2020 min read
How to align sales and marketing
Follow the Rockefeller Habits
Establish middle management
Leave no ambiguity
Revisit and iterate
Sales and marketing alignment is a much-discussed topic in modern business — and something we've written about before.
At IMPACT, we've worked hard to bring these two departments together, with frequent meetings and planning time, a common lexicon, and a shared understanding of success.
Melanie Collins, our VP of revenue, spoke with me about the investments necessary to break down this separation, and the benefits of shared purpose.
Sales and marketing alignment in 2021
John: We talk about sales and marketing alignment a lot. Is it more critical now than ever before? Why in 2021 is it different than it's been in the past?
Mel: I think we're all recognizing now that if you're going to get to where you want to go in 2021, you have to get these two departments aligned and on the same page.
But it's no more important now than in previous years — it's always been important. From what we see in our work with clients here at IMPACT, it's just not common for most organizations to be aligned.
They don't possess the clarity they need to make it happen.
John: It seems like if companies don't make time for alignment to take place, it's not going to happen, right?
Mel: That's exactly right. An organization's senior leadership must set the tone and give the process of sales and marketing alignment the time and attention that it deserves.
And it doesn't happen in a single meeting, it happens with a clear purpose and vision, frequent meeting cadence, and regular check-ins.
Like relationships, it takes work.
The Rockefeller habits
John: How do you recommend companies allot the time for alignment to actually happen?
Mel: We started to adopt the "Rockefeller habits" here at IMPACT and that has helped us figure out our direction and how we tackle alignment here within our organization.
The author, Verne Harnish, created the "Rockefeller habits" based on the principles John D. Rockefeller used as he led and managed Standard Oil.
The principles have been applied at over 70,000 companies over six continents and designed for companies in hyper-growth mode.
Our CEO picked up a copy of the book in the airport, then recommended that all of the managers in our company read it.
John: Can you give a little bit of a background on what it says?
Mel: The Rockefeller habits gives a framework for how companies can go from start-up mode to "gazelle-mode'' by following the right guiding principles.
Companies graduate from start-up mode once they grow beyond $10 million in annual revenue, but it's the next phase of the business that's the most trying.
It takes the right people, strategy, execution plan, and cash to scale effectively.
Here's a quick video to better explain.
After all of the managers in the company read the book, we all became obsessed with scaling effectively. The senior leadership team made the decision to apply the principles of the book, and this started at our annual offsite leadership team meeting.
We locked ourselves in a room for a week tackled the one page strategic plan.
Through this process we were able to clarify our vision, purpose, and what the author calls a "BHAG," which stands for big, hairy, audacious goal.
We had a lot of light bulb moments and we were able to say, "Okay, this is who we are. This is what we stand for."
This kind of activity is crucial to do every few years because companies evolve and the products or services that they offer might change.
Once we had those things in place, we were able to say, "Okay. Now, how do we break down that BHAG into more digestible goals?" How about three to five year goals?
From there, we started thinking about who are the people inside of the organization who can help make progress to these goals on an annual basis?
From there, we create one year "rocks," developed quarter by quarter benchmarks, and made plans to help make it all happen.
Suddenly, this huge goal that might seem impossible to some folks was now in actionable three-to-five-year plans.
We also had to look at every single process inside the organization, every function of the organization, make sure we had the right people in the right places and the right processes in place to help us get to this ultimate, giant BHAG.
If we didn't have all of that in mind, if we didn't have all of that perspective, then our sales and our marketing teams could just be floundering out there thinking they're doing the right things that might not actually be aligned with our purpose or our vision.
Why middle management is key to alignment
John: I see the value of a retreat model that allows you to really spend a lot of time diving in.
When you come back, how does alignment happen day to day, or week to week?
Mel: The book suggests that alignment happens in the middle-management team. The majority of disconnect between leadership and the rest of the organization can be solved at the middle manager level.
In order for communication to make it from the leadership team to the rest of the organization, the book suggests that you empower your middle management team to be a part of the solution.
Having a BHAG doesn't mean that we have a tactical plan on how to get there.
To get everyone in the organization excited, you need the help of your middle management team. They need to feel empowered to get their teams marching in the same direction and making sure that we're all working towards the same goals.
What we did is schedule a series of company-wide meetings to share the work that we did at the offsite retreat to talk through the purpose and vision we created and get everyone on the same page about where we were headed.
Next, we establish middle manager meetings, which happen for an hour and a half every week on Mondays.
It's there that we're going to take all of the work that we did offsite, then apply it and put it into action.
Anyone with ownership of a quarterly rock reports on it at the beginning of each management meeting, and from there we discuss and resolve initiatives and issues as a team — all in an effort to make progress towards our goals.
From there, middle managers will report decisions and outcomes made during these meetings to each of their respective team members.
John: The fewer links in the chain of communication, the less likely that a message is going to get misconstrued or misinterpreted.
Mel: Yes. This way, no one is ever more than one person away from senior leadership.
'No ambiguity about what success looks like'
John: I loved the phrase that you used recently: "there is no ambiguity about what success looks like." Talk to me about what that means and what that looks like in practice.
Mel: "No ambiguity" comes from that one-page strategic plan. Once the company has set the goals, then everyone inside the organization has a job scorecard that rolls up to this strategic plan.
I have a job scorecard that has a list of core responsibilities and core metrics that I review with my COO and CEO on an ongoing basis, just to make sure that I'm on track and that I continue to focus on the right things (like making sure that the company's bringing in the right types of clients and revenue), and that rolls up to the company goals.
Each member of my sales team has a job scorecard that is specific to a quarterly revenue target as their key leading success indicator.
The job scorecard also has suggested skills and competencies that they work on to help them achieve their revenue goal.
There's no ambiguity there about what success looks like. If something is not tied to the vision, the purpose, and our BHAG, then it will likely get de-prioritized because it's not where headed, and it's not going to keep us focused and on track.
Now, with that said, cross departmental goals are all intertwined.
I need to be working very closely with the marketing team to make sure that something we're jointly responsible for — an example of that is creating x amount of new opportunities per month, quarter, and year — gets accomplished.
There's no ambiguity there; we all know what we're working towards.
Prepping for the marathon of alignment
John: We talk about alignment like it's some mythical state of perfect harmony. How do you know that you are aligned?
Or, is alignment more of an ongoing process?
Mel: I think of it more like a marathon. Everyone has a different goal entering into a marathon. You have people who enter to be the first one to cross the finish line.
Other people enter and they say, "I want to get across the finish line." Somebody might walk the entire thing.
As long as you're working, as long as you're moving forward and you have alignment in mind and your organization has clear communication and focus across departments, and there's no ambiguity about goals, then you're taking good steps.
I don't think any organization can say "check the box, we're aligned now, let's move on." You always have to be working at it because we are humans. We have to work together.
So, as long as there are people involved, it's always going to involve ongoing effort, pivots, and determination. You have to pace yourself for the marathon.