How to Make a Great Intro Video for Your Website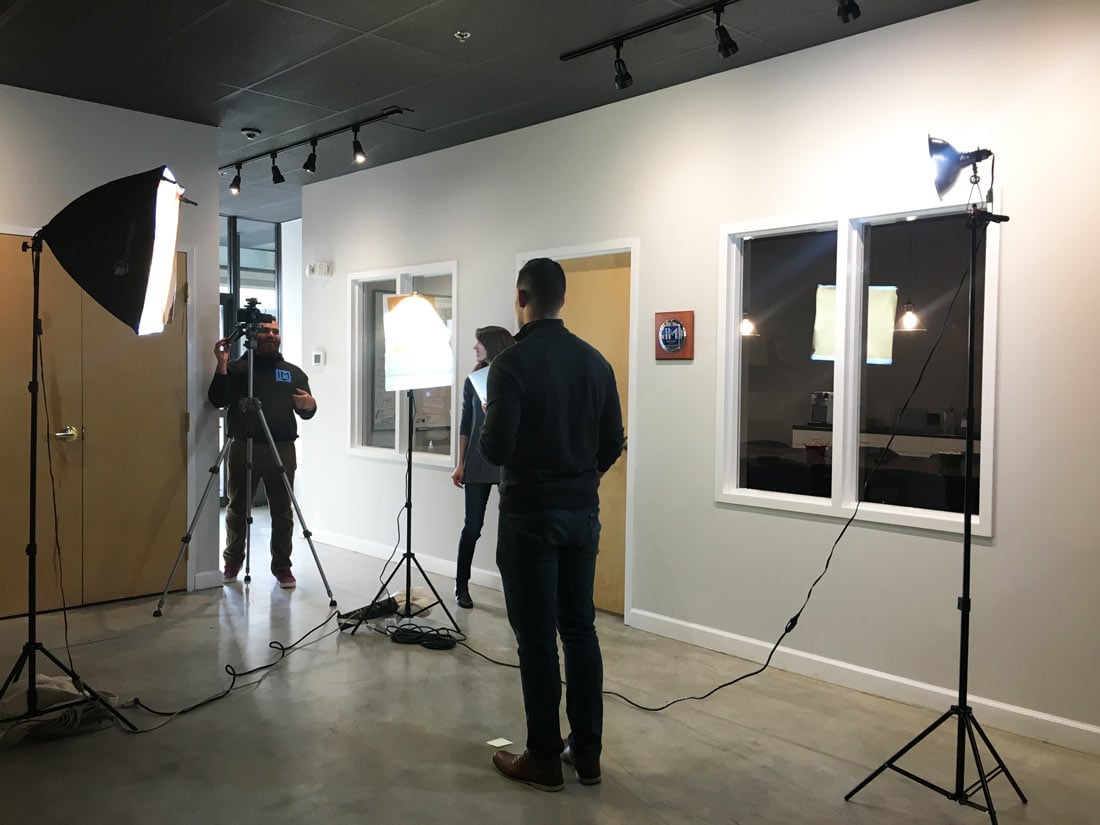 These days, even the best photos and gifs are being trumped by video.
In fact, on average, people stay 2 minutes longer on sites with videos than they do on sites without them. Anything can happen in two minutes online -- so why wouldn't you want to capitalize on it?
One of the most common and useful videos to start with is an intro video.
An intro video is exactly what it sounds like, a short, direct, introductory video that tells the viewer everything they need to know about your product/service and business while also setting the tone for your brand and the rest of your content.
Incorporating an intro video into the layout of your website (especially your homepage) can be an effective way to getting your visitor's attention. Ultimately, this allows you to tell a story, bring your company to life, and increase conversions.
Still on the fence about adding an intro video to your homepage? This stat from Adelie Studios might give you the confirmation you need: "homepage videos increase conversions by 20% or more."
However, how can you create an intro video that will captivate your visitors, inspire them to connect with you, or even drive them to make a purchase?
You need a plan to ensure you're evoking emotions such as trust, confidence, and curiosity to make your story come alive in your intro video.
With that in mind, here are six tips for crafting an exemplary introductory video that generates leads and builds a connection with your audience.
1. Make sure you have a goal/purpose.
Don't create a video just to have a video. If your video is boring and provides no value to those watching it, what's the point?
Your video has to have a goal/purpose. What do you want it to do? What are you trying to communicate?
The purpose of your video might include:
Showcasing your team's talent

Introducing your audience to your company and explaining what you do

Highlighting your products features and showing how it works

Identifying how your product is created
Interested in learning more about identifying your videos objective? Check out this article by Simple Story Videos.
Most intro videos have a target objective of awareness, education, and persuasion. An intro video is a way for your audience to explain your organization beyond just written words. It gives your audience an opportunity to better experience your brand and understand if it can help them truly solve your pain points and achieve your goals.
Research from Digital Sherpa shows that video can increase your customers' understanding of your products and services by as much as 74%.
2. Keep it short and to the point.
According to TheNextWeb, your audience will determine whether to watch your video based on two things; your thumbnail and the videos length.
So, in order maximize the impact your intro video, be sure to keep it short. In order for you to capture and maintain their attention, your video should be between two and three minutes long.
If it needs to be longer than three minutes, be sure to frontload it with the most important information. Especially when you consider these video analytics from Wistia.
3. Humanize Your Brand.
People want to work with other people and unfortunately in today's digital world, it can be difficult to find this human connection. Fortunately, a great intro video can make this significantly easier.
Intro videos are a great way to humanize your brand, show personality, and share what it's really like to do work with your company. Some easy ways to highlight your personality include:
showing candid clips of your team working

utilizing b-roll of your office (show off your space or your mascot)

including face-to-face interviews or voice overs
Just be you -- even if you're a little quirky It makes it easier for your audience to relate to and connect with a company that shows personality than one is cold and professional.
4. End Your Video with a Call-to-Action.
You could have the best introductory video that was ever created, but it won't matter if you're not telling your visitors what to do next. Don't leave them hanging.
We previously talked about how your video needs to have a purpose. Do you want them to donate, subscribe to your blog, request a quote or consultation?
No matter what type of action you what them to perform, make sure that it's clearly stated at the end of the video. (You can also consider including an actual button CTA or embedded form.)
If you use Wistia as your video hosting platform, you can utilize their Turnstile email collector to encourage lead conversions right away.
5. Turn off Auto-Play.
Remember when you were a kid and your parents or teachers made you do things you didn't want to? Didn't it make you want to do the complete opposite?
The same concept can apply to your auto-play video. Don't force your audience to watch your video, make them want to watch it.
People today are always multi-tasking and there's nothing more annoying than having several tabs open, hearing a video start playing, and not knowing where it's coming from.
Give your visitors the opportunity to glance over the content of the page. If they're interested in what you have to offer, they're more likely to stick around and hit the play button.
You can also consider adding visual or written directional cues in your content to further encourage people to watch.
6. Don't Skimp on Quality.
You're not posting a video on your personal social media page; you're introducing people to your brand on your professional website. So, think twice before you grab any old camera
According to Brightcove, "62% of consumers are more likely to have a negative perception of a brand that published a poor quality video."
To ensure that you're producing a high quality video, you'll want to:
Avoid any feedback / noise when filming.

Pay attention to lighting.

If you're highlighting your team and office, make sure everyone looks their best and that the office is clean.

Be sure to use a tripod to steady the camera
Don't have the equipment readily available? work with someone that has experience and the necessary equipment.
Give your audience the best representation of your brand. Poor quality on your site could be representative of poor quality for your product or service.
Who's Done it Right?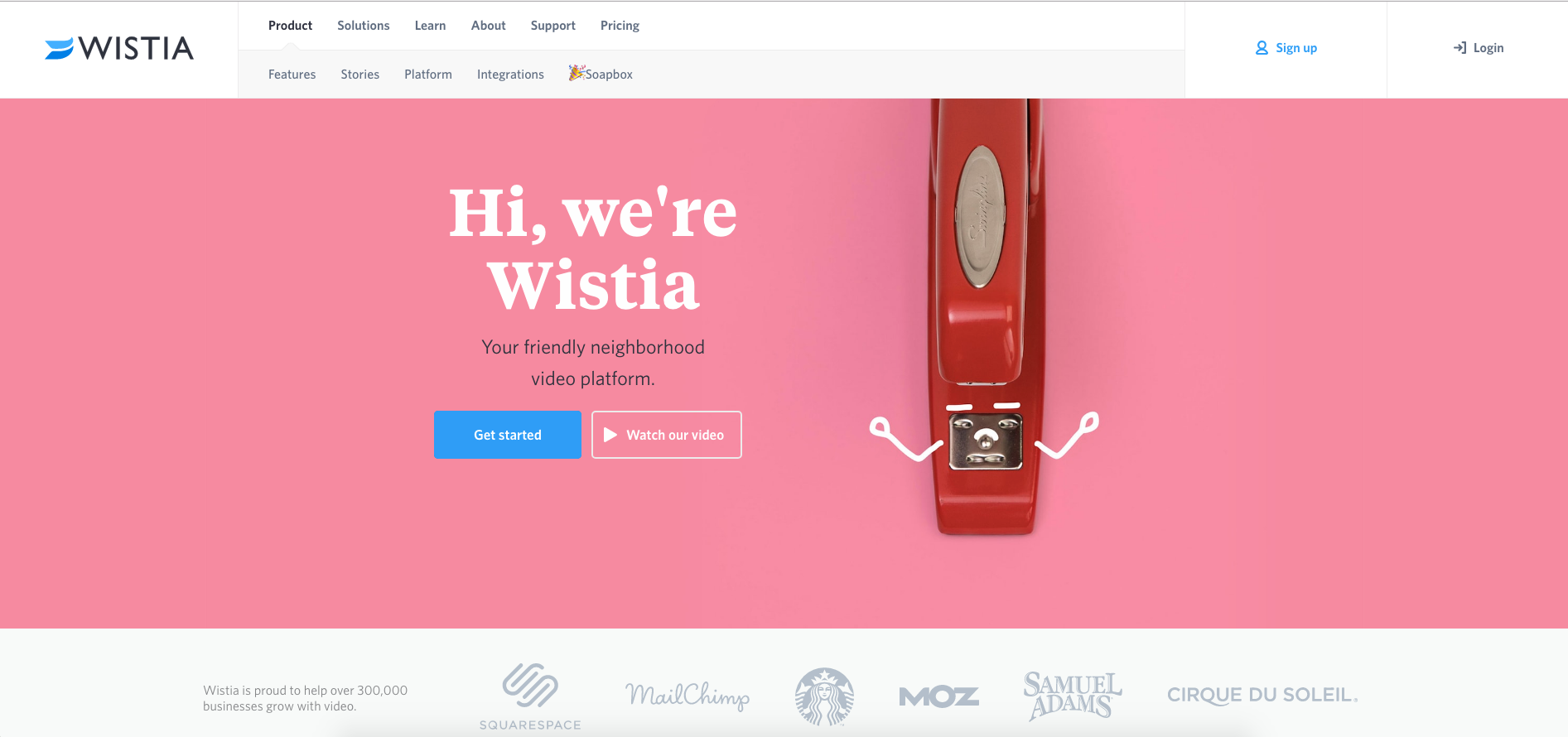 It should come as no surprise, but Wistia currently has an impressive homepage intro video that accomplishes everything mentioned above and so much more.
Take a look and keep this in mind as you start filming yours:
Free Assessment:
How does your sales & marketing measure up?
Take this free, 5-minute assessment and learn what you can start doing today to boost traffic, leads, and sales.