HubSpot Email Marketing vs Mailchimp: Which Is Better?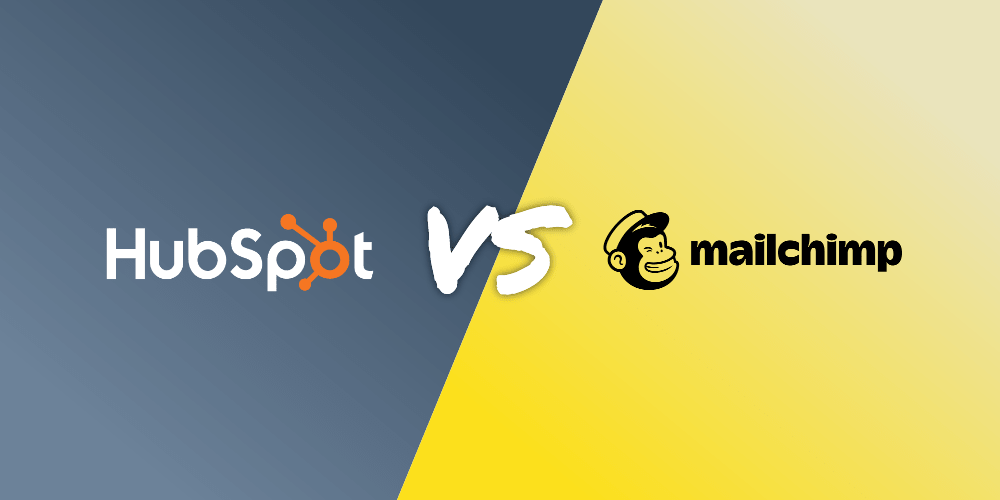 Email marketing may seem antiquated, but it is still a very effective marketing channel.
Overall email engagement is much higher than channels like social media, and the amount of emails we send is year is supposed to reach 126.7 trillion by 2020.
However, with so many emails being sent out, it is imperative to utilize a tool that helps you stand out, personalize your email, and helps get you in front of your customers.
HubSpot's email marketing tool and Mailchimp are both popular options for companies looking to formalize their email marketing campaigns.
Both offer an array of features that empower you to optimize, automate, and enhance the emails being sent out to your contacts, but they do come with their differences.
So, which one is right for you? Let's take a look at the main differences and advantages of both to find out.
Factors to think about when deciding on an email tool
Before we start comparing HubSpot's email marketing tool to Mailchimp, there are specific questions we want to ask.
These questions are going to be important in deciding which platform will be the right fit, and also which tiers to look at for each.
How many contacts do you currently have in your database? Both HubSpot and Mailchimp base their tiers on the number of contacts you have. It also might make sense to choose one tool over the other depending on how large your contact list is. Both tools set price based on how many contacts you have which can change the price drastically.
How many emails do you plan on sending? This is a good way to gauge how much you use your email tool and if it makes sense to invest a lot of your budget on a new tool.
What kind of emails are you sending? Here we want to look at how complex your emails are and if you need personalization, custom automation, etc.
What is your email marketing budget? Email tools can get expensive. You have to make sure that whichever platform you choose, fits your budget.
What is your current CRM and are you looking to change? Your decision might change based on if you are looking for a CRM to go with your new email platform. Each tool works better with some CRMs than others.
How are you currently segmenting your users? Are you working with one big email list or do you segment your contacts? This will be important to keep in mind as segmentation on the tools is handled differently.
Once you have those questions answered, let's jump into why you would want to consider either of these platforms for your email marketing needs.
The benefits of using Mailchimp
Mailchimp is a very popular emailing platform for small businesses. It continues to be a top option for companies and has many benefits over using HubSpot.
Price
One thing you will notice right away is that Mailchimp is much cheaper than HubSpot.
The pricing tier is based mainly on the number of contacts you have and the features you are looking to use.
There is a free option for 2,000 contacts or under if your business is small or if you don't plan on sending a ton of mail. You are also able to try HubSpot with a free option before you start paying, but you will end up spending more with them if you upgrade, than you would with Mailchimp.
Note: While HubSpot is much more expensive when you start paying for their higher tiers, you have to keep in mind that you are not only getting an email marketing tool but many other marketing features. More on this later.
Ease of use
Mailchimp does a great job of making you able to get up and running fast as soon as you sign up.
For instance, there is a wide variety of templates to choose from. The tool also has campaign and automation templates you can use.
Impact courtesy of Mailchimp
The email templates are also drag-and-drop, making it easy for anyone on your marketing team to design the email they want to without a developer.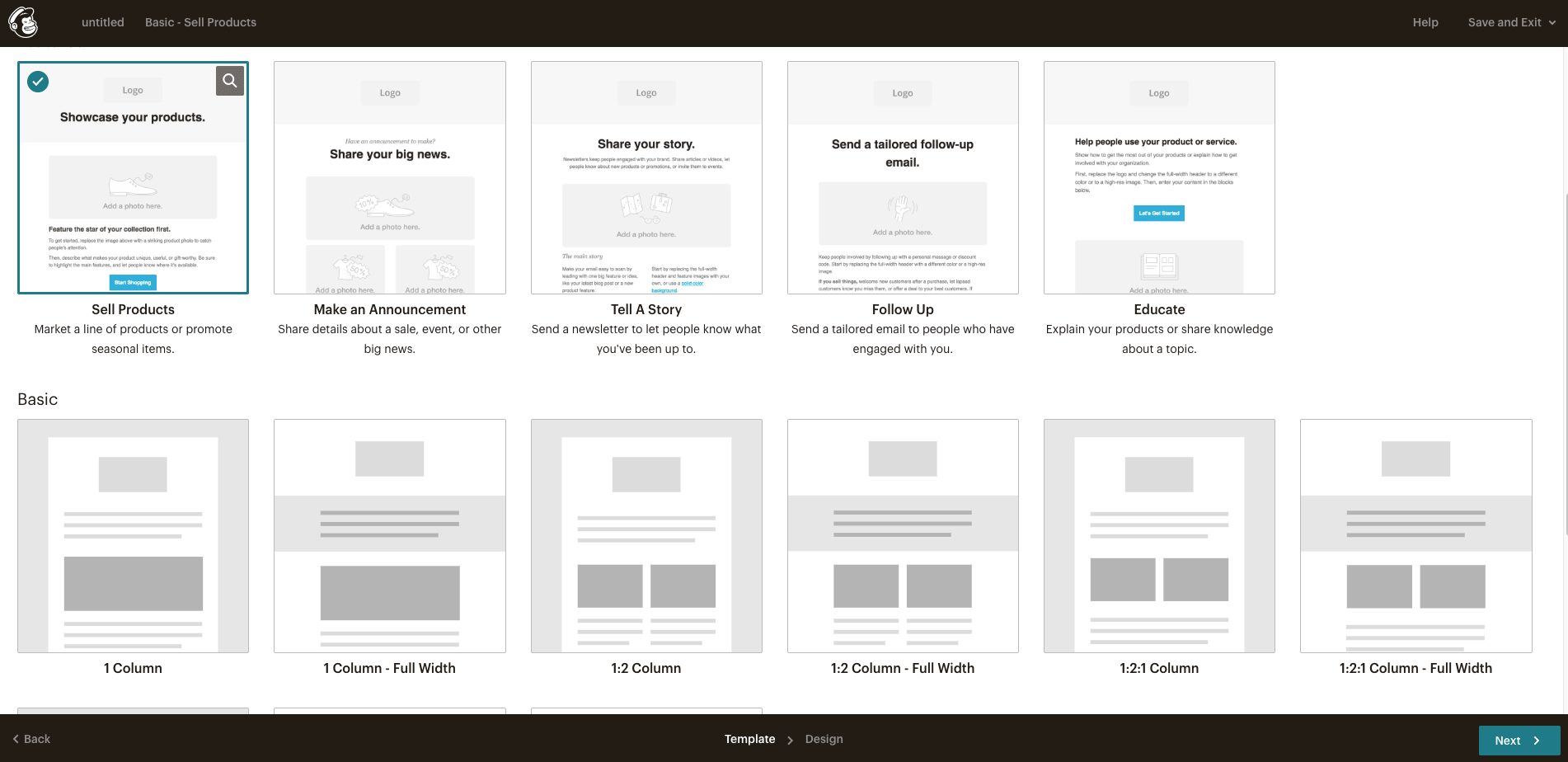 You do have the option to create emails using HTML if you want to get a little more customized as well, but the handy templates definitely take some of the guesswork out of things.
Value
Another benefit to Mailchimp is the overall value you get for the price.
While paying a starting price of $10 a month rather than HubSpot's $50 a month, you are able to use features like multi-step workflows that allow you to send out multiple emails after a trigger, email reporting, and optimization settings like selecting sending times based on the highest open rates.
This is important for companies that don't have a big budget to spend on email marketing, and are looking for a lower barrier to entry in order to use these types of features.
You are also able to utilize over 1,000 integrations to get the most out of your tool. If you are already set with your CRM, there is most likely an integration you can use to connect your CRM to Mailchimp.
The benefits of using HubSpot
While Mailchimp is a great platform with many benefits, there are also still some very prominent pluses in investing in a platform like HubSpot.
Contact segmentation and lists
One of HubSpot's most valuable features is being able to segment contacts based on a variety of information you collect.
This helps make sure you're not spamming people with information they don't care about and ultimately reach a more qualified audience.
While Mailchimp allows you to do this to an extent, it is not as robust or customizable as HubSpot.

You are also able to segment contacts based on where they are in the funnel and how active they have been with your company. This includes anything from website activity to how they interact with your email and email content.
There is also the ability to create custom data points (known as custom HubSpot properties) to further segment your contacts in lists. With these lists, you are able to create super-targeted messaging and content based on the group of contacts and how you have segmented them.
Personalized content
HubSpot also allows you to change the actual content being sent to your contacts based on their activity. This is known as Smart Content.
This allows you to personalize even further the type of content a contact seesso the information is always the most relevant it can be.
This personalization can be based on where the contact is in the marketing funnel, the industry they are in, or the product category they are interested in.

The great part about smart content is you are able to do this not just on the emails you send, but on the landing pages the contact lands on. This allows the entire journey to be customized based on who the contact is.
The result is a much more delightful and relevant experience for your contact.
All-in-one solution
HubSpot isn't just an email marketing platform.
Since HubSpot is a full marketing and sales platform, you are able to create various marketing assets like your blog, landing pages, and even your website, all in the HubSpot platform.
You are also able to have your entire sales efforts in HubSpot to take advantage of the type of information you have been sending your contacts and how they have been interacting.
Another reason why this is valuable is the data we are collecting on a contact.
Since the entire marketing and sales experience can be done through HubSpot, you are able to collect data on that contact's journey in order to pinpoint your return on investment.
This makes HubSpot an ideal choice if you are prepared to commit to using many of the HubSpot features and not just the email tool.
So, which platform is right for you?
Both HubSpot and Mailchimp are brilliant platforms.
Which one is better depends on your needs.
If you are not looking to spend a lot on your email tool, and are already settled with your CRM, Mailchimp might be your best option to get a robust email marketing platform.
If you are looking for a new CRM, want to have full control over the customization of your marketing emails, or want to control more of your marketing from one place, HubSpot is one of the best options for your business.
That being said, Mailchimp is moving more and more towards being a full-fledged marketing platform as well so make sure to stay tuned for developments on that end.
Free Assessment:
How does your sales & marketing measure up?
Take this free, 5-minute assessment and learn what you can start doing today to boost traffic, leads, and sales.