5 most common barriers to sales and marketing alignment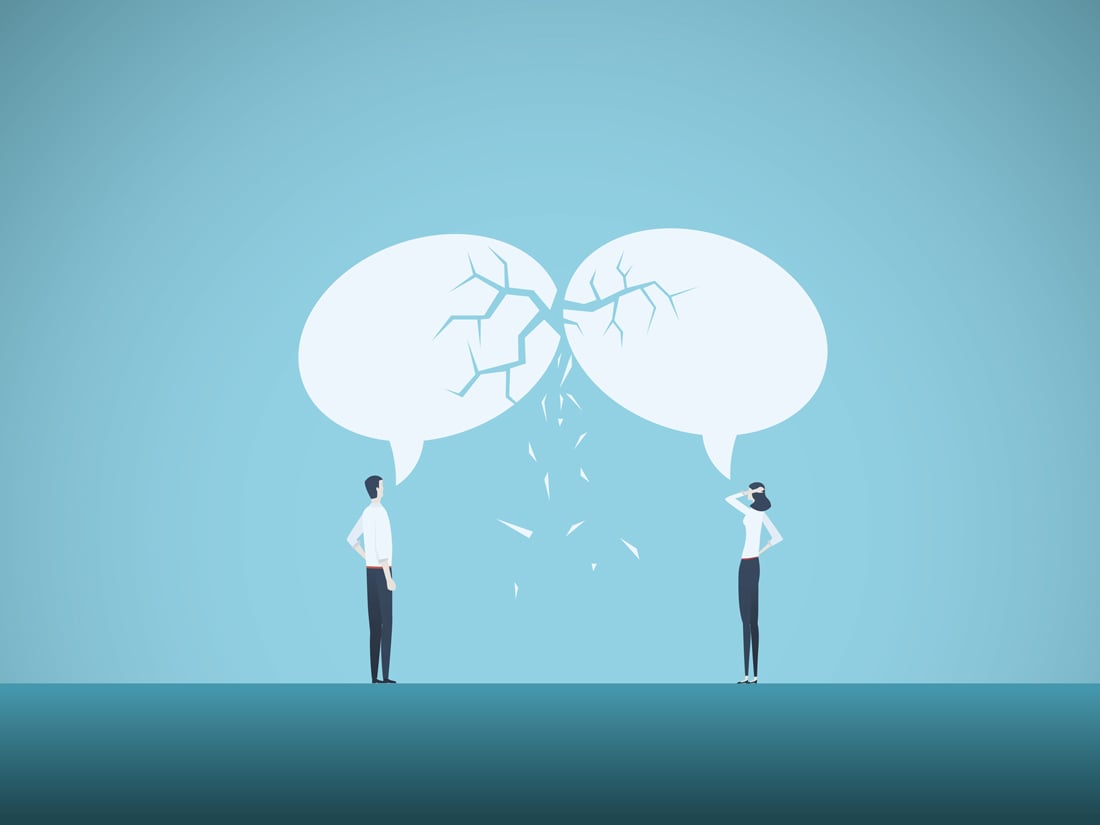 If sales and marketing are both revenue-generating departments, why are employees who work in these departments constantly feeling like they're not aligned?
As someone who has worked in sales — and in marketing — in companies ranging from five to 5,000 employees, I can speak first-hand to some of the common barriers that exist between these two departments.
I promise to dive right into it, explaining why these issues persist and offering some insight into how we can start breaking down barriers so that working together can be better.
Here are the most common barriers:
Competing goals
Unclear communication
Lack of time
Wrong focus
No emotional buy-in
1. Competing goals
The first barrier that inhibits sales and marketing alignment is competing goals among the teams.
Marketing is running around chasing leads, overly-busy as they try to "fill the funnel." Meanwhile, sales reps are complaining that the leads aren't any good and nothing is converting to sales. Marketing reacts by trying different tactics to find more "good" leads.
Sales get frustrated because they're spending time talking to "bad" leads, which negatively affects their close ratios. Marketing continues to be frustrated — going back to the drawing board and trying more tactics to get more leads.
The vicious cycle continues.
You've been there. Maybe you're there now. I know how you feel. I've felt the same way.
If these two teams don't have a shared vision or something to work toward, they will never get to the same goal.
This is usually because the marketing department doesn't have any idea what the sales department is doing, and the sales department doesn't have any idea what the marketing department is doing.
Often, we look at marketing is as an expense and sales as a revenue generator. So, they're not looked at equally by the whole organization.
This will affect the way these two teams work together. Until both sales and marketing work towards a common goal, there's going to continue to be a disconnect.
First and foremost, marketing and sales should be working together to define the messaging that is shared on the company website and social media.
I'm not talking about laboring over every decision on branding, design, or fancy marketing slogans. Sales and marketing should be brainstorming together what are the commonly asked questions in sales calls, and start answering those online.
This is what people want to know when they visit your site. They don't want to read slick jargon or fancy tag lines.
They want their questions answered. And if sales and marketing can do a better job of answering the prospect's questions before they talk to sales, they will be better informed and a more qualified lead as a result.
Marketing is always looking for someone to build them a better website. They think if they have a better website it's going to convert better. That's just not the case. When a website doesn't have the right content in the first place it's just an overpriced online billboard.
The first and most important thing is producing the right content. You can have a bad website, but as long as you have the right content on it, it will actually be a better sales tool than having a great website with no content that converts.
I'd rather see an organization spend less on its website redesign and more on creating content that helps salespeople sell, and no one is better at telling the company's story than the people who work there.
When sales and marketing get together and agree on the same goals – we need to create a website that is a sales tool, not a marketing tool — everyone wins.
2. Unclear communication
In order to get on the same page, there must be an agreement amongst the teams; otherwise barriers will continue to exist. Everyone must accept standards of communication.
When teams are not aligned, companies try to fix the alignment problem by rolling out programs. And a program is a short-term thing with short-term goals.
As an example, a company may try a new tactic to outsource their MQL to SQL handoff. Let me set the stage:
Just like before, sales is complaining that marketing is not generating good leads, so the company hires a person to work the lead (MQL) and determine if it is good enough to pass to a sales person (SQL).
This only adds a layer of complexity to the sale. They're introducing someone who doesn't know anything about their business except how to ask some basic questions to qualify or disqualify a lead.
This person is sure to have a quota, so they pass on plenty of unqualified SQLs as well — not to mention, elongate the time it takes a qualified prospect to talk to a knowledgeable sales person.
The program fails.
The organization goes back to the way it was doing before, and friction remains/returns.
A better way would be if sales and marketing would define a qualified lead.
Together. They could take some of the closed/lost opportunities that were passed on as leads from marketing to sales and analyze them.
What were the specific criteria that marketing used to pass on the lead? What were the variables that sales used to disqualify the lead?
And instead of just analyzing the bad leads, they could look at the good leads that converted to sales, too. What made them good? How was the deal won? What were the specific variables to success? How can we create more of these types of leads?
Agree on a plan together on what a qualified lead looks like. Continue this exercise on a regular basis until you have success. Then, keep meeting to tweak and redefine until you get it right.
I'm proud to be part of an organization that regularly works to improve communication between sales and marketing.
As a result, we're always focused on using what we've learned to help businesses improve communication through events and learning opportunities.
As an example, anyone who attends and brings their teams to Digital Sales & Marketing World will come back with better sales, marketing, and leadership alignment. Guaranteed.
This includes adopting a proven strategy to improve communication, which ultimately will lead to more customers.
3. Lack of time
When sales and marketing don't talk, it's not that they're doing it intentionally. It's often based on a lack of time.
Marketing doesn't really get to spend time with sales to learn how to work better together.
Often, marketing is not involved in sales meetings and decisions, which means they don't know what sales needs. Marketing doesn't have a good idea of what they must do to help sales meet their goals.
By default, marketing's job is to get leads, and so marketing is just going to put its attention there.
On some occasions, we find the sales team is involved with the communications that marketing is working on – creating content that converts. But in many more situations we see sales isn't even involved in creating content.
Sales don't see the value in creating content because they think it's fluffy. Sales doesn't know what content is there, so they don't know what they can use to help convert prospects to leads.
And, if you don't have leads you don't have sales — and you certainly don't have customers.
The reality is sales needs to be highly involved in the production of any communication materials.
The solution: Help sales get excited about creating content! Once sales teams start to get involved in the content that goes out, they realize it actually helps them close more sales faster.
Let's say as an example:
A sales person is constantly getting objections on price from prospects. Either they're always talking to prospects who can't afford their product or service, or prospects who don't realize what's included in the price.
If sales were to get involved with marketing to help write an article on cost, several things would save them time.
First, they would stop wasting their time talking to prospects who couldn't afford them in the first place. And second, they could get to a qualified prospect faster by having them read an article that answers some of their cost questions.
Multiply this by the number of prospects a sales person is talking to about this issue on a daily or weekly basis and now the sales person has more time to sell — and, to help marketing develop content for the next common objection they are getting.
See how this helps start to break down the barriers between the two departments?
Now imagine if content production really starts to click and there is less friction. Now, by working together, sales can get the content it needs, and both teams have more time.
4. Wrong focus
Companies need to focus on the right priorities as an organization. When people are focused in different directions, they're never going to come see each other's vision.
Marketing wants leads, and sales wants sales, but if the leads don't convert to sales, nobody wins.
I talk to teams every day and they tell me they need a better website to generate more leads, or they want someone to help them with their SEO so they can show up on Google.
The problem is, if this is their focus, they're just going to create another marketing website that doesn't help sales sell, and the reality is your website should be a sales tool – not a marketing tool.
I visit quite a few new business websites every day and I really would appreciate it if they would stop talking about how great they are. I'd love it if they started speaking to me as if I am already a customer.
I want to identify with their messaging and videos. I want to feel like they wrote that specifically for me. I'd be more likely to stay engaged if they make it about me and not about them.
They need to be using language and terms that are specific to me as a target audience.
Here are two examples of you versus me on two different websites:
We would like to spend 15 minutes with you to become better acquainted with your business goals and for us to explain our unique service model to you.
Or
Transfer your files with confidence. Whether you're migrating internal IT systems or need a new solution for an outdated server, you can save both time and money working with us.
I'm sure you see where I'm going here.
When sales and marketing both focus on the same right priorities — everyone will win.
5. No emotional buy-in
If sales and marketing start to work together and get on the same page, they certainly can have success, but they need emotional buy-in as well.
A company is likely to fail when they don't know what the full journey looks like.
When sales and marketing continue to work in funnels without knowing what the other team is doing, they can't see the full customer journey.
We have seen this in our clients in every industry with all different types of success, and we've also seen people fall short.
If everyone is just showing up to work every day to grind it out and don't get personally attached to the outcome, they're left wondering why they're even there.
At IMPACT, with our sales and marketing and leadership teams every week, we take five minutes to highlight a new client success story.
We share the content the prospect engaged with on our website. We share a story of how they went from lead to prospect to a conversation with sales.
And we show how involved they were with consuming the content on our site, which helped lead them to ultimately partner with us.
Then, months later we share success stories of how these customers are gaining new customers by implementing our services.
I can bore you to death with all the meetings I had to sit through at previous organizations where all we shared were stats and figures.
And years later, I can't remember one figure that mattered for very long.
There is such a strong emotional buy-in that happens during our all-employee meeting, and we look forward to it every week.
Imagine six months from now, your organization regularly doing this. Your sales and marketing teams will feel more aligned, more in step, and want to work more together.
There is hope for your sales and marketing teams
I trust you have experienced some of these barriers in your organization. You wouldn't still be reading this article if you weren't seeking answers.
Coming from my personal experience, these are the common barriers between sales and marketing alignment, and ideally you can take away some tips to apply to your teams. We see these issues all the time with our customers.
Honestly, it's one of the biggest reasons organizations do not succeed.
For businesses who seek solutions and want to do more, we're always looking for the next hero organization to write their success story.
Whether someone books an inbound culture workshop with us, or asks us to coach their teams to write great content, we know that everyone does better with outside influence. And we're just here to help.
No company is perfect when it comes to sales and marketing alignment, including the team here at IMPACT. We have, however, identified our gaps, put together a plan, and are focused on getting better every day.
For more information about how we continue to work on this initiative, read How to align sales and marketing in an interview with Melanie Collins, head of revenue at IMPACT.
Free Assessment:
How does your sales & marketing measure up?
Take this free, 5-minute assessment and learn what you can start doing today to boost traffic, leads, and sales.