5 signs your company is not ready for They Ask, You Answer... yet (+ video)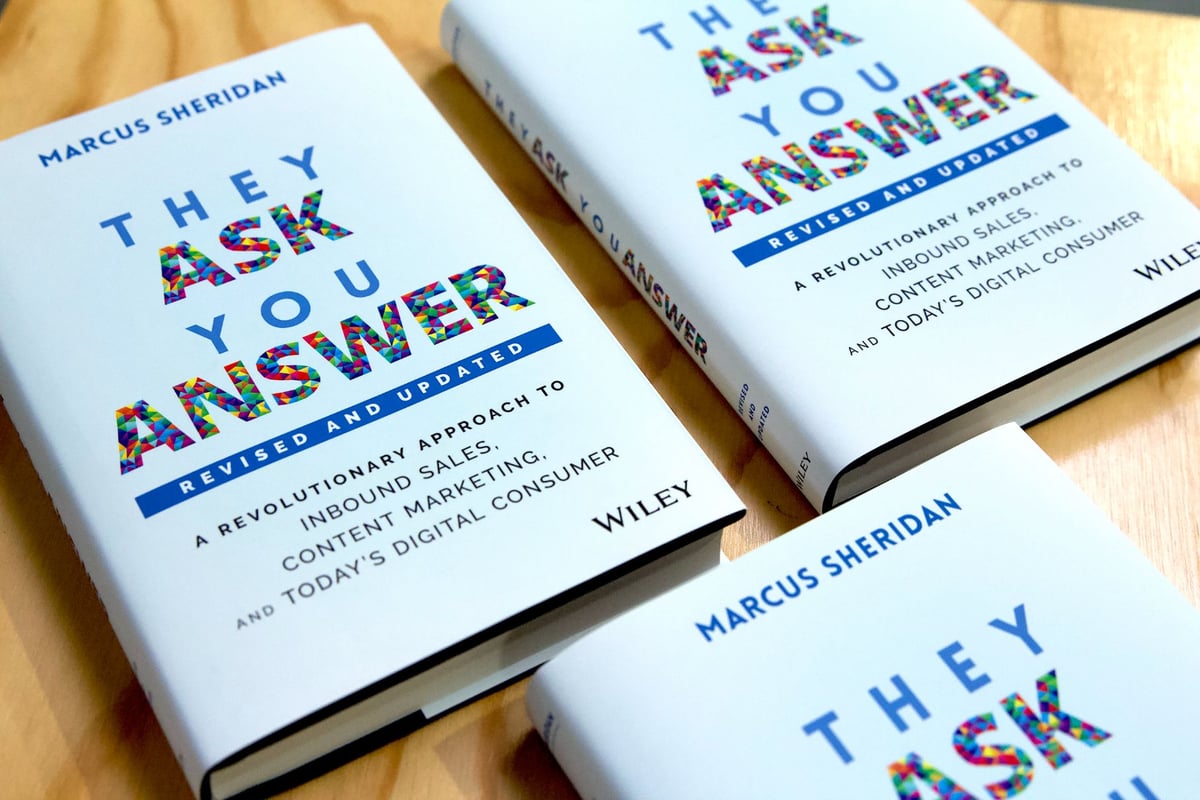 Are you ready for They Ask, You Answer?
They Ask, You Answer is a revolutionary business philosophy which, when embraced fully, will make you the most trusted voice within your industry — and you're thinking it may be the right digital sales and marketing strategy to propel your company forward. But are you really ready to get started?
Now, let's dive deeper into the details
At IMPACT, we believe that They Ask, You Answer can be a guiding philosophy for all types of businesses. To that end, we have worked with a wide spectrum of organizations across dozens of industries, who have implemented They Ask, You Answer and seen incredible results.
The reason this philosophy is industry-agnostic is because it is underpinned by a set of principles that are universally applicable.
Trust is the foundation of all business
The internet has changed the way people buy
Customers do more self-education than ever before
When we seek to educate our customers, we build trust
While virtually any business is likely to agree with these tenets, the full suite of They Ask, You Answer practices is more well-suited to some businesses than others.
Chances are, if you're here, you're likely already the type of leader who focuses on vision, culture, and learning, and They Ask, You Answer will perfectly complement your digital sales and marketing goals, no matter your size, industry, or business type. But in some cases, it's not as good a fit.
They Ask, You Answer stumbling blocks — both tangible and subjective
Sometimes, it comes down to the tangible, empirical realities of your business. If you sell a product that costs very little — chewing gum, for instance — it's unlikely that your customers are going to heavily research your product and need to extensively self-educate before making a purchase.
Or, say you're a restaurant. While photos and videos of your food and processes are going to go a long way toward making customers want to walk in the door, those same customers might not be swayed by a 2000-word article on why your dining room is laid out the way it is.
In other cases, though, They Ask, You Answer might not work as well because of more nebulous, subjective criteria. Maybe your culture is not robust enough to handle the adoption and implementation of a new initiative. Maybe your turnover is too high.
To even address such subjects you need to be ready to look honestly at your company — at your coworkers and your business plan — and ask hard questions. But, better now than later.
So, although we see They Ask, You Answer as a broadly applicable business philosophy, there are certain situations in which it is less likely to flourish.
IMPACT's Lead Digital Sales and Marketing Coach Chris Marr has worked to assist numerous businesses with their implementation of They Ask, You Answer. Along the way, he's seen many successes, as well as some stumbles, allowing him to draw important conclusions about the philosophy's application in real world settings.
Chris puts it this way: "If They Ask, You Answer was the right thing for every business, everybody would be doing it, but they're not — so there must be times when it doesn't fit as well."
This is not purely a speculative, academic endeavor. Our goal here is to prompt honest reflection among those considering going all-in on a business philosophy that can offer amazing returns on your investment — but requires buy-in and concerted effort.
5 signs They Ask, You Answer is not right for your company (at least not right now)
They Ask, You Answer has changed thousands of businesses. Will it change yours? Here are some red flags that suggest that your adoption will be more difficult.
Keep in mind that these are not deal-breakers, but they should be addressed honestly before you jump in with both feet.
1. You company culture is not healthy
Company culture can be hard to define, and even harder to change. Somehow, even as individual people come and go, culture remains steady.
Without a strong, healthy culture at your company, They Ask, You Answer will struggle to take root. Successful adoption comes from having the right mindset.
What does a strong culture value? While every business is different, your culture will need to support collegiality, growth, transparency, and enthusiasm for shared effort.
Can yours?
Have you tried other initiatives that have failed? Do you have significant turnover? Is your workplace one of gossip, cliques, and one-upmanship? Is there resentment and competition between co-workers?
These are hallmarks of negativity and cynicism, which can have a deleterious effect on any initiative. Chris sees red flags in companies "that are competitive, but not in a good way — where the people compete against each other."
Fallout from this type of culture is "a high churn rate, particularly among sales and marketing teams."
If your company culture is not supportive of ambitious, all-hands-on-deck initiatives, you will struggle to implement They Ask, You Answer effectively. Address these cultural issues first, then you can be ready for growth with They Ask, You Answer.
🔎 Related: How we create a culture of true transparency at IMPACT (and why)
2. Your leadership team is not stable
Closely related to company culture is the stability of your leadership. If you've seen significant turmoil among your leadership, with turnover, retirements, firings, and more, it can be difficult to administer a major philosophical realignment around They Ask, You Answer.
In such companies, Chris often sees a lack of clearly-defined structure. In many cases, there might be a CEO who micromanages others in the leadership team. "If I see that the CEO is trying to do everything, that would be a red flag. If CEOs are not willing to delegate and trust the people they hire, those people will leave."
A revolving leadership team leads to overall company instability, which makes They Ask, You Answer all the more difficult.
3. Price is your biggest differentiator — and you're completely commodity-based
They Ask, You Answer was developed by a serial entrepreneur named Marcus Sheridan, who is now a partner at IMPACT. In 2008, Marcus' pool company was suffering as clients reneged on projects, fearful of the widening Great Recession.
Facing this bleak outlook, Marcus focused on honestly and openly answering his customers' questions on his website. Over the years, Marcus had heard thousands of questions from previous customers, many of them over and over again.
It makes sense, when you think about it.
Homeowners looking to make a major home improvement investment like a pool are likely to come with dozens of questions: Cost, timeline, insurance, financing, maintenance, and aesthetics would be on everyone's mind, along with the unique particulars of their own project.
When a lot of money is changing hands, questions proliferate, and trust is even more vital to a deal being closed.
But, the inverse is also true. For smaller purchases, there will be fewer questions, fewer barriers to purchase.
Similarly, if price is your biggest differentiator, then price is likely the factor that holds the most sway in a purchasing decision. If your product stands out just because it is the cheapest, your customers are less apt to dig into other details about your process and your people.
According to Chris, "if you're in a tight marketplace, you've probably got low profit margins and consumers might have dozens of other options for the thing that you offer. It might be a price fight to the bottom. Marketing is massively important for your company, but probably not They Ask, You Answer."
Note: It's important to remember that a central tenet of They Ask, You Answer is to directly address the price of your products or services on your website, regardless of industry.
4. Your business model is flawed
They Ask, You Answer can be done on a minimal budget, with an army of one. After all, those were the circumstances when Marcus first developed the idea.
However, in Marcus' case, his business model was a sound one. The company he worked to save has flourished in the years since. The external factors of the Great Recession had brought the business to the edge of collapse, but as the economy improved (and Marcus' content strategy gained steam), the business came roaring back.
If your company is struggling to make ends meet, you might not have the requisite financial health to implement They Ask, You Answer.
When we work with companies to implement They Ask, You Answer, we train them to bring their marketing in-house, which is benefited by the hiring of a content manager. Only financially soluble companies are in a position to do so.
Chris says, "if you're a company that really struggles to make sales, there's a chance that your business model is not a good one, and it might not be a good situation to introduce They Ask, You Answer."
If the answers your business can offer don't meet the needs of potential customers, there's a good chance they will still go elsewhere.
5. Your business model isn't clear yet
If you're an agile young start up, you might be making frequent pivots as you respond to market research. In that case, you might still be figuring out who your customers are — and how your company will help solve their problems.
Such a company might invest heavily in They Ask, You Answer, only to find that in 12 months their business model has changed, or that the company has floundered or been absorbed by a bigger company.
If this sounds like your company, remember that growing into your marketplace can take time.
🔎 Related: How entrepreneurs can get started with They Ask, You Answer without a budget
They Ask, You Answer might not be right for your company...yet
We have seen time and time again that They Ask, You Answer can be revolutionary when employed properly and in the right context.
If your business is hindered by any of the challenges listed above, there's a great likelihood that They Ask, You Answer can still be an effective solution for your needs — just not yet.
According to Chris:
"This is not to say that your company might not benefit from They Ask, You Answer. It likely would, but it may not be the right thing for you at this moment."
Taking an honest look at your company's health will allow you to make the necessary changes to prepare your organization and remove impediments. When you're properly prepared, you can fully implement They Ask, You Answer with the knowledge that major difficulties have already been resolved
Free Assessment:
How does your sales & marketing measure up?
Take this free, 5-minute assessment and learn what you can start doing today to boost traffic, leads, and sales.