6 ways you're tanking your content marketing strategy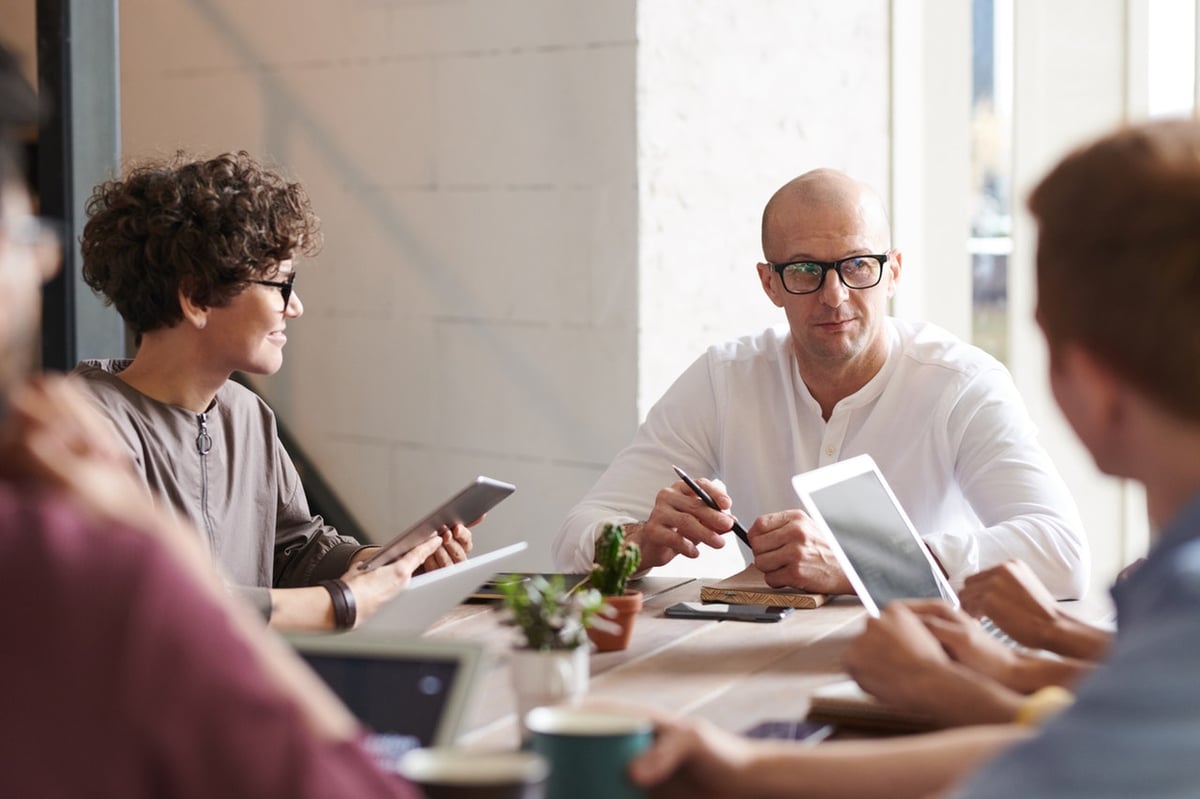 Any time I Google something and click a link from the results — I expect my question to be answered, often immediately, even before I start to scroll to the next frame on my phone.
If I don't get the answer I want, I get annoyed. I click back to the search results and select the next page.
Face it — you do it too. Everyone does.
This is the reality of today's buyer.
As buyers, we take the ease of finding useful information on the web for granted. We don't think of how the ever-changing algorithms comb through hundreds of billions of pages and deliver the best results for us in a fraction of a second.
We just know that when we type in our search phrase, Google and other search engines have metrics in place to serve up answers to our questions based on what we typed into the search bar.
As marketers, the opposite is true. We have to spend a great deal of energy educating ourselves and applying the strategies necessary to get our business found online by our target audience.
Content plays a huge role in how a website shows up for search terms, and the rules for content and rank are constantly evolving as the search engines work to provide an outstanding experience for their users.
For marketers, sales leaders, and CEOs of companies who are working feverishly to get their share of the pie, nailing your content marketing strategy is key to the future growth of your company.
Unfortunately, thousands of companies get it wrong, month after month.
So, how do you know you're tanking your content marketing strategy and what can you do to fix it? Here are the six biggest problems, with, of course, a plan to turn things around.
You're writing it and forgetting it
You're writing just about fluffy things
You're outsourcing your content
You're writing in a vacuum
You're not using video
You're forgetting analytics
1. You're writing it and forgetting it
Anytime a business makes major changes to its website, updating and writing content is always a huge part of the process.
But you cannot have a "write it and forget it" mentality. If you do, you end up spending a lot of time and money on essentially an updated online business card. If you want your website to be a true sales tool, you are going to have to commit to writing and publishing content on a regular basis.
Keeping your website updated with relevant, high-quality content is one of the most important factors in ranking on Google for your target search terms. Quality content is what Google is looking for, especially as it gets smarter and more sophisticated.
Businesses must focus on writing the best and most relevant content that answers people's questions and keeps them coming back for more.
Back in 2008, companies could pay big bucks for the experts to build them a beautiful website that had all the buzzwords with a perfect conversion path to beat out their competitors.
This was the year I started working in digital sales and marketing.
I joined a company that had the right people and the right resources to get our clients measurable results.
For those businesses that agreed to implement our strategies, in less than 12 months most of them were ranking high in the search engines, getting calls, and converting leads to customers. They crushed the competition and the payoff was big.
In 2020, digital sales and marketing is vastly different. If your business is not creating quality content on a regular basis, you just aren't going to show up in search results. And if you don't show up, you are not going to be found by your ideal prospect.
As of January 2020, search engines have now surpassed all other sources of new brand discovery according to Hootsuite.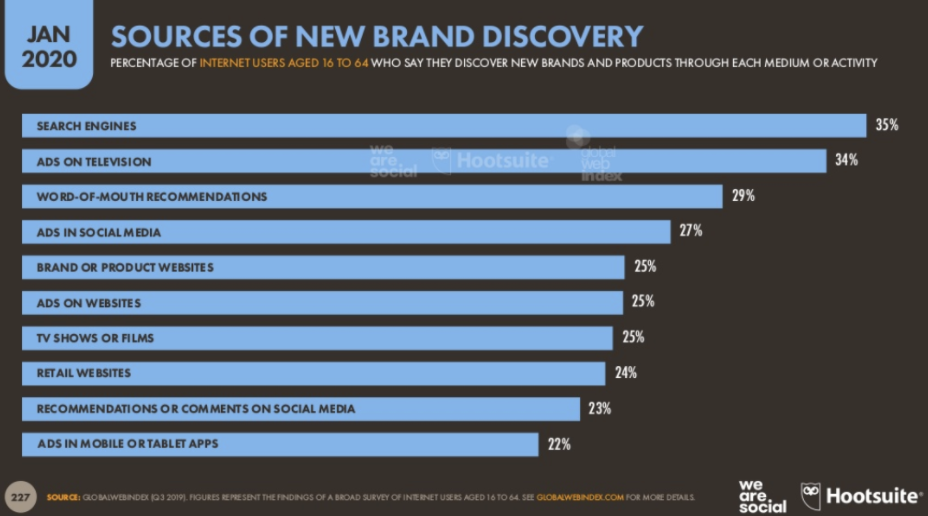 Why are so many businesses struggling with their content marketing?
Many times it's because they don't know what to do next. There is no agreed upon strategy within the organization on what their content calendar should look like.
In other cases, content is written, but it sits on a manager's desk, waiting to be approved.
There also could be questions about brand, tone, or voice. Confusion upfront or inconsistently in your messaging can derail you fast.
In other organizations we see, they don't actively remove bottlenecks from the content development process to consistently publish content that converts. Content that doesn't get published keeps you from selling.
You could hire a coach to help you build a plan and stay on track with regularly publishing quality content. A coach will add value to your company. They will provide an objective third-party opinion based on tried and true practices.
A coach will help keep you accountable to your goals. Hiring a coach is also a faster way to success because you don't spend your time trying to figure out things on your own.
So where do you start if you've found your organization hasn't published anything in a while? Follow these steps to start writing consistently and stop tanking your content marketing strategy:
2. You're writing just about fluffy things
If your organization is committed to consistently writing new content, and you're pumping out new pages on a regular basis but you're not getting any traffic, leads, or sales, you may be focused on the wrong things.
We see it happen far too often.
A lot of businesses make the mistake in thinking their content marketing strategy is their editorial calendar.
An editorial calendar is going to help you get set up with the basics such as planning, organizing, and managing your content production.
This is a great start, but the editorial calendar is just one piece to an overarching strategy. We still need to answer a series of questions to write content that produces results.
If we're not asking ourselves any questions before we start writing, we may just end up writing about a lot of fluffy things.
Some key questions to ask before you start writing:
What is the objective of this piece?
Who am I writing this for?
What am I hoping they take away from reading this page?
What does it drive them to next?
If nothing else — provide your reader something of value.
Writing without a plan always leads to failure.
I know. I learned the hard way.
When I joined IMPACT and started writing, I can honestly say my first few drafts were pretty awful. I waited until just a few days before my deadline to even get started.
I didn't start with an outline. I didn't take the time to figure out what the goal of my writing was. And I didn't love my work.
But I worked extensively through my drafts with the help of my team. My writing is now something I can be proud of — and the goal is that I can help those that read those articles get unstuck from their problem that brought them to the page in the first place.
I now take the time to plan out what I'm going to write. I write out the purpose of my piece before I start writing. I build an outline. Someone reviews it and gives me feedback.
I write my BUFD (Big Ugly First Draft) — thank you Ann Handley for the advice. Then I distance myself from the piece, usually at least a day. And then come back and edit like crazy.
Now my writing has a purpose. I have a specific audience in mind. I enjoy using my many years of digital sales and marketing experience to educate others.
I always leave with a strong call to action to allow my audience an opportunity to be better informed or take action themselves.
I especially love it when my readers contact me to tell me they appreciated the insight I provided and they share with me the steps they took to solve their problem.
That is a solid win in my book.
So, no more wing-it mentality, friends. If you need help getting everything in order, start with our free editorial calendar templates and tips for getting started.
3. You're outsourcing your content
Far too often we talk with business owners and marketing leaders who are frustrated with the lack of results from their digital sales and marketing efforts.
They are stuck in this retainer model: a big spend every month with an agency that is providing them services. In exchange for a big monthly fee, their agency partner is:
Updating their website
Posting to social media
Writing and distributing email copy
Managing SEO and PPC
Developing white papers and landing pages
Distributing newsletters and sales emails
And the list goes on.
They can't put their finger on it, but they've worked with a few agencies over the years, they've tried all the tactics, they've spent loads of money — and still the ROI is not there.
Business leaders are frustrated. They hear about IMPACT, contact us, and we schedule a call to discuss the situation. Early in the conversation I ask these questions:
Who would be able to tell your company, customer, employee stories better — an employee of your company or a company you pay to write for you?
Who would better be able to understand your customers and the value your products provide them — someone at your company or a marketing agency?
What would telling those stories on your website and answering your customers' questions online do for prospects in your sales cycle — Would they trust you more or less?
And when people trust you are they more likely to buy from you?
Why are so many companies paying someone to do all these things for them — including writing their content — when they know they would have better results doing it themselves?
We follow the "teach a man to fish" philosophy. Instead of writing content for our customers, we know that they are more successful when we coach and teach them how to write their own content, but using their own experience, knowledge and voice.
Simple example, — if someone has $100K to spend on digital sales and marketing, they are better off hiring an internal person at $50K to be their creator of content, then spend the remaining $50K on an agency to do all the other things agencies can do that are not specific to content creation.
By doing this, these organizations are investing in their own people. They are getting better at telling their own story. They are spending less over time with an agency.
And their results go through the roof — all by taking ownership of their own content.
At IMPACT, that is exactly what we strategize and coach and teach companies to do. Write content that builds trust to shorten the sales cycle.
We know it's not easy and there will be a learning curve, but we urge you to take responsibility for authoring your own content. Brainstorm the common questions and objections that you are hearing in the sales cycle. Write about them and you publish it online.
Not only will prospective clients read this material before contacting your company, your sales team will be able to use these online resources to better educate your prospects in between conversations.
For those companies that truly want to write their own success story and crush it in digital sales and marketing, they will take ownership of developing their content in-house.
That is the key piece they should own internally to have the biggest impact.
Then, when they look at initiatives like website development, video production, CRM implementation, and all the other things that marketing does — they can bring in the experts from a digital sales and marketing company to help them complete those essentials.
4. You're writing in a vacuum
So now you are focused on topics that are asked in your sales process and you are answering prospects' questions to shorten the sales cycle.
You have committed to writing content in-house and you have hired a consultant or trainer to help you strategize, improve, and stay accountable to writing content that is making you money.
Don't now make the mistake of locking yourself in a room and writing in a vacuum — because this could also tank your content marketing strategy.
To write effectively, all departments need to be involved, whether you have 10 or 100 people at your company.
One person's point of view can only go so far, and you don't know what you don't know until you start poking all the other brains within your company.
Specifically, sales needs to be involved with what marketing is writing because sales is talking to potential customers every day and they know the objections and questions they keep getting.
Your leadership team should be involved, too. Often they are the original owners of the company and have the greatest knowledge about the industry, the value proposition, and the solutions you provide.
But don't forget to include customer service, delivery, or anyone else that engages with your customers to truly get a full picture.
Will everyone in your company actually do the writing? No, most likely not, but use interviews to capture the information from all the internal resources and then get busy putting it all down on your website.
5. You're not using video
Every statistic out there demonstrates that consumers are demanding more video in 2020 and beyond, yet still many businesses lack a strategy to implement video in their digital sales and marketing efforts.
I won't belabor this one to death. I'll just say this: go out there and make it happen. In addition to buyers consuming more video every year, video builds trust faster than text alone and using video will shorten the sales cycle.
The longer you ignore this, the further ahead your competition will be if they are using video.
6. You're forgetting analytics
You want to review your analytics to see what's performing and what's not. You can always be tweaking and improving based on reviewing your traffic, leads, and sales statistics. Start with the simple metrics like:
Website visitors
Specific blog or landing pages
Leads and sources of those leads
Keywords and conversions
Email analytics
A/B testing
Social media engagement
ROI
If you use HubSpot, you can track all these metrics and more in one centralized system for sales, marketing, and your website.
You can use the analysis to your benefit and write more of what is working and less of what is not. This allows you to be constantly reiterating and improving.
If there is a super high bounce rate as an example — what can you do to include more links, drive to a more enticing offer, or tweak your content? Or maybe the content itself is not the problem.
Maybe there's visual elements of the page that you can improve. Start including video or continue to increase your video media.
When you review the analytics and improve your content, over time you will recognize those pages that are the most impactful to your bottom line. Capitalize on those pieces and create more of them. Use them to educate your prospects in the sales cycle.
Rinse, recycle, repeat and you are well on your way to crushing your content marketing strategy.
As useful as this data is, don't get paralyzed by the analytics. Yes, you want to watch your analytics, but don't spend so much time reviewing them you don't get anything else done.
Own the process — and keep improving it
One of the best ways to grow your business is to tell your story from your own perspective and build trust with your audience.
I never was asked or required to contribute content in any other business setting until I joined IMPACT. But I happily do it now as I see it is essential to the success of our organization. I am confident you can do it too, and here is a summary roadmap to crushing your content marketing strategy:
Always be writing
Write about things that build trust, specifically answering questions that are asked in the sales cycle
Take ownership of writing in-house and eventually have someone own it
Collaborate with all members of your organization to produce content
Use more video or start using video
Review your analytics regularly for improvement
Upon completing this article, I went back and re-read the purpose I wrote out when I started this article to keep me focused on the goal.
It read:
"Help marketers and business owners discover that no one can tell their story better than they can. And when people trust you they buy from you. And when you create content that builds trust it shortens the sales cycle."
Avoid these pitfalls so you can take measurable action to start crushing your content marketing strategy.
Free Assessment:
How does your sales & marketing measure up?
Take this free, 5-minute assessment and learn what you can start doing today to boost traffic, leads, and sales.