How To Get Started With They Ask, You Answer: Your First 6 Months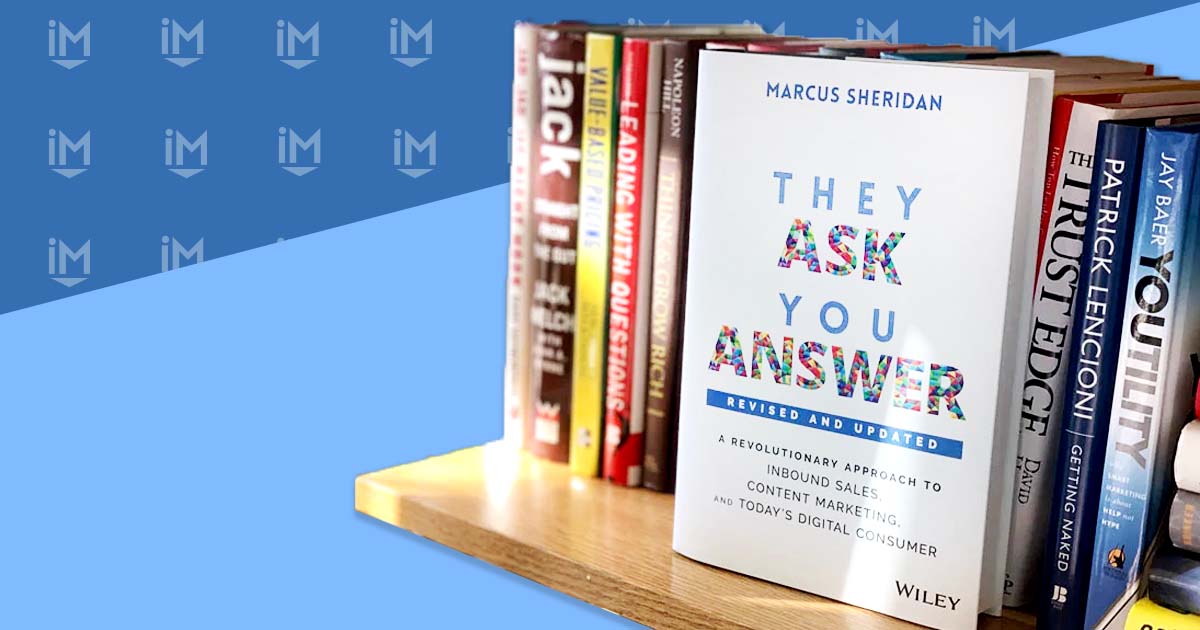 How to start They Ask, You Answer at your company:
Give everyone the book (and make sure they read it).
Arrange an inbound culture workshop.
Have someone in your company own it.
Build your insourced marketing team.
Start publishing today!
Integrate your content into the sales process immediately.
Track, measure, and stay consistent.
Evaluate your mindset.
OK, so you've seen Marcus Sheridan speak, you've read They Ask, You Answer, and you're fired up to get your company creating content around The Big 5 and becoming the most trusted voice in your industry.
But then the cracks start to show.
How come everyone else in the company isn't as excited as you are?
You gave them all the book, but you're not convinced that everyone has read it, and the sales team is pushing back on it.
What gives?
This is the moment of truth for your company.
You know that They Ask, You Answer isn't a solo show, and for it to be a success, everyone has to get involved.
You also know that if the rest of the team doesn't catch the vision, your passion and excitement will dissipate into a memory of something that could have been.
We're not just talking about world-class content that drives traffic, leads, and sales.
More importantly, this is about what the future growth of your company is going to allow you to do: attract the very best buyers in your marketplace, attract the best talent, establish your company as the market leader, and open up opportunities that you never knew were possible.
And it's all about to fall apart.
Resistance from people and departments in your company is guaranteed simply because this has never been done before.
The difference between those companies that successfully integrate They Ask, You Answer into their culture and those that don't is based upon the steps they take in the first six months to get ahead of the problems before they manifest.
As the first certified They Ask, You Answer instructor in the UK, I have had the pleasure of working with literally hundreds of companies in implementing the methodology.
So what I'm about to tell you not only is aligned with what Marcus writes in the book, but also the work we do at IMPACT, and what I've experienced first-hand with the work I've been doing in the UK since 2014.
8 steps to They Ask, You Answer success
The following eight steps are what you need to do in the first six months to build the foundations for future success and business transformation with They Ask, You Answer.
1. Give everyone the book (and make sure they read it)
I love it when CEOs and Marketing VPs tell me that they've gifted everyone in the team They Ask, You Answer to read; it's a truly positive step — but there's still a lot of work to do.
I'm guessing if you're reading this, you're the type of person who reads and learns fast.
You underline passages in books and take notes to capture your ideas. Can you rely on your team to do the same? Are they as self-motivated as you are?
In my experience, we have to go a little further if we want the whole team to not only read the book, but to truly understand how it affects them individually and the company in general.
Think about how much information you retain when you read a book.
I'm studious reader, but I probably retain maybe 40–50% of the information in a book, at best. The most influential books in my life are always easily accessible because I want to continually refer to them, but not every single word.
How much information do you retain for books and workshops? How much do you think your team will retain?
You're getting the picture.
Give everyone the book, but also make them accountable.
Set up a 'book club' with your team.
Have them talk about what they are learning in the team meetings. Arrange brainstorming sessions with them.
In short, don't allow copies of They Ask, You Answer to become expensive coffee cup coasters; encourage your team to read it, talk about it, and then put what they learn into action.
Related content
2. Arrange an inbound culture workshop for your company
Our experience has shown us that without an inbound marketing or They Ask, You Answer workshop, your company will likely encounter resistance and push back.
If you say no to a workshop, you are essentially saying "I'm looking forward to having unnecessary problems of people pushing back later…"
The greatest way to resolve a concern is to address it before it becomes one.
For They Ask, You Answer to truly have the impact on your company that it deserves, there needs to be a high-impact experience that the whole team is involved in together.
Here are a few benefits of an inbound culture workshop:
Gain an understanding of how buyers have changed and what that means for sales and marketing going forward.
Have an in-depth discussion on the types of content (known as "The Big 5") that induce trust, move buyers, and have the greatest effect on the sales process.
Understand the what, how, and why of becoming the best teachers in our space and the impact on the collective and each individual in the room.
Have complete alignment of your core digital strategy going forward between sales, marketing, and leadership so as to eliminate future resistance or issues.
We'd love to tell you that you can do this yourself, but you can't.
Doing it yourself simply will not have the desired impact that your team needs from this workshop.
You and I both know that you can be a prophet to the world, but no one will listen to you in your hometown.
Just think about how you caught the They Ask, You Answer vision for your company.
My bet is you were at an event and you heard Marcus Sheridan or an expert from IMPACT speaking. If you needed that big impact experience to inspire you and change your perspective, don't you think your team will need that too?
They don't just need it, they deserve it.
If you want the team to fully support you on this mission, and you want them to truly want to be part of it, there needs to be breakthroughs in the culture of your company and then conventions of the way the people in your company think.
A workshop will set the tone for what's to come, and ultimately lead to your company to changing the way it communicates forever.
Related content
3. Have someone in your company own it
One of the most frequent questions I get asked is "do we need to have a full-time content manager?"
And yes, you need to hire a full-time content manager for your company within the first three months.
Just think about all the questions your buyers are asking during the sales process.
Hundreds, if not thousands, of questions, all of which now need to be addressed and discussed in articles or on video.
If your company is set on being the voice of the buyer in your industry, then you will want to follow in the footsteps of the most successful companies we work with.
They Ask, You Answer companies publish on average three pieces of content per week, or 150 articles per year.
It's a full-time job. Content can't just be part of someone's role or a second thought.
It must be owned as a main focus.
This 'content management' role will involve things like:
Writing
Researching
Editing
Publishing
Interviewing
Planning
Delegating
Tracking and measuring
Reporting
SEO
Training and development
This person will work across departments and act as a central role between leadership, sales, marketing, and business development.
This role has the ultimate responsibility of publishing the content and ensuring that everyone in the company is meeting their deadlines for content, including the boss!
Related content
4. Build your insourced marketing team
Your insourced marketing team doesn't have to include everyone immediately.
Let's start by getting a solid foundation in place so we can publish high-quality content quickly.
Your insourced team should include people from your company who will be able to contribute by:
Writing articles
Filming video
Providing expert opinion
Generating ideas
A solid cross-section of the company should be included here — sales, marketing, leadership, customer experience/service, and technical experts.
Ultimately, everyone in the organization should have a role to play, and don't forget that every new hire from now on must have content contribution written into their contract.
Related content:
5. Start publishing today!
This is when you have to turn your words into works, and as you can imagine, this is when a lot of companies let themselves down.
When it comes to all things digital, we have to embrace progress over perfection if we want to be successful. We have to embrace the messy, embrace the process, and believe that the results will come...if we do the right things.
To make a quick start, get your insourced marketing (and sales) team into a room together for a brainstorming session to generate ideas for articles and videos.
Here are a few questions to start the discussion:
Where are you getting the most push-back from clients right now?
What are their biggest doubts, worries, and fears they bring up in the buying process?
What do your buyers have to convince decision-makers and the leadership team of?
What do they ask you that they should know every single time?
This is content that serves those buyers that are already in the sales process to help move them forward and make a confident buying decision. Structure these ideas with The Big 5.
Lastly, finish up by deciding who's doing what, what the deadlines are, and then hold each other to account.
Related content
6. Integrate your content into the sales process immediately
The ultimate litmus test for each piece of content you plan to publish is this question: If we publish this article, could we immediately integrate it into the sales process and use it as a tool to help our prospective buyers make a more informed buying decision?
If not, you likely should focus on something more important and urgent.
This is possibly the most common weakness I see in companies that have attempted to embrace They Ask, You Answer on their own.
You cannot rely solely on search traffic to get ROI from your content efforts.
We have to shift from a 'marketing first' perspective to a 'sales first' perspective, judging the success of your content on how much it helps the sales team. (We'll get into how to measure this in the next step.)
Also, don't assume that because the content is there that the sales team know how to use it. Teach them how to integrate content into their process and exactly how to use it effectively.
Related content
7. Track, measure, and stay consistent
When we get to the end of the first 12 months, the last thing you want to be saying is "did this actually work?"
The only way you're going to know is if you're measuring it.
If we don't have the numbers, we won't know what to focus on and what to drop.
But what do we measure exactly?
Marcus Sheridan writes in They Ask, You Answer that at different stages of your content journey, there are different things you should be measuring.
Months 1-3: Hit publish, get the sales team engaged, and implement assignment selling immediately.
At first, focus on putting the content to work with your sales team and integrate the content into the sales process as soon as it's produced.
This is where you will get your immediate victories and generate a faster ROI.
After this, you will likely see a small uptick in traffic, and you can expect other positive signals such as likes, comments, and shares indicating that your audience is enjoying your content.
However, focus your attention on measuring qualitative feedback from the sales team on how buyers are reacting to your content. Don't forget to share the wins and celebrate with your team.


Months 2-5: Searchers and search engines realize you exist.
This usually doesn't happen until the 60- to 150-day mark, but when it does occur, it's the first sign that traffic, leads, and sales are on the cusp of a continual increase for months to come.
At this stage, you should be measuring SERPs, keyword rankings, traffic, and conversion rates of your most popular landing pages.


Months 3-6: Finally, you get leads.
Now that traffic is really starting to pick up, it's time for leads. Remember, the whole purpose of content marketing — aside from engaging prospects and customers and building trust —is to increase leads and ultimately generate sales.
At this stage, you should be prepared to measure conversions from your calls-to-actions, contact forms, landing pages, and how the quantity and quality of leads is changing.


Months 4-18: Generate sales and revenue.
Now that you are consistently measuring traffic and leads, the next stage is to set your sales and marketing team up for tracking and measuring sales as a result of the work you are doing.
It's crucial for the success of the whole They Ask, You Answer journey that you are able to track sales easily and transparently, and to do that, we recommend that you integrate HubSpot into your sales and marketing processes.
You should be looking at the whole picture — how the content on your website is driving traffic, leads, and sales, and ultimately how this is positively affecting the quality of your buyers.
You're investing human and financial resources into this journey, so it's crucial that your company is measuring as transparently as possible.
You can't get better data if the thing you're measuring isn't consistent, and you can't make better decisions if you aren't measuring.
Related Content
8. Evaluate your mindset
Embracing and implementing They Ask, You Answer isn't simply another marketing tactic. It is going to affect the future of your company, and if you do the right things, there's no question that you will see the results.
But this is only if everyone is bought in.
Even if you do everything right, and follow steps 1-8 that I've laid out here for you, what will hold your organization back is a limited mindset from the leadership team and a company culture that doesn't embrace change, which ultimately throttles innovative thinking and risk-taking.
Your team members will have to think in ways they never have.
They will be pushed further than ever before. You will have to talk about topics online most companies in your industry are afraid to.
If your company is not willing to be the most trusted voice in your industry, then it's probably best just to admit that now and move on.
How do you know if you've got the right mindset?
Agreeing with the following statements is precisely what makes bought-in companies different from those that aren't:
We are willing to challenge the status quo in our company and in our industry.
We are willing to call out bad practices that affect our buyer's experience and their perception of our industry.
We see ourselves as leaders and the voice of our industry.
We are willing to discuss hard topics online like pricing and costs and even discuss our competition.
We will continue to challenge what growth looks like at our company.
We are willing to do the work and what it takes to create world-class content to be the best in our industry.
We are prepared to make decisions quickly, even if we don't all agree and we don't have all the data.
We believe in investing in our team because we know the key to success is empowering and elevating our team to be honest, transparent, and to help them to embrace They Ask, You Answer.
We are ready to be pushed and challenged to play a bigger game.
We are not afraid to fail, and we know that everything we do isn't going to work for the first time.
We know the They Ask, You Answer journey is never truly complete, and we will continue to re-define what "better" looks like.
We are self-motivated, and we don't have to wait to be told what to do.
We are willing to take feedback, advice, and guidance, and we are open-minded and ready for change.
We are willing to embrace the process and judge our work on inputs first and outputs second.
Set for success
When I'm working with clients in a consulting role, this mindset and these eight steps are foundational and non-negotiable.
In other words, if you don't do these things, the next six to 36 months likely aren't going to drive the ROI you want.
At IMPACT, we pride ourselves on the results of our clients and we would be doing you a disservice by not laying out the foundational plan for you.
I wish I could go back and discover They Ask, You Answer again for the first time, not only because I'd like to skip many years of learning and mistakes, but because I want to experience what it feels like to discover something for the first time and know that the journey I'm about to embark on is going to change the lives of everyone around me.
This is the start of something incredibly special for your company. You are about to lead your industry into a new era.
It's not going to be easy, so manage your expectations, and don't give up.
DFTBA!
Free Assessment:
How does your sales & marketing measure up?
Take this free, 5-minute assessment and learn what you can start doing today to boost traffic, leads, and sales.