The 4 Top Business Analytics Platforms for Data-Hungry Organizations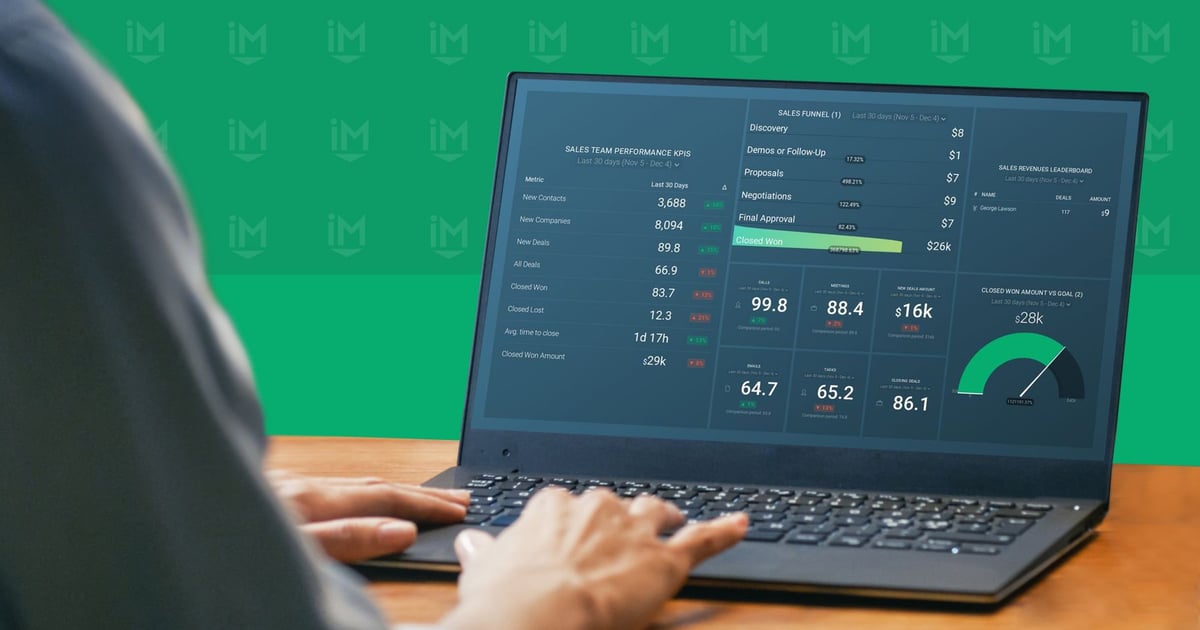 (Note: IMPACT may receive a small commission if you sign up for these services, but this has not impacted our analysis in any way.)
It's an age-old cliche: To succeed in business, you need to make decisions with your head and not your heart. Although I have always been a big believer in "trusting your gut," I'm inclined to believe it.
But to make those analytical decisions requires data, and that's where the problem comes in. Today, we're never at a loss for data. In fact, we can have too much information.
Doing social media marketing? The platforms will tell you everything you could ever want to know about impressions, engagement, and clicks.
Are you a sales rep or BDR? Artificial Intelligence (AI) tools can analyze your calls so specifically that not only will you get a precise schematic of your conversation, but you'll also get back a timestamped list of filler words (um, you know, like) that you use too often.
Today, the challenge that businesses face is how to make sense of the deluge of data that comes pouring in every day.
What do you pay attention to? Which metrics are actual leading indicators of success? And, how can you bring together data from different sources so you can see the whole picture?
There are a number of powerful business analytics platforms out there, and in this article, I'm going to compare four of the most well-known: Klipfolio, Databox, AgencyAnalytics, and Geckoboard.
For each, I'll provide:
An overview of what it does and who it's for
A rundown of functionality and limitations
Price plans and screenshots
This is all about finding a tool to help you make sense of your data. If you're in the market for such a tool, stick around. We'll dive in together.
The importance of data for today's businesses
At IMPACT, we hear from businesses every day that are looking to grow their organic traffic. What we explain, though, is that while boosting organic traffic is a fine goal, boosting the wrong kind of organic traffic will not bring in revenue.
If you publish content that attracts a million informational searchers — that is, searchers with no intent to buy — your traffic numbers explode, but your revenue numbers stay flat.
This is one more reminder that data and goals are closely tied, but the relationship is not always clear on the surface. You can't set goals without truly understanding what the numbers you're after mean — and you can't track your progress toward those goals without monitoring the right key performance indicators (KPIs).
Data and strategy
Setting the right goals depends on having a strategy that positions you for long-term success. Data analysis is critical, but it is not a strategy in and of itself.
You can certainly do this on your own, but working with a business coach like those at IMPACT can also help you set a course and track your results so you can move closer to your goals.
So, before you invest in a data platform, be sure you've got a plan that lays out what you want to achieve, how you're going to measure it, and which stakeholders need to be in on that process.
With those in hand, you can use the tools below to pull data from multiple sources, compile reports that are easy to digest, and cut down on the confusion that holds your team back.
1. Klipfolio
Klipfolio is a business intelligence platform aimed at helping organizations make data-driven decisions. With it, users can create dashboards and reports with information from multiple data sources in one, unified place.
Klipfolio's interactive data visuals make it easy for business leaders and teams to make informed decisions more confidently. People choose Klipfolio for its flexibility.
The company offers two products:
Klipfolio Klips is a client management tool that allows users to transform complex files into accessible data visuals.
Klipfolio PowerMetrics is an organizational tool that removes the complexity of creating dashboards and reports.
Who it's for:
Klipfolio is best for businesses and agencies ranging from growing startups to fast-paced, data-led departments with global reach.
Drawbacks:
Klipfolio only offers support via email, which means it can take a few hours for them to respond.
Some custom report building requires a back-end developer.
How much it costs: You can get started with a 14-day free trial (without a credit card). After that, plans start at $54 per month, which includes up to 10 dashboards, 10 users, all Klipfolio's standard features, and more than 300 integrations. You can get started here.
What it looks like:
Here's what it looks like to build a dashboard in Klipfolio:
2. Databox
Databox is a business analytics platform designed to help companies monitor, analyze, and improve the performance of the metrics that matter. It's also the most popular third-party analytics tool among HubSpot users and with good reason.
The platform includes a variety of reporting features that allow businesses to:
Align teams around the right metrics and goals
Automate reporting
Track performance in real-time
Effectively monitor data to capitalize on future opportunities
With a number of one-click integrations, Databox helps you track the performance of all of your systems and software in one spot.
Who it's for: Businesses and agencies, especially marketers, sales representatives, executives, account managers, and operations teams.
Drawbacks:
The lower pricing tiers mostly allow for high-level analysis. To drill down, you may need their mid or higher-tiered plan.
Users are confined to a handful of design themes.
How much it costs: There is a free forever plan that includes three data source connections, all standard features, and more than 60 integrations.
Paid plans start with a 15-day free trial (no credit card required). After that, plans start at $72 per month, which includes four data source connections, five users, and all standard features. You can get started by creating a free account here.
What it looks like:
Here's what it looks like to build a dashboard in Databox:
3. AgencyAnalytics
AgencyAnalytics is reporting software designed to help marketing agencies save time, boost revenue, and impress clients with insightful reports and dashboards.
The platform includes a variety of reporting features to help agencies efficiently scale client reporting.
AgencyAnalytics helps agencies monitor multiple marketing channels in one place by integrating with popular marketing platforms. This allows you to report on common marketing practices, such as PPC, SEO, email marketing, social, and more.
Who it's for: As you'd guess from the name, AgencyAnalytics is specifically designed with marketing agencies in mind. It can also be used by media companies, multi-location franchises, consultants, and freelance marketers.
Drawbacks:
There are limitations when it comes to customization and deep data analytics
Some controls don't feel intuitive
How much it costs: You can start with a 14-day no-risk trial. After that, plans start at $10 per month for each client campaign (with a minimum purchase of five client campaigns). This includes unlimited reports, five staff users, one custom dashboard per campaign, and more than 60 integrations. You can get started with your free trial here.
What it looks like:
Here's what it looks like to build a dashboard in AgencyAnalytics:
4. Geckoboard
Geckoboard is a software platform designed to make it easy to put data at the heart of your decision-making and culture. Organizations can build professional dashboards to share their data in real-time to highlight KPIs and track progress.
Geckoboard's features are intended to overcome three significant barriers an organization faces when reporting on data:
Access: With Geckoboard you can access data from more than 80 tools in one place.
Understanding: Data visualizations help users understand their performance at a glance.
Awareness: Geckoboard is designed to be a part of an organization's everyday operations.
Who it's for: Geckoboard is designed for team leaders in small to medium-sized organizations who are looking to improve the visibility of KPIs to track goal achievement.
Drawbacks:
While there is chat support, Geckoboard is designed to be more of a self-service option.
Limited customization ability.
How much it costs: There is a free plan that allows you to create a single dashboard using spreadsheet data.
You can start with paid-level features with a 14-day trial. Plans start at $39 per month, which includes one dashboard and one user. Start here.
What it looks like:
Here's what it looks like to build a dashboard in Geckoboard:
The right tool depends on the job at hand
So, how do you pick the right tool for you? Start by seeing which one listed above is best suited to your role or industry. Then, take a 14-day trial and see what you think. The best platforms balance an intuitive UI with powerful capabilities under the hood.
At IMPACT, we'd recommend the following:
Klipfolio for when you need advanced data analytics and complex data modeling
AgencyAnalytics for seamless client management
Geckoboard for team collaboration and gorgeous displays
Databox for data analytics and ease of use
If you're going to opt for a paid plan, do your homework. Any platform you use should smoothly integrate with the other tools in your tech stack. You don't want to be copy-and-pasting data from one spot to another.
Talk to a sales rep and ask specific questions:
I need it to do X. Can it?
I need it to integrate with Y and Z. Show me how that works.
Explain who on my team would need a seat, and what people without seats could see/do.
We're [insert your biggest anticipated challenge over the next 18 months] soon. How can your platform help us?
The more questions you ask, the better the decision you make will be.
And don't forget, strategy always comes first. If you'd like to talk to an expert about where your business is headed, talk to an IMPACT advisor to see how our approach can set you on a path toward sustainable growth.
Free Assessment:
How does your sales & marketing measure up?
Take this free, 5-minute assessment and learn what you can start doing today to boost traffic, leads, and sales.