8 Best Content Management Systems for Digital Marketing in 2023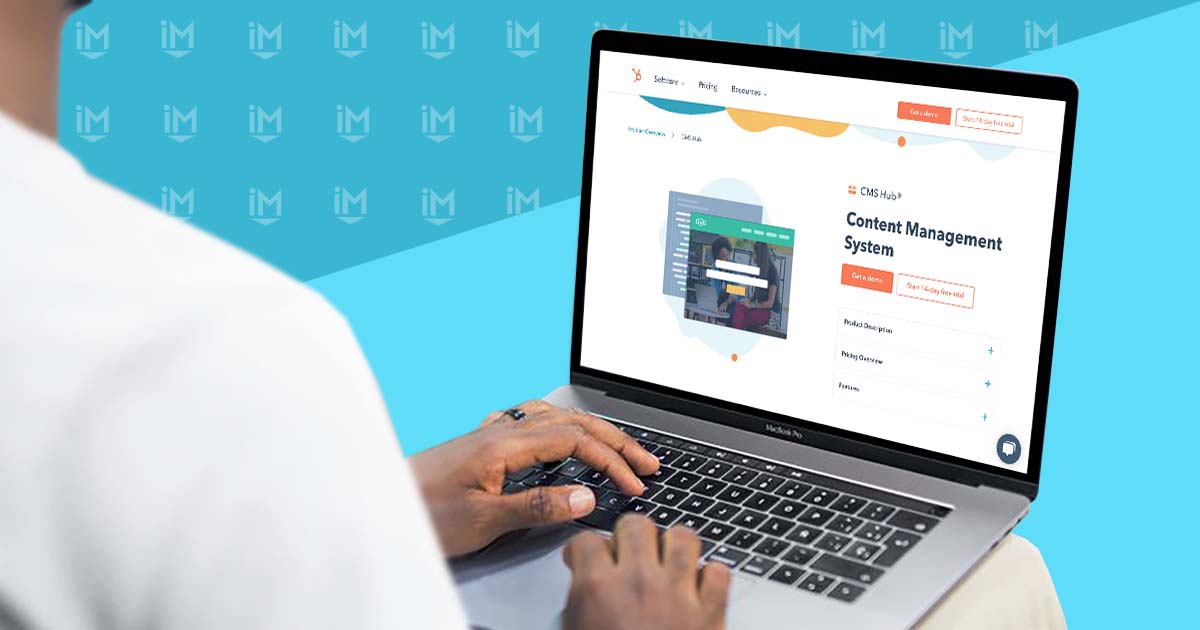 Best Content Management System Options
HubSpot's CMS Hub is a great fit for users of the company's all-in-one marketing automation software
WordPress is the most popular CMS in the world; open-source and highly customizable
Magnolia offers enterprise level "headless" content management system
Sitefinity is a user-friendly CMS that's great for maintaining a unique digital experience across multiple platforms
Joomla! is a free, open-source CMS with great flexibility and multilanguage capabilities
Shopify is the go-to for small-to-medium-sized businesses that sell products online
Wix's easy-to-use CMS with an automatic site builder is great for small-to-medium-sized businesses and solopreneurs
Evoq Content offers a user-friendly CMS with essential SEO and marketing tools
In this day and age, having an up-to-date and effective website is essential to your success with inbound marketing.
You need to be able to regularly publish new content and new web pages to your site — not only show your expertise and build trust with your audience, but also to get found by search engines.
These capabilities shouldn't be limited to just tech-savvy users and businesses with big budgets and a suite of content marketing tools.
That's where a content management system (CMS) usually comes into play.
A CMS is a software platform that enables you to create, manage, and easily update your website, including its design, content, graphics, and even code without much technical knowledge.
These are critical tasks, which is why choosing the right CMS to accomplish them is a decision you need to get right.
At IMPACT, we have spent more than a decade helping thousands of businesses do just that, guiding them to put their inbound marketing strategies into play. While the majority of our clients work on HubSpot's CMS Hub, there are hundreds of other options to meet a variety of needs and budgets.
With this in mind, in this article, we help guide your deliberation by sharing:
What a content management system does for you.
What to look for in a content management system.
8 of the best content management system options and what they offer.
What a content management system does for you
Many think of a CMS as merely a website builder, but it's actually so much more than that.
Like your email client or even Facebook profile, your CMS platform is likely something you'll use every single day, and if you choose the right one, it can make executing a marketing strategy substantially easier for teams of all sizes and skillsets.
Here are some of the biggest benefits you can expect from a CMS platform:
Code-free maintenance
Gone are the days when you needed to be versed in HTML or other code languages to build and maintain a website or manage content for your business.
With the right CMS, anyone on your team can easily make changes to your website and publish them without any development knowledge. This includes your blog content, navigation, text, images, and design, right up to full website pages.
This leads to…
User-friendliness
Many CMS platforms have simple visual editors, drag-and-drop functionality, and real-time previews to allow you to see what the finished product will look like as you are creating it. This way you see exactly what you're doing as you're doing it, eliminating a lot of the fear of hitting "publish."
Features and interfaces like these remove the barriers to entry of website creation, enabling and empowering team members of all backgrounds to be more involved with the website if need be.
Faster updates
With more team members comfortable with your website, you can, in turn, make faster updates. Spot a typo or broken link? Need to replace an image? With the right CMS, anyone who wants to can quickly go in and make the change without having to pull in a designer or developer.
Templates and brand consistency
With their use of themes and templates, CMS platforms also make it easy for your business to maintain visual brand consistency between pages without a designer or developer's help. (Bonus: They are also usually already responsive and optimized for mobile devices.)
But this doesn't mean your hands are tied creatively. A good CMS platform and theme enables you to customize elements (such as colors, fonts, and layouts) to your liking and also still allow advanced users to use custom code to build pieces from scratch.
Search engine optimization (SEO)
Your website is useless if people can't find it. CMS platforms offer handy built-in features, as well as add-ons or plugins, to help you optimize your site for search engines. These enable you to do things like:
Adjust on-page SEO elements, such as page titles, meta descriptions, and URL structures.
Add image alt text.
Create 301 redirects.
All of these abilities (and many others) will help improve your chances of ranking well on Google and other major search engines and getting found by your target audience.
Security
Privacy and security are of the utmost importance, especially when you are collecting contact information from your visitors.
CMS platforms offer built-in features and add-ons to help you secure your site and keep it protected from hacks and data attacks. This may include a firewall, SSL, custom CDN, captcha options, and SSO memberships, among other things.
What to look for in a Content Management System
So now that you understand the benefits of a CMS, what exactly should you look for?
An easy-to-use editor
As we noted, one of the biggest benefits of a CMS is a no-hassle, code-free website and content management platform. With this in mind, you'll want to look for a CMS that includes features like:
Drag-and-drop functionality
Visual (or "What you see is what you get" – WYSIWYG) Editor
Real-time previews
Click-to-launch/publish buttons
For less tech-savvy users, it's also a good idea to look for a CMS platform that offers real-time support via phone or live chat and a comprehensive resource library.
A wide range of customization options
Ease of use is great, but you also want to make sure you have the flexibility to customize your blog or website as you wish. Look for features like:
An add-on or plug-in library (to add things like social media feeds, forms, etc.)
Templates and themes
Access to your website code
Integration abilities
In the same vein as customization, you want a CMS that allows you to integrate with other tools your business uses. For example, your marketing automation platform, customer relationship management software (CRM), analytics tool, or perhaps even an eCommerce platform.
Even if your CMS platform doesn't offer these capabilities natively, you want to ensure you are able to make the tools communicate with each other and fully accomplish what you need them to. So, keep an eye out for an integration library or API.
Security features
When it comes to security, look for a CMS that offers things like:
An SSL certificate
Regular security updates and patches
Scalability
You want your business to grow. Depending on your goals and long-term vision, you may need to know that the CMS you choose will have the bandwidth and capabilities to grow with you.
This is something you'll have to evaluate from a high level based on your needs and how your potential CMS platform aligns. For example, perhaps you aspire to expand into eCommerce. You'll want to make sure that the CMS you choose offers an eCommerce solution so you can avoid having to do a big site migration down the line.
Keeping all of these features and benefits in mind, let's take a look at some of the best content management systems for digital marketing.
8 best Content Management Systems for digital marketing
Again, we use HubSpot ourselves, but there are plenty of other fish in the sea.
1. CMS Hub (Formerly HubSpot CMS)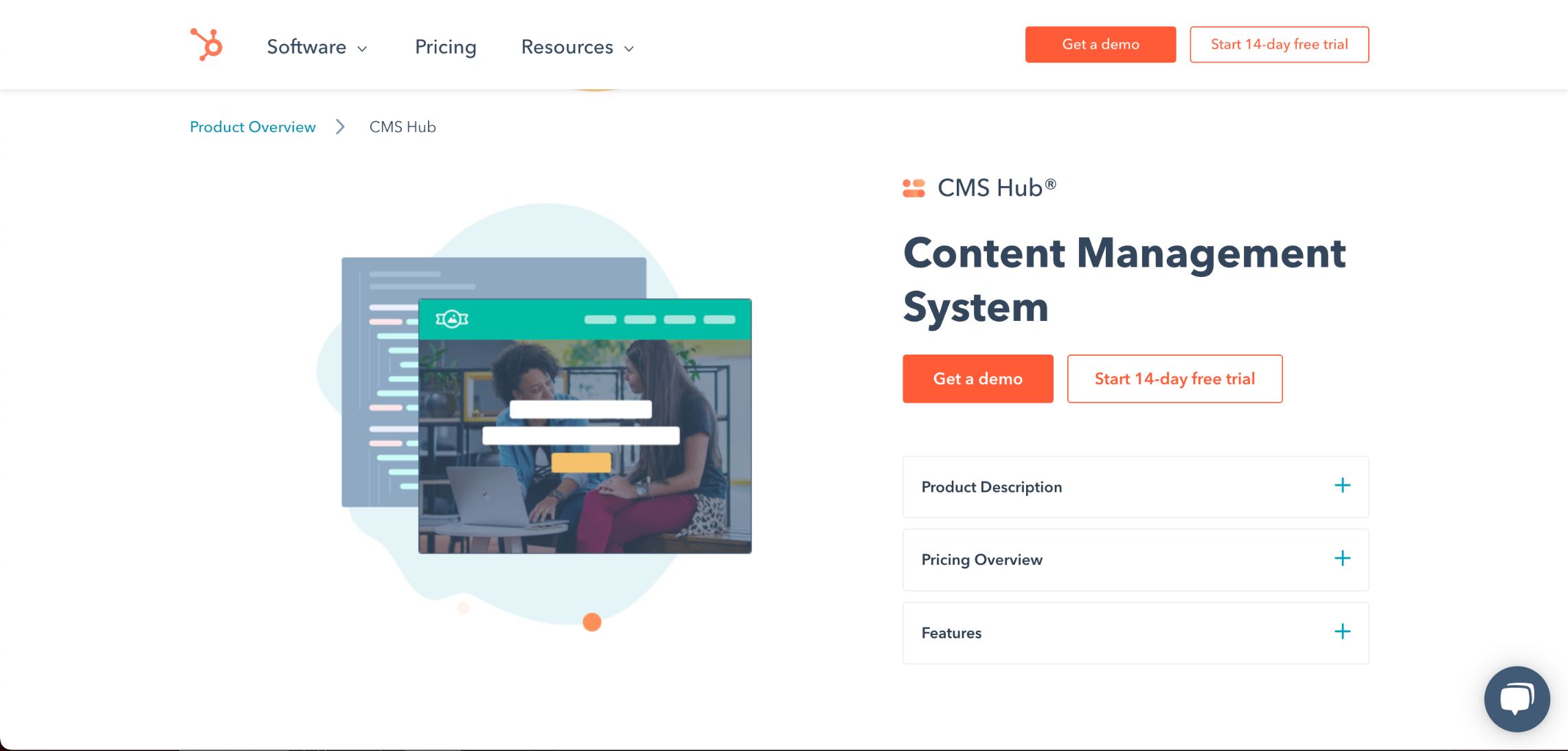 Best for: Small to medium-sized businesses looking for seamless integration with their marketing efforts.
If you invested the time and money to integrate all of the necessary components of an effective digital or inbound marketing strategy (i.e., search engine tools, forms, etc.) into any CMS, you would essentially be creating your own version of HubSpot on top of your website.
Rather than going through that hassle and cost, CMS Hub (an add-on for HubSpot users) gives you all of those features in one tightly integrated, easy-to-use CMS.
The platform offers WYSIWYG (what you see is what you get) page design that requires little to no technical knowledge to edit, built-in SEO, responsive design, cross-browser and multi-device testing, and personalization.
As a part of HubSpot, you also can easily integrate your website and marketing together. For instance, when a visitor fills out a form on your HubSpot website, they'll be entered into your CRM (assuming it's the HubSpot CRM).
From there, you can track their behavior and activity on your site and personalize the marketing they receive and the on-site experience they have based on this.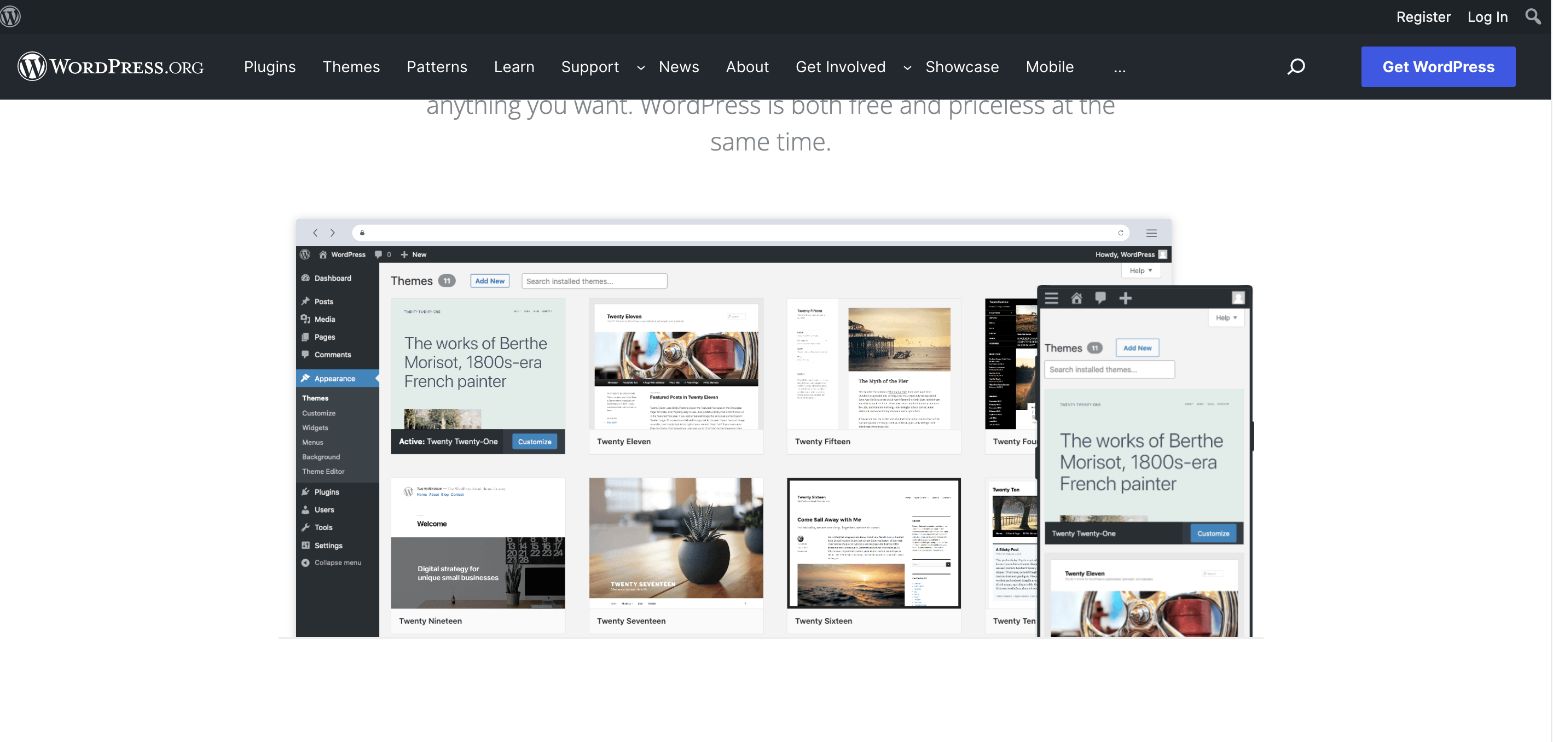 Best for: Small to medium-sized businesses that want great flexibility in their customization and integration.
While we personally love HubSpot, WordPress remains the best and most popular free CMS in the world. Since its introduction in 2003, WordPress.org has been a favorite among bloggers for its ease of use and open-source flexibility.
(Note: We're focusing on WordPress.org in this discussion, not WordPress.com. You can learn more about the differences between the two in this article.)
It doesn't have as many built-in marketing features as HubSpot does, but with millions of plugins and templates to choose from, it does offer the ability to add them and, frankly, virtually anything you can imagine on your website.
If you're just getting started with digital marketing or don't need a CMS that acts as a powerful all-in-one marketing platform, WordPress is your best bet, but it's not all positive.
One thing we must note is that with its third-party templates, plugins, and open-source framework, WordPress is very susceptible to security issues like hacking. If you choose this platform, you must be extra cognizant of threats and how to avoid them.
Editor's Note: This article's following feature was sponsored by Magnolia.
Best for: Large organizations looking to create a unique digital experience.
The choice of The New York Times, Atlassian, and Fendi, Magnolia is unique to our list in that it is a 'headless' content management system.
Simply put, there is no single 'head' (display interface or visual website) produced.
Rather than generating an actual website like most options, Magnolia develops what it calls "pure content," and then delivers it to other channels via powerful REST APIs, whether that be a website, a mobile app, a wearable, or even a voice device.
This makes maintaining your digital experiences a lot easier because they can all be managed from one platform.
Magnolia can be connected to any third-party channel, including analytics tools, CRMs, and eCommerce tools, simultaneously.
In fact, the platform dedicates user inference (UI) slots to displaying data from these systems so you can see the analytics for a page within the Magnolia platform or pull data/images from your eCommerce platform directly into Magnolia.
This gives you comprehensive data to track customer journeys and behavior and segment audiences.
It is an extremely comprehensive choice, and because it offers a WYSIWYG editor, full live preview, access to a staff developer, and out-of-the-box personalization (which you typically don't get with headless solutions), you don't have to be a developer to use it.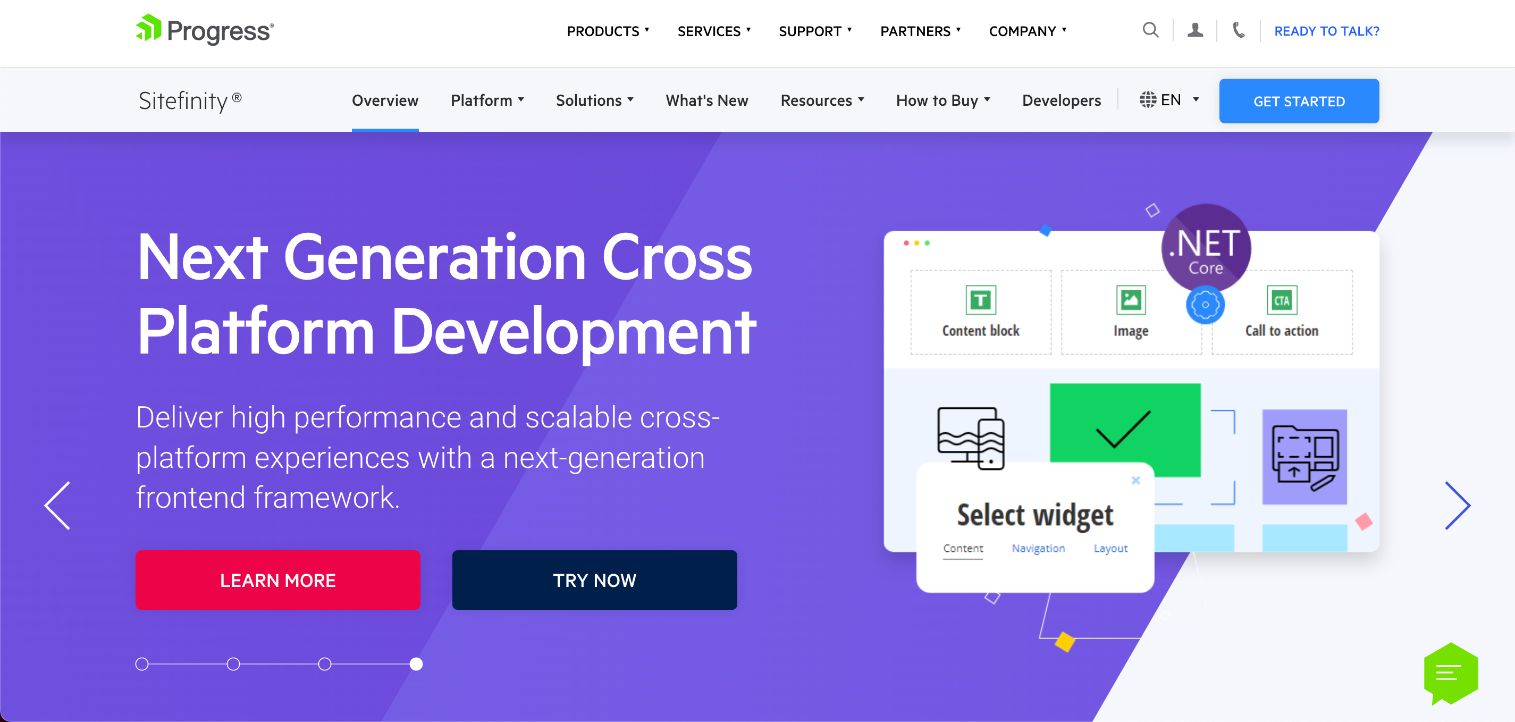 Best for: Businesses of all sizes that are looking for a tool that can create and maintain a unique digital experience across multiple platforms.
With users like Dannon and Gatorade under its belt, Sitefinity is actually one of the most established CMS and digital marketing platforms around (and one of the first I used).
More recently referred to as a "digital experience platform," Sitefinity touts easy content management, rich data, smart insights, personalization and optimization, chatbot capabilities, eCommerce, and multi-channel management functionality.
Sitefinity also has what it calls "low code integration," so you can expand your marketing automation, reduce development costs, and increase overall efficiency.
Unfortunately, some complaints you'll commonly hear is that the platform doesn't include enough templates, and developers who specialize in Sitefinity are more difficult to find.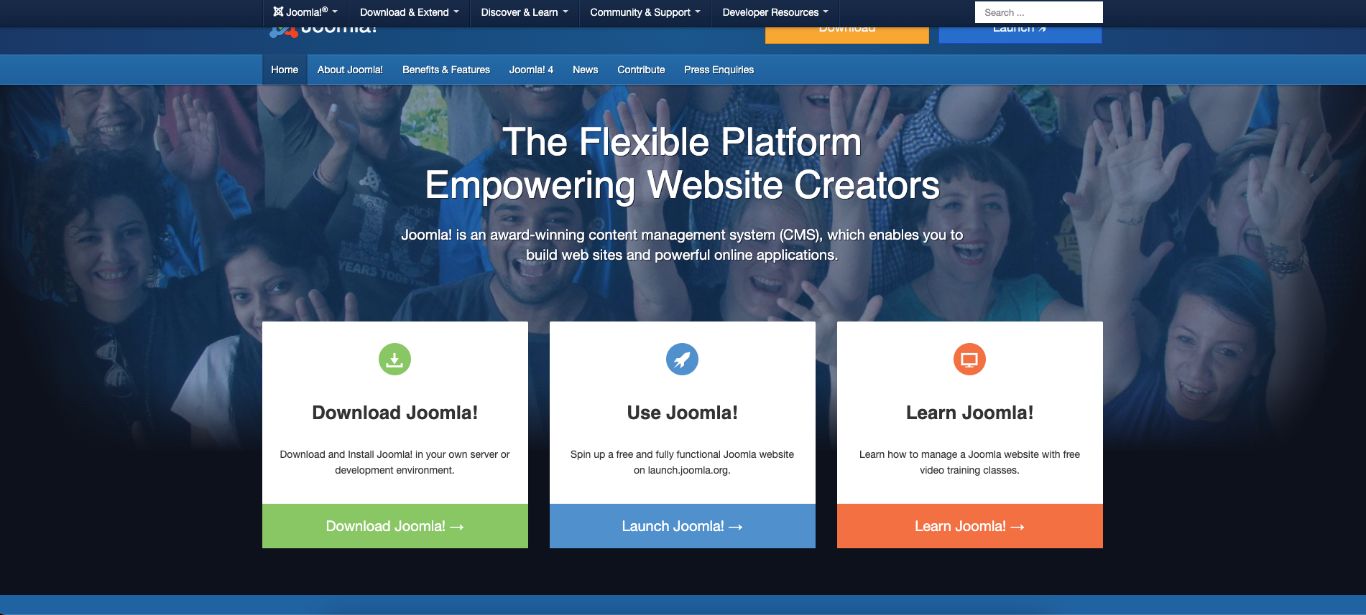 Best for: Small to medium-sized business looking for similar flexibility to WordPress, in addition to more language options.
Joomla! is a popular open-source CMS used by over 75 million websites (and counting).
Similar to WordPress, Joomla is free and there are thousands of extensions and themes readily available for you to use. It also touts itself as search engine friendly, mobile-friendly, multilingual, flexible, and capable of multi-user permission levels.
Most people find Joomla fairly easy-to-use, even if they have zero technical experience. But it isn't an all-in-one solution and requires you to do a lot of customization to get all of the features you would normally have in a premium CMS right out of the box.
More technical users might also find Joomla limited in capability since it really is aimed more toward people that need a simple CMS without all of the frills.

Best for: Small to medium-sized businesses that sell products online.
If your small business relies on eCommerce, Shopify is one of the more reliable options. Shopify offers all of the essentials you need to sell your products online, build a website to support it, and manage your inventory. This includes eCommerce hosting, domain services shopping card setup, dropshipping, and even point-of-sale hardware.
Shopify also offers an extensive theme library for your store and website, as well as access to marketing resources like logo design, stock photos, name generation, and 24/7 support.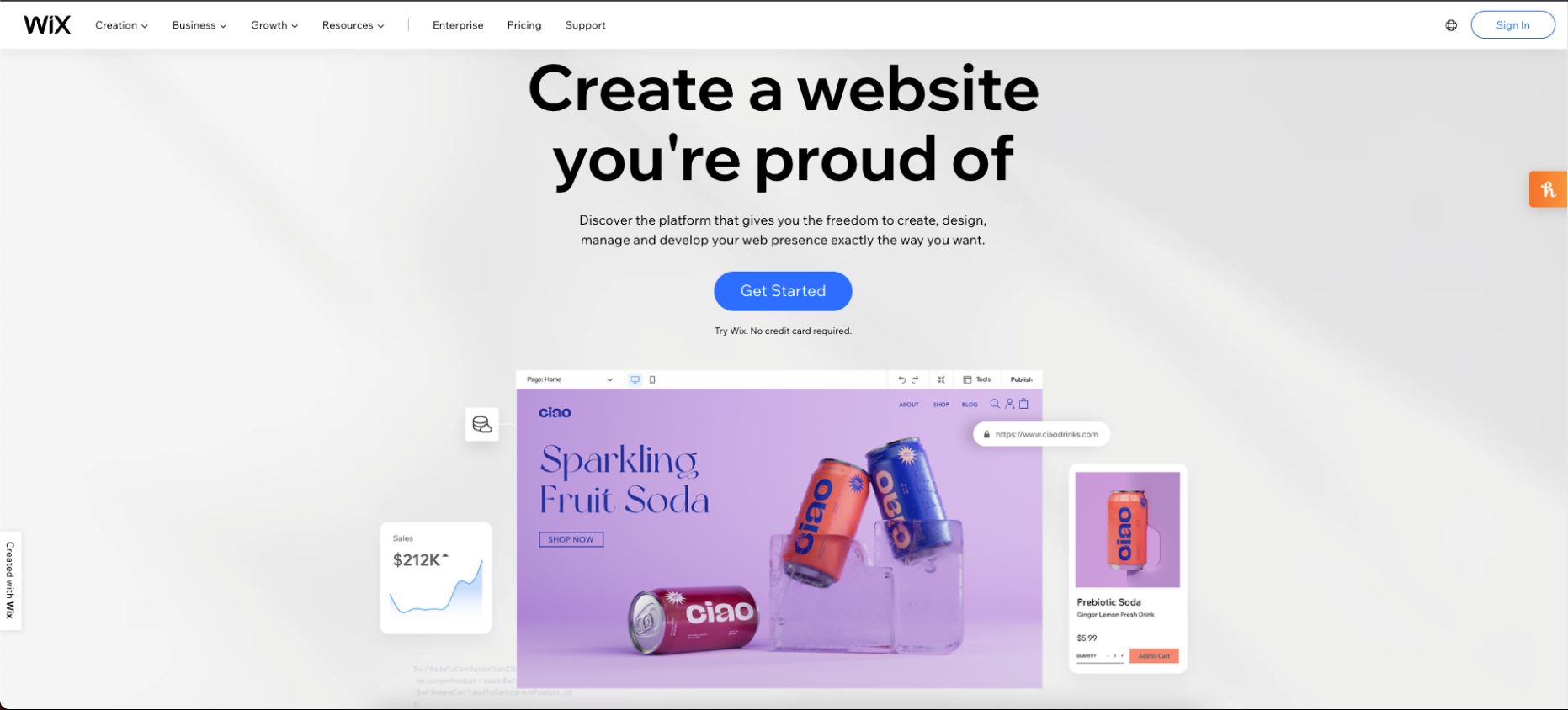 Best for: Small to medium-sized businesses and solopreneurs.
Wix is a leading cloud-based content management system that is free to get started with. It allows you to build your website (including eCommerce), using one of their 500+ templates — or you can start from scratch using code.
Some of the robust features Wix offers include an online store, online scheduling software, blogging, a logo maker, domain services, and SEO tools.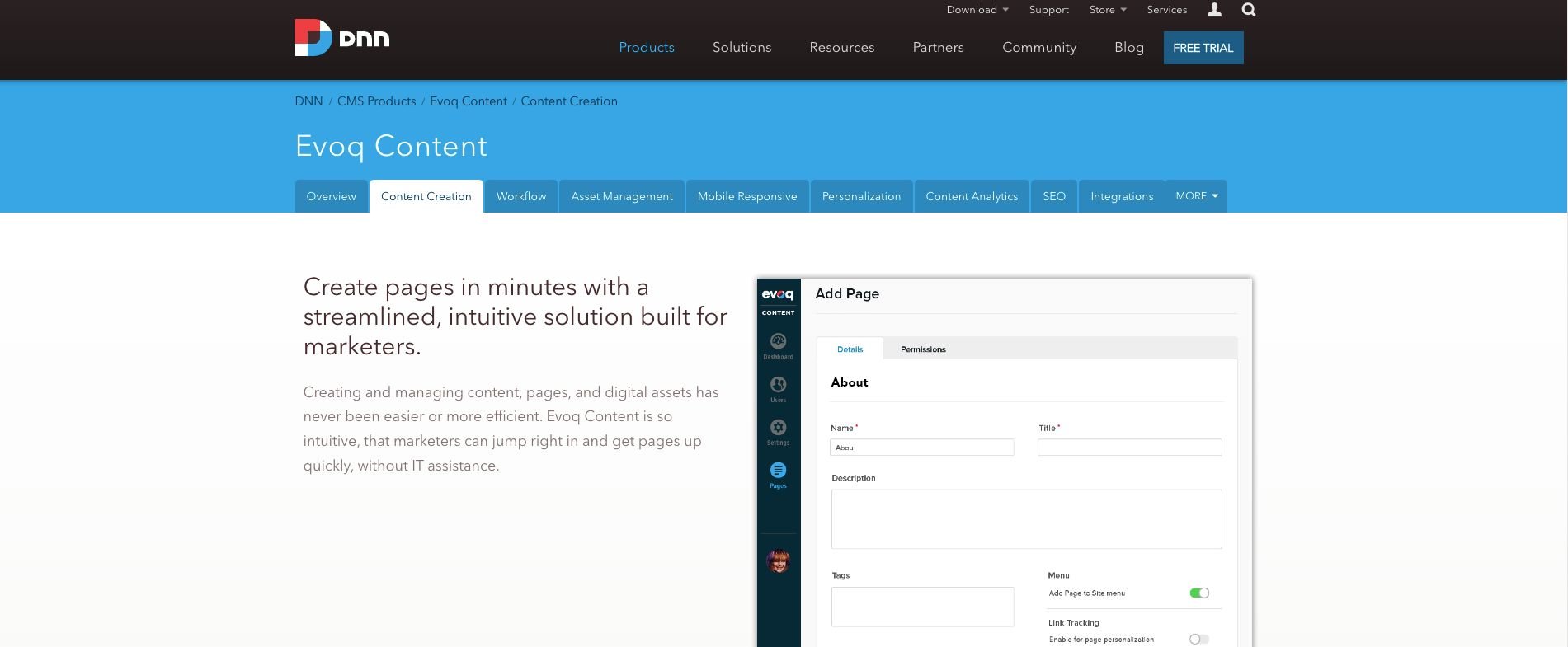 Best for: Small to medium-sized businesses that want healthy flexibility with customization and functionality as well as marketing tools.
Last, but not least, Evoq Content is an enterprise CMS that satisfies both IT and marketing departments with its balance between functionality and ease of use.
In addition to the essential content creation and SEO features, Evoq Content supports valuable marketing automation tools like workflows and personalization, allowing you to deploy robust campaigns without much heavy lifting.
In addition to this, it offers easy asset management, mobile responsiveness, content and website performance analytics, team permission settings, and integration to many popular tools, including Marketo, Optimizely, and Google Analytics.
The biggest drawback of this platform is a need for physical resources to support adoption and use. Users complain that Evoq Content lacks training materials for module development.
Despite this, however, most people rave about the company's knowledgeable support team.
Support your digital marketing with the right CMS
No matter which CMS platform you end up going with, you must ensure that it will support your digital marketing efforts either natively or through integrations.
If you're just getting started with the inbound methodology, consider getting your feet wet with HubSpot Marketing Free. This will get you familiar with marketing automation tools and help you better understand what you are looking for.
Need help building your inbound marketing website? IMPACT can help.
Free: Assessment
Does your website build trust with buyers and bring in revenue?
Take this free 6 question assessment and learn how your website can start living up to its potential.