As its name suggests, video marketing involves incorporating video into your overall marketing strategy and campaigns, and it has been growing in trend for the past few years.
In fact, Entrepreneur expects 80% of all online content to be video by 2019. That may seem like a staggering prediction to some but I don't think they're very far off.
But why video?
As Video Brewery notes, 80% of people can recall a video ad they viewed within the last 30 days and 64% of people are more likely to buy a product or service online after viewing a video about it.
That's huge!
Generally speaking, video marketing could change the landscape of your business growth -- but only if done correctly.
Free Course: Video Sales & Marketing Strategy
Incorporating video into your marketing strategy
Video marketing creation and consumption is on the cusp of getting out of control. Remember when blog articles were the new craze several years back?
As HubSpot CMO, Kipp Bodnar put it:
"Marketers can stream video at the touch of a button, and pre-produced videos can now benefit from everything from free b-roll sources to voice over marketplaces. This democratization of video production has come just in time for a mobile- and social-led surge in video consumption. --- The combination of the two creates the perfect conditions for marketers to run amok."
Before you hit record, really think about why you're making the video (over another medium perhaps). Stopping to think twice may keep you from contributing to the pile of mediocre productions that clog our newsfeeds today.
There are three things you should ask yourself:
Who is the video for?
How will the video fit into your overall marketing strategy?
Answering these questions will help you outline the strategy behind your video, ensure successful execution, or reveal that you don't need a video at all.
As Vidyard points out, "A solid plan can be the difference between knowing your content is delivering ROI, versus throwing metaphorical spaghetti at the wall and seeing what sticks."
Popular types of video marketing
There are so many different types of videos you can produce and incorporate in your marketing strategy. Here, we take a look at 8 different examples and explain how certain companies are excelling.
1. Thought leadership videos
Thought leadership videos showcase your expertise. They share a new idea or approach to a major aspect of your industry.
When creating a thought leadership video, focus on your niche. How can your knowledge help those in your target audience? Create videos that answer common questions your buyers have and you'll create an awesome piece of content to attract new (and returning!) visitors.
Who's doing it right: Rand Fishkin, MOZ
Rand Fishkin, the founder and former CEO of MOZ, hosts a weekly educational video series shared on the company's site called Whiteboard Friday. In it, Rand flexes his thought leadership muscles and educates us on all things SEO.
2. Culture videos
Recently, a new element has come into play when deciding whether you want to work with, or for, a company: culture.
A company's culture is ultimately it's personality and the environment employees work in and that customers or clients get to be a part of.
Sure you could tell someone your company culture is great but it's always more believable to show them. Using video to show off your company's personality is a great way to engage your audience.
Who's doing it right: IMPACT
A little humble brag here, but IMPACT has an amazing culture -- after all, we were just ranked by Fortune as one of the best SMBs to work for in the NYC area -- and our employees love volunteering to showcase it in video!
From memes to new offer announcements, everyone gets involved to help show the world what it really is like here at IMPACT. Not only is this great for employee morale and retaining talent, but our clients love seeing us have fun too.
Here's a great example we made to welcome guests to our Willy Wonka-themed holiday party last year:
3. Live videos
Live video is probably the newest trend to video marketing and a lot of brands haven't quite mastered it yet. The key to a great live video is to remember that viewers want to be captivated and get information in real time. That's the whole point, after all.
With live video on Facebook and Instagram, audiences can engage with those filming through "likes," or by leaving comments, questions, or even reviews. All of these provide you with instant feedback you can leverage to improve the video immediately or in the future.
Who's doing it right: Benefit Cosmetics
Benefit Cosmetics recently started an ongoing live video series on Thursdays at 4PM where viewers can learn about the latest and greatest in cosmetics.
First of all, this consistency is a must! By releasing video on a regular schedule, people can make tuning in a part of their routine. Plus, this concept is perfect for fostering engagement.
During each segment, people watching will often ask questions that are answered in real-time and the hosts can gauge the level of interest in different topics.
If a large number of people are asking similar questions, the host usually asks if viewers would be interested in seeing a segment on said topic during next week's video. By listening to its viewers and engaging with them (while also sharing valuable news and cosmetic application tips), Benefit gains an instant loyalty from its viewers.
4. Demo videos
Demo videos are a great way to show off your product. Regardless of your industry, you can walk users through new features that are about to launch or give a condensed tutorial on how to use them effectively.
However, just because you know your product well, doesn't mean you're going to have a successful demo video.
Firstround explains it well: "Good demos don't have to be perfect for the product. They have to be perfect for the audience."
If your demo video is just mindlessly walking the user through your product, you may lose your audience's interest and if they're not watching, what was the point?
Create your demo videos specifically for the buyer or prospect watching. Do you serve multiple industries and buyers? Create multiple demos!
Tailor the content to them so you can deliver a demo that will truly resonate and encourage action.
Who's doing it right: FTP Today
Former IMPACT client, FTP Today provides secure file sharing solutions to both SMBs and Enterprises. One of its unique features is the security offered through its software is compliant in multiple industries.
In this example, FTP Today walks through how to use the service to meet HIPAA compliance, catering the demo and content specifically for those in the medical field.
5. Emotional videos
Emotional campaign videos tend to be my favorite type because they go for a deeper impact, often touching on the company's values or mission instead of focusing on its product and services.
What you do is great but why you do it is even better.
In fact, "customers who are 'fully connected' emotionally to a brand tend to spend twice as much on average than customers categorized as 'highly satisfied,'" according to research conducted by the Harvard Business Review.
Who's doing it right: Dove
Dove's vision states "We believe beauty should be a source of confidence, and not anxiety. That's why we are here to help women everywhere develop a positive relationship with the way they look, helping them raise their self-esteem and realize their full potential."
The company's #ChooseBeautiful campaign does just that.
In the video below, when given the choice to walk through entrances that say "Average" or "Beautiful," many women explain why they struggle to see themselves as beautiful.
Nowhere to be seen is a Dove product. Instead, the message focuses on the company's vision, enabling viewers to establish a stronger emotional connection to the brand.
6. Educational or explainer videos
Educational videos tell viewers about your business/product, hitting on three main points:
What your product or service is
The benefit behind your product or service
How your product or service works
Now, it doesn't have to be in that exact order but those three points will provide viewers with enough information to know whether they want to continue learning about your company or not.
Oh, and it should be less than two minutes. Attention spans are very short these days and people do not want to sit and watch a 10 minute video just to realize your solution isn't the right one.
Who's doing it right: PandaDoc
PandaDoc's overview video starts off with its audience's biggest pain points and moves into how its product offers the much-needed solution.
The video easily hits each of the three points so you can walk away feeling confident in understanding the high-level information of who and what PandaDoc is.
7. Paid advertising videos
Facebook has seemingly become synonymous with video as I can barely get through three stories on my feed before seeing one automatically stream. As marketers, we jumped on the Facebook video bandwagon no doubt!
Using video in Facebook advertising is a great way to capture a user's attention quickly to either build your brand awareness or get them to click through to a landing page.
Who's doing it right: Zenreach
With 85% of Facebook video being watched without sound, it's vital companies design their videos with no sound in mind. Zenreach uses captioning throughout the piece to enable the video's message regardless if the user is viewing with the sound off.
They offer a clear call-to-action for the viewer to learn more by visiting their site and even entice the users to receive a 30-day free trial of its software.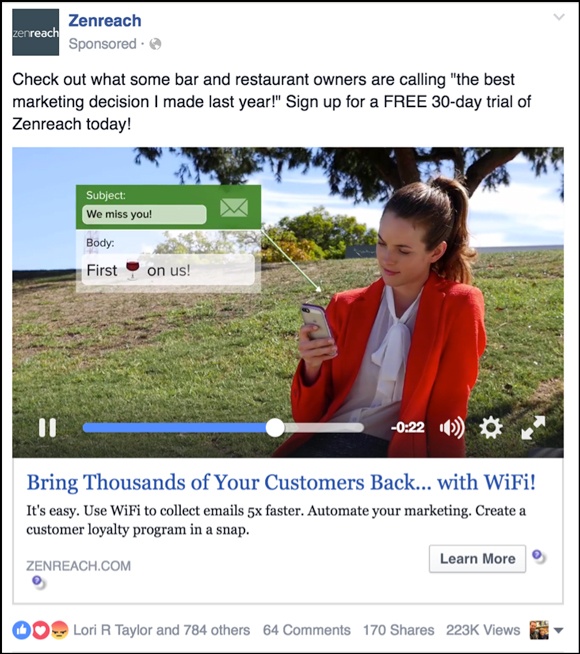 Note:We can't embed the ad but you can check out the full video here!
8. Testimonial videos
The best thing about video is its ability to tell a vivid story.
All too often, companies get caught up in showing their products and services and talking about themselves, but at the end of the day, it should be about your customers because without them, there would be no you.
Forget the standard testimonial where a person explains why they like your product or service! Instead, use video to show how your product or service is bettering and affecting their lives.
Who's doing it right: Artifact Uprising
I dare you to try to make it through this video without crying. Artifact Uprising allows you to create custom photo gifts in the form of books, prints, and cards, and used video to highlight one customer's story.
In it, Grandfather Joe talks about his life and why he wanted to create a book for his grandkids. The video is touching and relatable and allows people to understand exactly what Artifact Uprising can provide them, which is so much more than a simple photo book.
A video for every occasion
As with most things in marketing, video needs to be made with your target audience in mind. Forget about the specific features of your product and service and think instead of the benefits the video will bring to your customers.
This will enable you to create more meaningful messages and provide higher value to your audience.
You never want to create video just for the sake of doing so (and joining the video marketing trend).
Then, once your video is produced and marketed well within your marketing strategy, analyze your video's performance. See how your audience and customers responds.