Now that you've gone through the exercise from the previous chapter, you should likely have an idea of which way your organization should be leaning. From here, we'll break down your two options, starting with blending your brands.
Again, I cannot stress this enough, you need to implement your own version of it of this strategy.
Like I said before, there is no cookie cutter approach for this, and every brand will need to choose a variation of one of these strategies that works for them.
Blended Multi-Brand Strategy Basics
This strategy has an end goal of combining everything under a single brand and phasing out the smaller brand(s). The timeline of this approach will be highly specific to each individual organization and should be dictated by the timelines in the business strategy, in conjunction with the habits and activities of the target audience.
Who Should Use This Strategy?
This strategy is most commonly used in the following situations:
Brand acquisitions, when a larger brand acquires a smaller brand.
Brand mergers, where there is a clear leader or there is no strong brand loyalty.
Strong audience overlap, when the separate brands have a very similar audience and close to the same buyer personas.
Business goal, when the business strategy is to ultimately live under a single brand name.
Organizational investment, when an organization does not deem it a business priority to put the significant investment of time and money required into managing multiple brands as separate and unique brands.
What You Need to Do
#1: Create a Co-Branding Strategy
The first step in this strategy is to create a natural progression for your audience from one brand to another. Think of it like quitting smoking -- you can't expect your audience to simply go cold turkey. You'll confuse them, and you'll likely see a dip in revenue, if they just show up to your website one day and it's gone one or showcases a completely different name.
You need to give your audience the marketing equivalent of a patch or some nicotine gum to help ease the transition. This takes the form of a co-branding strategy. It is most typically executed by creating a logo that merges the old with new.
Let's say the old brand name that is getting phased out is "Le Tigre" and the brand name that everything will move under is called "Blue Steel."
Courtesy of GIPHY
You might create a logo that still uses the name "Le Tigre" but has a tagline below it that says "a Blue Steel Company" or "by Blue Steel" to start helping your audience recognize the new name. Often this is done using the branded colors of the Blue Steel brand to start transitioning the style as well.
You'll also want to create a very specific message around the brand merge or move. It should cover all of the following bases:
Introduce the new brand.
Explain the reason behind the merge.
Assure the audience that nothing has changed -- and that things will improve!
It may look something like:
"Le Tigre is now a part of the Blue Steel family!

We are so excited to announce that we are joining forces with Blue Steel to help deliver you the same great products you are used to faster, and with better customer service."
Behind the scenes, the business strategy should be to start moving products and services under the new names. Product-based companies should be preparing to change logos on products and internal conventions should be beginning to shift.
#2: Build a New Website
Along the path to merging brands, at some point, you will have to undergo either a complete website redesign or a website update that brings all of the information from the old brand onto the website of the new brand.
When combining websites, make sure you do your homework first. I always make sure I understand what pages are ranking well for valued keywords from an SEO perspective. Additionally, it is very important to understand what is working well from the old websites.
Answering these questions will tell you what to take with you to the new site:
Are there pages where conversion rates are especially high?
What does user behavior look like?
Where are users spending the most time on the site?
During this process, you'll be creating entirely new pages on your single combined site to house the information from the old brand's website. As you go through this process, make a detailed URL mapping plan of what 301 redirects need to be in place from the old site to the new.
You need to create this plan before proceeding to the next step.
#3: Your Interim Website Strategy
When it is time to officially start the shift with your website, you'll want to keep in mind what I said before. It should be gradual and you should be creating a bridge from the old to the new for your audience.
You want to find a balance between being too abrupt with your audience while still starting to shift their mindset to the new brand. In order to do this with your website, the best strategy is to have an interim phase before the old brand is completely removed from the picture.
As you are phasing out the old website from the older brand, you'll likely still want to have at least a splash page at the URL of the old brand's website. Let's use the example above to walk through what this looks like.
Le Tigre's old website -- let's use www.letigrebrand.com for argument's sake -- will eventually need to direct users to Blue Steel's website -- www.bluesteelbrand.com. The interim strategy should help provide that audience bridge and may look like the following:
On the Le Tigre Website:
Le Tigre's website will just have a splash page that has the co-branding message created previously along with a button that directs people to the Blue Steel website.
All pages on Le Tigre's site will show this message. After the user is on the page for a certain amount of time, you can potentially decide to auto-redirect them to the Blue Steel page.
Users should be redirected to the appropriate corresponding page on the Blue Steel website (e.g. if I'm trying to view a product page on the Le Tigre site, I should be redirected to that same product page on the Blue Steel site).
On the Blue Steel Website:
When a user arrives on the Blue Steel website at a product page that used to be a part of the Le Tigre product catalog, they should be met with similar messaging about the brand merge so they understand the product is the same and start familiarizing themselves with the Blue Steel brand.
This page should use the co-branding strategy, in terms of logo and color scheme that you created in the previous step.
Let's take a look at an example of this in practice!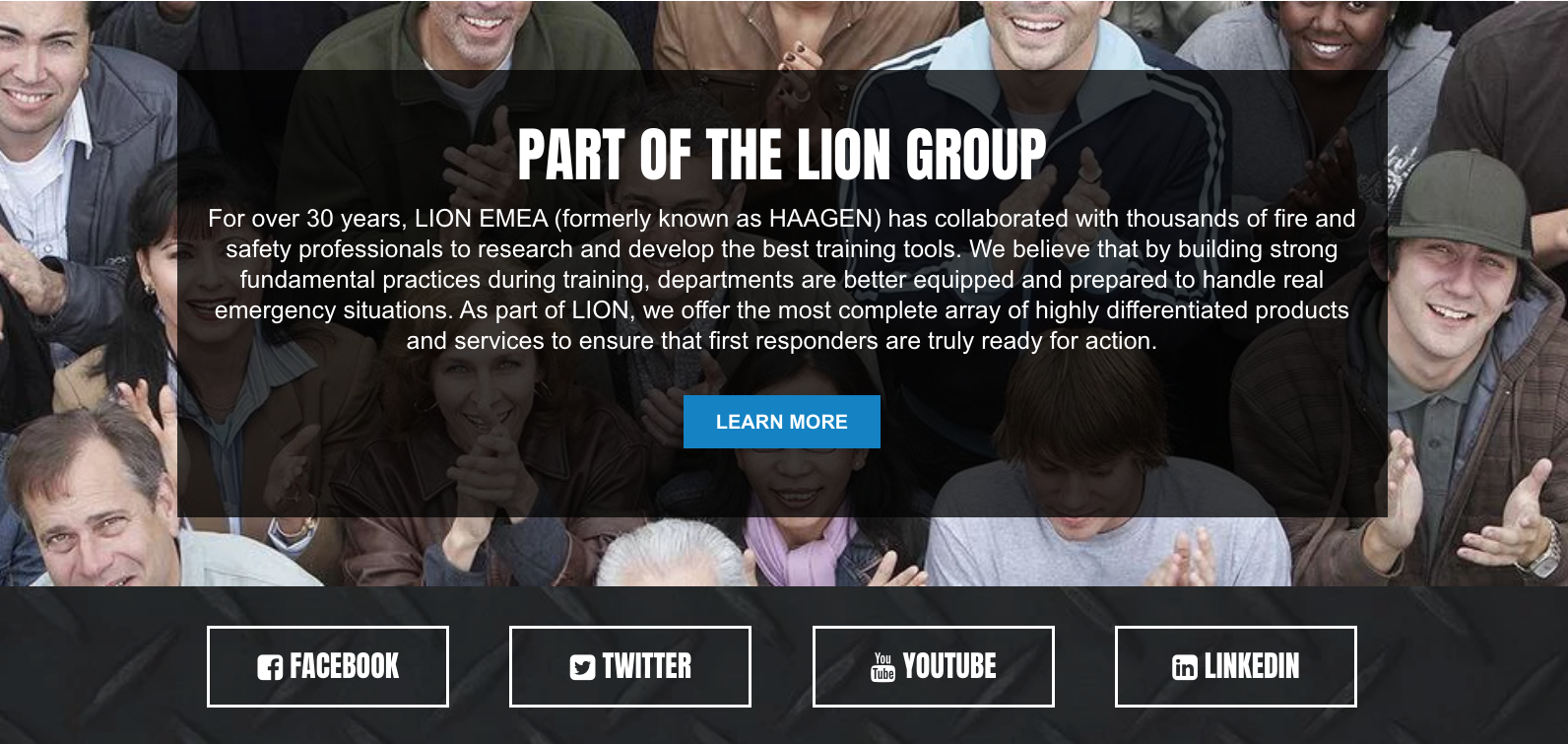 The LION brand recently combined existing brands BullEx and Haagen under its masthead. To get ahead of messaging around the new brand names, the LION team created some content around the brand merge, as shown above.
#4: Finally, Merge Your Brands Fully
Now, you'll phase out the splash page on the Le Tigre website and just auto-redirect anyone landing on a Le Tigre URL to the correct Blue Steel URL instead. This page will still hold the messaging about the brand merge as described above. This part of the strategy is essentially where you are beginning to phase the Le Tigre name out little by little.
After your audience has gotten used to the Blue Steel name, you can completely phase out Le Tigre and get rid of any messaging or co-branding that uses Le Tigre. At this point, all products should now be completely and holistically Blue Steel.
A Note About Your Timeline
The timelines for each of these phases will vary. They will depend upon your audience, how strong brand recognition is for the brand that will be going away, your industry, and much more. Like I said before, this strategy is just a framework; the details will fit your situation.
Let's go back to our example to see how website pages look after the new website has been launched. To make their strategy work, the LION team used smart content and conditional messaging based upon a user's location.
Depending on where someone was accessing their website around the world, they would see a banner at the top of any product page that previously existed under either the BullEx or Haagen brand name to let any visitor know they were still in the right place: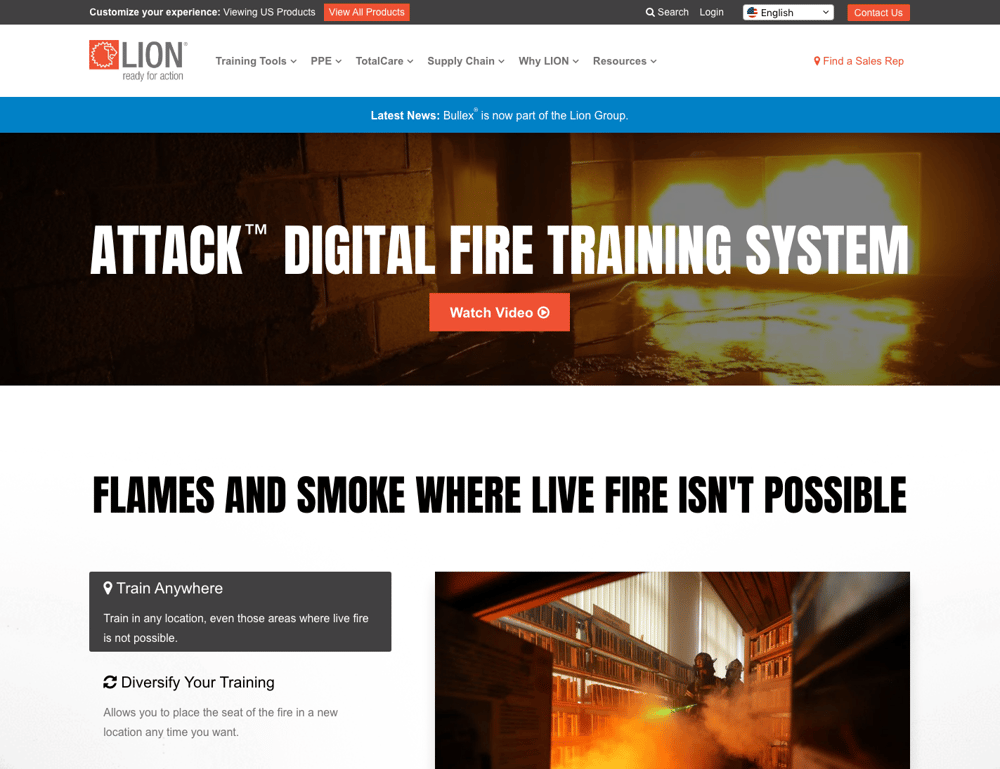 Redirects from the old product pages to the new versions landed users directly on this page if they were trying to visit the product page on the old website.