4 questions for defining a winning value proposition in 2021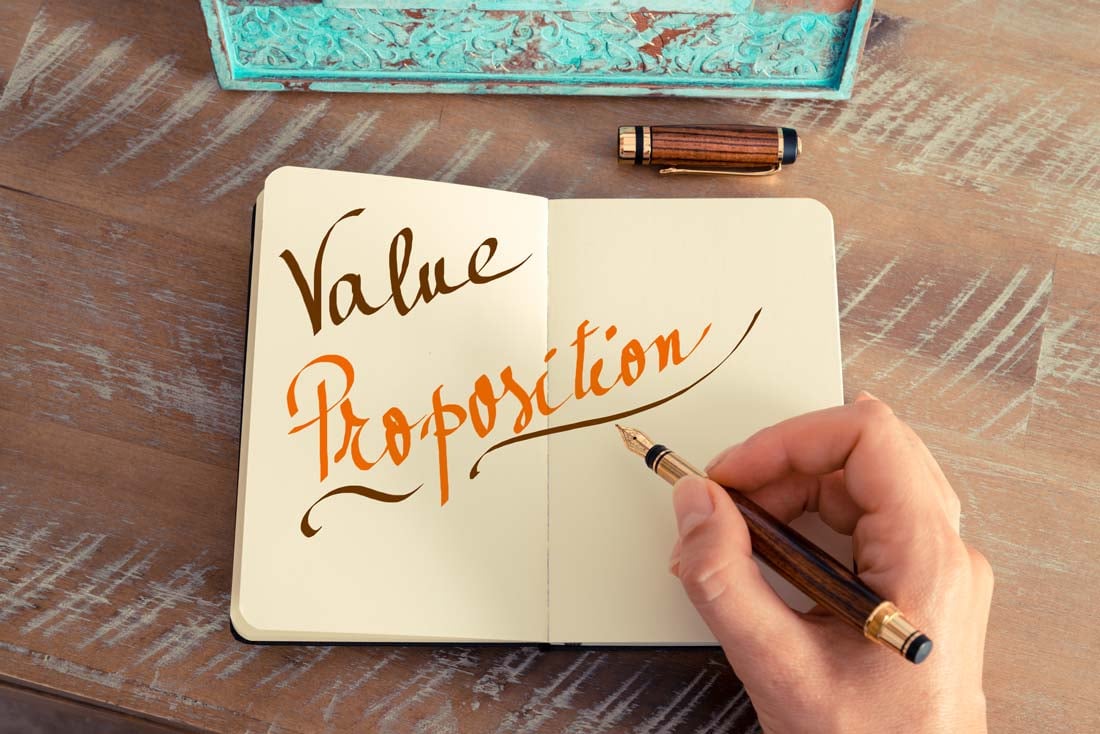 Think back to when you last fell in love with a business.
Maybe you were on their homepage, or browsing their social profiles. They said something interesting, so you kept scrolling. You thought, "This is exactly what I'm looking for. They get me." Every paragraph just clicked.
It probably sounded something like: "We sell the best widgets at a low cost to anyone with a wallet."
Kidding.
Too many companies fall into that trap though — The we, us, me, look how great we are trap of thinking your copy should be about you. That doesn't work anymore. It doesn't help your potential customer see how you can help them, especially now amidst the COVID-19 pandemic, when people crave care from brands more than ever. And honestly, maybe it never did.
That's why your value proposition is so important.
What is a value proposition?
Your value proposition is a statement that clearly defines what you do and how that helps people. It seeks to encompass everything that sets your business apart from everyone else, and it helps to guide your potential customer's decision-making process.
In short, it's your first stage of conversion.
If your potential customer doesn't see themselves in your value proposition, they'll seek out one that does, likely a competitor's.
That being said, a value proposition is not an easy thing to determine. And it will change a bit over time, both as you figure it out and as your business evolves.
So we have a few questions to think through to help you succinctly define what makes your business unique and resonates with your potential customers.
1. What exactly do you do?
Your value proposition will probably end up on your home page or in prominent places throughout your website.
After reading it, someone should have a good idea of what you do and how you can help them (if they are a fit). If they have to go digging further to have that high-level view of what you do, then your value proposition could be more clear.
Start with your industry. Are you in the marketing industry, the restaurant industry, or perhaps the roofing industry? Within your specified industry, what is your expertise? What sets you apart from your competitors?
In order to develop a strong value proposition, you must be able to clearly, and confidently define what your company does and how you do it differently than the rest of the businesses in your niche.
If you're struggling here, work on writing some of what we call The Big 5 content. This will help you think through some of the unique things about your business such as understanding your customer's problems, comparing against competitors, and how much customers can expect to pay for your product/service.
2. Who is your target audience?
This question is two-fold: Who do you want your audience to be? And who is actually buying your product?
It's all fine and dandy for marketing to come up with this grand set of personas around who they think the company is selling to, but who is actually buying from your business? Work with your sales team to get a thorough understanding of this.
They'll know what's resonating with your customers, what their biggest pains are, and who they're going with if they don't buy from you.
If you haven't already, consider rallying a revenue team at your organization to get a full picture of your marketing efforts and what your audience is actually responding to.
If your sales team is utilizing assignment selling (hint: they should and you should help them with that), then look over the assignments that have been most successful. Does anything seem to be misaligned with who your target audience is? Or does it support what you're proposing? Use those assignments to spot-check whether you are going in the right direction.
3. What are your audience's pain points?
Speaking of working with your sales team, you'll want to drill down deeper into your customer's pain points with them as well. This is where you'll uncover the key to a powerful value proposition.
What makes your offering valuable is actually solving a pain point for your audience. Without that, they'll find a more compelling option. So, ask your sales team what's keeping your buyers up at night.
Better yet, ask them to identify a list of existing clients that they would love to see more of. These are the types of people you will want to learn more about.
If possible, set up an interview with these clients. During this interview, your main focus should be to uncover the challenges that these people are facing.
Let the conversation unfold naturally, and avoid diving in headfirst. You don't want to lead this conversation because you want to hear new things or shed new light on things you already know. If you give them a chance to talk, they may reveal things about themselves that you may not have been able to uncover through a more structured interview process.
If you need a few talking points, consider these questions:
What do you recognize are your biggest challenges so far?
Is your business fulfilling its purpose? Why or why not?
Is timing or funding a factor in achieving the success you wish to reach?
Can your customers hear you? How do you know?
Aim to uncover if their problem is unavoidable, urgent, or underserved. This type of information will help you generate a greater sense of importance when it comes to encouraging your customers that your product or service has what it takes to fill in the gap.
Note: It's very likely these conversations will happen via video conferencing. Even if you're not normally customer-facing, it's a good idea to brush up on your digital communication techniques to make sure your emails and videos get to the right people.
4. How will your product or service remedy the issue?
Think about the products or services that you've bought lately.
Almost everything we buy serves a purpose because products and services are designed to solve the problems we have, and the problems we didn't even know we had.
Take a step back and look at your products or services in terms of solutions. What types of problems do they have the potential to solve?
Once you have a good understanding of how your products or services can remedy your target audience's pain points, you can begin to present this information in your value proposition.
Position your product or service as a helpful resource that your customers can't do without. Make it a point to bring to light the potential consequences that may surface if they opt-out of resolving their issue.
What's next?
This is a good start, but your work is not over once you've identified how you can remedy their problem. How do you write absurdly addictive website copy that your ideal buyers will love? Keep drilling down, talking to customers, and riffing on ideas until you keep coming back to the same powerful statements.
Free Assessment:
How does your sales & marketing measure up?
Take this free, 5-minute assessment and learn what you can start doing today to boost traffic, leads, and sales.