4 Things I Learned About Growing My Marketing Career Over The Years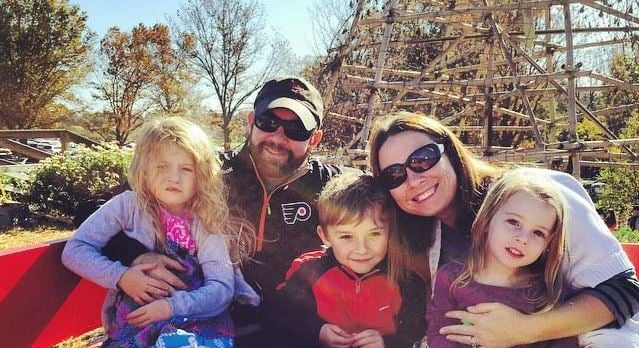 Truth be told, I didn't imagine a career in marketing back in my college days.
When I was 18, I honestly wasn't even thinking of going to college because I couldn't afford it. I was living in a small town north of Pittsburgh and my plan was to waitress, like I did all throughout high school. Yeah, that was my plan.
Today, I am part of one of the largest marketing agencies in the country. If you would have asked me at 18 where'd I'd be today, I would have chuckled and said, "Yeah, OK".
The lessons I've learned have molded me into who I am today and have given me the skills to be one of IMPACT's Principal Strategist, leading a team that includes a developer (Melissa), a designer (Marcella) and three amazing Strategists (Justine, Karisa & Jenna).
Being their team leader has been my biggest accomplishment yet. Seeing them grow under my guidance has been the best feeling in the world.
But, how did I get here? Well, it wasn't easy!
Lesson #1: It's Perfectly Acceptable to Not Know What/Who You Want To Be in Your 20s
That summer after I graduated high school, a really good friend of mine told me to buck up and apply to DuBois Business College. She said, "You can't waitress your whole life and you can't stay in this town." I knew she was right; I just didn't know how I was going to afford it.
When you're 18, the only people pushing you to do something great is your parents. While I love my parents deeply, they weren't pushing me to go to college. If I wanted to go, it was on me and I had to do it on my own.
I applied that summer, got accepted, and worked my butt off. Then, with the help of some really great friends, I graduated.
The next 10 years, I worked everywhere.
I learned about radio in State College, where I met my husband. I learned about accounting at a CPA firm. I learned about weight loss at a weight loss clinic - and also learned how to be a manager there. Then, the next several years, I learned about finance in investment firms and banking.
After spending almost 10+ years in finance (and radio for like half a second), my next great adventure was learning how to be a mom, but when I looked back at my career, I realized I was a job hopper.
If you're a young person reading this, you may be going through what I went through in my 20s.
What the heck do I really want to do with the rest of my life?
Let me tell you, it is 100% OK to not know exactly what that is. Why? Because every step you take throughout your career path - whether that be bad jobs, jobs you are overqualified for, underqualified for, or jobs you take just because you need a paycheck - they all are in your life for a reason.
It shapes who you are. It teaches you something different about yourself that you wouldn't have known if you didn't go down that path. It took me 20 years to figure out what and who I want to be, and even though I have an awesome job title now, I may want something different in five years. This job that I'm doing right now just might be shaping me for something different later.
Trust the process, no matter how difficult it may be.
Lesson #2: Learn from People (even the Bad Managers and Leaders Have Lessons)
In my 20s, I had a really hard time sticking to a job for more than a year. I've been yelled at in front of a group of coworkers, been micromanaged to the point where I wanted to hand-over a project and say "Here, just do it yourself," and, at times, I felt as though I would never go anywhere outside of an admin office, stuck in a cubicle.
I was miserable.
But each bad manager or leader I had taught me a new lesson.
Sometimes those lessons aren't recognized until later on in life, especially when you're being screamed at and the only thing you're thinking in that moment is "Holy Cow, I NEED to find a NEW Job."
Now that I am a leader, I know what kind of manager I don't want to be because of those experiences early in my career.
These experiences also made me realize at a young age that I needed to find what I was passionate about. Was cubicle life it for me? Was this the only thing I could ever be?
Surely not. There had to be more, right? There was, I just didn't know it yet.
Throughout the many years of working with people, getting older, having kids - you know, all of the adulting - it became apparent to me that I wanted to be in charge of other people's career paths.
I was really good at giving advice, listening to problems, putting myself in other people's shoes and truly being empathetic.
Probably because I've worked every job known to man(woman)kind. I know how hard it is to be a waitress, an administrative assistant, a marketing manager, a marketing strategist, a business owner. I know what it's like to be in my team's shoes, but also the CEO's shoes.
I know how hard it is to be client-facing, but also to run a company. I know how hard it is to juggling multiple projects and clients at the same time, because I've done it. I have to be right in the middle of both sides, but I do it well.
Because of the people I've worked with, the jobs I've had, I've learned to be a great leader and I absolutely love it. Thanks to IMPACT, I've finally found my passion.
Lesson #3: Become What You Want by Being Self-Taught
When I was pregnant with my first child, I was laid off, along with 150 other people in a big corporate bank. I tried getting another job, but every interview I had was met with denial.
Of course no one was going to hire me at 7-months pregnant. So, I gave up and became a stay-at-home mom; Something I thought I'd never be.
It wasn't until I became a mom that I began to find my passion -- at 30.
I started my own business. I took what I was good at (administration, office operations, small business) and turned it into a virtual assist outsourcing company. I realized then that everyone who I was working with also needed marketing help.
So, I learned everything I could about social media, blogging, networking, giving back to my community, being a leader… everything I needed know to turn my virtual assistant business into a small marketing agency.
I even co-founded a networking organization called On Tap Network, where I interacted with so many different small businesses, listened to their challenges and helped them with solutions. I worked hard while also raising babies.
After six years of this, my husband lost his job and it was time.
I had to go back to work because I needed a stable income and everything I did over those six years, while raising babies, helped me land a job in about a week!
Had I not been learning (and doing) the last six years, my resume would have been terrible. I would have been unhireable. But I was always learning and I got a job as a social media and inbound marketing manager at - GASP - another financial company.
This is where I learned about HubSpot. I became certified in everything HubSpot, which helped me land my next job at an inbound marketing agency and eventually IMPACT.
So, it's simple really.
When you're young, you have no idea how the choices you make steer you in the direction you're meant to be in. It's also much easier to freak out, stress out, and not realize that everything you go through in life has a purpose, but trust me, it does.
Sometimes you don't know what that purpose is until you come out on the other side. (Hello From The Other Side)
Lesson #4: Realize When You've Made It (And Appreciate The Heck Out of It)
I will be 40 in March.
Ugh. I can't believe I just shared that with you all.
I have three kids, 11 and under and there are moments in my crazy, busy life when I want to pull my hair out.
Situations aren't perfect and jobs have challenges, but the amount of gratitude I have right now is difficult for me to share in words.
When I look back on my life and the challenges and obstacles I overcame, the moments I fell on my face, the many times I've cried…
Allll... Of... That... Was.... Worth.....IT!!
I wouldn't be who I am today and I most certainly wouldn't be working for IMPACT had I not gone through it all.
So this is my final lesson - no matter what you are going through right now, struggles you are facing, whether you're working for a micromanager or someone who just doesn't appreciate you or get you, it's all for a reason.
When you've made it, you'll know and all of those moments of pain will allow you to appreciate the heck out of your "place."
When you've found your passion, your spot, where you're supposed to be, whether that is leading a team, becoming a CEO, or landing your dream job, don't ever take it for granted. Keep learning, keep growing and never forget your past. You never know where it will take you next.
Free Assessment:
How does your inbound marketing measure up?
Take this free, 5-minute assessment and learn what you can start doing today to boost traffic, leads, and sales.
Get Started
Free Assessment:
How does your inbound marketing measure up?
Take this free, 5-minute assessment and learn what you can start doing today to boost traffic, leads, and sales.