13 best website copywriting tips for digital marketers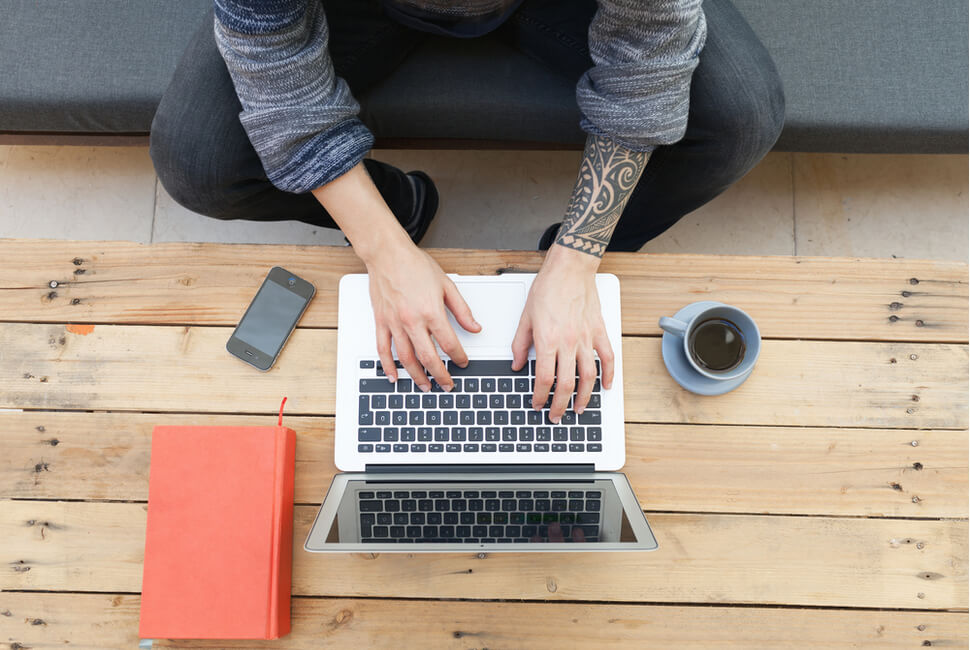 Best website copywriting tips
Your website is a 24/7 salesperson that doesn't need vacation time or a benefits package.
But what happens when your website isn't converting visitors into qualified leads? Or when you're designing a new website but you need updated copy to match?
Well, what usually ends up happening is you either hire an agency to write website copy for you or your marketing team is tasked to write it.
The problem with hiring an agency is they don't know your industry, your customers, or what makes you unique. And no matter how many interviews and exercises you go through with them, they'll never be in your shoes.
The problem with using your marketing team is that writing website copy is a unique beast. It's not like writing blogs, content offers, or press releases. So your team could spend hundreds of hours writing website copy and still not get the results you want.
Here at IMPACT, I work with clients who want to write their own website copy but need some guidance to reach and speak to their ideal buyers. Listed below are the top website copywriting tips that I teach my clients every day.
In order to get the most out of this article, you'll need to approach the recommendations with humility and a genuine desire to learn. (More than a few of them will force you to undo some bad habits that you think are actually the right thing to do.)
If you do that, you'll walk away with some additional tools that can help you write better website copy today.
1. Write like a human
There is this really strange dynamic that occurs when marketers start to write online. It's like there's a competition to see who can write the most convoluted statement with the fanciest words. We turn into robots devoid of emotion who are programmed to generate business website copy.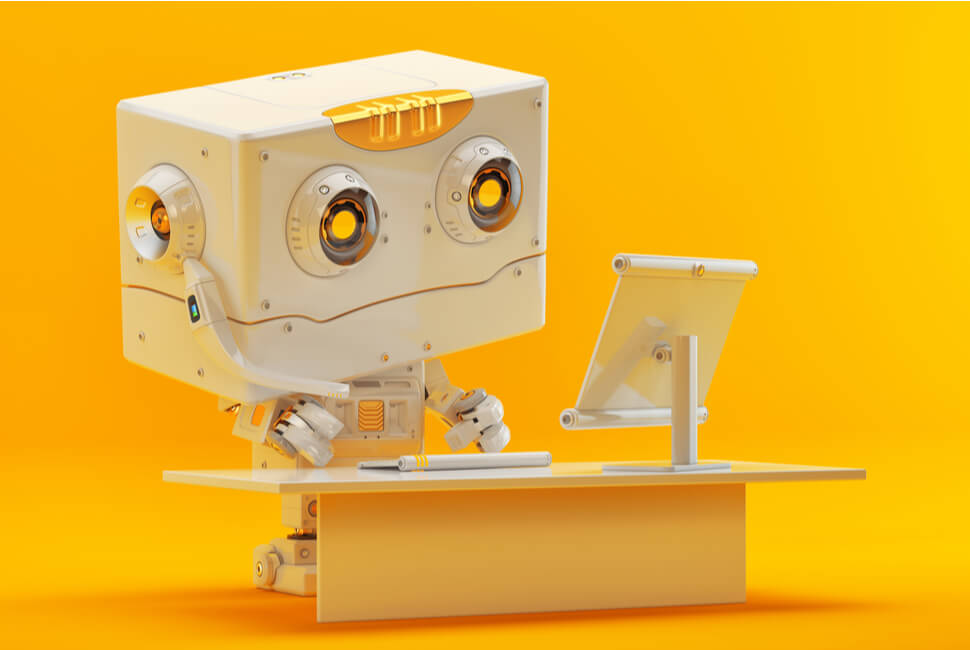 With countless website content coaching clients I've asked "What are you actually trying to say here"? The answer is always an easy to understand, simplified version of what was written. That's because they're explaining it to a human in a conversational way - you know, like the way that communication actually works!
You'll have a natural urge to write with buttoned-up professionalism that uses buzzwords and marketing language. The end result might look something like this, "High-Performance, Vendor Neutral, Contingent Workforce Solutions."
I'm not an IT professional, but I walk away from this statement with no idea what they are saying. I can hear your rebuttal through the computer screen, "But my ideal buyers are well-educated and understand the industry jargon." Yes, a portion of them might. There is also a portion that will not understand.
By writing like this, you lose the ability to authentically speak to your audience in a way that they will understand and relate to. The portion of your audience that doesn't feel like you're relatable is clicking the back button and will never be heard from again.
2. Be a teacher, not an expert
There are two different philosophies that you can take when it comes to writing website copy: being a teacher, or being an expert. You probably want to be both, or think you should be both. But that's not the case.

Experts are the type of writers that have incredible knowledge and experience, most of which isn't super relatable to a wide group of their audience. When experts write, it's to show you how much they know. Experts recreate the experience of a higher-education lecture in their writing. Experts perform a monologue that you happen to be in the audience for.

Teachers create a two-way conversation with the audience. Teachers write to help their readers understand and grow and level-up in their skills. While teachers have a lot of the same qualifications as experts, they put the audience at the center of their focus.

If that thing you sell isn't a commodity item that everyone knows and understands, your audience requires some level of education. Maybe they need to know what problems you solve or specifically how your product helps them. You can't leave the audience to figure it out on their own, because they won't.
If you can helps your audience understand the options they have to solve their problem, you're going to build trust and win sales.
3. Speak to the pain of your buyers
Think of that thing you're offering as the bridge between where your audience is and where they want to be. Your prospects are in the "before picture" of the "before and after picture" that you're going to paint. In order to create a happy smiling customer, you must first understand where they are before turning to you.
Ask yourself:
What situation leads them to need what you offer? Diving deeper, what are the feelings that this situation is bringing out in them?
What are the fears that they might have that would prohibit them from buying from you?
Answering these questions challenges you to really understand the motivations and roadblocks of your buyers.
As a marketer, you can then write in an empathetic way that shows that you know where they are and the feelings they are experiencing. You can eliminate the worries and concerns that they might have about that thing you're offering. Showing that you truly understand what they are going through as a buyer builds confidence that you have the right solution for them.
4. Focus on benefits instead of features
In order to explain the thing that you want someone to spend money on, it's tempting to list all the features that you've worked so hard to build.
Features are an important part of the decision process once is in the consideration stage of their buyers' journey. Consideration stage meaning they've defined their problem and potential solutions and are now considering options.
Before they get to consider their options, they have to know that your solution can provide them with value. Every feature in the world is obsolete if your ideal buyers don't understand how what you're offering can help them.
It's encouraged to detail the unique features that make that thing you're offering unique, but they shouldn't be the star of the show. Lead with the benefits that will attract the right audience and then you can have the conversation around features.
5. Stop talking about yourself
You probably don't want to hear this, but you need to hear this. Nobody, including your ideal buyers, cares about your product or service. But there is a saving grace. They do care about what you can do for them. In order to help speak to your buyers, you have to stop talking about yourself.
What does this look like?
Limit the number of statements on your website that start with words that put the focus on your company. These statements typically start with "we" or "our." Instead, reimagine how you can get your point across by starting with the customer-centric "you" or "your."
Here's an example of what a "we" statement might look like:
Our award-winning CRM software allows you to use predictive lead-scoring to automatically rank the contacts in your database based on likelihood to close.
In order to reimagine a statement like this, you must first identify the part of the statement that has actual value to your customer. Once you've identified it, lead your statement by focusing on that value.
So the revised version of that statement might look something like this:
Automatically identify the leads in your database that are ready to close with predictive lead-scoring functionality.
There will be some exceptions to the rule - think "Our Company" or "About Us" pages. But on any page that's meant to lead prospects towards a conversion, force yourself to take a backseat to the value that you create.
6. Don't forget to say what you actually do
As mentioned earlier, you need to focus on the benefits of that thing that you want people to buy instead of a list of features.
But at the end of the day, in order to make a purchase, your audience still needs to clearly understand what you're actually offering.
Let's say that I was a business owner and visited the website pictured above. I'm thinking to myself - "Yes, I do want to grow my business!" But I'm going to get frustrated quickly if I can't figure out exactly what this product or service is.
When your website visitors get frustrated, do you think it's likely they will spend a lot of time trying to learn? Unfortunately, you have a short window to make someone think you're a potential good fit. And if they don't understand what you do quickly, you've lost the window.
7. Pay attention to how your competition talks
Using a tool like SEMrush, you can very quickly identify the common searches that online visitors type into Google that lead them to your competitors.
You might be wondering how this can help you write digital copy for your website - and it's a two-part answer.
First, you need to understand the words and terminology that your customers are using. If a majority of your competitors refer to a product or service that you offer in one way, there's a good bet that's how your ideal buyers are searching for it.
Oftentimes I've seen clients that have internal names for the exact same thing that's universally understood to go by a different name. You don't want to fight the uphill battle of educating all of your prospects and buyers of the way that you reference the thing that they already know and refer to in another way.
Secondly, you want your website to drive more and better traffic than your competitors. Using the SEMrush Keyword Gap tool, you can identify keywords that your competition is ranking for that you are not. These are great focal keywords to bring you additional traffic, and in an ideal world, take traffic away from your competitors.
8. You have to be specific
One of my biggest pet peeves as a website content coach is statements that are flashy but lack true substance. Because every other company in the world says it, I imagine that what you offer probably "increases productivity" or allows your customer to "save money."
But how does what you offer specifically do what you're claiming that it does?
So while these generic value-driven statements may be true, they will get washed away in a sea of sameness. That is unless you're specific.
Optimonk claims that they can help increase the cart value for your e-commerce store. One of the benefits is that you can "increase ROI." But instead of stopping there, they add how they do this for their clients: "Your visitor acquisition efforts will pay off as upselling and cross-selling techniques increase sales by 20% and profits by 30%."
As a reader, not only do I see the benefit, but the value becomes specific and clear because the outcome is understandable.
9. Know and explain your "why"
Truly great companies have a purpose to change the world in some way.
Here at IMPACT, we don't typically do the type of work that other agencies might do for you. We won't write your content or build your HubSpot campaign strategy. But we will teach you to do it yourself.
We believe in order to make our clients the happiest, they shouldn't have to rely on us or any other agency to succeed. That's why IMPACT exists. The prospects who agree with how we view our role as an inbound sales and marketing agency turn into customers.
As Simon Sinek would say, you need to "start with why." Every company can tell you what they do, but a lot less of them can tell you why they do it.
When comparing your business to competitors, you'll see close parallels if you look at the surface level. Without explaining why you exist and why your customers should care, your audience will judge you on features and price alone. But when buyers know and believe in your mission, they begin to believe in you as the right fit for them.
Bombas is a great example of a mission-driven company that believes that everyone, no matter their circumstances, deserves to put on clean clothes that make them feel good. Instead of focusing their marketing on the quality and features of their socks, they build trust and loyalty with a shared mission.
10. Understand the basic elements of on-page SEO
In order for any of the copy on your website to work, people actually have to get there first. Yes, Google understands the intent of what someone is looking better with every passing day, but you cannot ignore SEO. Do not make the mistake that this means to focus on pleasing search engines more than your buyers.
You need enough knowledge to be dangerous, but you don't need to have earned your SEO black belt. This means to focus on how quickly your pages load, fixing broken links, have keyword-driven H1's, etc.
If it seems like I'm speaking a foreign language, don't worry. Here are some links to some areas where you can learn about the basics that you need to know.
11. Clearly define the primary intention of each page
Every page on your website should have a function. Think about each page as playing a part in your overarching strategy to educate your audience and sell to your ideal buyers.
When you write copy for a page it helps to understand where a visitor came from and where you'd like them to navigate next to on your site. If you have Google Analytics set up, the behavior flow tool can help you see the paths that people take on your site currently.
First, identify your high-value pages that actually convert visitors into prospects (request a consultation, pricing, quote.) Then backtrack to identify the pages that would lead your visitors to those high-value pages. Continue working backward until you've mapped out all of your pages and created logical paths to your conversions. I realize that this may sound a bit confusing, here's an example of what this might look like.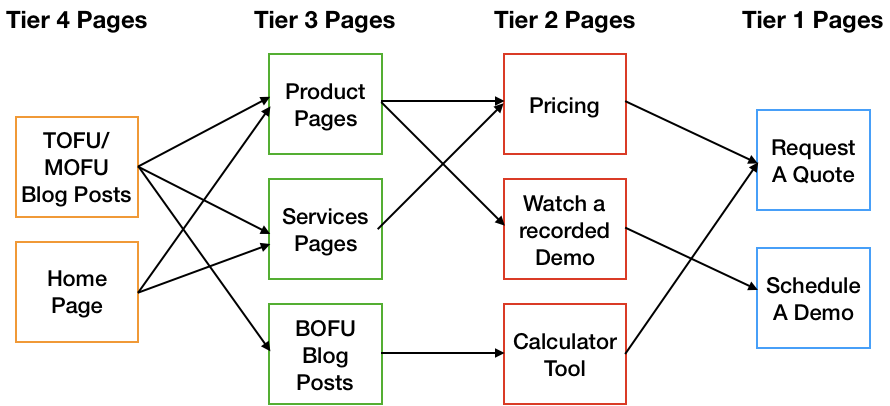 Let's call your high-value pages your "Tier 1" pages. The goal of your "Tier 2" pages would be to get the visitor to the appropriate "Tier 1" page. While you might have some visitors go rogue and skip steps, you don't want to go for the kill as a writer. Use your primary call to action buttons to help visitors find the next logical step.
12. Balance text with whitespace, images, and video
I mentioned earlier that you don't need to know SEO karate, but that you do need to understand the basics. Similarly, you won't need a design background to write effective website copy. But you do want to develop an eye for the balance between the visual and written elements of a page.
If you have too much copy on a page, it's likely that your reader will get overwhelmed and give up. I'm sure you've gone to a website before and seen a massive block of text and didn't feel like reading the essay.
Adding white space, or padding around blocks of copy and images can help make your website copy more digestible. Adding images and videos helps you provide additional context to your written copy.
Related: 14 essential tips for improving your web design
13. Perfection is the enemy of progress
You can spend countless hours trying to wordsmith every single last statement on your website. You might find yourself writing different variations of the same sentence over and over again, only to get frustrated that you aren't cracking the code.
But the reality of website copywriting is that there is no fail-safe formula that will guarantee conversions and turn your website into a sales machine. Yes, there are best practices and tips that have been proven to work for other companies.
"The reality of website copywriting is that there is no fail-safe formula"
If you find yourself agonizing over website copy trying to get it just right, there are a couple of easy steps you can follow.
Just start writing down the general idea of what you want to say. Don't hit the delete button and just get down the overall thought written.
Read what you just wrote out loud. Does it sound like something that you'd say? Do any words stand out as awkward or out of place? If you were reading it as a buyer, would you understand the point being made?
Make the adjustments necessary based on how it felt to read your words out loud.
In a maximum of 2-3 rounds of final revisions clean up your copy focusing on the tips listed above.
At the end of the day, your website conversions and analytics will tell you the story of how your written copy is performing. Writing website copy is not a set and forget one time exercise. Test out different messaging and see what works for your audience.
My biggest piece of advice
All of the tips listed will help you focus your website copywriting strategy to increase conversions and sales opportunities. But there is one thing that I cannot teach you that will help you truly speak to your ideal buyers.
Write as yourself. It's necessary to allow the unique qualities of your brand voice and personality to shine through.
If you start writing and the words on the page look foreign and calculated, there is a good chance that your audience will feel the same way.
Your website should be an accurate reflection of not only what you do, but who you are. Visitors should come to your site and feel like they know you. When they get on the other end of a sales call, the personality should match the website copy that got them to this point in the sales process.
If you need help crafting the brand voice that truly reflects the personality of your company, check out The Ultimate Guide to Creating a Brand Messaging Strategy
Free: Assessment
Does your website build trust with buyers and bring in revenue?
Take this free 6 question assessment and learn how your website can start living up to its potential.