Not Your Father's LinkedIn: 3 Ways LinkedIn is Now a Major Personal Branding Platform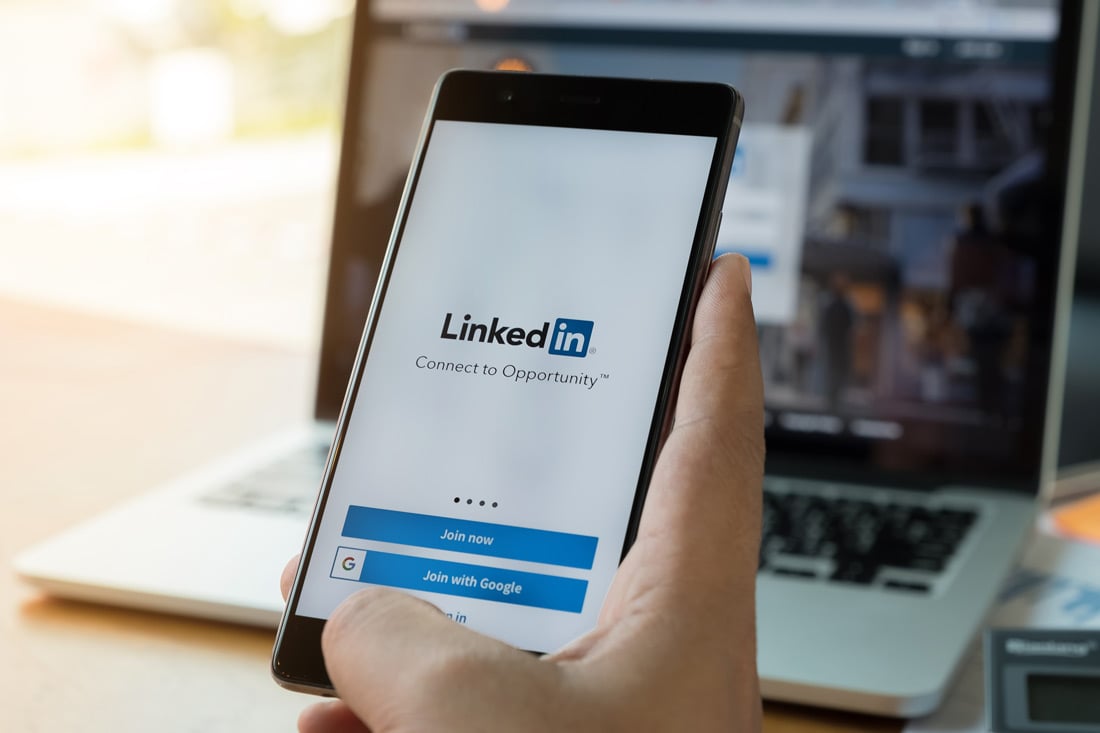 One of the biggest myths about LinkedIn is that its members are only stiff-shirted job seekers, recruiters, and companies looking for talent.
While all three of these categories are represented in the 500 million plus who use LinkedIn, it is not primarily why executives and the businesses they represent use the platform.
In fact, many are turning to LinkedIn as a branding tool - both for their personal and professional brands.
Hoping to shed its cold reputation, the platform has put newfound emphasis on community and the passion professionals of all industries have for their careers; the more "human" side of work, if you will.
It has showcased this through a number of promotional materials (like the video below) as well as several updates to the platform focused on connecting and sharing thought leadership.
A LinkedIn blog post published last year pointed out that "sharing your expertise... is one of the best ways to drive great conversations and discover new opportunities.
Whether it's a new job or...to meet other professionals with similar interests that can help you get ahead, we want to make it even easier for you to share your experience and perspectives."
Here are a three ways LinkedIn has evolved to achieve this vision and become a major branding platform for business:
1. Rich-content Features
One of LinkedIn's key initiatives over the past several years has been the development of features that allow executives and brands to publish a variety of content in a more effective way.
As a result, you now have the ability to share content in short-form status update as well as long-form, native blog posts.
Plus, you can now publish video content directly on the site as well.
Publishing directly on LinkedIn benefits brands and their executives by giving them a larger, inherently more active forum to reach their customers and even a new audience using content marketing.
But it doesn't stop there.
You can also post multimedia content on your LinkedIn Company page and on your personal profile, adding new and dynamic dimension.
One influencer who has been capitalizing on these features is Gary Vaynerchuk. Gary posts several times a week, using not only video, but publishing links, insightful statuses, and responding to comments.
With 2 million followers and his latest post (published 15 hours ago) already generating 1196 likes and 142 comments, it's clear the LinkedIn audience is responding.
2. Focus on Personal Brands & Influencers
Looking at Gary Vee, it's clear that LinkedIn, while still useful for job seekers, has also been embraced by executives and companies who want to build brand reputation and subject matter expertise.
Richard Branson, Jack Welch, and Bill Gates are other big names who have turned to LinkedIn in recent years to maintain their personal brands, sharing updates via video, photos, and statuses.
Let's take a close look at Richard Branson, for example.
Richard Branson uses LinkedIn to promote his books, and his many ventures like the Virgin Hyperloop: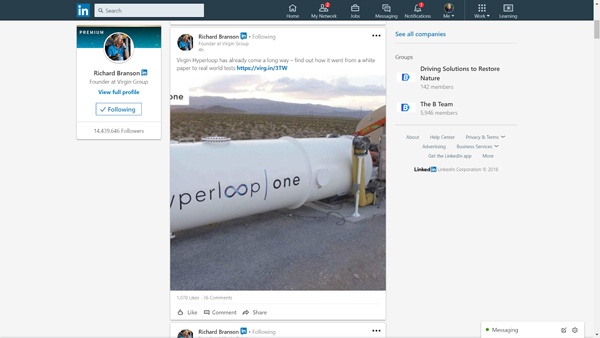 By keeping his over 14.5 million followers up to date using LinkedIn, Branson solidifies his position as a thought leader in the many industries his companies have interests and keeps eyes on everything he's working on.
Richard Branson and most big names have "Influencer" profiles that are invitation only, but even with a standard profile, you can make your updates public allowing individuals to "follow" you, even if you're not personally connected.
One of the newest features is Career Advice.
Career Advice on LinkedIn gives you the opportunity to help others by becoming a career mentor.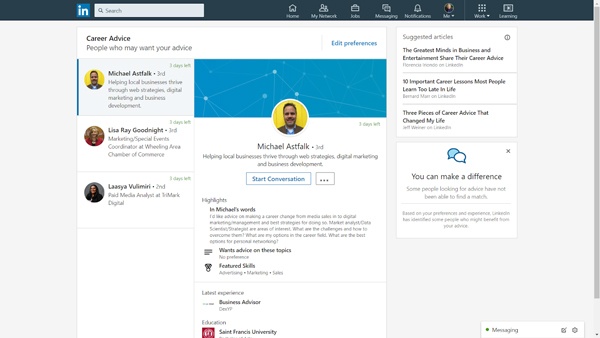 The platform looks at your profile then suggests other members who may benefit from your knowledge/experience, and it's up to you to start the conversations.
While more private, with Career Advice you can still expand your audience, build your personal brand, and establish subject matter expertise. Plus, you'll be creating more one-on-one connections that could benefit you in the future.
Another new feature is LinkedIn Learning.
LinkedIn Learning is the result of the organization buying Lynda several years ago, and it allows users to take online courses right on the platform.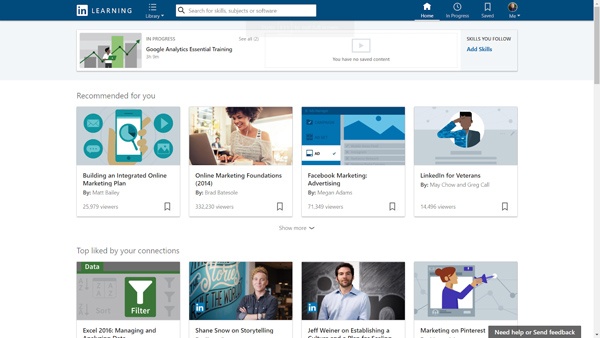 While a feature available to paid users, LinkedIn Learning can potentially offer another way for brands and experts to promote their subject matter expertise.
If you're interested in being an instructor on Learning, LinkedIn has an online application process that can be found here.
3. Improved Engagement & Communication
Thought leadership is just as much about how engagement as it is sharing knowledge.
In this vein, LinkedIn has improved its messaging feature, offering you a more human opportunity to communicate directly with your prospects and customers.
With LinkedIn's new direct messaging, you can see when someone is on the platform and talk to them in real time.
This screenshot shows my connections. Next, to the ones that are currently online, there is a solid green circle. That means they are available for a message.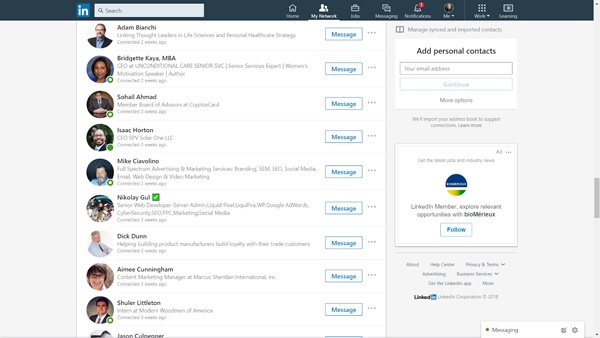 This creates the opportunity for a live chat, or instant messaging, mimicking the experience of an in-person conversation more realistically.
When someone is active, you no longer have to just send a message and wonder "did they get the message?" and "when will they respond?"
LinkedIn also provides a forum for discussion and engagement via LinkedIn Groups and LinkedIn Company Pages.
LinkedIn Groups
Boasting more than 2 million groups, there is an excellent chance you can find a LinkedIn Group that relates to your market.
By posting new discussions, sharing industry articles, and commenting on discussions relevant to your field in a LinkedIn Group, you build a reputation as someone with vast actionable knowledge, who provides valuable insights.
LinkedIn Groups have seen a resurgence in recent months, due in part to an effort by the organization and group owners to make them more relevant through topical discussions and group promotion.
One caution, however; the interactions in a LinkedIn group are different from other content marketing/branding features on the platform.
They run according to strict customized guidelines and need to be devoid of sales pitches and promotion, or run the risk of getting banned.
One example of a successful group on LinkedIn is the Social Media Marketing Group, with 1.8 million members.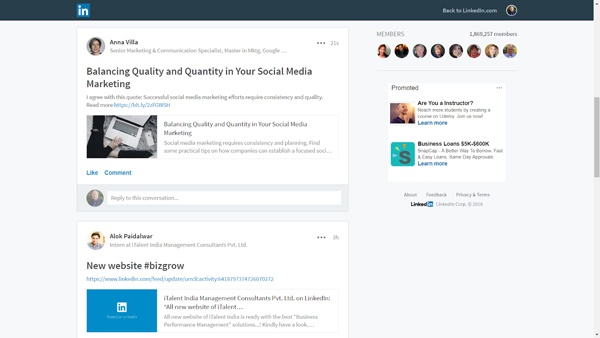 Its members are posting about relevant topics in social media marketing 3-5 times a day, fostering lively discussions with fellow social media professionals.
Jumping in on these discussions is an effective way to showcase applied knowledge and help others in the process.
LinkedIn Company Pages
There are now more than 18 million LinkedIn Company Pages and with good reason.
Unlike a LinkedIn Group (unless you created it), you are in control of the conversation on your company page. You can post any update about your company and be as promotional as you want, without concern for moderation.
Major brands, such as Starbucks, GE, Ford, and Virgin are using their company pages to engage their followers and promote themselves.
Here's the GE Aviation Company Page that boasts more than 180,000 followers.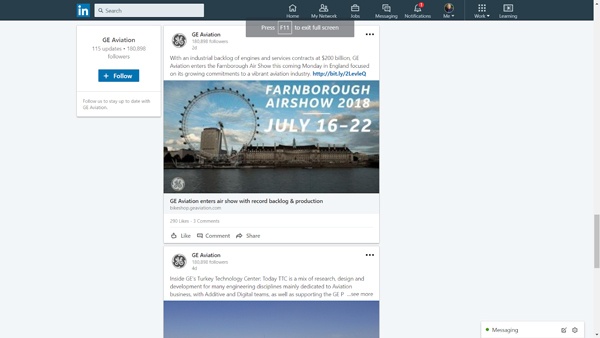 Their status updates are more commercial and promote their products and services, as well as conferences and trade shows they are attending.
A LinkedIn Company page is also a great place to attract candidates for positions at your organization.
Starbucks (below) has a whole section on "Starbucks Life" on their LinkedIn Company page that talks about the company culture, and lists career options with the organization.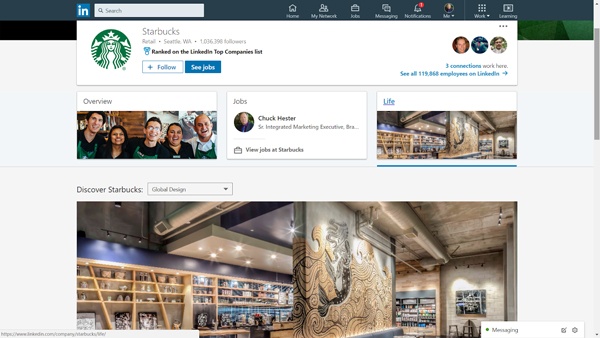 Takeaways
In my work with executives and companies on how to use LinkedIn for business, I find that a good percentage of them are drastically underutilizing the platform.
LinkedIn is not the same platform it was 12, 5, even 2 years ago. It has become a feature-rich social media business hub that can add to your branding efforts and subject matter expert reputation.
Take time to explore the new features that can help to build your brand and you'll reap big rewards.
Free Assessment:
How does your sales & marketing measure up?
Take this free, 5-minute assessment and learn what you can start doing today to boost traffic, leads, and sales.