How Much Does It Cost to Be Successful with LinkedIn Ads?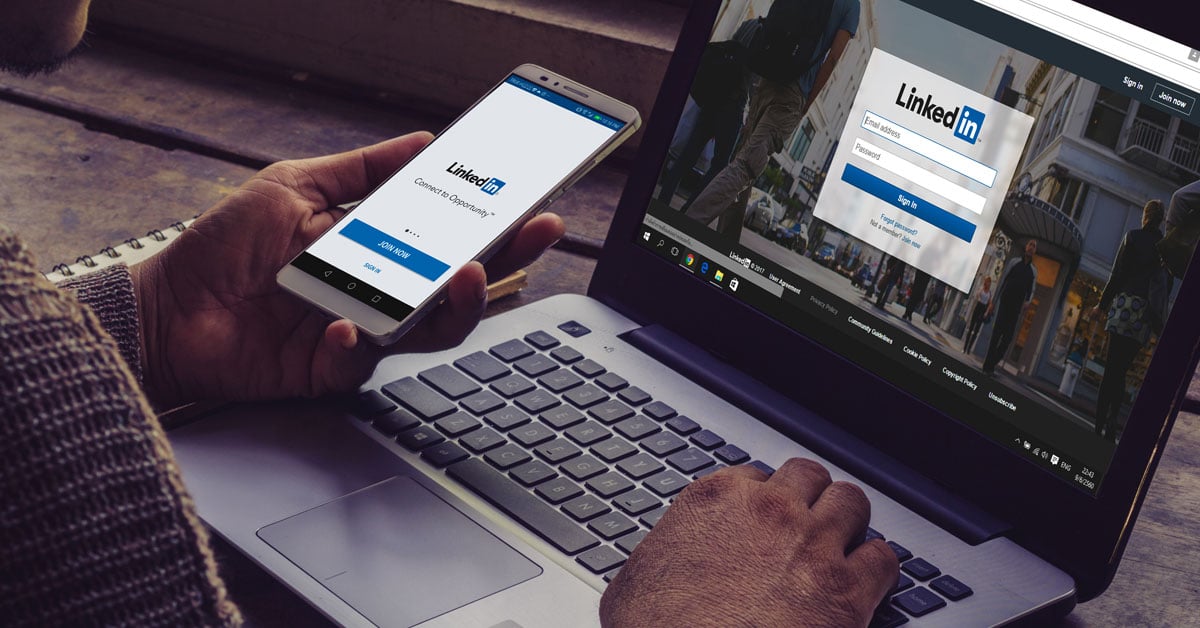 "No matter what size your budget or business, LinkedIn ads can help you achieve your marketing goals." Or, at least that is what LinkedIn will have you believe. After years of running LinkedIn Ads for clients, I can confirm that the size of your budget and the nature of your business absolutely do matter.
So let's start at the beginning to determine what success could look like for you and your business. The most common question I get is "what exactly can we use LinkedIn ads for?" This is generally followed up with one of the following:
Can we build awareness?
Can we increase engagement on our website?
Can we generate qualified leads?
Can we retarget our users who did not convert?
Can we remarket to our existing customers?
Can we build followers?
All of which can be answered with a "yes," but I wish it was just that simple. There are always going to be budgeting limits for any client within any digital marketing platform, and LinkedIn just so happens to be a premium CPC platform that can quickly eat up a client's budget.
What I mean by "premium CPC platform" is that LinkedIn is notorious for higher Cost-Per-Clicks then other paid social platforms like Facebook. According to the Q1 2019 Benchmark Report from AdStage, Facebook's median CPC is $0.63 whereas LinkedIn's is $3.99, which itself is an increase of 7.3% from Q4 2018. Keep in mind that AdStage blends an average from all industries. I have personally see CPCs range from $5 to $15, again, depending on the industry and audience target size.
So the real question should be,
Who should take advantage of LinkedIn ads?
I have three core qualifications when it comes to using LinkedIn Ads:
Higher value B2B products or service, typically with higher overall lifetime values. Larger LTV typically allows for a larger monthly budget.
Companies looking to recruit, because LinkedIn members are constantly thinking about their next career move.
Companies who are looking to provide some sort of higher education, because LinkedIn members are heavily invested in improving themselves.
Who shouldn't take advantage of LinkedIn Ads?
I have three core disqualifiers as well when it comes to determining if LinkedIn Ads is right for a company:
B2C — Simply because it is hard to target customers, unlike Facebook or Google.
Smaller deal sizes — Higher cost-per-clicks make it tough to see positive returns.
Broader targets — Again, with the CPCs typically lower on other channels, it would only make sense to save your budget for a more targeted audience on LinkedIn.
The benefits of advertising on LinkedIn
There are many pros and cons to LinkedIn advertising, all of which should be taken into consideration when determining if LinkedIn is the right fit for your business.
One of the most powerful benefits of LinkedIn advertising is the ability to hyper-target your audience. LinkedIn allows you to directly target not just a company, but the individuals within that company.
For example you can target a company by name, size, and industry, and you can target an individual by job title, function, seniority, skills, and the LinkedIn groups they participate in.
One of the best attributes of LinkedIn ads is the variety of ad types available. Here are some of those available types and the key takeaways you should always consider.
Text Ads:
Appears on the right rail of the LinkedIn platform
Desktop Only
.03% CTR is considered really good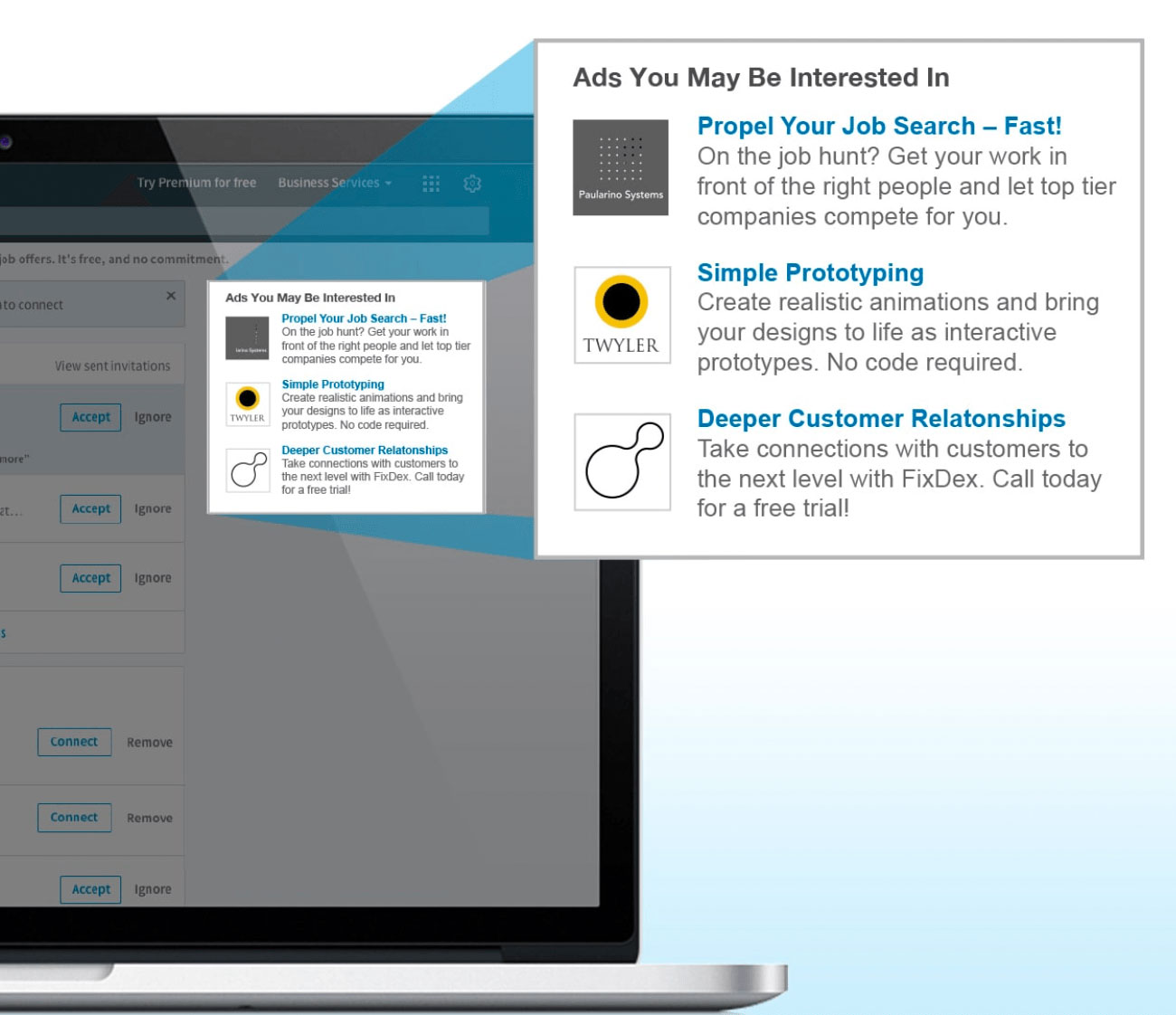 Sponsored Content:
(The most popular Ad Type)
Appears in a LinkedIn users' news feeds
Mobile design is imperative
Perfect for content offers
Sponsored In-Mail:
Plan on about a 4% CTR (Click-Through-Rate)
45 day frequency cap (In other words, you own the LinkedIn member's In-Mail Inbox for a full 45 days with no other In-Mail ads)
Plan on about a 50% open rate of your InMail message
$0.35 - $0.85 pay-per-spend
Video Ads:
Only used with sponsored content
No retargeting options available
This is the MOST critical (Your video will play muted — make sure you are hardcoding your subtitles in your video)
$.06 - $0.14 per three-second view
Limitations of LinkedIn advertising
Of course, as with any platform, there are limitations within the LinkedIn ads tool that you don't have on Facebook or Google ads.
Below are a few of the most frustrating limitations you will experience with LinkedIn:
No device-level bidding options. In other words, you are unable to tell LinkedIn if you would prefer to show your ads on desktop devices or mobile phones.
No ability to control the time of day your ads show. You are unable to tell LinkedIn specifically when you would like your ads to run throughout the day or on what days of the week. You are only able to set a start date.
Relevancy Score. This drives me crazy. Facebook does such a great job of giving feedback on how ads are resonating with audiences. LinkedIn does not provide this data to advertisers, and the only way you can determine a poor quality ad is when the ad simply stops delivering to news feeds.
So ask yourself, who are you targeting and where are they? This will help you build your target audience. Then you can take advantage of LinkedIn's forecasted results where, once you determine your objective, location, target type, ad format, and budget, you can start to see what to expect from your spend.
Here is an example: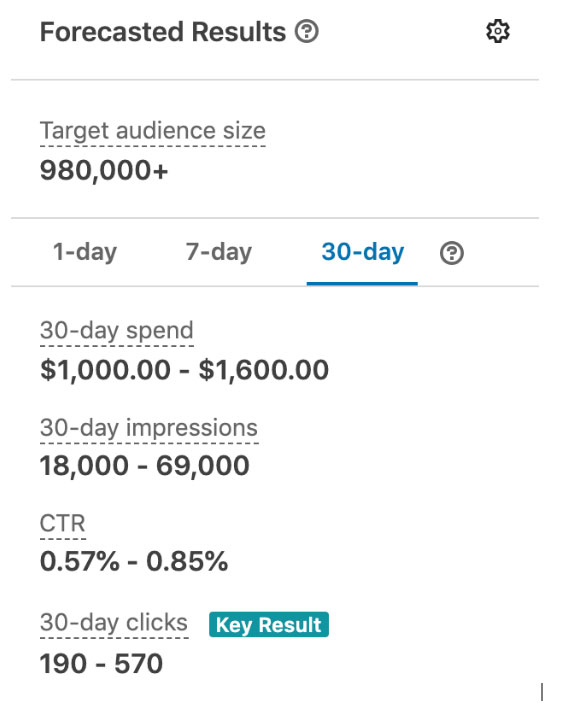 In the image above you get an idea of the potential reach you would have at your allocated budget. This is based on location, audience targeting, and daily or total budget spend.
Cost to get started with LinkedIn advertising
After a deep analysis and ensuing that the business is a good fit, I typically start with a monthly ad spend budget of $2,000 - $5,000. Again, this is based on all the information we talked about above. A budget of this size will allow for a daily spend of $66 - $165. You can see just how quickly you can spend your allotted daily budget on LinkedIn.
It is essential to really do your research and make sure the final economics work for your funnel
Another key factor involved in creating success with LinkedIn Ads is tracking your KPIs. It is critical to have a plan in place to ensure that you are able to clearly determine what success and failure of your campaigns look like. This will help you avoid unnecessary ad spend.
Key Performance Indicators to track
At an analytical level I like to track:
Cost-Per-Click
Cost-Per-Lead
At the CRM level I like to track:
Cost-Per-MQL (Marketing Qualified Lead)
Cost-Per-SQL (Sales Qualified Lead)
The value of your actual deal close
ROI (Return-On-Investment)
LinkedIn is an investment, but it might be a smart one for you
Finding success with LinkedIn advertising can be a challenge, but it does not have to cost you a fortune.
If you take the time upfront to research your options and how the platform works, analyze whether it's a good fit for your product or service, and set aside the proper budget for testing, you will know pretty quickly if LinkedIn advertising is the right choice for your organization.
If you are a good fit and have the budget to test, I would recommend jumping in. Keep an eye on things by monitoring your KPIs and see what this platform can do for your business.
If you are already using LinkedIn advertising or decide to give it a try, reach out to me on IMPACT Elite and let me know how things are going. I would love to geek out with you and talk metrics!
Free Assessment:
How does your inbound marketing measure up?
Take this free, 5-minute assessment and learn what you can start doing today to boost traffic, leads, and sales.
Get Started
Free Assessment:
How does your inbound marketing measure up?
Take this free, 5-minute assessment and learn what you can start doing today to boost traffic, leads, and sales.
Published on July 22, 2019