How much HubSpot do I need?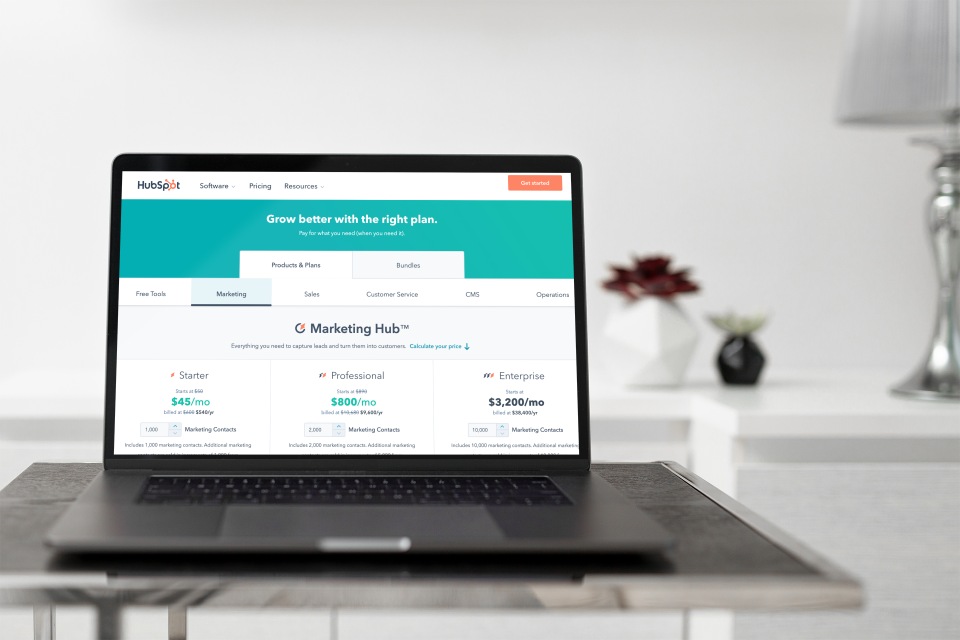 When you're doing They Ask, You Answer properly, HubSpot can touch every stage of your customer journey, from first conversion to closed deal to customer service. HubSpot's power and ease of use make it essential for tracking and evaluating your inbound marketing efforts.
But all that functionality comes at a cost, and new IMPACT clients (whether they are new to HubSpot or not) need to know at the outset what the platform will cost them each month.
For a more in-depth exploration of everything HubSpot charges, you can check out this article that covers all aspects of the platform. For quick reference, Carina Duffy, our lead HubSpot trainer, has provided this simplified overview: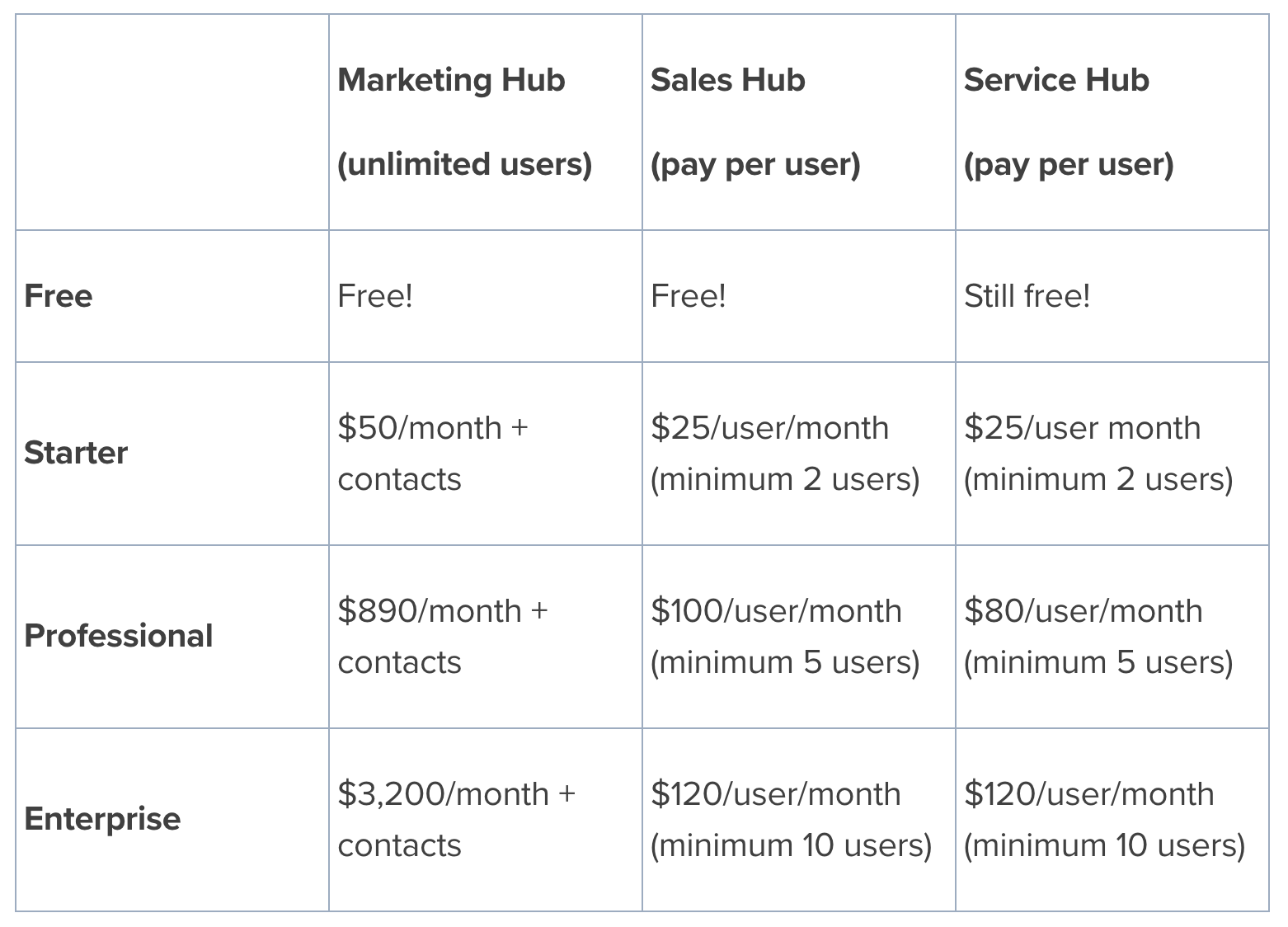 Clearly, there's a wide range. For a specific look at what you can expect to pay for HubSpot if you're considering working with IMPACT, check out the information below.
How much HubSpot do I need?
IMPACT's They Ask, You Answer Mastery program trains companies in our proven inbound marketing framework. HubSpot is a central part of the program. Our clients learn to use HubSpot to accomplish a range of things, from posting and monitoring blog content to managing and tracking deals.
For our clients, we have specific HubSpot feature recommendations: To succeed in the They Ask, You Answer Mastery program, Duffy says companies need to invest in Marketing Professional and Sales Starter.
Here's why you need each, as well as what you'll expect to pay.
We recommend: Marketing Hub Professional
We believe our clients are best served by the Pro-level of marketing software that allows for detailed reporting, smart automation, and much, much more. Although this represents a sizable investment, we find that Marketing Hub Pro more than justifies its cost with the efficiency and insight it offers.
Key features of Marketing Hub Pro
Automation: Marketing Pro comes with a slew of features, but a vital one is the ability to automate both your marketing and your marketing-to-sales handoff. This means nurture campaigns and other workflows that supercharge your efficiency.
Custom reporting: Any Pro-level account with HubSpot

gives you access to custom reporting

, which provides insight into ROI that is extremely difficult to get any other way.
Cost: About $800 per month, depending on contract length and payment plan.
Related expenses: HubSpot Marketing Hub users are charged based on the number of contacts in their database — but only if they're marketing to those contacts directly. More information about how that works can be found here. Be sure to familiarize yourself with contact pricing — especially if you have more than 2,000 marketing contacts. Some users find contact fees are more than they expect.
We recommend: Sales Hub Starter
We find that Sales Hub Starter provides enough resources for many of our clients' sales teams to manage their pipelines and track their deals.
Key features of Sales Hub Starter
Meeting links: With Starter-level access you can use HubSpot schedule tools without having HubSpot branding dilute your message.
Templates: Starter users can create up to 1,000 email templates and text snippets that make it easier than ever to communicate with prospects, and HubSpot's analytics allow you to see which templated content is most effective.
Unlimited email open and click tracking: Starter users can see which contacts are opening and clicking on links in their one-to-one sales emails.
Cost: About $25 per month per user, depending on contract length and payment plan.
Related expenses: The big expense here is the number of users (or seats). Sometimes, companies find themselves paying for seats they don't need — and this can add up quickly. Duffy recommends a seat for each of your salespeople and one for any sales director or VP of sales. Other company leaders can get all the insight they need without a dedicated seat.
3 things to know about HubSpot pricing
As you plan your budget, keep these three things in mind.
1. It's easy to upgrade; not so easy to downgrade
If you get started at a certain level of HubSpot and realize you need to move up (say, from Starter to Pro), you can upgrade quickly and easily. However, moving in the other direction is not as instantaneous. If you want to move from Pro down to Starter, you'll likely have to wait for the end of your contract, which could be 12 months after you signed up — or longer.
The same is true for Sales seats. If you want to buy additional seats, HubSpot is more than happy to oblige, but if you want to cancel some of your seats, you'll have to wait until your contract renews.
2. It sometimes makes sense to start at a lower tier
That said, in some cases, we might suggest that clients start off at the Starter level of Marketing Hub, especially if they're new to HubSpot.
In this case, they might spend significantly less for the first few months (around $50 per month) before they upgrade to Pro when they're ready.
3. Your HubSpot costs can (and probably should) go up
Duffy advises her clients to avoid thinking of HubSpot expenses as static. Yes, once you're ramped up and onboarded, your costs should level off — but that doesn't mean they'll always stay the same.
As your organization progresses on its They Ask, You Answer journey and increases its revenue, you can expect the costs of doing business to go up.
"In order to grow your revenue," explains Duffy, "you're going to be growing your database and your team. This means you're going to have more contacts and need more tools and seats."
Just as a growing company might need a bigger office, more equipment, or more personnel, it might also need more HubSpot, especially when it comes to contacts and seats. But don't worry — the additional costs will be offset by your additional revenue.
🔎 Additional resources: Think you're paying too much for HubSpot? Here's how to get your money's worth
The value of HubSpot
At IMPACT, we couldn't imagine functioning without HubSpot because it's so deeply enmeshed with the work we do every day — both with clients and within our own organization. That's how it is for many companies: HubSpot is a critical resource.
Even so, it's important to remember that it takes time to fully develop HubSpot expertise.
That's where we come in.
Your HubSpot trainer will walk you through the platform's functionality, placing great emphasis on the parts of the platform you need to get to know. As you become more comfortable, training will expand to focus on other areas of the tool.
We know that HubSpot represents a big investment for our clients, but we believe it is entirely worthwhile — and we take it upon ourselves to make sure you get your money's worth.
If you're in a place where you're not sure if HubSpot is worth what you're paying, there are ways to cut down on your expenses (like with the number of seats and contacts), and ways to grow your utilization of the platform.
IMPACT can help you employ the full suite of HubSpot solutions to accomplish your business goals, whether that's through our free educational offerings or with direct support from our expert trainers.
Free Assessment:
How does your sales & marketing measure up?
Take this free, 5-minute assessment and learn what you can start doing today to boost traffic, leads, and sales.