How to Get the Most Out of Your 2-Week HubSpot Free Trial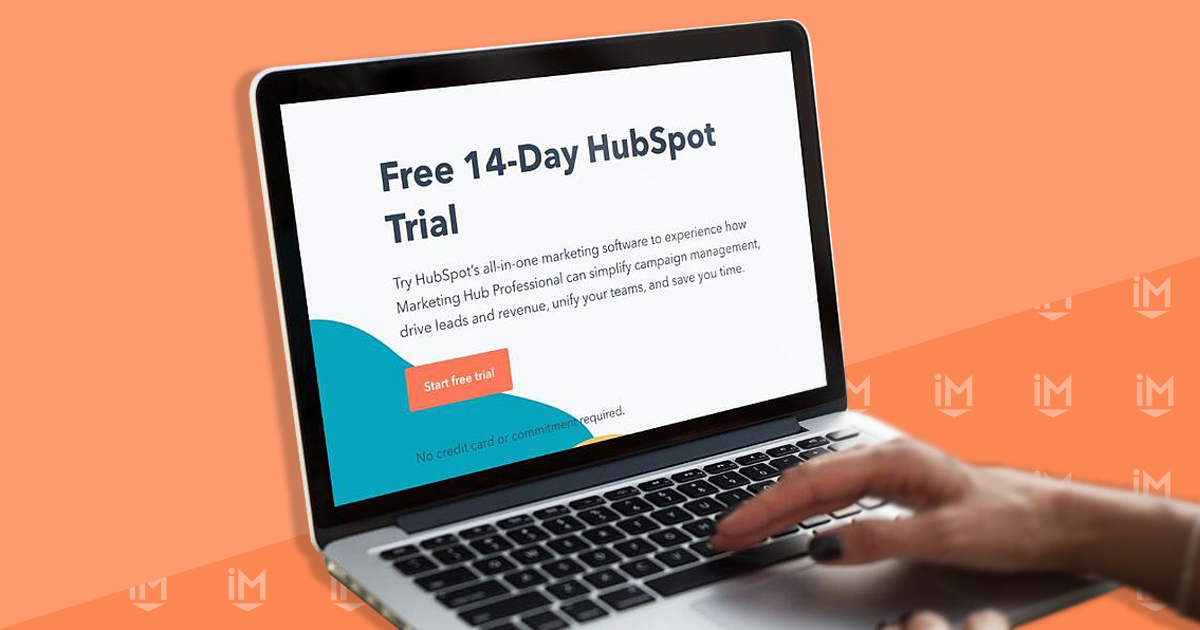 HubSpot can be a gamechanger for your business — a single source of truth that tracks all deals, automates all marketing, hosts all webpages, and provides the data you need to make the best decisions possible.
While the thought of those capabilities is exciting, it can also be daunting: How can you really know that HubSpot is the best platform for you? After all, once you go all-in, it's hard to jump back out again.
(Now, we can't claim to be neutral here. We love HubSpot, and we're an Elite-tier HubSpot partner. Not only have we trained hundreds of clients on how to use the platform — and built countless websites using its CMS system — but we also use it ourselves. We host our own website on HubSpot, and use its sales and marketing platforms every day to stay organized and informed.)
But for you, just dipping a toe into the shallow end of the HubSpot pool, how can you make the best decision for your business?
If HubSpot has offered you a free two-week trial (or you've signed up for one on your own), you should be able to get a clear idea of what the platform can do for you — provided you commit to getting the most out of those 14 days.
Here's how.
Before your HubSpot trial starts:
First off, keep in mind that the free trial is for Marketing Hub Pro-level. If you're going to decide to move forward and purchase this tier, we're talking about over $800 per month, with a separate fee for contacts.
In other words, HubSpot isn't giving you a peek into its bargain-basement offering. This is a robust suite of tools that can revolutionize your business — and you'll be paying a premium for it.
Therefore, there's a good chance you might be overwhelmed by functions you didn't know existed.
For that reason, you should start preparing to get your money's worth long before you start the actual trial.
First up, hit the (virtual) books.
1. Get certified at HubSpot Academy
That's the key, according to HubSpot expert Joe Bachir. To get the most out of your two-week trial, start planning way before the actual start.
Bachir recommends putting in time learning the platform with the free resources that are available: "You should start by checking out HubSpot Academy," he says, and go through the four-hour Digital Marketing certification and the three-hour Marketing Software certification.
This will familiarize you with the platform, including layout and functionality.
"The [Digital Marketing certification] is one thing we recommend all of our clients do before they start with HubSpot," Bachir explains.
There are dozens of other courses to explore, as well as lessons at IMPACT+, our free education community platform.
(Note: You'll need access to Marketing Pro to complete the practical parts of the Marketing Software cert. You can do part of it before your trial starts and finish the hands-on portions during the trial, or wait and do it all during your two weeks.)
2. Build your squad
If you end up going with HubSpot, you're certainly not going to be the only person using it. As such, Bachir recommends getting a cohort together who will explore the free trial with you.
You don't need everyone at your company, though — just the people who will be responsible for rolling it out to the company. The more involved they can be in the trial, the more effectively you can evaluate the platform.
3. Check out the app marketplace
The HubSpot app marketplace features hundreds of applications that can help you extend HubSpot's capabilities, including integrations and syncing tools.
It's pretty big.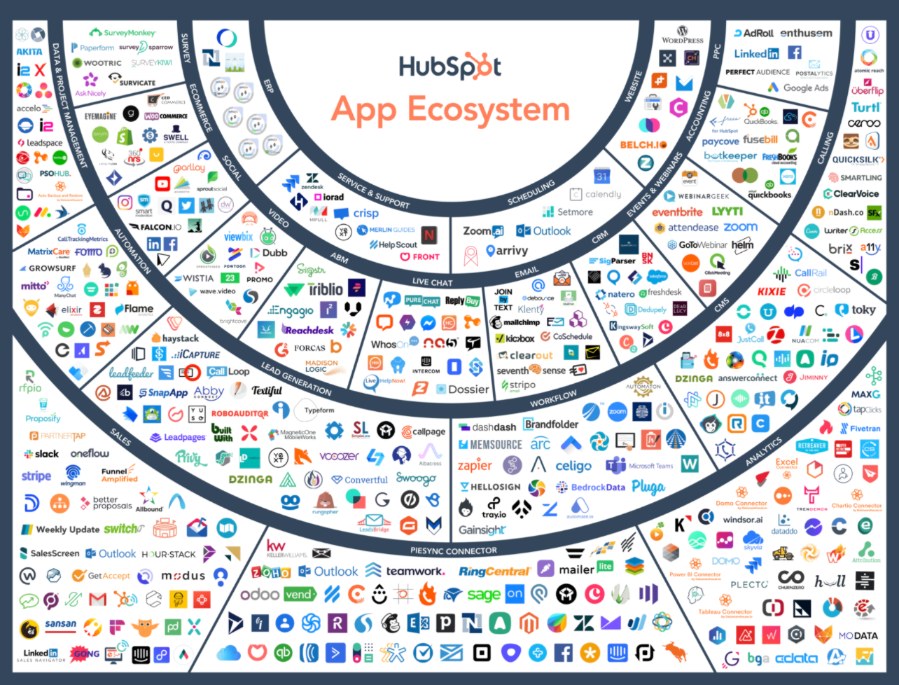 Check it out to see how your tech stack can fit in with HubSpot.
There are a wealth of options (which is a slight understatement), with new ones added all the time, so be sure to sort through to find what you're looking for.
During the two-week trial:
Now that you're prepped and ready to go, you can get started. But keep in mind, 14 days can go by in a flash. Here's how to use the trial effectively.
1. Make sure you're looking at the right things
It's easy to get distracted by the bells and whistles HubSpot offers, so make sure you're looking at features that will actually benefit your business. No use focusing on administrative processes such as adding users to teams or customizing contact record views.
If you know you're going to buy HubSpot but just don't know which tier, make a list of what the Pro tier offers that the Starter tier doesn't so that you can evaluate whether the upgrade is right for you.
2. Bring in data to see a real-world application
HubSpot supplies you with sample data, but Bachir recommends importing some of your own. "You don't need to upload all of your contacts into HubSpot," he says, "but you should see what it's like to go through the process of uploading contacts."
This helps you get a feel for the portal, and also helps you see what you might have to customize. Pro allows you to have nearly unlimited custom properties. This might be a big factor for you, depending on your data needs.
3. Explore the Pro tier
Whether you're currently using a different tier of HubSpot or another CRM entirely, dive into the functionality to see what you can do — again, especially with what Pro offers over Starter.
Marketing Hub Pro is known for its custom reporting and automation capabilities. You'll want to test out the ability to use automation for lead nurturing or for internal processes. This is one of the biggest upgrades between Starter and Pro.
Play with the drag-and-drop email editor. See how blog staging works. See what all of the tools can do for you.
4. Ask questions
The free trial gives you access to HubSpot live-call support, which can be helpful for quick answers.
You should also be better prepared to ask questions and participate in discussion boards and forums. If you're unsure about something, post a question in the HubSpot community forum and see what you get back.
After the two-week trial ends:
After the trial ends, you'll have a decision to make, but not right away. Get together with your team and talk about the following.
1. Figure out exactly how much HubSpot you need
HubSpot offers a suite of options, including Sales, Service, and Marketing Hubs, each with multiple tiers. Then there are unique charges. In Sales Hub, for instance, you have to pay by the seat. In Marketing Hub, you'll have to pay when you pass certain thresholds with your contact list. There are so many pricing options that we've written extensive coverage of it all — and there can still be some confusion.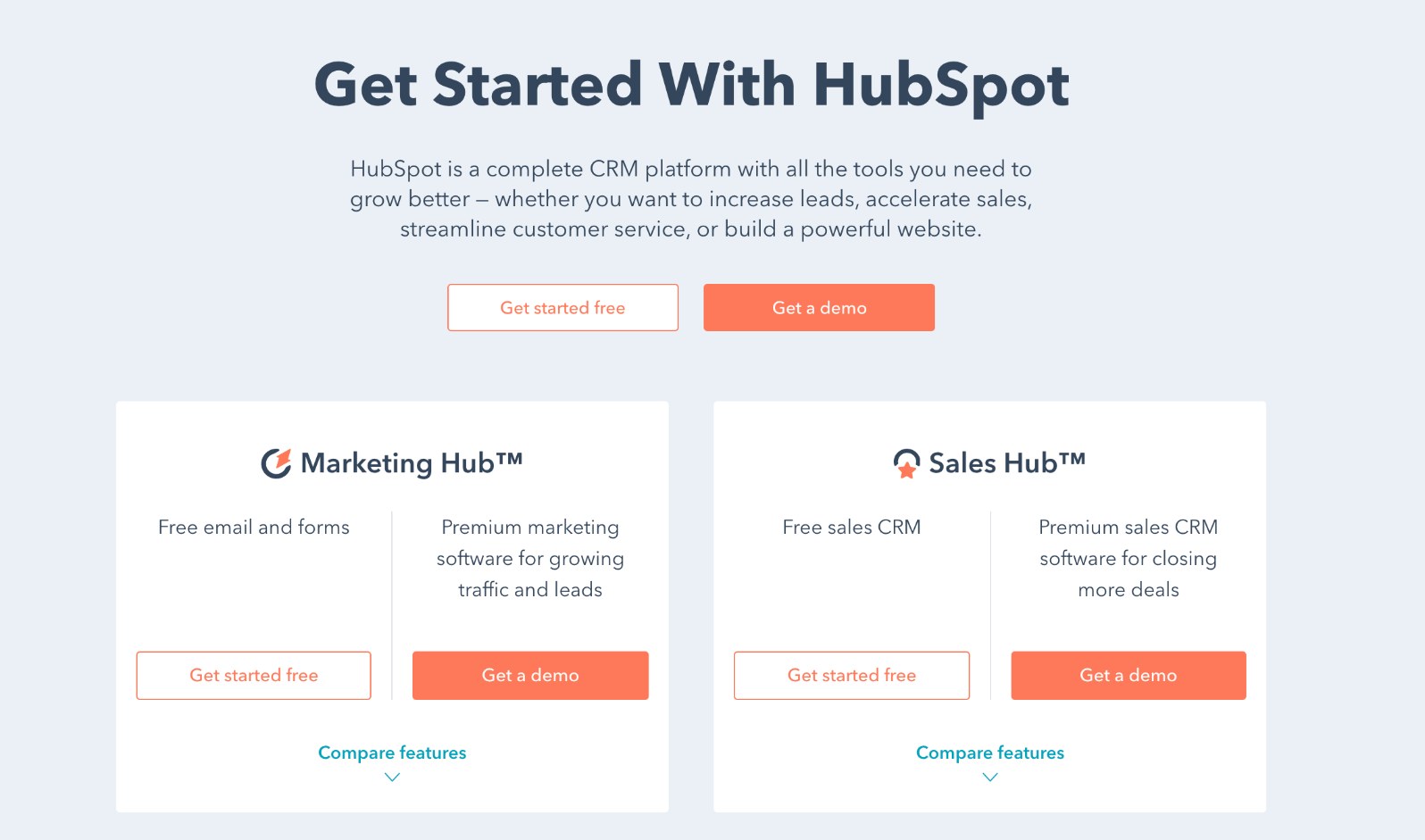 Before you get out your checkbook, think through exactly what you need (and keep in mind contact fees and sales seats). Bachir recommends taking a good look at your databases to see how much you'll be paying above your regular monthly fee.
2. Get the best price you can
Although HubSpot lists its prices on the website, there is sometimes some wiggle room. Signing a longer contract will often get you a lower price, as will paying upfront for each year.
There are sometimes rumors of steeper discounts from sales reps looking to close deals, especially at the end of the quarter or year, but this is not always the case.
A two-week trial can be useful — as long as you plan ahead
For many companies, HubSpot is a sizable investment, and we believe it's a sound one. We typically advise our clients to purchase Sales Starter and Marketing Pro because we believe this combination delivers the right balance of tools and affordability, but many upgrade to Sales Pro within the first year.
Remember, when you're buying HubSpot, you're really buying two things: efficiency and insight.
How much is it worth to you to have your marketing team send the right emails to the right people? How much is a workflow worth that nurtures your prospects? Efficiency saves money.
And second, HubSpot gives you incredible insights into your marketing efforts. If you're all-in on inbound marketing, you need to prove the efficacy of what you're doing. If you know that a certain article is bringing in leads, or a certain landing page is not converting, you can make the right decisions. Insight is priceless.
The key is knowing just what you need. The trial opens up features you can't normally see, so it gives you the best possible understanding of what the platform can do for your business.
Free Assessment:
How does your sales & marketing measure up?
Take this free, 5-minute assessment and learn what you can start doing today to boost traffic, leads, and sales.