Is HubSpot a requirement for They Ask, You Answer Mastery clients?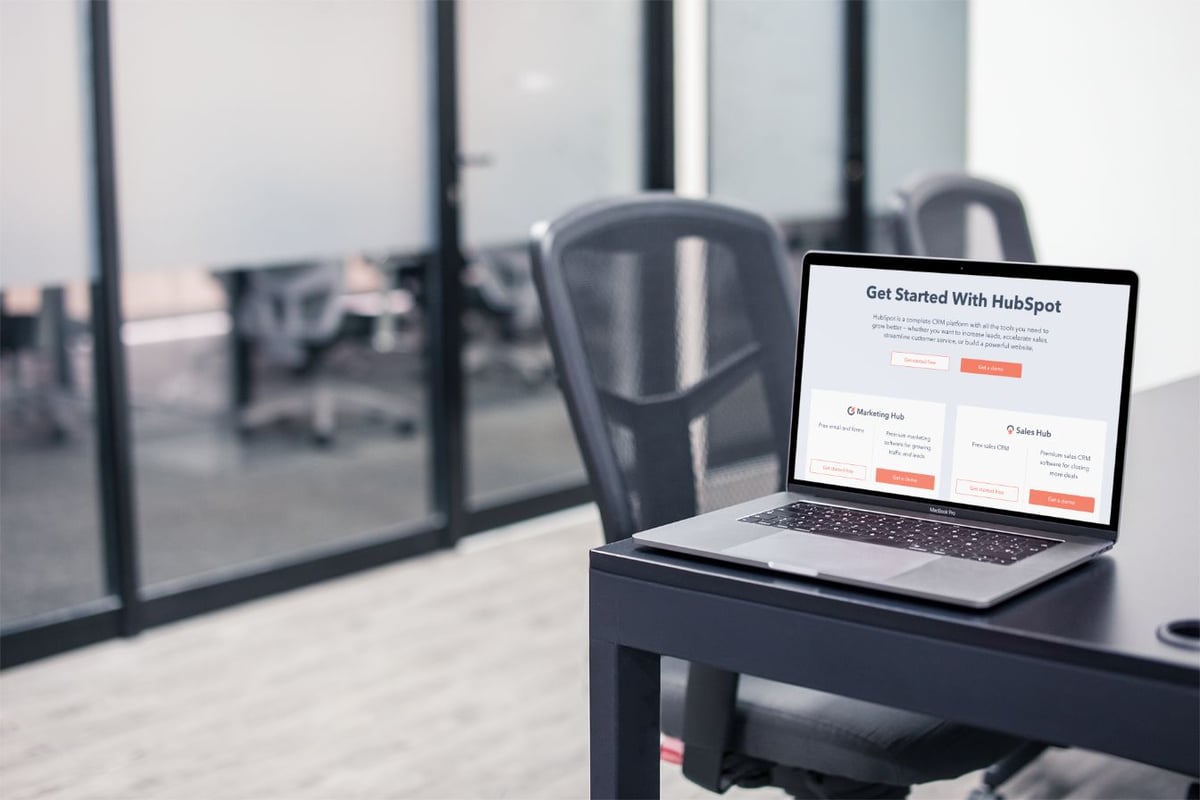 If you're embarking on IMPACT's They Ask, You Answer Mastery program, you will need marketing automation software and a customer relationship manager (CRM) that provides insight into your sales and marketing efforts. Having a certain level of functionality is essential for your successful completion of the program.
We strongly recommend that you choose HubSpot to fill these needs. So strongly, in fact, that HubSpot is virtually a requirement for the program.
While there are some niche situations in which another solution could serve you nearly as well, we believe HubSpot is the way to go, and we will train you to use the platform in a way that best suits your business' objectives and needs.
🔎Related: What is HubSpot and what the heck does it do, anyway?
Why is HubSpot the best choice?
At its core, They Ask, You Answer Mastery is about gaining the ability to take ownership of your content marketing efforts. This means producing the written and video content that builds trust with prospects, drives traffic to your site, and helps educate buyers in the sales process.
Just like with any form of marketing, if you can't measure your ROI, it's impossible to know just what is and isn't working. This is where HubSpot comes in.
HubSpot offers three crucial functions:
Tracking ROI from your content. This means traffic metrics, as well as tracking form submissions, downloads, deals, and influenced revenue. With this information, you can know which content is truly making money.
Tracking a prospect's path through your site. Being able to see how a person enters your site, what pages they read, and what resources they downloaded and when will better attune you to that prospect's needs. This information also helps you map how users navigate your website.
Knowing a customer's sales touchpoints. For many businesses, their sales process involves more than one team member. Maybe a BDR handles a first conversation before a sales rep takes over, who might also loop in a subject matter expert to help explain some aspect of your product or service to a client. You need a central contract record that can be used by all teams where they can access call recordings and notes, making these handoffs as seamless as possible.
Without the invaluable insights offered by these functionalities, your sales and marketing efforts are going to include a lot more guesswork — and this leads to inefficiencies and frustrations.
HubSpot offers these capabilities in what we've found to be the most user-friendly, cost-effective, and scalable package.
🔎Related: HubSpot ROI examples: How to nail your reporting strategy with HubSpot
What should I expect to spend on HubSpot?
HubSpot offers a range of tools and a slew of tiers and pricing levels. For the startup or super small business, there are free and inexpensive platform options, like this offering for new businesses: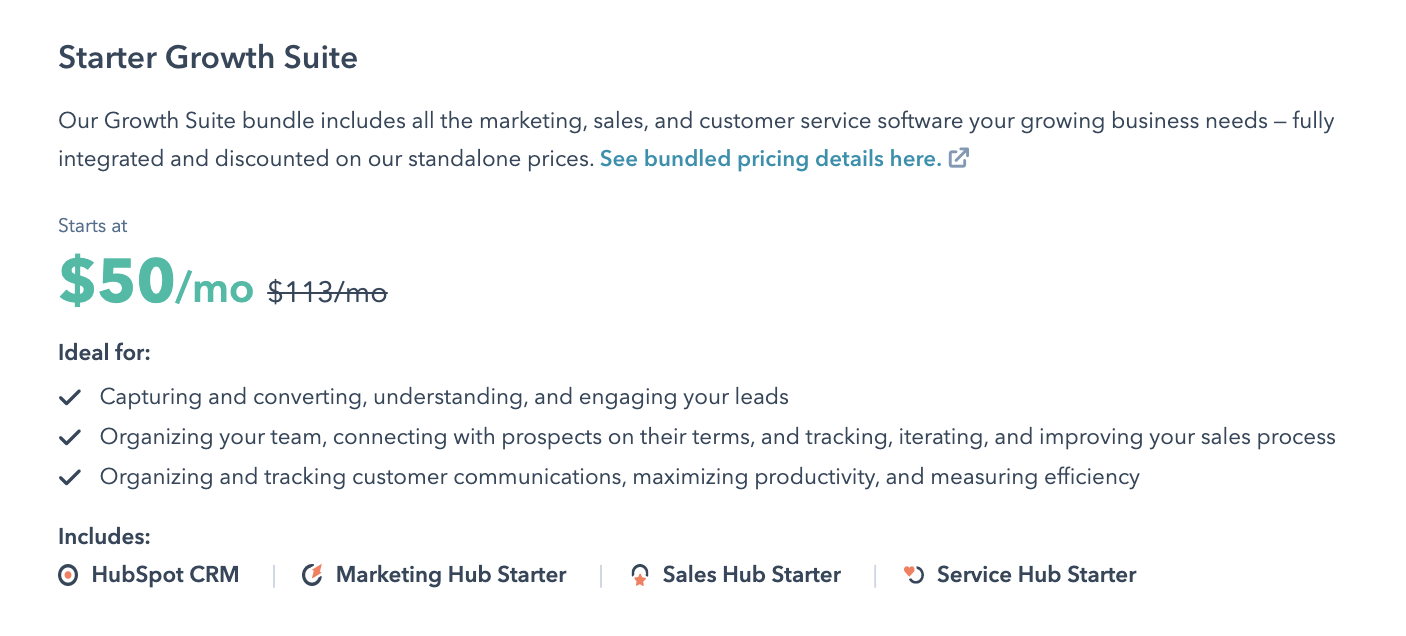 Then, as you grow, HubSpot grows with you. With the sliding scale of HubSpot pricing, you will be able to find the options that work for your needs and your budget.
However, to do what the Mastery program asks of you, you'll need more functionality.
Our Mastery clients typically pay around $1,000 per month on HubSpot software. To get the functions outlined above, this means Marketing Pro (at $800 per month) plus the cost of contacts.
Your IMPACT coach will help you determine exactly what aspects of the HubSpot platform your business needs. As you grow, you can always upgrade to add functionality and features.
🔎Related: HubSpot pricing: Your guide to everything HubSpot costs
Recent changes to HubSpot pricing
For years, an unanticipated cost for many HubSpot users was the costs associated with the number of contacts in their database. Crossing certain thresholds in your contact lists would put you in a higher cost bracket, and these extra fees could add up quickly.
At INBOUND 2020, HubSpot announced a new pricing structure. While you will still pay more when you cross certain thresholds of contacts, those thresholds are now larger.
For example, you used to pay more each time you crossed the next 1,000 contacts. So, going from 1,999 to 2,000 contacts would mean a jump in your monthly expenses. For higher level HubSpot users, that's been changed. Pro level users will only see a jump at every 5,000 contacts, and Enterprise-level users only at every 10,000 contacts.
What's more, HubSpot users can now have virtually unlimited "non-marketing" contacts in their database (up to one million) and will only pay for those that they actively market to. HubSpot has shared information about this new pricing structure, which it calls marketing contacts, which rolled out in November of 2020.
Note: This is the only pricing model available for new HubSpot users going forward.
🔎Related: How to get the best price for HubSpot
Should I have HubSpot in place before I begin the program?
It's not necessary to already have HubSpot set up before you begin your Mastery program.
If you do already have HubSpot and are familiar with the tool, you may be poised to move more quickly through certain trainings, but this is not a requirement for getting started. We will train you to use HubSpot in the ways that best serve your business — whether you are a novice or a seasoned user.
If you want to get started and see what you can learn and put in place before beginning with They Ask, You Answer Mastery, go right ahead! Or, if you feel like you'd rather explore with a seasoned guide by your side, you can wait to do so with our certified HubSpot trainers.
What are the cases in which another option would work?
The hefty majority of clients currently involved in They Ask, You Answer Mastery use HubSpot. That said, it is not officially a requirement. There are cases where another option could possibly take HubSpot's place.
If your business already has a well-established marketing automation and analytics system that works well for your needs and meets the three crucial requirements listed above, your IMPACT coach would not ask you to abandon that system in favor of HubSpot.
Even so, they may advise (but not require) you to switch if certain HubSpot functionalities would be beneficial for your business. After all, it's not just what HubSpot does — it's how easily it does it. If your system is convoluted, temperamental, or confusing, HubSpot is likely the better option.
Tracking your own mastery with HubSpot
Embarking on a journey to take ownership of your digital sales and marketing hinges on your ability to measure and take stock of what you're doing.
From your content manager planning upcoming content strategy to your sales reps keeping careful notes of explore calls to your CMO checking traffic metrics, HubSpot is the tool that makes this all possible — even easy.
While there are situations where HubSpot will not be required, we will strongly recommend it in every case, knowing how well it allows you to measure the efficacy of your content marketing.
Free Assessment:
How does your sales & marketing measure up?
Take this free, 5-minute assessment and learn what you can start doing today to boost traffic, leads, and sales.