5 most common problems with B2B account-based marketing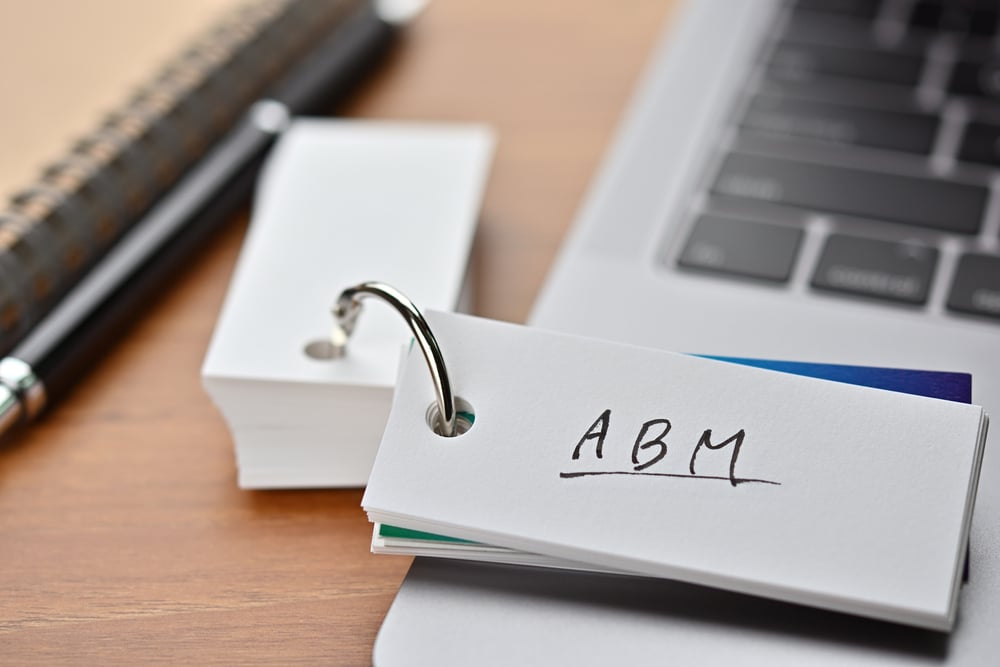 When it was founded in 2014, Terminus, the now-leader of the account-based movement, wasn't account-focused at all.
It was a lead-based marketing agency that did its best to make B2B work for it by having its marketing team select a list of who they thought would be the best customers for the sales team to target.
Its marketing team was happy because they were able to deliver a list of about 500 accounts to a sales team looking to create as many opportunities as possible.
But sales didn't care because marketing failed to align with their goals and, as a result, most of those accounts weren't qualified to sell to.
Working to better understand the sales team's goals, marketing and sales soon started to meet regularly, speak the same language, and use a strategic model that helped them tier their accounts in order to focus on high-fit potential customers.
Although it seemed like a great idea, the efforts took many hours, a lot of spreadsheets and intent tools, and a bunch of inefficient marketing automation — and there was no easy way to measure success.
Terminus knew it had to improve its processes, so the teams started by reevaluating their target list by focusing on fit, intent, and engagement.
Once that was finalized, they started a multi-channel messaging approach.
Finally, they created an account-based marketing scorecard that let them measure and compare how accounts in a particular program were doing against engagement metrics, pipeline progression, and revenue.
Fast forward a few years and Terminus — which offers its very own ABM platform — is now the leader of account-based marketing, which HubSpot defines as a "focused growth strategy in which marketing and sales collaborate to create personalized buying experiences for a mutually-identified set of high-value accounts."
In ABM is B2B, a book written by Terminus co-founders Sangram Vajre and Eric Spett, account-based marketing (ABM) and business-to-business (B2B) marketing are described as the same thing: organizational strategies designed specifically to create more revenue.
In today's world, B2B organizations need to focus on targeting the right customers, creating experiences just for them, and — best case scenario — turning them into advocates for your company.
A summary of the benefits of account-based marketing
According to marketing research firm Forrester, fewer than one percent of all leads turn into customers. This means that 99% of what businesses are doing is not working.
Let that sink in for a minute.
Seth Godin touches on something similar in an episode of the FlipMyFunnel podcast, where he states, "It's very easy for us to think that we live in this mass-market world, but we don't. We live in a micro-marketing world."
Marketers can no longer throw something at a bunch of potential customers and hope it sticks. Godin elaborates by saying, "Marketing is the art of hitting the smallest viable audience."
Knowing these things, it's not a question of "should I do ABM?" It's a question of "how do I start ABM?" And if you're still not on board, take a look at the following statistics about B2B organizations that have realized that ABM is the answer:
Although it takes buy-in from your entire company, a ton of effort to implement and maintain, and a change in business processes and analytics measurements, account-based marketing can prove to be very successful.
Some of the top benefits include:
Alignment of sales and marketing teams: When your sales and marketing teams are aligned on goals, budget, and communication, you'll generate higher revenue, increase brand awareness, and ensure the customer experience is consistent, seamless, and delightful.
High return on investment (and ability to measure it): Research by ITSMA found that 87% of marketers that measure ROI say that ABM outperforms every other marketing investment. What's more, by having the ability to measure the return on your investment, you'll have the insights needed to make better data-driven decisions in the future.
Increased revenue: Most companies who use an account-based marketing strategy see an increase in revenue due to an increase in average deal size. Because of the personalized approach, customers are willing to spend more with a company they trust.
Delivery of consistent customer experiences: If everyone in your organization is aligned on how to deliver a feeling of consistency through everything that is communicated to each account, all customers will feel like they're the only customer.
Expansion of business through account relationships: By using personalization and building trust with your customers, you'll not only retain them longer, but they'll also turn into your best advocates and brand promoters.
But before you get started, it's important to note that ABM is no easy task.
Sure, the rewards can prove fruitful, but there are many challenges you may face along the journey.
5 most commonly-faced problems when implementing account-based marketing
Of course, as with any business strategy, with all of the aforementioned benefits comes some problems you may face along your ABM journey. Here are five of the most common challenges.
1. Aligning sales and marketing can be difficult
In order for an ABM program to work, sales and marketing have to be aligned. Being on the same page actually allows the marketing team to do their best work because they'll have goals and a purpose behind what they do, driving them to succeed.
The truth is, the value of marketing is actually defined by sales. In ABM is B2B, Sangram Vajre makes the point that a marketer's job is to "either incrementally or exponentially increase sales."
However, it can be hard to get to a point of total alignment due to the fact that most marketing and sales departments are used to operating independently (does this sound like you?).
Marketers most commonly focus on lead generation, so they equate quantity to success, whereas salespeople focus more on lead conversion, so they care more about qualitative metrics.
Quick tip: Because of this, it's important for each team to be focused on a common goal, such as MQL and SQL alignment, target account fit, or sales insight.
Once that's been figured out, ensure your teams meet regularly to discuss the progress, touch on what is going well and what's not going so great, and how they can continuously improve.
B2B is not a marketing thing; it's a business thing, and the best organizations operate as one team, striving for the same business outcomes.
2. Getting buy-in from your executive team is tough
In most organizations, the CEO and the rest of the C-suite are focused on driving growth and ensuring the company has a brand they can be proud of. They mostly care about decisions that directly affect organizational goals.
Furthermore, CEOs are driven by business outcomes and operational efficiency, so any newly introduced strategic tactics are often judged against metrics like an increase in traffic and leads, webinar registrants, and premium content downloads — key performance indicators that have been around for years.
Account-based methodologies may seem like a leap of faith.
Similar to when inbound marketing emerged, ABM is a truly transformational business strategy, and it focuses on a different outcome of success that your C-suite isn't used to. If they aren't seeing traditional leads come in, they may deem the effort as unsuccessful.
Quick tip: It's your job to educate them on why that's not the focus anymore.
You need to let them know that contrary to everything they've ever believed, shrinking volume is a good thing when looking at accounts instead of leads, and the revenue will come as long as you're focusing on right-fit prospects and improving your strategy with what you're learning along the way.
3. Vanity metrics can be hard to let go of
Speaking of leads, in the world of ABM, numbers like traffic, leads, downloads, and subscribers are considered vanity metrics.
After all, spikes in traffic and leads may look successful, but what if none of the people who contributed to those numbers actually become customers?
Implementing an account-based marketing program within your organization requires a shift in mindset, but it can be extremely hard to make this switch.
Ultimately, you're going to have to let go of metrics you've been so obsessed over for the past decade and start to embrace new key performance indicators that are tied to real business outcomes, such as engagement, progression, and velocity.
Sure, each organization is different, and your success metrics may differ from that of your competitors. But at the end of the day, it's really all about focusing on the numbers that help drive your business' bottom line.
Quick tip: If you find this hard to do, I urge you to take a deep dive into your traffic and lead metrics and figure out what percentage of each is actually qualified for your sales team to talk to.
Chances are, you'll find that a large number of visitors aren't amounting to anything, and sales is wasting precious time focusing on "opportunities" that will never turn into customers.
4. You have too many tools to manage already-siloed data
Creating an account-based strategy takes a lot of work, and most companies that are just starting out tend to put an excessive amount of manual effort into creating a plan.
Technology vendors caught on to this trend and built automation solutions for the many used-to-be-manual steps.
However, as marketing teams began to adopt these solutions, they soon realized they had too many touchpoints that didn't "talk" to each other.
As a result, data became siloed, and the manual-type work resurfaced as teams spent a lot of time exporting data and importing it elsewhere — a solution that does not scale well.
What's more, CRM and marketing automation tools weren't originally designed to be account-centric, so doing things like building target account lists and attributing revenue to accounts instead of leads can prove to be very challenging.
Quick tip: If you're looking to replace or consolidate your current tech stack to make it more ABM-focused, consider these four factors:
Integration with other technologies like your CRM and marketing automation tools
The ability to measure actionable metrics that can connect ABM program results to revenue
The unique needs of being a B2B organization
The need for connected data that allows you to measure results and optimize what's working
5. You may try to go too fast
Predictably, the idea of starting something brand new can be daunting. This is specifically relevant to business strategy, as there's almost always pressure to see immediate growth to validate the efforts.
However, implementing an ABM program takes time to see success. It actually works best when implemented slowly over time because of the personalized attention it requires. Starting out with a few accounts at a time will allow you to get used to the process and make decisions based on the results you generate.
If you try to go too fast too soon, your sales and marketing teams can end up extremely overwhelmed and lose control over the process.
Quick tip: You have to start somewhere. Even if you kick things off with one campaign for one potential customer, patterns will start to develop, you'll be able to begin to define your metrics for success, and you'll learn more about customer engagement styles and how they apply to your business.
Most importantly, if you're not seeing any movement in the early stages, do not give up! The worst thing you can do is fall back into old habits without giving ABM the chance it deserves.
How you can make account-based marketing easier to implement
It's no doubt that account-based marketing is the future of B2B. But with so many potential challenges, how can you stay motivated to succeed?
Luckily, Terminus created a proven ABM framework called "TEAM" that helps all kinds of organizations execute their ABM strategies.
The TEAM framework "provides a simple, execution-focused method for accelerating revenue generation, aligning marketing and sales, and improving critical acquisition and retention metrics."
TEAM stands for:
Target your best-fit accounts
Engage the entire buying committee with multi-touch marketing programs
Activate sales with actionable insights
Measure success with account-based metrics
It's designed to help companies stay focused on the right things, especially when they're just starting to implement an account-based marketing strategy.
Just remember, before taking action on something like this, it's important to dive deep into your customer lifecycle and decide where applying the TEAM framework would be most successful for your organization specifically; this is not a one-size-fits-all approach.
Once you've identified your focus areas, your teams are aligned on your goals, and you have a documented strategy, you'll be ready to take your B2B marketing to the next level.
Free Assessment:
How does your sales & marketing measure up?
Take this free, 5-minute assessment and learn what you can start doing today to boost traffic, leads, and sales.