We read They Ask, You Answer; how can IMPACT help us implement it?
If you've read the book and are ready to implement the philosophy, here's why hiring a coach is the best investment you can make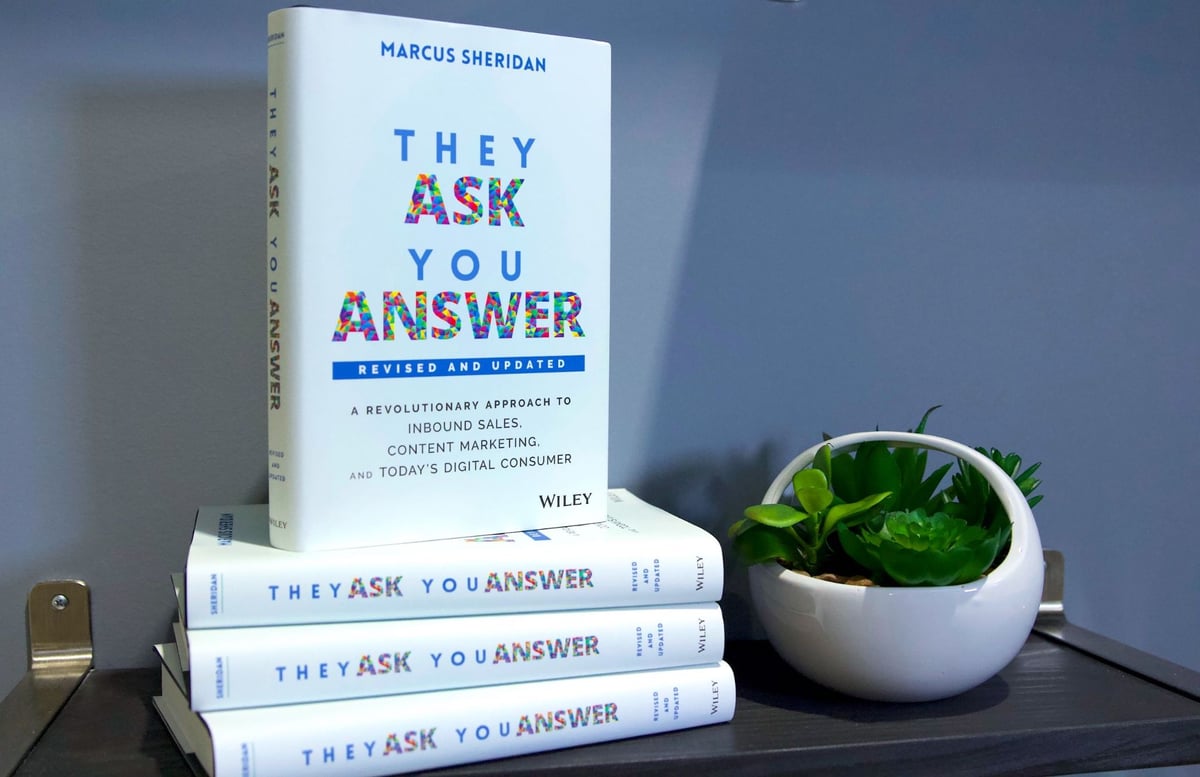 For anyone who has read Marcus Sheridan's They Ask, You Answer, or seen Marcus speak in person, it's hard not to be taken in by his customer-centered business philosophy.
It seems so simple and intuitive: obsess over your buyers, create helpful, candid content, and use this content to help shorten the sales cycle.
However, what business leaders find when they try to put They Ask, You Answer into practice with their company is that it is much more cumbersome and complicated than it first appears.
I know I need to hire a content manager, but I've never done that before. Where do I start?
How do I actually turn my subject matter experts' opinions into content that educates our buyers?
I know we need to integrate video into the sales process, but how can I do it effectively on my first try?
I think my website structure makes sense, but how can I be sure?
We've invested a lot of money into HubSpot, but I don't think we're using it to its full potential.
These questions — along with dozens more — swirl around inside the heads of business owners who confront the realities of putting They Ask, You Answer into practice.
While you certainly can discover the correct answers to each of these questions with some research and a lot of trial and error, you are going to move very slowly through the process of self-education.
This is where a coach comes in.
The power of a They Ask, You Answer coach
IMPACT's coaches are experts who focus on just this one thing: helping businesses implement They Ask, You Answer as efficiently and effectively as possible.
When we offer clients a bundle of services, we find that they can attain They Ask, You Answer mastery in 12-24 months.
Could you do it all without a coach? Sure! We have hundreds of free resources on our website — as well as free courses on IMPACT+, our education platform. However, I promise you that the going will be slow, the missteps will be many, and the frustrations you experience creating your inbound marketing program will mount.
One of our coaches expresses the concerns of many business owners this way: They think, "It's overwhelming thinking about so many things I could be doing, and where I should get started. I need to be writing content. I need to get started with video. I know my website needs some changes, too. It's just not clear how to create a roadmap to success that's simple to follow."
Hundreds of businesses before you, from dozens of industries, in the U.S. and abroad, have hired IMPACT for help adopting They Ask, You Answer.
If you've heard Marcus talk or read his book and are ready to jump in with both feet, the smartest investment you can make is a coach.
Here are a few ways a coach can help you.
How an IMPACT coach can help with content strategy
With IMPACT, your coach will be your lead strategic point of contact, and they will work with other IMPACT experts to train your team in They Ask, You Answer implementation.
The development of a content strategy is a complex process that involves countless moving pieces. A coach (in conjunction with subject matter experts) will help you with all of them.
1. Hiring a content manager and defining their role at your company
The content manager sits at the center of your entire content marketing effort. But, if you've never hired for this role, how do you know you're getting it right? Our coach says, "Don't worry, we've got job descriptions, we've got interview questions, we've got all the tools that you need."
IMPACT will also help with onboarding once you bring your content manager on.
2. Developing long-term content strategy
A long-term content strategy begins with the questions your sales team is being asked — but then extends to content production that truly drives organic web traffic.
Our coach continues, "First you need to write sales-enabling content that we know is going to drive revenue for your company. We call these topics 'the Big 5'.
From there, it's all about developing an editorial calendar that accomplishes your goals. Your IMPACT coach will supply content calendar templates and other tools to help you."
3. Keyword research
There might be hundreds of keywords associated with your industry.
How can you know which ones to go after? What type of content is likely to get you on the first page of search results? How does page authority influence your ability to rank for certain keywords?
Having an SEO expert will ensure that you work more efficiently.
4. Building a culture of video
To create a great deal of video content, your company needs to develop a video culture. This means hiring a videographer, getting people comfortable on camera, buying the necessary equipment, and more.
"Just like with hiring a content manager, we're here to help," my teammate shares. "Your coach will guide you through the hiring and onboarding process of this new role, along with coordinating training with our video experts who can answer all of your questions."
5. Accurate ROI tracking
HubSpot, when set up properly, can track a prospect's engagement with all aspects of your site, including time spent on various content, downloads, form fills, and more.
When deals close, you can know what content helped get the prospect over the line — but only if you know how to use this powerful tool properly.
6. Improving marketing to sales handoff
Do your marketing and sales teams agree on what a sales-qualified lead is? How do you do lead scoring? Is the experience for a customer a seamless one?
A coach will look at all aspects of internal office communication to maximize efficiency.
7. On-page SEO best practices
Search engines are getting smarter all the time, and keeping up with SEO best practices involves following core updates, learning about intent research, and incorporating latent semantic index keywords into your content.
When you put so much effort into your content, you want to be sure that it's going to perform optimally.
How an IMPACT coach improves your sales
But IMPACT doesn't just work with your marketing team. We believe sales and marketing need to be in lockstep, so any successful They Ask, You Answer implementation has to focus on sales as well.
1. Documenting, evaluating, and optimizing your sales process
According to Eric, "sales leaders always tell me that they wish they had a standardized sales process because they don't want their sales teams all doing a dozen different things."
Your coach will work with your team to document the current sales process and then standardize it across the team, making sure it best suits your company's needs — and making sure that each touchpoint with a buyer is an educational opportunity.
2. Unpacking and addressing major sales challenges
Beyond challenges associated with the entire team, you might have individual challenges with specific reps. Some might be hesitant to adopt new practices, some might struggle to employ technology.
Imagine this, Eric says: "You're a sales leader with 30 people on your team. Only five of them are using personalized video when communicating directly with prospects. And of those five using video, they're only doing it about 25% of the time."
These challenges require a concerted effort.
3. Sales training sessions and role plays
Simply put, role plays allow your team to get better. Fast.
According to Chris Duprey, IMPACT's strategy officer, "when we take the time to practice how we want to communicate, and we go through the exercise of doing it effectively, it feels like second nature when we go and execute the real conversation."
When it comes time to have the actual meeting, you're much more prepared.
"Then, when you go into that sales call, you're comfortable. You've already done the work to understand who the other person is and what their potential fears, worries, concerns, issues might be — and how you are going to address those," says Chris.
Your coach will lead roleplaying activities and provide advanced sales training to your team.
4. Assignment selling training
When you "assign" prospects certain content to read or view before a sales call, that's assignment selling. It leads to more educated prospects and better close rates. But how can you know what's the right content to assign and when? How do you know you're not giving too much work? Or too little?
Getting it wrong can really discourage a prospect from moving forward. It's crucial to have an outside expert who can help you perfect the process before you try it with a high stakes client.
🔎Related reading: 5 real-life examples of assignment selling in action
5. Video-in-sales training
Incorporating video into the sales process will help you build trust with your prospects, leading to more sales appointments with better-fit prospects. But getting started can be tricky. Your coach knows the tips and tricks to make this initiative get off the ground.
Having a coach means quicker learning and fewer blindspots
In the end, what a coach offers you is simple: an outside, expert perspective that means you move more quickly through the growing pains associated with your new initiative.
Eric shared an example of a client with five sales reps. Two of them were starting to use 1:1 videos in the sales process, which we know is proven to increase open rates and improve sales performances. Eric asked them to send him the videos they were making:
"I said, 'send me an example and pretend that I am the prospect in this situation.' So, at this point it becomes a roleplaying activity. I will approach it like a customer — and then evaluate its effectiveness."
Eric evaluated the emails, making sure they followed best practices. "Then, I provided feedback explaining the four things I noticed in the sample that they could improve upon."
The coach, in this situation, allows you to practice in a low-stakes environment so you can improve before it really matters. "Let's say that first attempt was a five out of ten. I'm going to ask them to improve specific things so that it becomes an eight or nine out of ten."
This, in a nutshell, is what a coach does.
For each aspect of They Ask, You Answer, you want mastery, not just adoption.
"Whether it's those emails that are being sent through the assignment selling process," says our coach, "or it's the articles that you're writing, we're helping you become a master of teaching your buyers."
You could reach mastery on your own, but it will take a lot of trial and error to get you there. That means months or years of missed opportunities as you perfect each They Ask, You Answer skill.
A coach will start you on the path toward mastery, guide your journey, and hold you accountable along the way.
Free Assessment:
How does your inbound marketing measure up?
Take this free, 5-minute assessment and learn what you can start doing today to boost traffic, leads, and sales.
Get Started
Free Assessment:
How does your inbound marketing measure up?
Take this free, 5-minute assessment and learn what you can start doing today to boost traffic, leads, and sales.
Published on September 23, 2020