Subscribe
Join 40,000+ sales and marketing pros who receive our weekly newsletter.
Get the most relevant, actionable digital sales and marketing insights you need to make smarter decisions faster... all in under five minutes.
Thanks, stay tuned for our upcoming edition.
How B2B businesses are going digital during the coronavirus pandemic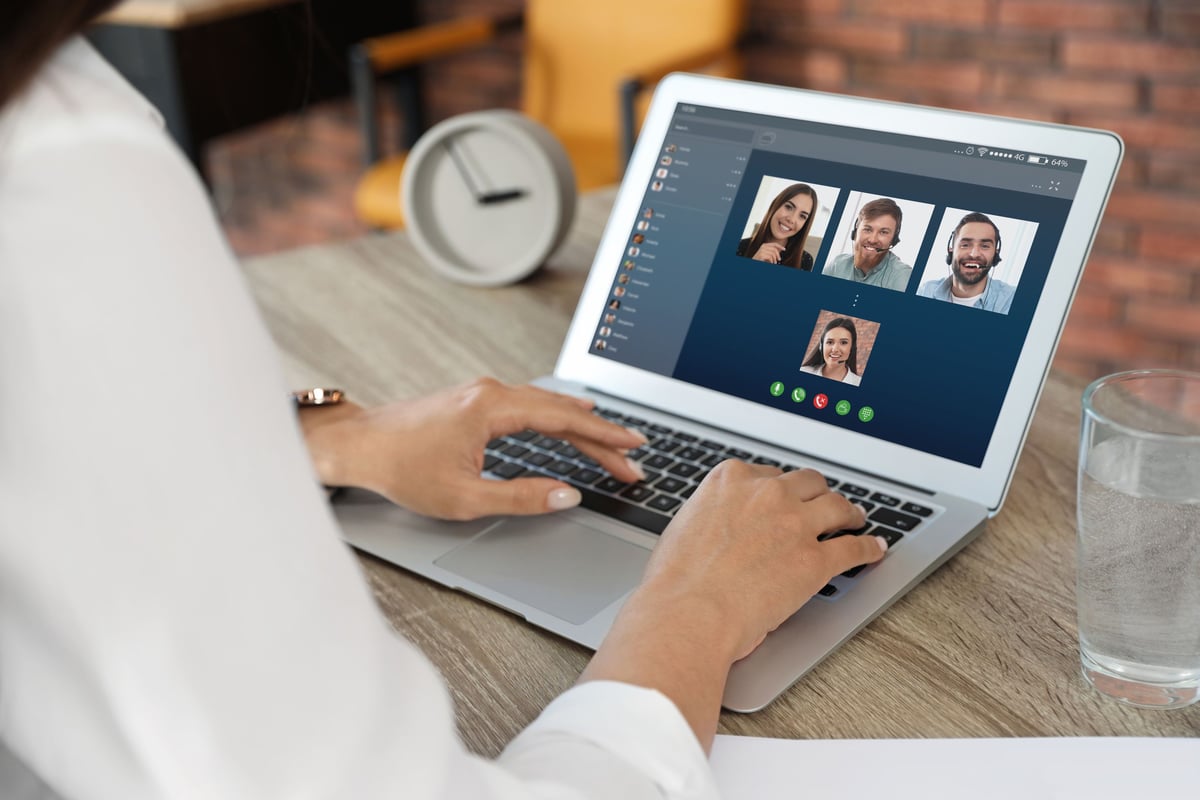 As marketers, we've been conditioned to be prepared for any changes or disruptions that come our way. Being in such a fast-moving industry, we have no choice but to be proactive and embrace the pace.
The unfortunate spread of the coronavirus is no exception, and marketers everywhere are starting to review their strategies in an effort to adapt and overcome.
One of the most impactful effects the coronavirus pandemic has had on businesses is the forced cancellation or postponement of large in-person events.
Tradeshows, conferences, festivals, sporting events, and concerts have all had to either reschedule or cancel completely. (Which means no, I'm not going to the Daughtry concert this week.)
🔎 Related: All of our insights and coverage of the coronavirus pandemic for digital sales and marketing pros
PredictHQ revealed that in February alone, concerns about the coronavirus led to a 500% surge in cancellations and postponements. Most notably, Mobile World Congress (MWC), which was set to take place February 24th - 27th in Barcelona, was canceled due to concerns over the virus.
The number of events to be canceled this month is expected to be even higher than that, with the cost of cancellations estimated at billions of dollars.
We at IMPACT even had to postpone our own event, Digital Sales & Marketing World, which was originally supposed to take place in Hartford, CT, from April 5th - April 7th.
As a result, it will now be hosted from November 30th - December 2nd.
What's happening to organizations' marketing budgets?
A lot of businesses still rely heavily on tradeshows and traditional marketing that requires people to be in-person; for some, that's where the largest chunk of their marketing budget is applied.
Because of this, some B2B organizations are cutting back on their marketing budget.
According to Michael Nathanson, an analyst at MoffettNathanson, with companies widely expected to slash marketing budgets, the ad industry could see nearly $26 billion in lost revenue, or a 10.6% decline.
Amidst this shift are companies reallocating their marketing budget to digital efforts.
For the companies that are going digital, they're quickly realizing that because they spend so much money on traditional marketing or advertising, they now have a large amount to spend elsewhere.
Even if they put a portion of that budget to online efforts, they're likely to see productive growth of their web presence, especially if they're quicker to react than their competitors.
By capitalizing on their current digital efforts or — for some — finally making the move to a more modern-day marketing style, companies can not only continue to push through the hard times and stay relevant, but they can also measure the success of their work.
Reporting on your return on investment (ROI) is something that is harder to do with traditional marketing. By using digital methods, you can gain more insight into metrics like unique monthly visitors, cost per acquisition, return on ad spend, cost per lead, and more.
And, if you're an organization that has been embracing digital tactics for a while, now could be a great time to review and potentially refocus your strategy to adapt to the current events taking place.
5 tips to get the most out of your digital strategy during the pandemic
If you're wondering what you can do or how you can pivot to keep your organization afloat and maintain your competitive edge, you're not alone.
Many companies across the world (including IMPACT) have buckled down and started to come up with creative ways to break through the noise and remain a leader in their industry through digital outlets.
1. Host an online event or webinar
If your organization had an event that was affected by the outbreak, that doesn't mean you can't get people together and still deliver the value they were looking forward to.
At IMPACT, we took Digital Sales & Marketing World's postponement as an opportunity to introduce Digital Sales & Marketing Day, a full-day virtual conference taking place on April 6th.
We'll be talking about how sales and marketing leaders can future-proof their businesses with a customer-focused, budget-conscious sales and marketing strategy. (Interested? You can register here.)
Even if you weren't planning an in-person event, hosting an online webinar or interactive workshop can prove to be extremely helpful and beneficial for your audience in tough times like these.
2. Optimize your website content for users and search engines
Because recent buying behaviors have been forced to change, the way people are searching for things online may also have changed.
Ensure you're staying up to speed on the most highly searched keywords relevant to your product or service, and brainstorm ways that you can tweak your website content to align.
Also, make sure that your calls-to-action still make sense as the best next step for the user to take.
3. Create content pieces around what's happening
In addition to optimizing your current content, it's important that you also create unique pieces around newly targeted search queries. In a time like this, consumers are looking to learn as much as they can about how coronavirus might be affecting their everyday routines and business plans.
Use this as an opportunity to generate new ideas for blog posts or put together a weekly newsletter for your prospects and customers to show them you're just as concerned as they are, and as a result, you're going to keep them updated on everything important.
If it makes sense, you can also write a press release to inform the media and a broader audience on a specific topic of importance.
4. Engage with your audience on social media
Did you know that 79% of the population in the United States has at least one social media profile, and 62% of adults use social media to catch up on trending news?
As you begin creating new content or decide to host an online event or webinar to engage with your audience, sharing this material on your social media platforms can have a huge effect on your digital reach.
5. Dive into video
Video content has boomed in the last couple years, and creating a video right from your computer is easier than ever.
According to IMPACT's Director of Video Strategy Zach Basner, "video is the only type of content that allows people to see us, to hear us, and to know us. This is why video makes a difference."
Because of the more personal feel that video offers, it can be used in a multitude of ways as more companies begin to embrace the remote culture.
If you can't meet for an in-person sales dinner, meet over a Zoom call. If you're not able to have that in-person team meeting, use Skype to make sure everyone feels included and productive. Or, if you need to get a one-on-one message out to a team member or a client, try Vidyard's GoVideo feature.
Video can also be used to replace or supplement written content that you share on your website and social media platforms. Considering 78% of people watch online videos every week, and 55% view online videos every day, why would you not incorporate video into your marketing strategy?
Get the most out of your digital marketing efforts
Knowing all that's happened and will happen, it's extremely important that your business is quick to adapt and overcome any obstacles.
If you've been given the opportunity to reallocate your marketing budget, consider getting ahead of your competitors and implementing more digital tactics like online webinars, live or recorded video content, and written content that matches what your audience is searching for.
In the end, any amount of time spent on strategizing and optimizing your digital strategy will be fruitful, as the overall results you accrue will far outlast the coronavirus.
Free Assessment:
How does your sales & marketing measure up?
Take this free, 5-minute assessment and learn what you can start doing today to boost traffic, leads, and sales.