How is accessibility influencing the way IMPACT develops client websites? [Interview]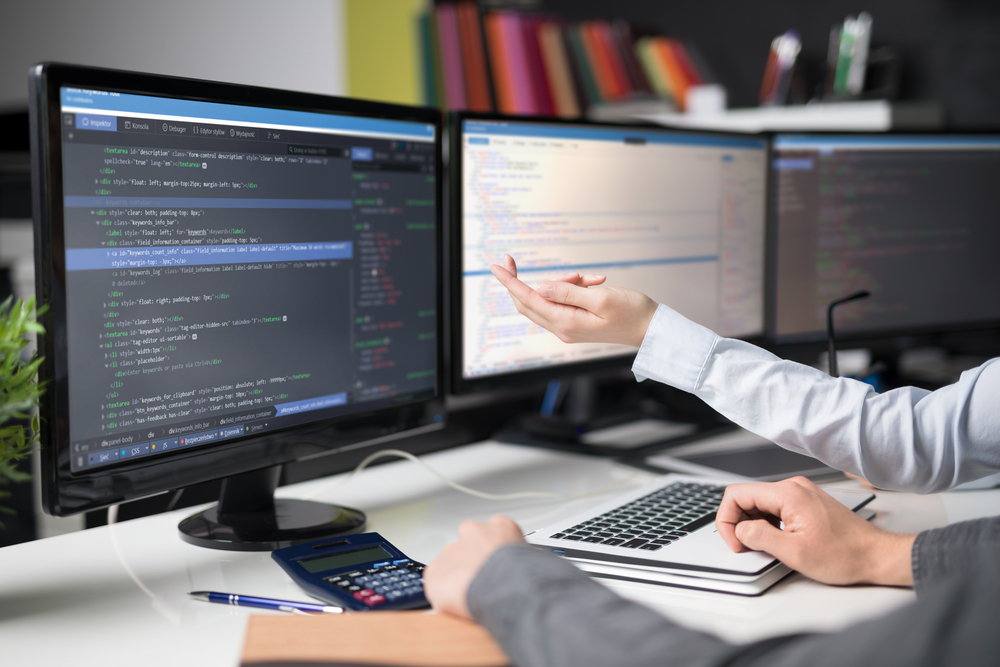 The internet should be accessible for all people, regardless of their abilities or disabilities. It's up to web developers and designers to make sure online content can be consumed by all users, even if they have visual impairments or other needs.
The Americans with Disabilities Act (ADA) became law in 1990. According to its federal site, the legislation "prohibits discrimination against individuals with disabilities in all areas of public life, including jobs, schools, transportation, and all public and private places that are open to the general public."
With is an ever-increasing focus on site accessibility, I sat down with two of IMPACT's developers — Tim Ostheimer and Morgan VanDerLeest — to discuss the ways ADA compliance influences their work with clients.
John Becker: When we talk about accessibility, what do we mean?
Tim Ostheimer: From a legal perspective, accessibility is a short way of saying compliance with the American Disabilities Act. These are required standards which apply to places of public accommodation. For certain entities, such as state and government, that may include their website.
However, these requirements are still being developed and could eventually expand to affect most organizations. This means you should try to ensure your website and any publicly-accessible digital tools are usable even by users with a disability or an impairment.
JB: Are we talking solely about visual impairment?
Morgan VanDerLeest: No, there are various potential conditions which can affect usability. Aside from visual, there are issues such as auditory impairment or mental impairment. For example, some animations or visual effects can be distracting or make it difficult to consume your content. There's also a big emphasis on keyboard compatibility — being able to operate your website without the use of a mouse. And there are people with motor impairments who are unable to use a mouse or keyboard at all and will instead interact with their voice.
JB: Are there variations in compliance rules for different types of websites?
MV: There are, usually by industry. For example, health and finance tend to have stricter standards. But, it's mostly based on the type of content being consumed or the document type, such as a website, PDF, or video.
Websites are a special case since they may even have embedded videos and audio within them, and guidelines related to those file types may not be applicable to other websites within the same industry that lack those features. Requirements may also vary depending on the countries in which the company is based.
JB: Are discussions around ADA compliance becoming more common? Why should agencies be having these conversations?
TO: The majority of clients who come to us asking about ADA compliance are ones who are required to have them. However, discussions around ADA compliance are definitely more common than they were a few years ago. Since these requirements are still changing and expanding there are some companies that want to ensure they're up to standards as soon as they can be rather than waiting for it to be legally required.
MV: We look at our clients' websites carefully and consider their entire audience. For some industries, users with disabilities or impairments could be a significant percentage of our client's customers. For others, the number of users who fall into this category may be much lower. But, by ignoring their need to have proper accessibility optimization you're removing their ability to consume your website content or purchase your product.
So, even if you aren't legally required to implement it, ADA compliance is generally just a way to show you care about all of your customers.
JB: How does ADA compliance figure into your development project currently?
TO: ADA-compliant website design and development is an additional feature we offer for website projects, but we do not require it. However, we consider many aspects of accessible design for every website we create. Some examples of these considerations are use of color and contrast, size and placement of clickable elements, and actionable text on buttons and CTAs.
JB: Is this something you're doing piece by piece as you're building a site — or retroactively once you've finished?
TO: Discussions about ADA compliance are included as part of our blueprint processes so we know whether it should be a focus from the start of the project. However, a base level of accessible design is something we take into consideration throughout the entire design and development process.
Implementation of accessibility optimization may happen at different times. For example, color and visual aspects of accessibility start as early as the first few designs we complete, whereas user input functionality, such as keyboard inputs, may not be implemented until the site is mostly developed since it is an additional functionality that we add to the completed version of the site.
JB: What are some examples of best practices around accessibility?
MV: Here are some important ones to keep in mind:
Use of color and contrast to ensure text is readable. For example, not having dark text on a dark background or light text on a light background.
Operating the website without a mouse, usually using the tab key to navigate the website more easily. Something to consider is adding a "skip to main content" button so users can jump past the global header of your page so they don't have to press the tab key too many times just to get to the first hyperlink in your text.
Including appropriate alt text on images, videos, icons, and other media so users with screen readers are able to access the same information and you're not excluding any necessary information from them.
Documents must be structured in a way that makes sense with standard header tags and sub-headings.
Having indicators or descriptive text to ensure user interface elements like buttons are understandable out of context. For example, instead of saying "Click here," your button should say something actionable like "Learn about ADA compliance."
Adding appropriate mouse point gestures, such as the pointer icon when hovering over a clickable element or a hand icon when the element can be dragged and dropped. In addition to mouse gestures, adding other visual cues for interactive elements such as a change in color of your button when hovered.
JB: What do we want potential clients to know about ADA compliance?
TO: It's less about just being legally compliant and more about trying to provide the best experience for anyone who's going to visit your website.
Generally, ADA compliance parallels best practices for web design and development — and optimizing for screen readers and mobile devices. This means that there's no downside to ADA compliance other than the additional time spent planning and implementing it.
Many of the website features which are required for ADA compliance could end up being very useful to your average user as well, so there's really no reason to ignore it. At the very least, think of accessibility as another level of optimizing for the best user experience.
Free: Assessment
Does your website build trust with buyers and bring in revenue?
Take this free 6 question assessment and learn how your website can start living up to its potential.