What marketers get wrong about sales teams [Interview]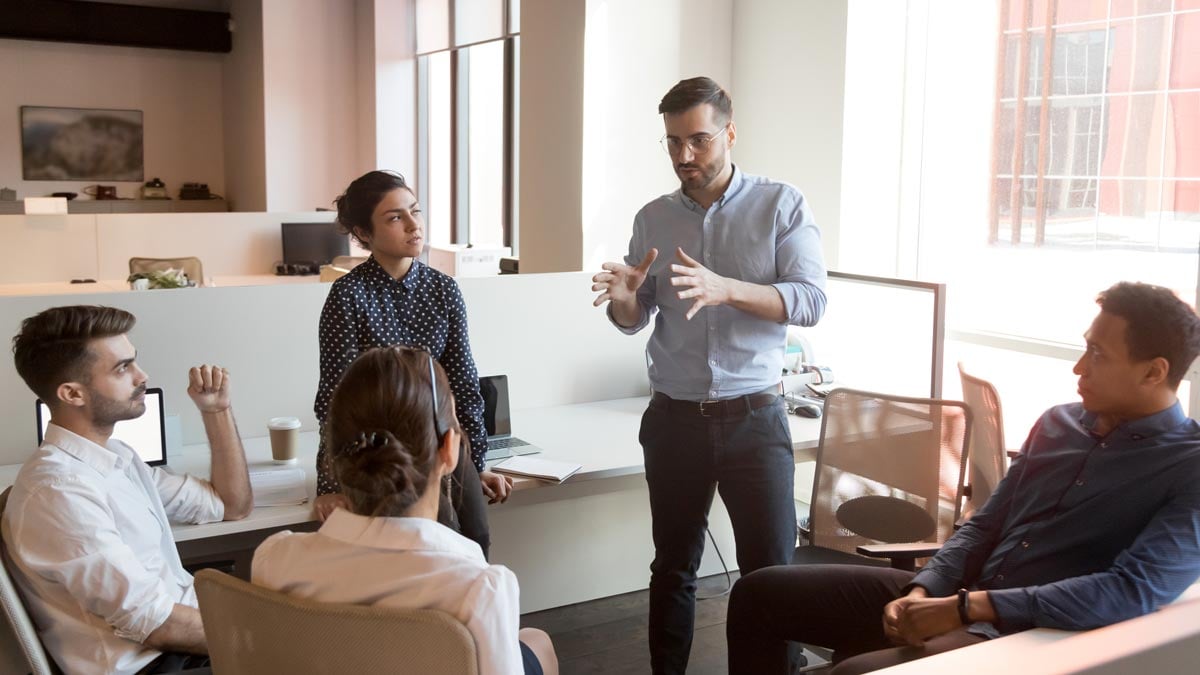 Sales and marketing alignment is an ever-elusive goal in many businesses.
According to IMPACT's Director of Sales and Revenue Melanie Collins, it starts with committing to reaching the same goals — and doing away with some outdated stereotypes.
Misconceptions about sales teams
Me: We are talking today about what marketers get wrong about their sales teams. First off, who needs to hear this message?
Melanie Collins: I think that pretty much any department of an organization could benefit from this — but certainly marketers at all levels and even leadership. When sales teams and marketing teams are at odds, it makes it really difficult for an organization to accomplish what it needs to.
Me: Are sales and marketing like cats and dogs? Is there always going to be some sort of tension between the two?
Mel: I think it's safe to say that there'll always be tension, but it should be a healthy tension. Marketing leaders and sales leaders can pleasantly interact and be on the same page and be aligned towards a mutual goal.
But in most organizations, the sales leader and marketing leader are very far apart from one another.
Me: Talk to me about what "healthy tension" means to you.
Mel: For me, that's accountability. For example, Monday afternoons at IMPACT, we have a revenue team meeting. That includes our COO, me, and our head of marketing.
It helps everyone understand where we are at in terms of current revenue, where we're projecting to be at the end of the month, and then we talk about what's standing in our way of getting there.
During that meeting, the head of marketing can say to me, "Hey, Melanie, we just delivered you a certain amount of leads. I see that nine out of 10 of them haven't been followed up on. What's going on there?"
Or I might say, "Hey, we just had this webinar. I know that 75 people attended, but what's going on with that list now that the webinar is over?"
So, in a healthy way, we are accountable to each other and are completely comfortable with saying, "Oh, I think you dropped the ball there" or "oh, I think you dropped the ball there," and it's nothing personal.
It's just what do we need to do to work together to move forward.
Me: You said you have to be comfortable giving frank feedback. I would imagine you also have to be comfortable hearing it.
Mel: Yes, of course you have to be comfortable hearing it and then taking action on it. Here at IMPACT we do this by holding all key leaders equally accountable at monthly all-day, off-site leadership team meeting.
Our agenda typically has aspects that spotlight sales, marketing, services and operations.
We discuss issues, weaknesses and develop plans for improvement. Often times that means taking direct feedback in the spotlight in front of your peers from our CEO or COO. But it makes us all better.
Then, in between our monthly meetings we meet for an hour every Tuesday to make sure we're making progress and taking action on what was addressed in the monthly off-site.
The idea is that every function of the organization is completely transparent, vulnerable, and accountable to one another. For me, it's empowering.
Me: What is the biggest thing that marketers get wrong about the sales team?
Mel: It's my experience that what they get wrong is the personal motivations of salespeople. A marketing team might see the salespeople as totally heartless sharks. They'll do whatever they need to do to close a deal and to get their commission check.
I think that stems from the way sales teams traditionally were compensated versus how marketing teams are compensated. The traditional impression was, if you want to make a lot of money, you get into sales.
Marketers also, perhaps, depending upon the culture of an organization, don't understand how sales departments have changed. We're not living in The Wolf of Wall Street days anymore. Most modern sales teams don't behave that way.
Today, it's more about inbound selling and consultative selling and solution-based selling versus say anything to just close the deal.
Sales teams in 2020
Me: Can you explain the consultative sales process?
Mel: In this age of inbound marketing and inbound selling, you're not going to just pick up the phone and try to sell somebody something they don't know they need.
What we really focus is on building trust with a prospect, and that usually starts by some form of gentle marketing or sales outreach.
For instance, let's just say someone visits our website redesign page, and then they view some examples of websites that we recently redesigned.
A BDR would typically follow up with that prospect and say, "Hey, I noticed that you were looking at this content. Did we answer all of your questions, or is there anything else that we can help you with?"
Me: Can you clarify what a BDR is?
Mel: BDR stands for a business development representative, and many organizations have BDRs as a part of their revenue-generating team or their sales team. They look through a contact database to identify intent-oriented actions from leads in the database, which a lot of organizations refer to as "lead scores."
Their primary task is to take contacts that marketing has warmed up and warm them up even further to turn into sales-qualified conversations.
It doesn't mean that they have to pass everyone over to a sales person. It just means that they go ahead and take the initiative and don't wait for someone to raise their hand and say, "Please have a salesperson call me."
Me: What do you see as the biggest challenges presented to modern sales teams?
Mel: I would say that sales teams are always looking for more leads, and so that's where that friction comes into play between a sales and marketing department.
Because they are commissioned, many salespeople rely on their commission checks, so that's where a lot of the tension can come into place. So, if lead flow is down, obviously, that's going to negatively impact their take-home pay.
Furthermore, salespeople are always fighting that negative misconceptions people have. Some people look at us like we are these slimy used-car salesmen.
In fact, I'm really proud of what I do. I help a lot of people, and I feel accomplished at the end of the day. But it's really a challenge for a salesperson to be able to gain the trust of a consumer, which is why they need a healthy relationship with their marketing team.
The importance of alignment
Me: So, what are the consequences of all of these misconceptions about sales teams?
Mel: Revenue. If both teams aren't on the same page, the ultimate consequence will be inefficiency and loss of revenue.
Me: Let me reverse my original question: What do sales teams get wrong about marketers?
Mel: I think that especially now that I work much more closely with the marketing team at IMPACT, I see how much they have on their plate. It's almost like the pressure on them is much more in the spotlight than it is on the sales team. Every single campaign a marketer runs can easily be scrutinized with all of these measurement tools that we have now.
Now, sales teams can sort of hide behind measurement tools a little bit, but marketing teams are under a lot of scrutiny.
What's interesting to me is as IMPACT has been launching all of these paid campaigns, I see that there's just so much that goes into it. Most people don't realize that.
Aligning sales and marketing
Me: In your opinion, how can marketing teams and sales teams get aligned.
Mel: It's about building trust at all levels and getting to know each other personally. Go out for drinks, work together to solve problems, and talk to each other professionally.
I really strongly believe that our focus on communication has had a big impact on how our organization has evolved. 'Seek to understand before seeking to be understood' has helped me a lot, and I know that it's worked wonders for my professional relationships as well.
Me: But companies need to make the time to allow those relationships to develop. Having frequent meetings seems essential.
Mel: That's right, and then there are quick updates in between. I'll get probably at least five videos a week from our head of marketing saying, "here's a quick update on this." We know what new content launched each week, what new website pages launched, and what new videos are available.
And we're constantly sharing feedback.
Me: I would think that it's easier to hear feedback and not take it personally if you're hearing it so frequently.
Mel: Yes. The cadence of meeting frequency is really important because we can recover from small missteps and constantly tweak our approach.
Being able to be vulnerable enough with each other to accept feedback and move forward with positive actions for the business, I think, is really important.
Free Assessment:
How does your sales & marketing measure up?
Take this free, 5-minute assessment and learn what you can start doing today to boost traffic, leads, and sales.