How to Grow Your Online Community Using Video (Film School for Marketers, Ep. 11)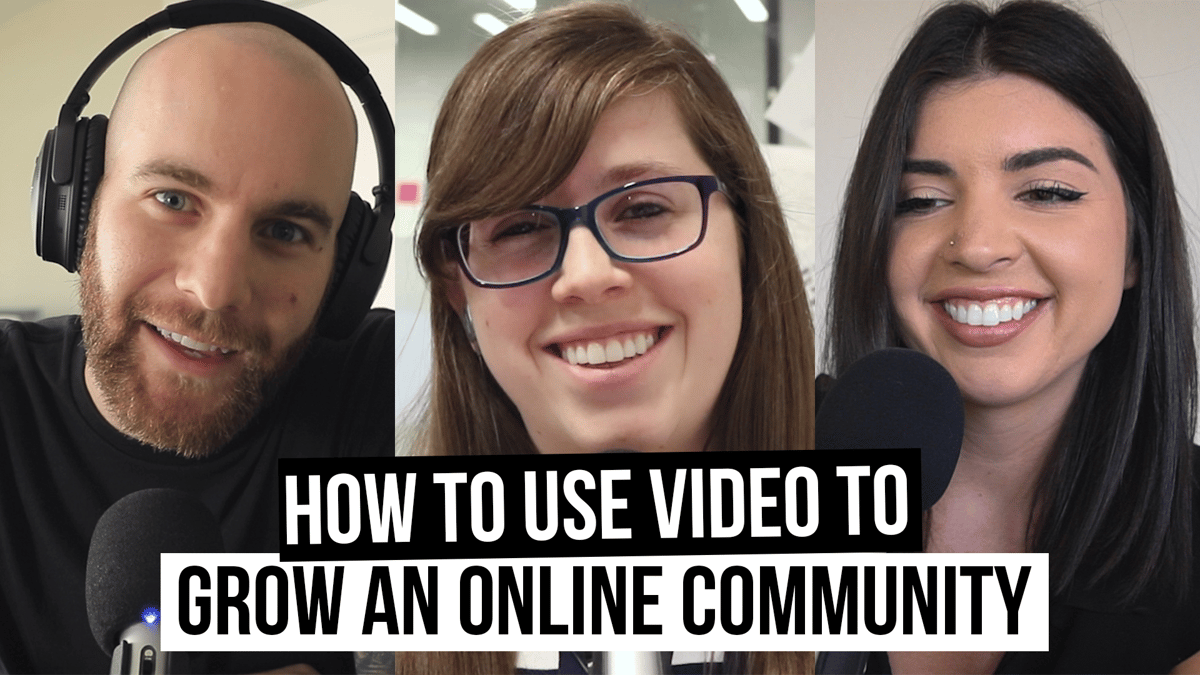 We have special guest Stephanie Baiocchi Director of Audience Engagement & Community at IMPACT. It's her job to engage with our social communities and to make sure that everyone has access to resources and answer to their sales and marketing questions.
Today she joins us to talk about how she has used video to grow our online community, what she's seen work, what she's seen fail, and types of video she uses to create trust with the IMPACT community.
Listen to the full episode here (or scroll down to watch the video):
What is IMPACT Elite?
IMPACT Elite is our closed Facebook group where inbound professionals of all types can come and learn things all inbound, share work, ask for feedback and get questions answered (broad or specific). Here's a link to learn more about the group. It's Stephanie job to run the manage IMPACT Elite and engage our audience.
When Did IMPACT Elite Start and Purpose Behind It?
IMPACT Elite began as a Facebook group around IMPACT Live two years ago which is our annual in person sales and marketing event in Connecticut. You can learn more about IMPACT Live here. The missions of the group has stayed the same - it's a place where inbound professionals come together and ask questions and learn together. Stephanie joined IMPACT a little over a year ago and at that point the group was at 1,500 members and now it's close to 5,000.
How have you made sure to stay up the latest trends of video you've implemented in the community and using it?
When Stephanie first started Marcus Sheridan had posted a video for his Facebook page and it was a great intro about the Facebook page, what people would get from it. Stephanie decided that we needed something like that for IMPACT Elite. Stephanie then created a welcome video for IMPACT Elite letting everyone know exactly what it was about, the purpose of the group and encouraging people to post questions and interact. She also made a point to mention that if you aren't sure what to do to reach out to her directly. After creating and posting the video for the group people really engaged with it. They commented and did exactly what she said in the video. A little while later Stephanie recorded version 2 of the video as she had more experience with the group, and had more to add and could be more concise.
The video also allowed people to feel comfortable in the group and welcomed. Video allowed Stephanie to bring a level of warmth and energy that text just couldn't do.
What other types of video do you use in community engagement?
Stephanie loves to use video as a way to celebrate milestones for the group. When they hit milestones of new members she does creative things with video. The first time they hit a major milestone she had a member that helped hit the threshold record a video that she shared with the group. She helped the person incorporate best practice and record a good quality video and helped them feel comfortable with it. When they hit another milestone Stephanie had members of the community record testimonials of their experience in the group and she put all the testimonials together. The most recent milestone she screamed from the rooftops what number of Elite members they hit.
IMPACT Elite Updates
Stephanie talks about how she uses 1:1 video for her 60 second recaps and how it's one of the best things that has happened for the group of subscribers. She chooses to use Vidyard's GoVideo for the 1:1 videos because it's fast and convenient and doesn't involve setting up video equipment - she does it right from her computer. She also uses it because it has analytics and can show her how many people are watching, how much they're watching and what videos resonate and which don't. This is how she can measure what's working and what isn't. She created the 60 second recaps because people in the group gave her feedback that they wished there was a way that they had a once a week resource to go to in order to catch up with what had happened during the week so they could quickly get up to speed. Rather than having to go back through all the activity (and there is quite a bit of activity). IMPACT did something similar in the past that was text based and more highly designed, but she's taken a more conversational route and include video which has helped engage the community more.
What are the responses Stephanie gets with video
Stephanie gets a good amount of response when she includes video in the group and in email. Most of the responses she gets are people saying "I love this!" "I'm going to copy and do this" or asking her how she does it because they want to. She has yet to get anyone saying that she uses too much video.
Any Advice For People Getting Started With Their Company Social Page And How They Can Incorporate Video?
When it comes to addressing trolls, spam and rules in your group - essentially the things that seem harder to do within your community use video to do it. You can convey a tone in video that you just can't with text. It allows you to show sympathy and tone that people will more easily be able to connect with. Using video also allows you to build trust and a tone that people can understand more easily. Don't be afraid to make more than one video. Pin your welcome video and then direct them to your rules and do another video for those.
What Advice Would You Give People To Keep Their Community Valuable and Objective- Not About Selling Services
Do a poll for your group. It will allow your community to give you feedback on what they want to learn about and what they are struggling with. You want to make sure do a poll where people can select answers - it makes it much easier for people than asking them to type out their answers. Use the poll results to guide your efforts. If there is a moment where you community isn't as engaged as you had hoped for don't feel the need to fill it with your expertise or services. Instead, find someone in another community who is an expert, or your own community and have them share something they know. Don't feel like you have to step in as an expert and provide things to keep the conversation going.
Those That are In Charge Of Their Company Page Should They Put More Time In To A Group Or Community?
It depends on your industry. A community can be a great way to grow your group and for people to rally around what you do. Even if those people aren't a great fit for your company or services they still can find value in your group and become a great advocate for your company and word of mouth referral. If you're in an industry that is B2C your page can still be really important. If you're a restaurant or venue people are going to want to see pictures and reviews- in those situations pages are going to be more effective for you than a community. Other than that, you should go for community over page.
Would You Give The Same Advice For LinkedIn company pages and groups?
LinkedIn has been bringing in more posts from groups into feeds. Group members can get notifications. It's really tough to overcome the inherent stigma that LinkedIn groups have - which is that they are pure spam and promotional content. It's not to say that someone can't create a vibrant group but you'll have to battle to prove it's not going to be spammy. LinkedIn pages are things people struggle with most. LinkedIn is primarily a place for people to talk about themselves. It isn't a place for companies to do great things. At the end of the day, you have to figure out where your audience is going and be active there.
Rapid Fire Questions - What You Like Or Don't Like When It Comes To Video Functionality On Social Platforms
Facebook - Their video functionality differs from page, group to personal - which is hard to keep up with. (Zach's biggest frustration you can't add captions to video on a personal page.)
LinkedIn- There is a video limit of 12 minutes.
Twitter - The second you post it, it's gone.
Instagram - Stephanie likes Instagram video - no negatives (Zach mentioned the lack of linking, unless you can swipe up or you're paid).
Snapchat - Fastest way to send video to multiple friends at once. But changes they made with stories, feed and being able to watch other peoples videos on demand haven't helped make it a better platform, in fact Stephanie feels as though she doesn't look at the feed or other peoples stories anymore unless they are sent directly to her.
How similar are Instagram stories to Snapchat- similar. Instagram stories can be customized more and make them interesting. For snapchat it's expected that it's way more casual. Instagram stories have gotten so polished, Stephanie talks about how it's become intimidating to put up a story that doesn't have all these animations, location, tags, etc included.
What Are Your Future Plans For Community Engagement And Video
More video everywhere. Stephanie wants to work on integrating video even more and to get more members of the community using video to post and respond to posts. Stephanie has seen that some questions that are posted within Elite get misinterpreted and that people have to ask clarifying questions whereas a video might help overcome that. Stephanie is also working on an advocate community which is called Insiders. It's a place where Elite's biggest fans come to share content and get rewarded. She hasn't done much with video there, but thinks a welcome video and videos explaining how to do things will be her next focus.
If you're interested in learning more about how to better your community engagement skills check out Stephanie's Guide To Online Community Management.
If you want to connect with Stephanie you can do so here.
We'd Love To Hear From You!
First, subscribe to our Film School For Marketers Podcast.
Second, leave us a review on iTunes or share the love with fellow marketers and sales professionals who could benefit from our content.
Lastly, have a question or idea for a future episode? Let us know!
Join the IMPACT coaches for a deep dive on a new topic every month in our free virtual event series.
Register Here
Join the IMPACT coaches for a deep dive on a new topic every month in our free virtual event series.
Published on April 30, 2019