HubSpot adds new team permissions on dashboards for enterprise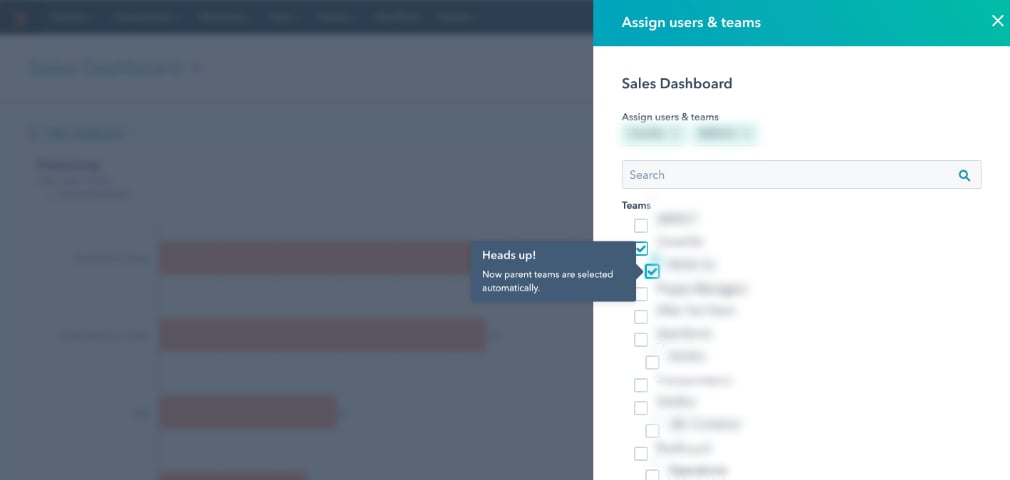 Attention all HubSpot marketing, sales, and service portal administrators!
If you have had trouble with assigning user permissions for dashboards easily for your teams, this new HubSpot update is one to definitely check out. HubSpot has updated its permission settings for dashboards so that you are now able to give permission to a specific user, an entire parent team, or a child team.
If a child team is selected, the parent team will automatically be added ensuring that parent teams can see all the dashboards that are visible to their child teams.
This feature is live for all enterprise-level portals.
Better permission settings with teams
HubSpot allows you to set up specific teams in your portal that group users together if they are on the same team. This feature, which you will find in your Users & Teams setting also allows you to create parent and child teams. The benefit of this is you will be able to create a team structure similar to your organization.
🔎 Related: Who on my team needs to know how to use HubSpot?
For example, if your sales team is broken out into different regions, you can have a parent team called "Sales" and then child teams based on the regions, "East Sales," "West Sales," etc.
Once these teams are set up in HubSpot, it is easier to do things like give permissions to the team, or filter out assets created by the team members like emails.
With the newest update to dashboards, HubSpot is now bringing this feature to dashboards and making it even easier for you to set dashboard permissions by teams.
🔎 Related: Top HubSpot portal organizational mistakes (and how to fix them)
In order to set these permissions on the dashboard, you will need to go to your dashboard, select the "assigned" button on the top right, and edit access. From there, you will be able to select "specific users and teams" and choose which teams have access.
Using team permissions in dashboards
Having team permissions in dashboards in HubSpot has two big benefits. '
First, it allows you to give a group of users access to specific metrics and dashboards in the portal that you might not want others to see. This could be like when working with partners in your portal and you only want your internal team to see revenue numbers. This setting makes it easier to create a dashboard, and quickly sign it to your internal teams only.
Second, team permissions in HubSpot dashboards also allow you to be able to make sure that people who are part of a specific team are not bogged down by unnecessary information. For example, it is easy to start creating tons of dashboards in HubSpot. You can have team specific dashboards, funnel specific dashboards, and the list goes on.
Assigning dashboards to a specific team and or user will also make it easier for the person on that team to just see the dashboards and information that pertains to them. With many filtering options in dashboards and different types of reports you could be featuring, this helps ensures that each user is looking at the right information.
What's next?
If you are looking to take advantage of the team feature, head over to your users and teams settings page and select the "teams" tab. Here you can start adding or editing your teams in your portal.
To assign specific permissions on dashboards, head on over to your dashboards and change the "assigned" settings for each dashboard you are looking to change.
Free Assessment:
How does your sales & marketing measure up?
Take this free, 5-minute assessment and learn what you can start doing today to boost traffic, leads, and sales.