11 marketing objectives examples to guide your next digital strategy meeting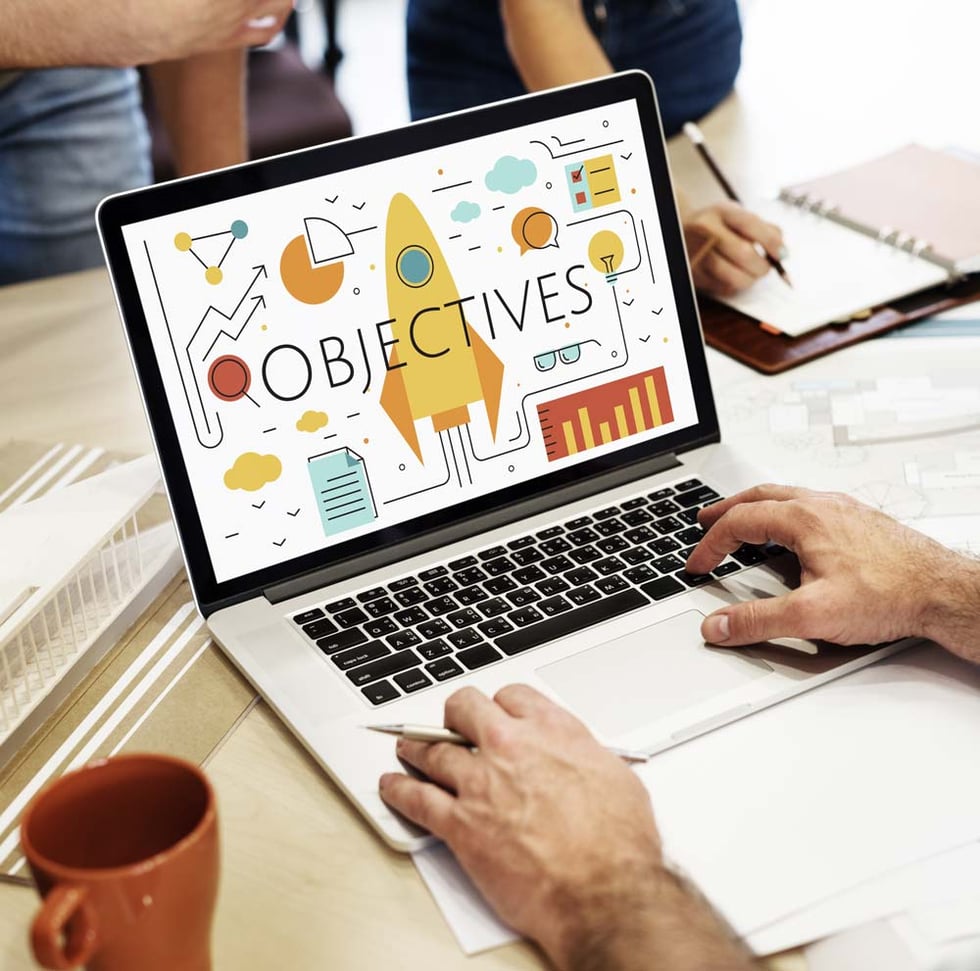 VP of Services, 8+ Years of Client-Facing Project Management & Digital Marketing Expertise
November 25th, 2019 min read
If you haven't started planning for 2020 and your digital strategy yet, chances are you will be very soon.
At this time of year, not only is everyone busy planning for the upcoming year, but the holiday season can mean increased demand from your job and time with your family.
One thing that may be on your mind is your marketing objectives.
So, as the snow begins to fall (at least here in New England), use this list to help you determine how to measure your success in the new year with the right objectives and KPIs.
Working with hundreds of companies over the past ten years, we've found that these are the best marketing objectives examples that align digital strategy with the rest of the organization's goals — and actually make an impact on the business.
First off, what is the difference between an objective and a KPI?
Before covering the examples, this question needs to be addressed. Some say objectives and key performance indicators (KPIs) are the same thing, others do not.
We're the latter at IMPACT.
Of course, an objective can and will vary depending on what your company is trying to achieve (and how quickly), but, in general, here is how we define objectives and KPIs:
Objective - the state you're trying to achieve
KPI - measurable metric to know if you are on track to achieve your objective (often multiple KPIs contribute to one objective)
For many small businesses (SMBs) we work with, the objective their digital strategy should be focused on is revenue driven by marketing.
Revenue is the lifeblood of every business, so with an SMB, the marketing objectives should be closely aligned to the organization's objectives in order to achieve results in the leanest way possible.
Larger organizations with larger audiences, more marketing team members, and bigger aspirations still need to focus on driving revenue for the business, but they most likely also want to execute on broader brand objectives (around audience, engagement etc).
That being said, whether you're a large or small business, here are 11 marketing objective examples to inspire your digital strategy planning conversations.
Marketing objectives examples
1. Increase lead quality
This objective, though straight forward, is about increasing the probability of the sales team closing a higher percentage of deals.
The more quality leads you can attract as a marketing team, the happier your sales team will be.
Your KPIs for this objective should be focused around initiatives that define what a 'quality lead' is, or indicators on whether your efforts are working along the way.
Examples of related KPIs:

(Number of fit prospects) Marketing automation identifies correct fit prospects
Number of booked initial sales conversations
Number of closed deals associated with marketing
2. Shorten the sales cycle
It's not just up to the sales team to be more efficient or effective with their conversations, marketing can help shorten the sales cycle too.
Because modern prospects get so much information prior to talking with sales, it's marketing's job to deliver see consistent messaging, branding, and relevant materials to help them progress towards making a purchase.
KPIs for this objective can be focused on enablement materials. (Note: The They Ask, You Answer methodology is a great starting point for creating enablement materials that empower the sales team and shortens the sales cycle.)
Examples of related KPIs

Number of content pieces created to educate the prospect before sales convo
New product pages launched
3. Increase customer lifetime value
Focusing on increasing the average amount that each customer spends with you can not only provide more value to your existing customer base, but it can also be an easy way to impact sales with lower effort since the relationship is already built.
KPIs for this objective can be based around the activities you'll need to accomplish to re-engage customers with new products or new deals.
Examples of related KPIs

X attendees to client webinar
Percentage increase on average client spend
4. Reduce percentage of lost deals/sales
Though sales can certainly impact this objective, marketing can have a significant impact as well.
Marketing sets the tone for prospects coming to sales, and if marketing is not qualifying properly, or setting the right expectations, it will be nearly impossible for a salesperson to change course and still close the deal.
For e-commerce companies, KPIs may be be metrics or initiatives around reducing cart abandonment rates. For non-e-commerce, on the other hand, marketing can assist by updating website content or other materials that prospects see before talking with sales.
Examples of related KPIs

Decrease shopping cart abandonment percentage
Number of sales enablement materials and training launched
5. Improve awareness and demand around new products
If your organization is ready to launch or has recently launched a new product or service, aligning focus around promotion will be essential.
KPIs could pertain to social media, or the number of requests or opportunities that sales has in the pipeline related to new products.
Examples of related KPIs

Number of mentions of new product on social media
Number of opportunities created for new products
Number of impressions of a post on social media
6. Engaged audience
This metric is essential for larger brands, especially those that may report to a board or shareholders, as it's an indicator of longer term health.
Related KPIs should look at email metrics or social engagement to know if you're on track to having an engaged audience and to measure without paying for market research.
Examples of related KPIs

Number of email open/click rates
Number of social interactions and comments
Number of mentions on social media
7. Increased brand awareness
Again, this is something that a larger brand with subsets of marketing teams would focus on. Even they are not ready to buy in the moment, you want people to know about your brand and offering so you will be top of mind in the future.
Examples of related KPIs

Number of social mentions
Organic traffic
Number of clicks on paid media ads
8. Positive product reviews
Any brand, whether you're B2B or B2C, can benefit from product or service reviews.
Depending on your industry, you may have a particular platform that reviews have special importance, but no matter what, they're important.
This objective will certainly direct more business — the more positive reviews, the more likely others will find you through review sites.
Examples of related KPIs

Number of reviews in directory
9. Increase brand authority
With increased brand authority comes additional opportunities to engage audiences, and this, in turn, makes it easier to compete against other companies.
Of course, your product or services can make your brand the best X in the space, but what beyond that can you do to delight customers? Marketing plays a huge role in educating prospects, and this is your opportunity to put your stake in the ground.
Examples of related KPIs

Number of media interviews
Number of positive customer interviews
10. Launch product or service in a new market
Beyond "make more money for the company," you can get more specific with your objectives, like launching a product in a new market.
Examples of related KPIs


Number of products/service sold in new market by X date
11. Increase profitability
Marketing can play a huge role in increasing the profitability of the company beyond cutting unnecessary spending.
After defining what products or services are most profitable, marketing can put more effort into promoting those items, effectively driving more leads to the profit center.
Examples of related KPI


Number of new opportunities
Why is traffic alone not a good marketing objective?
Now that we've gone through these objectives, you're probably thinking — what about traffic?
Traffic is certainly something you should be tracking, but it is something that is more useful to marketing than the company as a whole.
Traffic should be monitored as an indicator of the objective's success.
For example, traffic can be an indicator of increased brand awareness, which leads to other successes. Traffic alone will not mean a lot to upper management or a board.
If the focus of the conversation is not on revenue or revenue-driven objectives, then you're not putting your energy into the right focus area.
At the end of the day, if you grew traffic but sales plummeted, no one would be celebrating marketing.
If marketing's primary role is to assist the sales team, then make sure your marketing objectives align with your sales objectives, and with those of the organization.
Happy 2020 planning!