Which HubSpot Marketing Hub Plan is Right for You? Free vs. Starter vs. Pro vs. Enterprise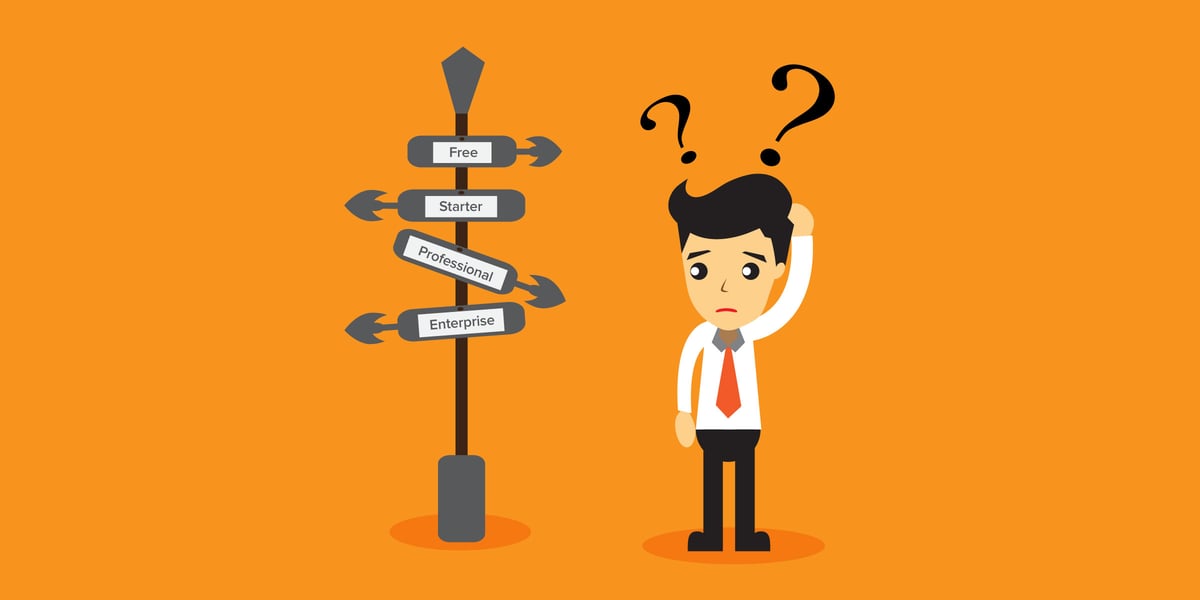 If you've been shopping around for marketing software, you've probably come across HubSpot, and it's no secret that we at IMPACT are big fans of it.
We use HubSpot's products and services just about every minute of every day, and are very familiar with its glories and shortcomings.
Every day, we talk to companies that are either shopping for a marketing platform or that have HubSpot and are considering upgrading to a new package.
Choosing the right HubSpot package for your company comes down to a few key factors:
your needs and goals
your budget
your commitment to growth
Before looking at the different features and costs of the different HubSpot Packages, take some time to think about what problems you're looking for HubSpot to solve. Then, think about what your goals are for your marketing over the next year.
Lastly, think about your commitment level to inbound marketing. Are you new to inbound? You may see all the features of Pro and think, "Wow! Look at all the things I could do!" but are you at a point where you could practically utilize all of the features it has to offer?
Use that as a frame of reference as you look at different packages. Ask yourself - will these features help solve my marketing problems? Will these features allow me to meet my marketing goals for this year and beyond? Will I actually be able to use all of these features?
Below, we've listed the essential features of each of the HubSpot Marketing Hub plans, as well as who these plans tend to be best suited for. Base your decision on them and the information above, and you'll be in great shape.
Not totally sold on HubSpot yet? Check out our Ultimate List of HubSpot Pros and Cons.
HubSpot Marketing Hub Free
In 2016, HubSpot released its Free plans and has continuously expanded them since releasing the Sales and Service Hubs. This makes getting started with HubSpot and inbound marketing accessible to everyone as you don't need to have a paid license to start implementing the methodology for your organization.
What do you get?
As can be expected, the Free HubSpot plan is just a small taste of what HubSpot's marketing software can do — but it's a great one.
With Free, you get access to tools like marketing emails, web forms, drag-and-drop landing pages, live chat, paid ads management, and the free CRM (contact management tool).
While you'll quickly find there are limitations to your use of each of these tools at the Free tier (for example: limits on paid ad spend, limits on how you can manage your live chat, etc.), there's enough there for you to start generating and communicating with leads on from your website.
Note: All of your marketing assets created with Marketing Hub Free will have HubSpot's branding on them. Many companies choose to start with Starter at $50/mo just to have that branding removed.
Who should use HubSpot Free?
Marketing Hub Free is great for anyone who is completely new to HubSpot, marketing automation software, or inbound marketing in general. If you're just dipping your toes in the water with inbound marketing, this plan is easy-to-use and painless to set up.
It also allows you to get familiar with HubSpot without diving into a bigger, more expensive package or overly-sophisticated features. With pared-down functionality, you'll be able to experience the power of inbound without being overwhelmed by all of the different features of one of the higher HubSpot tiers.
Once you've seen the power of what even simple applications of HubSpot can do and are ready to do more, it will be easy and straightforward to upgrade to a higher tier, and you'll already be familiar with your HubSpot portal!
HubSpot Marketing Hub Starter
What do you get?
HubSpot Starter offers a much more robust suite of features than the Free package.
HubSpot Free focuses on one very specific aspect of inbound marketing: getting you started with collecting leads, but after that, there's not much more you can do with it.
Each of the next HubSpot tiers gives you additional tools and features to actually communicate with, organize, and nurture these leads.
Without going into the specifics of all of the different features that each tier has (you can do that here), it's important to know the major differences. You get a lot for $50/month with Marketing Hub Starter.
You get the HubSpot branding removed from any free assets you've created and you can start doing automated follow-up emails after leads submit a form.
Just like with Free, Marketing Hub Starter has some great features to get your inbound marketing program up and running, but the biggest thing you need to know is what you don't get with these plans — automation (Workflows), analytics, and custom reporting. We'll talk about that later.
Who should use HubSpot Marketing Hub Starter?
Marketing Hub Starter is great for a small company with a limited marketing budget.
You'll get a ton of features without breaking the bank, but also have the reports to show your supervisors the ROI that you're getting with HubSpot if you're at the point where you want to upgrade and need a bigger budget to work with.
If you have a small number of leads coming in through your website each month, and you have enough people-power to follow up with them individually, you also probably won't have a lot of need for the automation that Pro and Enterprise give.
Overall, if you're not ready to make a significant financial investment (Pro starts at $800/mo), Starter will allow you to set up all of the basic assets for your inbound marketing campaigns.
HubSpot Marketing Hub Pro

What do you get?
While Free and Starter have some great tools, the functionality gap between Starter and Pro is significant.
The majority of companies that we work with choose this $800/month package. You get everything that Starter has to offer, plus some major features that we mentioned earlier, including automation, analytics, and custom reporting.
Any organization that is looking to scale its digital marketing program needs both the ability to automate manual processes and the ability to report on what is and isn't working.
Workflows are HubSpot's automation engine, allowing you to trigger internal and external actions based on various contact or company criteria. If you really want to make HubSpot work for you rather than you working in HubSpot, this automation is key.
You can create email nurturing workflows that are triggered when a visitor becomes a lead or takes a specific action (i.e. not opening your email, downloading another offer) that send emails in sequence without you ever having to do a thing.
With analytics and reporting tools, you can track your website visitors from the moment they land on your website until they convert on a web form and beyond.
Custom reports give you the ability track the data that's important and unique to your company.
While these tools are enough to make Marketing Hub Pro a great investment, this plan gives you a slew of other tools to run your marketing campaigns like blogging, account-based marketing tools, social media, video hosting, campaign reporting, and SEO.
Who should use HubSpot Marketing Hub Pro?
The features mentioned above aren't the only features that Pro has to offer above Starter, but we think they alone make Pro the best choice for any company that is serious about going all-in with inbound.
Even if your marketing department is small, Pro can be a great choice because of the benefits of automation. One person can create nurturing workflows, follow-up emails, and other automated processes that allow them to do the work of three or four people at once.
For this reason, Pro is a great choice especially if your marketing budget is tight. With automation, you'll need less man-power to nurture all of your leads, which will allow your people to spend more time improving other areas of your marketing or website.
On a side note, if you're switching over from another marketing automation platform like Marketo or Pardot, Pro or Enterprise will likely be your best option.
HubSpot Marketing Hub Enterprise


What do you get?
We like to think of HubSpot Enterprise as Pro on steroids. This $3,200/month package is the deepest and most robust level of HubSpot you can get and is built for large marketing teams.
The additional features you get with Enterprise mostly center around managing larger teams with more sophisticated processes. For instance, you can create hierarchical teams and partition different marketing tools so users can only access the assets they need to.
Furthermore, if your company uses the Sales Hub, or you can import your deal information into the CRM, you'll be able to use multi-touch revenue attribution to see how your marketing activities are influencing closed-won revenue.
Last but certainly not least, Marketing Hub Enterprise gives you access to Custom Objects - a major feature that allows you to customize your CRM database.
Who should use HubSpot Enterprise?
You might be wondering why there is such a big price gap between Pro and Enterprise, and why these features would be worth the extra cash. Well, there's one big reason: contacts.
Each HubSpot plan has a contact limit (1,000 for Starter, 2,000 for Pro, and 10,000 for Enterprise), and an additional fee per 1,000 extra contacts you have in your database over your plan limit. (You can learn all about HubSpot's pricing here.)
If your company (no matter what size) has a large contact database that you can't whittle down, because the cost of contacts decreases as you increase your plan, Enterprise may be the most economical option for you.
If you're a large company with a large contact database and lots of leads coming in, things like custom objects, partitioning, and revenue attribution will be of great value, and HubSpot Enterprise will likely be the best option for you as well.
Making the decision
While choosing a HubSpot plan can feel daunting, the reality is that you can always start at a lower plan and upgrade any time.
So, if you're not sure if you'll need the features that Pro or Enterprise have to offer, don't be afraid to get going with Marketing Hub Starter and let your HubSpot portal grow as you go!
We hope this summary of the HubSpot Marketing Hub plans has been helpful in making your decision. If you're still not sure which plan is best for your company, HubSpot's sales team is well-equipped to walk you through the process as is IMPACT.
And, if you're still on the fence about whether or not to even go with HubSpot as your marketing automation platform, check out our Ultimate List of HubSpot Pros and Cons.
Free Assessment:
How does your sales & marketing measure up?
Take this free, 5-minute assessment and learn what you can start doing today to boost traffic, leads, and sales.