YouTube Analytics: 5 Youtube Metrics You Need to Track to Measure SEO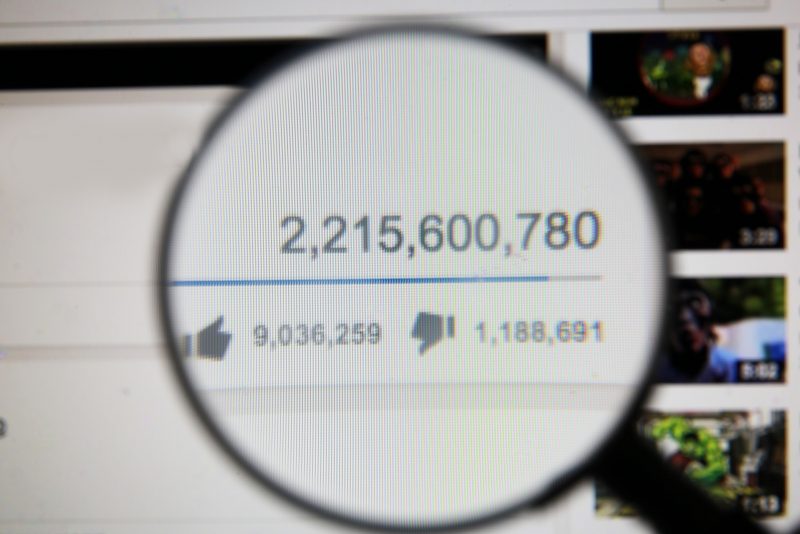 So you want to improve and grow your channel, but you aren't necessarily sure how to report on that progress or improve your YouTube SEO strategy.
It can be confusing looking at all those charts and numbers and percentages, right? Which ones truly matter anyway?
In this article, we're going to simplify some of the most important metrics to track, how they relate to YouTube's algorithm, and where you can find the information.
Lastly, I'll tell you the most important tip for making successful video content that many are missing the mark on.
But first..
Why is YouTube video SEO so important?
Since the emergence of YouTube in 2005, our lives have been vastly improved by cat videos, lip-syncing ballads, and Taylor Swift music videos. Or maybe that's just me. At any rate, YouTube's user base has grown to about 1 billion users and reaches more 18-34 and 18-49 year-olds than any cable network in the U.S. on mobile alone. This makes it a very legitimate place for businesses to reach their customers.
Don't believe me? Let's look at the numbers below and see why businesses need to be using YouTube today.
(Source: https://www.brandwatch.com/blog/36-youtube-stats-2016/)
Pretty compelling statistics, but what do we do now?
We know that if we use the proper strategies, we can reach a large audience that is ready to consume our content. We also know that the YouTube algorithm will help us out if we're willing to play ball.
It's important to keep tracking our progress as we do tests, upload new content, or possibly even grow a YouTube series.
The following are the ranking factors by which we measure the video marketing success of our clients as well as our own efforts. While we do pull in some quotes or statistics from other sources, these are methods of measurement we actually use, and they work.
#1 Views
This is the most popular "vanity metric" for obvious reasons. To put it another way, If I asked you to tell me how well your newly published book was selling, you would most likely tell me total book sales.
Total views are simply the sum of all video plays. This includes plays on YouTube, embeds on different websites, and plays on social platforms. It doesn't specify the length, just that it was played.
Total views will be a good performance metric provided you are reaching the right audience, and you are seeing good engagement and conversions. They also have a strong correlation with search rankings.
A high organic view total means you've done a good job promoting the video and optimizing for search and suggestions. It also contributes to other performance metrics which we'll talk about momentarily. Views alone aren't an adequate sign of success, but obviously quality content should garner the attention of many in your audience.
Apart from organic views, you can also pay to promote your content. Which is a good move for brands and businesses who see opportunities to target their customers on the YouTube.
You can find your "Views" in the YouTube Analytics Dashboard as pictured below.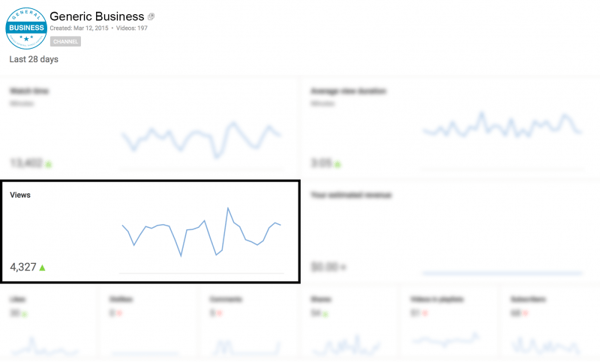 I mentioned ranking factors impacted by total view counts, let's examine those next.
#2 Watch Time
More important than total views is total watch time. Watch time is the amount of time a viewer spent watching your video. Total watch time is one of the many metrics that YouTube is looking at when suggesting content. The algorithm ultimately favors content that leads to a longer watch time over content that simply gets a lot of views.
From YouTube:
"The idea behind the algorithm is that viewers can see more enjoyable content suggested to them, and creators can cultivate more engaged audiences."
At face value, Watch Time is just the amount of views multiplied by the average view duration.
Watch Time = Views x Avg. View Duration
Seriously, go check your analytics and do the math. But YouTube is actually talking about more when they say how important "Watch Time" is.
To break it down to a fundamental level YouTube is saying "We're going to favor content that keeps people on YouTube."
The name for this important ranking factor is Session Watch Time.
Each time you get on YouTube, you are starting a new session and their goal is to keep this session going as long as possible.
Surely, you've never spent long periods of time on YouTube, have you? Of course, you have. Those Carpool Karaoke videos are so good! Who could blame you?
There are three phases of your session to make note of:
Session start (the video your viewers start on, hello YouTube)

Session duration (the amount of time spent watching consecutive videos

)

Session end (the video your viewers end on, bye YouTube)
If your videos fall anywhere between the start and duration phase, you get credit for the rest of the session. This contributes to your Watch Time "street cred" and therefore YouTube will suggest your videos again. And hopefully many times after that.
You can find your "Watch Time" in the YouTube Analytics Dashboard as pictured below.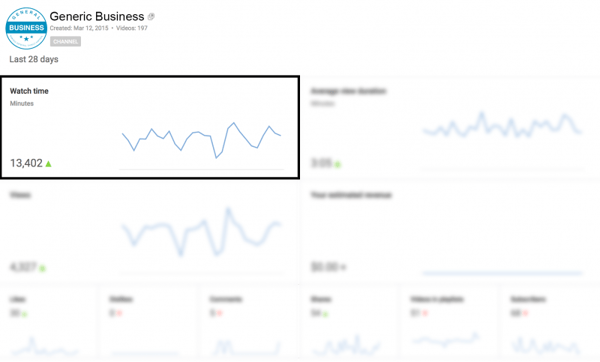 #3 Audience Retention
As I mentioned above, the second contributor to overall watch time is the average time a viewer watches your video. If your video is short, it might be easier to increase this metric, if it's longer than you might be able to increase your channel watch time.
Being able to step back at look at your content objectively is important for overall retention. Are you making the value of the video clear and quick? Many of the most popular YouTubers will note that they present a teaser within the first 5-10 seconds. This grasps viewers attention and gives them a reason to stick around.
What we're looking at here is:
Average view duration for all videos on your channel

Top videos by watch time

Audience retention data for a specific video for different timeframes

Relative audience retention for a video compared to the YouTube average for similar videos
Ultimately, all of these factors will help you make some decisions to improve your Watch Time.
You'll be looking for answers to questions like:
Which videos are keeping viewers attention the longest? Why?

At what point are viewers ending the video? Why?

Views are ending quickly. Are our title and thumbnail not reflecting the video well?
You can find your "Average View Duration" in the YouTube Analytics Dashboard as pictured below.

#4 Search Rankings
So far, we've covered ways of measuring the performance of your videos in suggested results. Now, we move on to search rankings.
We know YouTube looks for at least 5 components when fetching search results:
Title

Tags

Description

File Name

Playlist
Out of these 5 components, we want to look at tags most closely when analyzing our video SEO. They are the keywords that you want to rank for in search.
Using a free browser plugin, like TubeBuddy or vidIQ, you can easily see where you rank for a term. Additionally, you can see where your competitors rank for the same term. As you continue to test your SEO, you can always come back to your tags, and see how you're performing for that term.
As you begin to plug and play with different tags, you'll start to see how well your videos perform for different search criteria. For instance, your video may rank better for "best books for high school students" over "literature for teenagers".
Remember, your tags are simply terms that you want YouTube to look at your video for, it doesn't mean it will automatically rank. You'll need to be looking at our other factors above like views, watch time, and retention to improve your rankings
You can find your "Tag Rankings" using the TubeBuddy Chrome Extension as pictured below.

#5 Engagement
How much engagement have you gotten on your last 10 videos?
Better yet what would prompt viewers to engage with said videos? While a whole gang of likes won't necessarily lead to a sale, they are very important to the success of your videos.
In a recent study in which 1.3 million YouTube videos were analyzed, results showed that video likes and comments had a significant impact on search rankings. As with many social media platforms, YouTube wants to see engagement signals with your videos, so this is really a proper metric to focus on moving forward.
To meet the goal of ongoing engagement, it's best to prompt viewers to engage by simply asking them to. You may choose to just ask for a thumbs up if they agree with something you said in the video, or ask your viewers for their input on something.
Examples:
Which version of Grilled Cheese do you like better? Comment "a" for Cheddar or "b" for Swiss.

What do you think of the new iOS update? Have you had any issues?

When it comes to using social media automation in HubSpot, what's the most useful feature for your business?
By simply prompting viewers to take action, you can quickly improve your engagement rates, and therefore show YouTube the value you present to your audience. This is a good performance metric to track and optimize for because it helps your videos get suggested.
Fringe benefit, you actually connect with your audience. Now doesn't that feel good?
You can find your "Comments, Likes, Dislikes, and Shares" in the YouTube Analytics Dashboard as pictured below.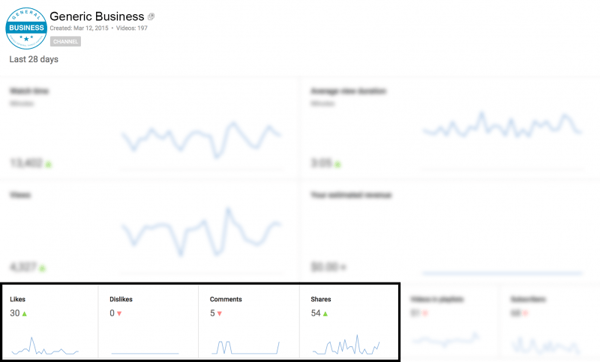 What's the most important tip for YouTube Video SEO?
Using all the metrics I've mentioned above, you'll be able to effectively track your results, and optimize the SEO of your videos. Also, YouTube's algorithm will continue to help you along - as long as your videos keep viewers watching. However, more vital than any amount of optimization is creating quality content.
Video content that adds value, solves a problem or otherwise stimulates and captures the attention of viewers will always reign supreme. Remember, no amount of measurement or analyzing can fix bad content.
These metrics, however, should expose which videos need improving, and they will continue to poke holes in your content, showing room for improvement.
At IMPACT, we use these metrics to show our clients how to examine their videos objectively. Quite frankly, not all video content is created equal, and in order to experience massive success with YouTube's algorithm, you've got to know the steps to take and what to watch for.
Have questions about the algorithm or need help getting to some of these numbers in YouTube? Jump in the conversation in the comments section below.
Free Assessment:
How does your inbound marketing measure up?
Take this free, 5-minute assessment and learn what you can start doing today to boost traffic, leads, and sales.
Get Started
Free Assessment:
How does your inbound marketing measure up?
Take this free, 5-minute assessment and learn what you can start doing today to boost traffic, leads, and sales.
Published on April 3, 2017