How to Add Video to the Sales Process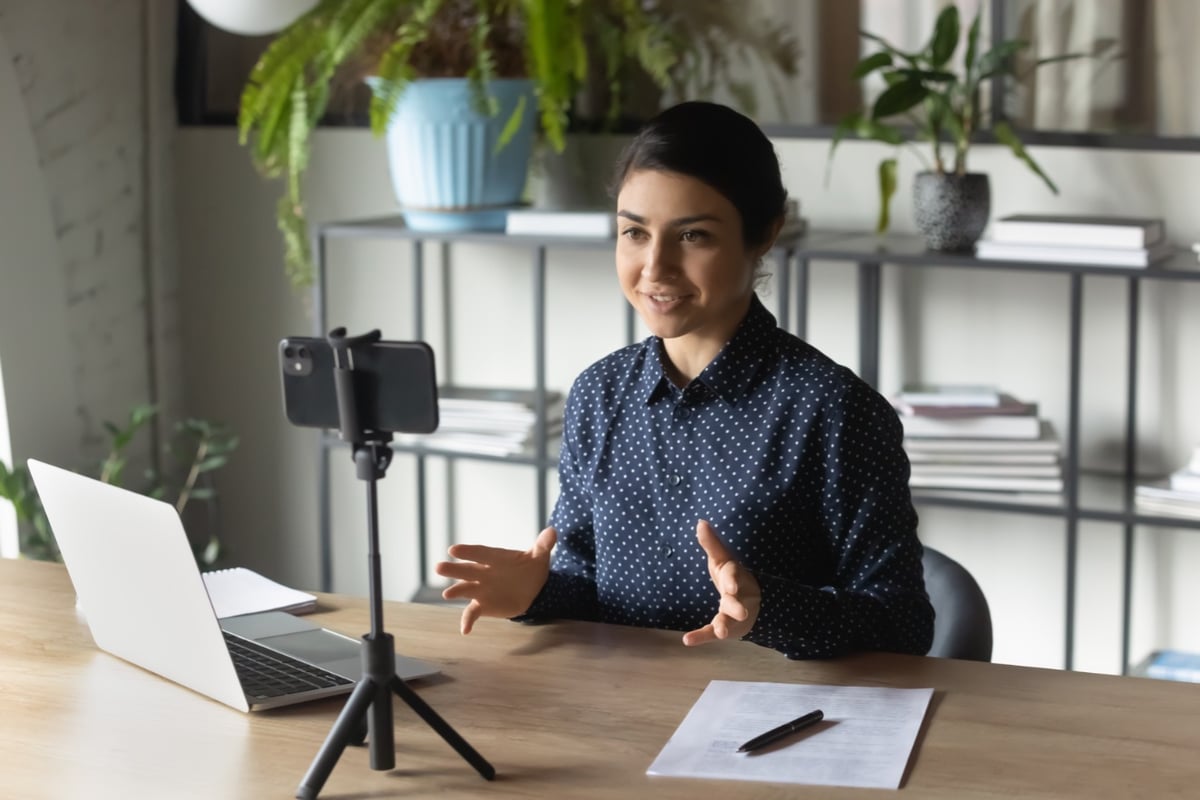 As sales teams race to add videos to their sales processes, they've helped spark a 135% year-over-year increase in the number of videos businesses shared last year. And the results for businesses are promising. When used effectively, sales videos can prepare leads for sales, build trust, incite action, and save your sales staff time.
Ready to start embedding video into every step of your sales process? We've laid out exactly how to create sales videos and use them to lift your business' sales.
What are the benefits of using video in the sales process?
For business leaders looking to spark more sales, video is one of the hottest tools out there. Video is an easy, natural vehicle to deliver messages in a quick, direct way.
Here are a few things you can accomplish by adding videos to your sales process:
Save time.
Increase open rates.
Reignite cold leads.
Introduce yourself before meetings.
Weed out disqualified leads.
Convert more leads into sales.
Beyond those immediate advantages, video is also a natural way to implement the They Ask, You Answer marketing philosophy, where you anticipate and answer questions for potential customers, build trust, and get prospects to come to you for more business. Ultimately, video is a tool to deliver value to a potential customer, and that method can skyrocket sales and improve the sales process.
🔎 Related: Wait, What is They Ask, You Answer?
How to use video with sales
The first step toward seeding video throughout your sales process is identifying where to add it to get the biggest bang for your buck. As you start searching, take these steps:
1. Understand your full sales process
Start by mapping out your entire sales process. Sketch out every sales touchpoint and every step your customers face as they journey toward a sale.
2. Recognize your biggest sales pain points
Once you've mapped out your sales process, figure out what's hurting the most. In most cases, the biggest gripes you're hearing from the sales team will point out the perfect place to start using video.
Let's say your sales team is hitting it off with leads, but they're having problems convincing the decision-making team. Create videos that leads can pass on to higher-ups that explain your process and solutions or help your leads understand the benefits of working with you more clearly so they can better explain your offerings to others. Regardless of how you use video, your pain points will provide tips on where to start.
3. Gather team feedback
Chances are you have more than one person doing sales. That's why it's important to get a unanimous agreement from your team on what your sales process looks like. Everyone has a different experience, and more input means a better chance of uncovering the most important pain points hitting your sales team.
4. Determine the defined scope of information
Next, assess what information is essential for customers. Ask, "What does a customer need to go from that first introduction to a sale?" For instance, maybe your lead needs to know about three main benefits before they start considering your product. Perhaps after that, they must know how your company's costs compare to the competition's, and then they need to learn how to sign up. Map out every step and every instance they interact with your sales team to assess what information leads need to make a purchase.
5. Select the right order to deliver information to leads
After you've identified the information you need to land a conversion, determine what the right order is to go from lead to sale. Auditing your processes will reveal information gaps as well as opportunities for more clear messaging. For instance, you may find a disqualifying question is already baked into Step 4 of your process. By bumping that question up to an earlier stage, you can weed out leads that aren't right up-front — saving your team hours.
6. Identify the best place to start adding video
Not sure where to start adding video? Dig into those sales pain points. Sales struggles vary, but 99% of the time your biggest problem will be the biggest opportunity for sales videos benefits. For instance, your team may be frustrated that leads are constantly coming to them underqualified.
The answer?
Level leads up with video. Dig into the information the lead is missing and start launching campaigns that feed the missing story to them in easy-to-digest videos.
🎓 IMPACT+ course: Video sales and marketing strategy for businesses
How video improves your sales process
When used right, video can solve the biggest problems in your sales processes. How? Nine times out of 10, you'll find that video solves the majority of your sales problems in one way. It provides the content that leads need to stay engaged with your product or service. According to Wyzowl, 94% of video marketers say video has helped users understand their product or service better.
The result?
By educating potential customers about a product or service up front, you break down resistance, empower them, and build trust. For instance, you may lay out a benefit they didn't understand, or answer a question about your business's cost structure that a lead simply didn't have time to ask. By providing educational video content, you make it easier for prospects to say "yes." All the while, your sales team will be saving time by not having to address the same questions over and over – freeing them up to do what they do best: close.
Video examples by sales stage
To squeeze the most out of sales videos, you'll want to know what tools you have at your disposal. The most effective sales videos aren't simple catch-alls that broadcast general messages. They're sharp and pointed and serve a clear purpose.
Here are examples of sales videos that you can use, broken down by sales stage.
Stage 1: Prospecting
In the prospecting stage, you can create 1-to-1 prospecting videos or 1-to-many prospecting videos. Unless your prospecting strategy is a true numbers game, we recommend making videos as personal as possible at this stage. This is a great opportunity to reward your prospect with a free walkthrough or a bit of advice. Just remember to lay out a clear call-to-action, so the prospect knows what to do next.
Here is a prospecting video from Vidyard that shows how to tailor the sales process to your lead's needs:
Stage 2: Assignment selling, inbound lead stage
Chances are, if you're familiar with the They Ask, You Answer approach to inbound and sales, you know all about assignment selling or inbound lead selling. In this stage, you're giving people content that adds value to their experience. Here are some types of videos that are popular at this stage:
Sales

process explainers

that describe what's coming next in the sales process.

Pre- and post-meeting videos

that deliver critical information or next-step instructions.

Team introduction

or handoff videos that introduce leads to your team or new contact within the team.
"80% videos" that cover the info that comes up in the majority of your sales interactions.
Here's an excellent example of an 80% video by Descript that answers questions for leads and breaks down common benefits for customers:
Stage 3: Closing the deal
The deal-closing stage is what your efforts are all about. If you're not closing, all is for naught. Videos in your deal-closing stage explain the purchasing process and eliminate any barriers keeping your leads from saying "yes." Here are some examples:
Proposal walkthrough videos that break down contracts or other closing steps.
Benefit-filled videos that a lead can pass on to other decision-makers at the company.
Stalled opportunities videos that invite cold leads to reconsider your business.
Here's a solid example from the Applied Educational Systems (AES) pricing page. This is great because it clearly breaks down costs in a single video that leads can easily pass on to other decision-makers at the company: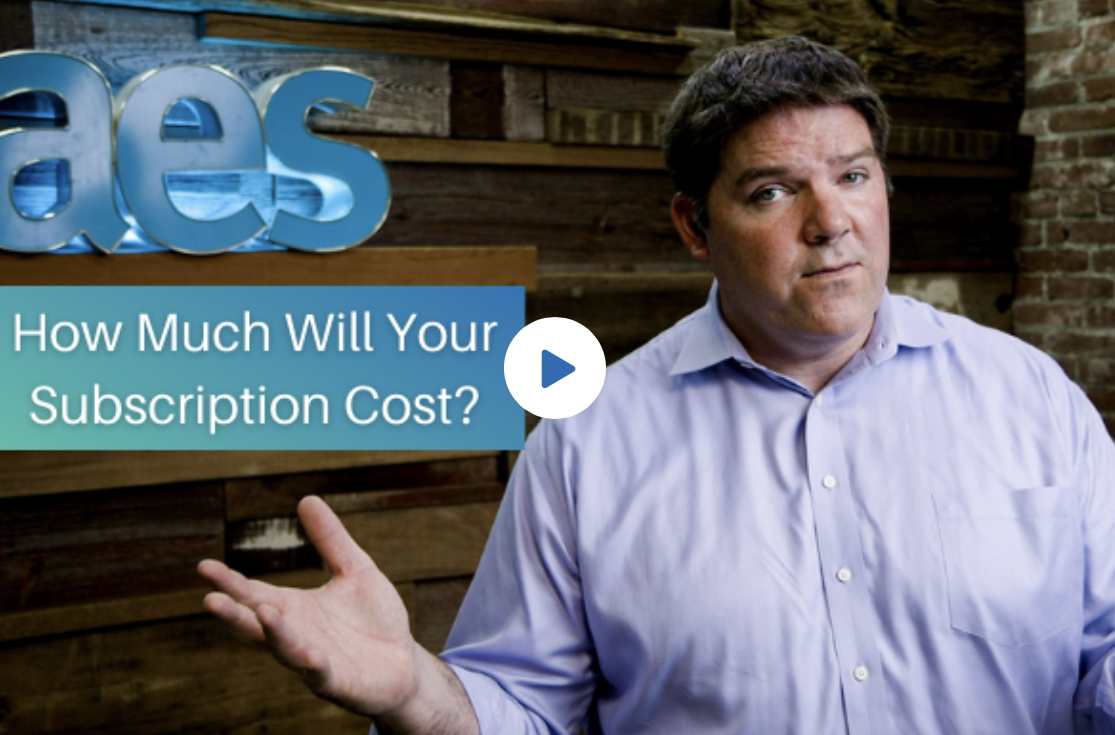 How to produce quality sales videos
Let's start with the bad news first. If you're producing grainy videos in dark hallways, your sales videos probably aren't going to land. The good news? It doesn't take professional video equipment or a makeup artist to produce quality sales videos. Just follow these quick best practices to produce sales videos that convert:
Start practicing now. The sooner you get started, the sooner you'll become an on-camera star.
Smile before the camera comes on. This may seem like a small thing, but when the camera starts rolling, you'll look

natural and friendly.

Always look into the camera lens. Especially if you're recording on your computer, it can be tempting to look at your screen. Instead, looking into the camera will mimic eye contact and

come across as more genuine.

Prepare, but don't over-practice. If you're reading off a script, you'll come across to viewers as robotic and inauthentic. Always try to avoid memorizing words, and focus on meaning instead.
Bright lighting is key. You don't need professional equipment to create a bright,

pleasant video stage

. In most cases, direct light or an open window will do the trick.
🔎 Related: 13 video marketing tips for creating more professional video content
How to create engaging sales video content
Quality production will keep watchers from being distracted, but the content you produce needs to be compelling if you want to land your message. Here are the secrets to creating engaging sales video content:
Get to the point: Always try to deliver messages quickly and effectively. It's a good rule of thumb to state your purpose and give a promise statement in the first 15 seconds.
Keep it short: According to a Vidyard report,

58% of viewers watch

60-second business-related videos to completion. If it's longer than 20 minutes, just 24% of viewers stay through the end. That's why it's a good idea to keep videos brief and pointed.
Watch your own videos and adjust: Remember, you probably won't be an on-camera star right away. You'll get better the more you practice, watch yourself, and adjust.
Start using video content and boost sales
Want to become a sales video expert? We have resources to help you lift sales with video content. Check out these IMPACT+ courses for insider tips on creating video content:
Free Assessment:
How does your sales & marketing measure up?
Take this free, 5-minute assessment and learn what you can start doing today to boost traffic, leads, and sales.