Personalized Video Marketing: How To Turn Leads Into Customers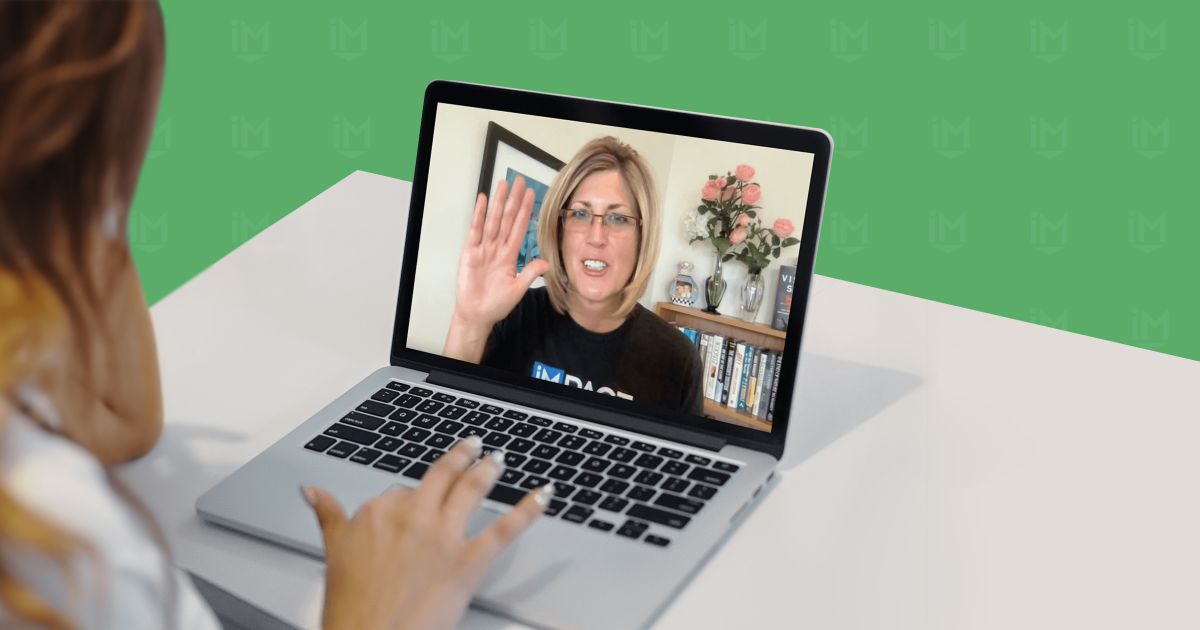 Everything is going according to plan.
Weeks ago, your marketing team put together several premium-level resources to attract good-fit leads to your site. That content (which could be a guidebook, white paper, template, or ebook) now lives on a landing page behind a form. This way, your company can capture the contact information for those site visitors ready to hand over their email addresses to access it.
Now, your marketing efforts have paid off. The visitors are pouring in. They're finding your content and filling out your form. They're getting full access to the content.
Everything that's happened up to this point has been inbound marketing 101.
So, what comes next? How do you smoothly turn that lead into an opportunity for your sales team? How do you move them forward without a pushy sales pitch or tone-deaf nurturing campaign?
These leads are at a critical point — somewhere between marketing and sales — and how you treat them will have a huge impact on what they do next.
Personalized video content can be the perfect strategy to engage and educate your prospects, building trust and establishing a relationship that will be critical for a potential sale in the future.
But there are many ways to do it wrong.
Below, we'll share with you some of the lessons we give our clients to improve their sales process and ease the transition from marketing to sales. We'll cover:
Personalized video marketing overview
Tools to use for video marketing outreach
Some big time dos and don'ts — with examples
Let's dive in together.
Personalized video marketing: An introduction
At IMPACT, we teach our clients to utilize video as often as possible.
In marketing, this means producing video content to educate buyers about who you are and what you sell. This includes a YouTube channel, landing page videos, product and service page videos, and more.
In sales, this means sending prospecting emails with 1-to-1 or 1-to-many videos (which I'll explain below). Sales teams also learn to get prospects ready for each sales conversation with "80% videos" that address the majority of potential customers' questions up front.
Studies show that video works. Landing pages with a video have a significantly higher conversion rate. Emails with videos get opened way more frequently — especially if you mention "video" in your subject line.
Personalized video marketing allows you to connect with prospects in a way that's genuine.
When a prospect fills out the form to access your premium content, they are starting a conversation with your brand. They are giving up something of value (their contact information) to get something of value (your ebook, research report, white paper, etc.).
B2C and B2B consumers alike know that exchanging their contact information means they are allowing your business to market to them.
They're expecting that you're going to reach out to them — and they are likely anticipating a ho-hum nurture campaign or a hard sale.
The right piece of personalized video content can do wonders. And when you suit your video messaging to different stages of the buyer's journey, you can create a great customer experience.
Types of personalized video marketing
In some situations, a 1-to-1 video might make sense. (A 1-to-1 video is a piece of content you make specifically for each lead.) Think of this as a personalized video message for just that person that addresses their specific needs.
However, creating video content like this can be time-consuming.
More often, you'll send a 1-to-many video, which allows you to connect with potential consumers on a personal level — but at scale.
I'll show what I mean below.
Tools for personalized video marketing
At IMPACT, we use Vidyard to record our personalized videos. We also use it to host video content that lives on our website.
Vidyard is great — intuitive, affordable, and powerful. And we recommend it to our clients.
But there are other ways to create marketing campaigns as well.
Here's a quick rundown of a few other video tools that can help you use personalized video with potential new customers.
Wistia (and Soapbox) is primarily a marketing video hosting platform that provides a slew of features and tools to make videos sing. When it comes to 1:1 personalized videos for sales, Wistia offers Soapbox, a correlated tool specifically for this function. However, you need subscriptions to both.
Hippo is a sales-focused video platform designed to help you stand out in customer inboxes. You can also add CTAs to videos for marketing purposes so you can boost click-through rates.
Twentythree offers an all-in-one video platform to record and send 1:1 personalized videos, host videos on your site, and track metrics from both.
These are a few that we like, but there are many other platforms out there that can help you easily record and share your video messages.
Now, let's look at some examples so we can see the dos and don'ts of personalized video marketing.
Personalized Video: What to do
A good tip for any salesperson is to think like a customer. When you're buying something, how do you want to be sold to? Whether you've walked into a store, visited a website, or have someone come to your office to do a demo, what do you want your experience to be?
When you keep those questions in mind, your approach is usually the right one.
Customers don't want a hard-sell pitch. Customers want information.

They want genuine connection, and they want an experience that feels personalized.
It is the job of the salesperson to create this connection between the customer and the business.
Watch this great example and imagine it from the perspective of a future customer.
This is from Melissa Prickett, an experienced salesperson who knows how to make her audience feel valued and understood. She's clearly committed to customer success.
As you watch the video, notice how:
It's easy to watch and engaging.
It acknowledges the customer's problems.
It emphasizes the importance of the download and connects it to the problems the customer is facing.
It challenges the customer to succeed where others have failed.
It provides accountability.
It offers guidance without any pressure.
And here's the thing — this wasn't even a personalized video. This was a 1-to-many-type video that could be sent to a thousand prospects at once. Still, each member of that audience will feel like it speaks to them.
Now, if your company has the resources to make truly personalized videos at scale, imagine the same thing with two sentences of unique personalization at the beginning: "Hi, Mary! We're so glad you downloaded our guide. We know your business is in a period of rapid growth, and we think these resources will help you scale."
Great personalized video messages build connection, whether they are 1-to-1 or 1-to-many.
Personalized video: What not to do
Now think of the opposite of all that. What don't you want to do in a personalized video message? What type of content will immediately leave potential customers with a negative impression?
Now, don't laugh, but this is the other end of the spectrum. While this example might feel over-the-top, it's not that far away from many sales processes.
This is personalized video done wrong:
Now, some of the mistakes made in this video should be obvious. Right off the bat, it's clear that this isn't going to make the people on the other side of the screen feel valued and understood. This time around, Melissa is not invested in customer success.
Melissa's body language and tone of voice are bored and aggressive at the same time. She's clearly not invested in the process (or in the customer's success). Additionally, she's also pushing for a quick sale when that's not suited to this stage in the sales process.
There are more details that are worth mentioning.
First off, did you notice she's wearing a Miller Lite shirt? Notice how in the first video, even though it's sent to many, it still manages to feel personalized. Here, the customers are getting something that does not feel relevant to their unique needs.
Personalized videos like this do more harm than good.
And even if you say, I would never make a video THAT bad, this example can still be instructive. You're probably right that you wouldn't make all of these mistakes at once. But there are any number of similar errors that can creep into any personalized video campaign that will limit its effectiveness.
So be on the lookout for ways you might be making your prospect second-guess sharing personal details with your company.
Using personalized videos for customer engagement
Sending personalized videos to your prospects is a great way to increase open rates, spark engagement, and build trust.
The right video can go a long way toward establishing the relationship necessary for a great sales conversation down the line.
Just remember your audience. You're sending each personalized video to someone who has just given you their information. They're certainly anticipating some communication from your company, but they're probably dreading getting a dozen emails or a pushy sales pitch.
Instead, give them what they really want:
Access to the information they're looking for
Guidance to help them make a decision that's in their best interest
The knowledge that your business understands their needs
When you do all that in a video, you've created a smooth transition between marketing and sales, and you've set the stage for these prospects to become happy and loyal customers.
If you want to learn more about video marketing, check out our free guide. Or talk to one of our advisors to learn more about how we help teams like yours unite sales and marketing to truly drive revenue.
Free Assessment:
How does your sales & marketing measure up?
Take this free, 5-minute assessment and learn what you can start doing today to boost traffic, leads, and sales.