How Much Does Vidyard Cost (& Is It Worth It?)

VP of Sales and Marketing, 15+ Years of Sales and Marketing Expertise, HubSpot Alumni
February 28th, 2019 min read
We talk about video in sales and marketing a lot here at IMPACT.
Professional marketers and salespeople should know that using video is a necessity to break through the clutter these days.
By 2022, Cisco estimates that 82% of all global web traffic (both business and consumer) will be video traffic. Let that sink in for a minute...that's a crazy large number.
If you need more reason to understand why video is a necessity, check out that link in the first sentence again.
However, this post isn't about why video is a must, instead it's about the cost of video, specifically with Vidyard.
So, if you're looking to learn more about Vidyard and if the costs are worth it, then keep on reading!
First off, What is Vidyard?
Vidyard (a partner of IMPACT's) is a video hosting and video creation platform that helps businesses tie ROI back to their video content.
It does this by integrating with a variety of CRM and marketing automation tools (including HubSpot), to provide metrics on how video influences lead quality, pipeline, and customer engagement. Pretty cool.
Vidyard has two core product options:
1) Vidyard - Video hosting platform meant for one-to-many marketing. Videos can be put on pages of your website, on landing pages or even in emails, but it is not designed for personal one-to-one outreach.
2) Vidyard GoVideo - This was built on the same platform as Vidyard, but is designed for personalized one-to-one outreach. GoVideo has a free version and can also be purchased with the Vidyard core platform or as a stand alone product. GoVideo content can not be placed on your website pages, landing pages, or within emails like Vidyard. Analytics data from one-to-one videos are available in contact records in the HubSpot CRM and also in HubSpot's Services Hub.
Who is Vidyard a Fit For?
Simply put, it's for companies that want to know definitely if they're enhancing their marketing and sales processes with video. Marketing, sales, customer success, and even internal communications teams can all benefit from using one of Vidyard's two products.
Let's dig a little deeper into how before we discuss for how much:
Sales Teams
There are many use cases for video in sales.
We've found that Vidyard's clients use it mostly for one-to-one prospect and client outreach. They also use it to effectively follow-up on meetings and recap difficult to grasp concepts about products or services.
Vidyard client, Miovision confirms this, saying that using Vidyard has helped streamline the complexity of their sales process.
Reps use video to summarize a call, outline action steps and describe how a process or feature of their product works. Account Executive Scott Dolson says, "It eliminates confusion and helps (potential) customers see the value.
Similarly, the company's Deputy Global Revenue Operations Manager, Keith Jones has said, "I feel like today if I were to take Vidyard out of the stack, it would be like taking a limb away from our sales reps. It is such an integral way for our team to stand out from the competition. I wouldn't do that to them, it's too important to the sales process. Noting that video is helping convert trials into customers and is one of the biggest weapons in their arsenal.
But follow-up is not the only reason sales teams have found success with Vidyard.
Client 1Huddle's sales team has sent 45,455 videos via email, which has led to a 68% email open rate from prospects and a 12% reply rate.
Another client, Igloo, has their sales team use video to introduce client to their Customer Success team, which allows people to put faces to names more quickly which helps build trust throughout the hand-off process.
Marketing Teams
Marketing teams, on the other hand, love Vidyard because it actually makes video trackable.
That's right.
There is no guessing on whether or not video effectively impacts revenue. It can all be tracked in real-time and connected to marketing automation platforms so that data can be used to trigger workflows or other campaigns.
When used to help promote a brand new conference for marketing professionals, Cassandra Jowett, Senior Content Marketing Manager of Influtive says, "We couldn't just tell them Advocamp was the best conference ever. We had to show them... We had to make them feel something. We had to convert. We had to change our strategy if we hoped to come even close to our goal, so we started investigating ways to make an engaging medium like video turn into an ROI-driving, seat-filling tactic."
By using Vidyard personalization, she saw an 800% increase in click-through rates.
Video also helps marketing teams at all stages of the funnel, Matt Trushinski, Director of Marketing at Miovision says, "No matter what path a prospect might take, we have a piece of video content custom-tailored for that purpose."
Matt also mentions that video has helped his team stand out from its competition and create brand recognition. It's also driving familiarity with sales prospects by putting faces to names.
Putting faces to names with prospects and clients is a huge asset. Think about this.
Let's say your team is headed to an event and you send some pre-event videos. It takes the awkwardness of introducing yourself to someone or vice-versa off the table because they're already a friendly familiar face, which shortens the time to connect and get engaged in the sales process.
Client Success and Support
Imagine a world where all support question and answer was in the form of video. How much better would that experience be?
That's what Vidyard enables client success and support teams to do; create knowledge bases, reduce amount of tickets, respond to FAQs, and open up success and support capacity.
Brent Rogerson leads a team of success managers at Miovision.
Their business is high touch and given the nature of it, clients demand a high level of attention. So, Brent needed to be creative and find efficiency to solve for capacity.
Video is "...an efficient way to create a warm touch with a customer while minimizing logistical effort."
Understanding his customers are busy too, he added "You can't expect them to find half an hour or an hour in their schedule to meet with you. This way, I can flip them a five minute video they can watch and digest on their timeline, and we can follow up with a quick phone call. We're getting our message through but not creating an interruption in their day."
Brent estimates he's increased his capacity 4x by using video.
Internal Communications
I've never spoken with a single manager or leader at an organization that's said "Our internal communications couldn't get any better." In fact, most organizations admit they need better internal communications.
Vidyard, allows you to securely store company content and be a host to training materials and general company communications that are actually engaging.
Who wants to read 1,000 words in a wiki post or slack channel? (Not me! And not most of you.)
Igloo has been successful at increasing employee engagement using Vidyard.
Like many companies, they are growing fast.
They've got employees spread throughout buildings and employees who are located remotely. Determined to not let communication challenges get in their way, they use video to make a visual connection with employees no matter where they are located to talk through company updates.
They strive to make what could have been a boring memo or email announcement more exciting by leveraging the Vidyard platform. It's not uncommon for the organization to interview employees and executives in the videos they sent out to their staff to emphasize company's mission, vision, and values as well as product strategy and marketing approach.
The common thread I see across all of the use cases here is that video is helps organization build trust at all levels, internally and externally. Sure there are other video tools out there that you could use, like YouTube or Wistia. If you are curious about how Vidyard compares to YouTube or Wistia, check out these articles:
As you'll read below, the Vidyard platform is one that can be used at all stages of a businesses maturity and the costs can grow with you as you need more robust features.
It's the additional features and functionality of Vidyard, as it compares to YouTube and Wistia that make the product completely worth it.
So, What Does Vidyard Cost?
So many businesses fear that if they post their prices, they will scare away prospects, but here at IMPACT we have found the exact opposite.
We've found that posting pricing builds trust and allows non-qualified buyers to self disqualify, which brings more qualified prospects to your sales team.
We've even written about how to write a great cost article. So, huge props to Vidyard for posting pricing on their website.
I asked product marketer, Jesse Arris, from Vidyard, why the company hadn't posted pricing until now and he said:
"Vidyard is an easy-to-use product, however many of our customers choose additional services, customized packages, and integrations, which causes variations in pricing. Our customers are also taking the time to educate themselves before talking to a sales rep, which is why transparent pricing (and video) are very powerful tools for B2B. It was time to update our website to match the expectations of our customers."
Kudos to Jesse and team for making the pricing transparent with this awesome new pricing page, which was just launched a little earlier this month.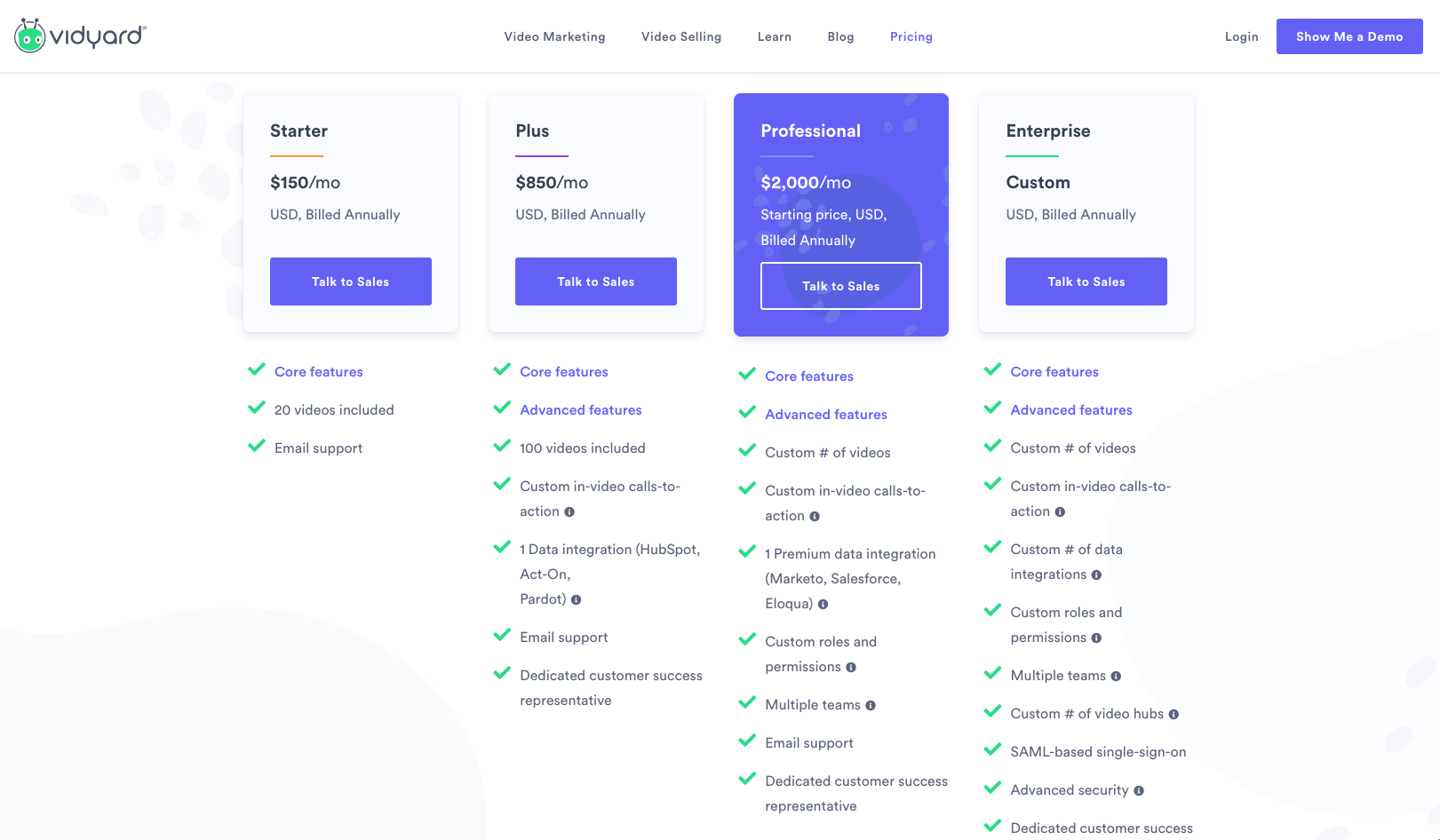 Alright, now onto the actual pricing.
GoVideo Pricing
All GoVideo pricing tiers have the same core features included in the service:
Unlimited videos

Instant notification

Customize your thumbnail

Send videos directly from email

Free
Free means free! Enjoy unlimited videos and instant notifications when someone has watched your video. You can even customize thumbnails of your video for better conversion rate and it works directly from Gmail and Outlook. Neat!
Pro
Pro is $80/seat per month. It has some additional features like interactive calls-to-action (CTAs) so you can book meetings directly from your videos, five shared videos per licence, video playlists so you can send prospects a nice to-do list if you're into assignment selling, custom video sharing pages that are branded to your organization, plus you can download videos and access the Vidyard support team by email.
This pricing tier is designed for companies with less than 50 employees, who don't have a ton of shared content videos also leveraged on the core platform and don't need extra security or advanced analytics.
Video playlists and interactive CTA's make the professional version well worth the money.
Teams
Pricing for teams is a little less straightforward.
Teams is quoted custom by a salesperson at Vidyard and this product tier is really design for enterprise sales teams.
The factors that will go into final monthly costs are:
how many sales people need access

if shared content across the team is needed

number of integrations to outside platforms that are needed

if there are multiple instances of a marketing automation platform running and GoVideo needs to be connected to all of them

whether or not video needs to be transmitted securely (accessed by password or single sign on authorization engine.)
If your organization has a large sales team and you need secure video transmission, then it's probably worth a custom quote.
Vidyard Pricing
Remember, Vidyard is meant to be used for one to many communication and is used by marketing teams.
In turn, Vidyard pricing here is very different than GoVideo. It isn't based on seats, it's driven by how many videos you host, your need for data integrations, analytics needs, roles and permissions, and security.
There are four packages that you can consider; Starter, Plus, Professional, and Enterprise.
Every package comes standard with these core features, and all plans are billed annually:
Hosting and analytics

Fully customizable player

Interactive calls-to-action

Share and embed videos

Sync-to-Social

Custom video sharing pages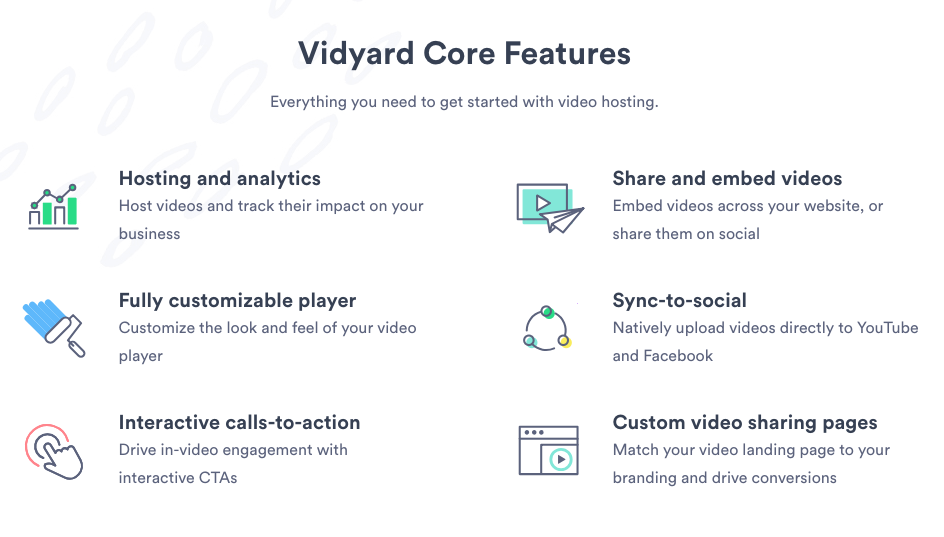 Starter
Features:
In addition to the core features, the Starter package also includes 20 videos per month and email access to the Vidyard support team.
Cost:
The cost is $150 per month.
Why it's Worth the Cost:
I know it literally says this at the top of the core features graphic, however this actually is everything you need to get started with video hosting. They're actually almost giving it away at that price. You simply can't afford not to be using the Starter package.
The rest of the packages all include the advanced features:
A/B test thumbnails

Advanced analytics

Automatic transcriptions

SEO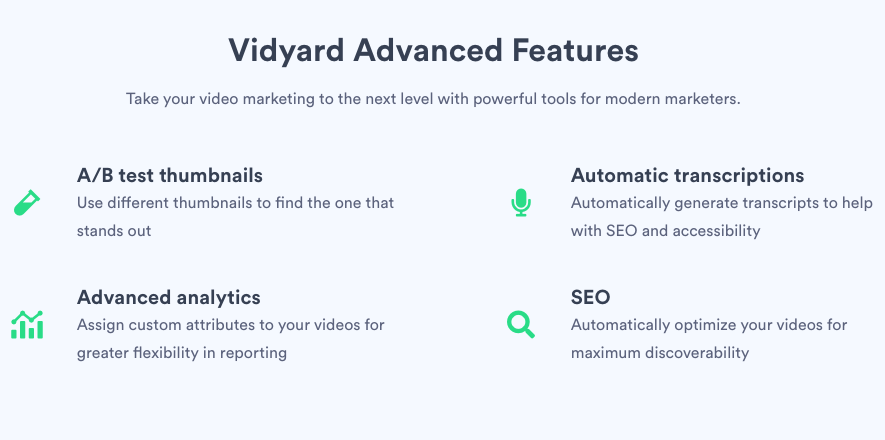 Here's why each of these features provide value to you:
A/B test thumbnails: The first thing someone will see on your video is thumbnail image. Marketers can use this feature to A/B test thumbnail images and see which leads to the best conversions.

Advanced analytics: Vidyard offers a full dashboard of viewing engagement data on all videos so you can see what videos are impacting your pipeline or time spent on site. What's really cool is that Vidyard doesn't only track data for videos that are on your own website;t can be used to see how your videos are performing on social channels, including YouTube and Facebook which means you'll be able to see which platform is working best for conversions while capturing second by second viewing data by contact. (giphy)

Automatic transcriptions & SEO: This is a speech-to-text feature so that you can use your video transcriptions to optimize for SEO or to use as captions (which can also be edited) as an overlay on the video.
Alright, let's dive into the pricing tiers and extra features of each tier, and of course...why each tier might be worth investing in.
Plus
Features:
In the plus package you get all of the core and advanced features listed above, plus 100 videos on the platform at any given time (if you require additional video capacity you'll need to purchase it,) custom in video calls-to-action, 1 data integration to either HubSpot, ActOn or Pardot, email support AND a dedicated customer success representative. Note: at this tier you may also connect to Marketo, Eloqua or Salesforce, however it will be custom quoted AKA it won't cost $850.)
Cost:
$850 / month.
Why it's Worth the Cost:
For starters, you can host 5x the amount of videos than in the starter package,
but the pricing isn't priced at 5x the cost.
Also if fully customizable CTAs are really important to you, then you'll want to go with Plus over Starter. In starter, you can set up "quick events" which are basically easy, templated CTAs- good for "download whitepaper" or "learn more" after watching the video.
"Custom events" are fully customizable CTAs that not only give you full control over the look and feel of the CTA in your video, but actually let you do more advanced things like add embed code to initiate your live chat solution, lead routing software, or meetings calendar, right from inside the video.
The advanced features offered in Plus include greater analytics and SEO power and the additional reporting capability in the data integration with HubSpot or other marketing automation platforms will make generating email campaigns or workflows a breeze.
Professional
Features:
In the pro version of Vidyard, you'll receive core and advanced features, custom # of videos (note this doesn't mean unlimited videos, but unlimited videos are possible; It just won't be at the starting price listed below,) custom in-video calls-to-action, a premium data integration to a sales/marketing platform but this time more enterprise-like platforms such as Marketo, Eloqua or Salesforce.
You can also manage roles and permissions in the professional version and separate out content and analytics that are specifically relevant for individual marketing teams. Last but not least, you can email support and you'll have a dedicated customer success manager.
Cost:
Starting price is $2,000 per month. What are the factors that would drive this cost upwards? The number of videos you need to host at any given time, the number of integrations you need (HubSpot and Salesforce perhaps?) and marketing team structure.
Why it's Worth the Cost:
If you need to restrict access or manage permissions to content then this is probably a good option for you. If keeping content separate by team and measuring analytics by team is important to you, then this is probably a good option for you. If all of this sounds awesome but you need to keep costs closer to the $2,000 range, talk with Vidyard about how to make that happen.
Enterprise
Features:
Here, you receive everything that is included in Professional package, plus unlimited data integrations, some enterprise security features like single based sign on, and advanced content protection that allows you to secure videos with passwords. My favorite feature in enterprise though is the Video Hubs feature.
Cost:
Enterprise costs are custom quoted.
Why it's Worth the Cost:
Your business has multiple audiences including prospects, customers, employees, and other key stakeholders. Video Hubs allow you to showcase videos for each audience or even by persona type. A hub can be branded and it's completely distraction free,
keeping your audience focused and engaged on the content in front of them. You can have a hub for an event that you are hosting, customer user groups, product marketing, brand videos, the possibilities are endless. Best of all, you can customize who can access what hub, meaning, you can keep the intended audience focused and clear of all distractions.
Growing with Vidyard
The thing I love most about Vidyard is that it can grow with you.
For instance, maybe you've implemented a free or starter CRM or marketing automation platform but as your company has grown it requires something your tools to be more complex, so you've had to change platforms.
The same thing goes for video, except with Vidyard, you'll be able to stick with them for the long haul.
Here's a use case - The Growing Company.
This company has been growing fast, and already knows the power of video.
Maybe they only have 200 or so paid customers and are looking for a way to put unbranded video on their website without any ads. The starter package from Vidyard would be perfect for them.
A year passes and they have 500 customers, and pipeline is doubling as well.
It's at this point the company will start to explore enterprise software that's future-friendly.They are pretty optimistic!).
A company that started with Vidyard won't have to switch video hosts, just simply switch tiers. That's the beauty of how it was designed.
So, if you're excited about video but are worried about measuring ROI, don't be.
What It's Worth to You
Vidyard solves the head scratching game. With Vidyard, there is no more black hole of data. You can track what videos are keeping people engaged the longest, measure how video is impacting web metrics like time on page and conversions and you can even see what videos are influencing your pipeline, and affordably at that.