Subscribe
Join 40,000+ sales and marketing pros who receive our weekly newsletter.
Get the most relevant, actionable digital sales and marketing insights you need to make smarter decisions faster... all in under five minutes.
Thanks, stay tuned for our upcoming edition.
How Much Does Vidyard Cost And Is It Worth It?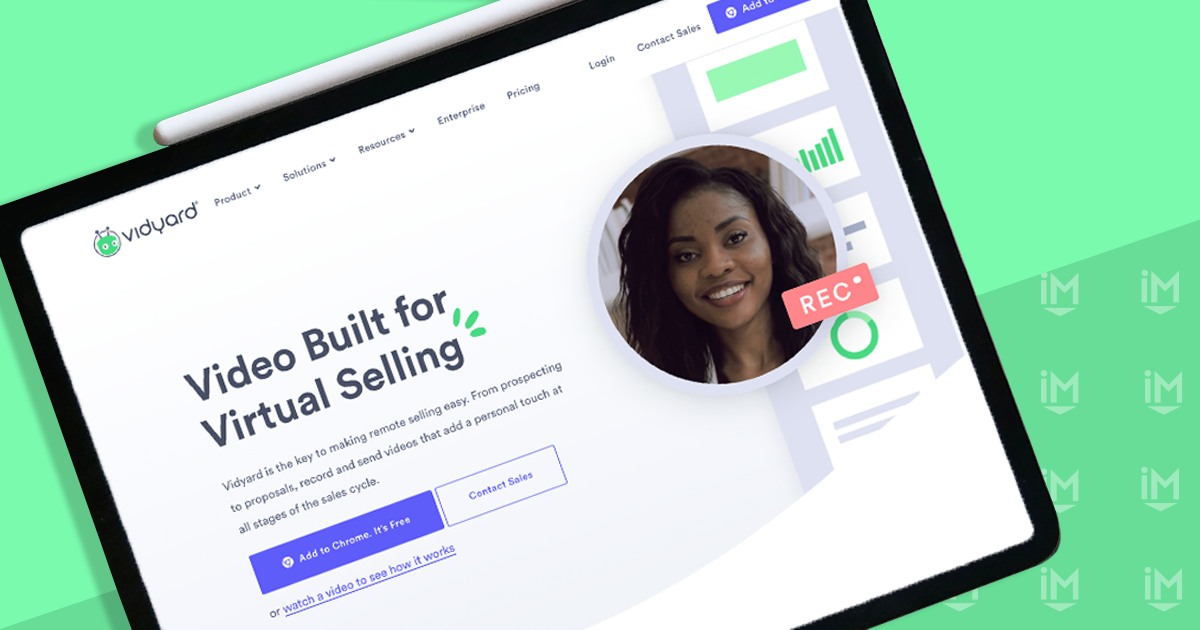 How much does Vidyard cost?
Vidyard has four tiers of pricing for their video for marketing and sales platform. This includes a free option, as well as $15 per month for Pro, $300 per month for teams, and $1,250 per month for enterprise businesses.
As a video sales and marketing trainer, my job is to empower companies to embrace and utilize video not just in their communication with prospects and existing customers but also creating a culture of video within the organization.
This isn't just providing lists of recommended equipment (although, I have covered that already here), it also includes recommendations for softwares and additional platform tools to enhance the culture of video in the organization.
Especially after 2020, marketers and salespeople should know that using video is a real difference maker and a necessity to break through the clutter of all the content that exists on the internet. By 2022, that's right, next year, Cisco estimates that 82% of all global web traffic (both business and consumer) will be video traffic.
🔎 Related resources:
However, this post isn't about why video is a must. Instead, we're here to talk about Vidyard. Vidyard is one of the most popular platforms leveraged by marketing and sales teams around the world for recording and hosting business videos to drive traffic, leads, and sales.
But how much does Vidyard cost? And is it worth it? Let's dig in.
First, what is Vidyard?
Vidyard (a partner of IMPACT's) is a video hosting and video creation platform that helps businesses tie ROI back to their video content.
It does this by integrating with a variety of CRM and marketing automation tools (including HubSpot), to provide metrics on how video influences lead quality, pipeline, and customer engagement. Pretty cool.
Vidyard has a single product for hosting and sharing. Using this platform videos can be put on pages of your website, on landing pages or even in emails.
This example from IMPACT client Acculevel uses the Vidyard video player to host their landing page video with a custom thumbnail that addresses what the video is about and is placed next to the form on their website to Request a Quote.
It also allows you to record and create one-one and one-many videos that will allow you to develop that personalized communication with your customers and build a video communication structure with your team.
Using the Vidyard browser extension, I record follow up videos (like the one above) to send to clients after a meeting. I use the notes section above the video to keep me on track with what I need to reiterate, and the countdown clock to make sure I'm smiling before recording starts.
How much does Vidyard cost?
On Vidyard's pricing page, there are options for both individuals and teams to choose from.
With all of the options available, it can be difficult to break down which choice is the best for your team. Let's dive in so by the end of this article, you'll have an idea of which of these solutions is best for you.
Vidyard Free
If you're experimenting with video for the first time, the free vidyard option could be a great tool to test out, especially if you're a one-man-band.
Features
With this option, you can take advantage of unlimited video creation, up to an hour of recording, unlimited uploads and hosting. Users on this option also have the experience of being able to share links and publish videos to social media.
While this is great for starting out, if you're looking to customize your video experience and give it the look and feel or your own brand, this option does not give you the ability to do that. As far as analytics goes, you do have the ability to be notified when someone views your video, however, you do not have access to advanced analytics or CRM/MAP integration.
Who is this a good fit for?
The free version of this platform is a good fit for someone just dipping their toes into using one-to-one video. This person is likely a freelancer operating by themselves and is using this primarily for one-to-one or one-to-many-many communications.
Because this tier does not allow you to customize features, and update it to include your own branding, this tier is not a good fit for someone to customize their entire experience from website hosting all the way to branded landing pages.
Vidyard Pro
A one-person team who is looking to expand on some of the features they enjoy with the free version and truly implement video into their entire web presence should consider getting on the Pro plan. This plan is $15 per month and is meant for a single user.
Features
Along with all the features that are included in the Free tier, the Pro tier gives the user the ability to update the platform with their own branding. You can include a sharing page CTA. Additionally, this tier includes performance insights which allows you to see from a single video perspective, who's watched your video and for how long. However, you do not have access to more advanced reporting features with this tier.
Who is this a good fit for?
If you're a single person running all aspects of your business, and you want to create a consistent, branded experience across your website, social media and your communication then this is a tool worth investing in.
This option is not a good option if you're going to have multiple users and are looking to dig deeper into analytics and integrating with your CRM this is not a good fit for your business.
Vidyard for Teams
At $300 per month this is the first tier that is a good fit for companies with more than 3 users who will need to have seats on the platform.
Features
Including all the features in the free and pro tiers, teams is designed with multiple users with the ability to create folders for a better in-platform organization and a clearer picture of analytics. In fact, access to the Analytics Dashboard is opened up. But the CRM/MAP integration is not included in this tier.
This tier also gives users the ability to create custom, in-video CTA's.
Who is this a good fit for?
A smaller team with between three to five users and is looking to understand their customer's viewing habits on their website as well as their one-to-one and one-to-many communications.
However, if you're looking for the capability to integrate Vidyard with your CRM, you'll want to read the next section on the Business tier.
Vidyard for Business
The final tier of Vidyard that includes all the features and integrations is Business. This tier is recommended for five or more users and costs $1,250 per month
Features
The most notable feature that is the differentiator between the business and the teams tier is the ability to integrate with your CRM. As you begin to implement more and more video and use multiple tools the power to integrate all of them into one place that can report on ROI from your efforts is key to learning about what is making you successful as a business.
Who is it a good fit for?
This is a good fit for businesses that are already using HubSpot or another CRM in their sales and marketing efforts. The company who would benefit from this tier is a larger team and is all in with video meaning they use it everywhere: from native embeds on their website from communicating internally with video, this is the tier for them.
This is not a good fit for companies who do not have a designated CRM.
Who should use Vidyard?
Simply put, it's for companies that want to know definitely if they're enhancing their marketing and sales processes with video. Marketing, sales, customer success, and even internal communications teams can all benefit from using one of Vidyard. Let's dig a little deeper into how before we discuss for how much:
Sales teams
There are many use cases for video in sales.
We've found that Vidyard's clients use it mostly for one-to-one prospect and client outreach. They also use it to effectively follow-up on meetings and recap difficult to grasp concepts about products or services.
Vidyard client, Miovision confirms this, saying that using Vidyard has helped streamline the complexity of their sales process.
Reps use video to summarize a call, outline action steps and describe how a process or feature of their product works. Account Executive Scott Dolson says, "It eliminates confusion and helps (potential) customers see the value."
Similarly, the company's Deputy Global Revenue Operations Manager, Keith Jones has said,
"I feel like today if I were to take Vidyard out of the stack, it would be like taking a limb away from our sales reps. It is such an integral way for our team to stand out from the competition. I wouldn't do that to them, it's too important to the sales process. Noting that video is helping convert trials into customers and is one of the biggest weapons in their arsenal."
But follow-up is not the only reason sales teams have found success with Vidyard. Client 1Huddle's sales team has sent 45,455 videos via email, which has led to a 68% email open rate from prospects and a 12% reply rate.
Another client, Igloo, has their sales team use video to introduce clients to their Customer Success team, which allows people to put faces to names more quickly which helps build trust throughout the hand-off process.
Marketing teams
Marketing teams, on the other hand, love Vidyard because it actually makes video trackable.
That's right.
There is no guessing on whether or not video effectively impacts revenue. It can all be tracked in real-time and connected to marketing automation platforms so that data can be used to trigger workflows or other campaigns.
When used to help promote a brand new conference for marketing professionals, Cassandra Jowett, Senior Content Marketing Manager of Influtive says,
"We couldn't just tell them Advocamp was the best conference ever. We had to show them... We had to make them feel something. We had to convert. We had to change our strategy if we hoped to come even close to our goal, so we started investigating ways to make an engaging medium like video turn into an ROI-driving, seat-filling tactic."
By using Vidyard personalization, she saw an 800% increase in click-through rates.
Video also helps marketing teams at all stages of the funnel, Matt Trushinski, Director of Marketing at Miovision says, "No matter what path a prospect might take, we have a piece of video content custom-tailored for that purpose."
Matt also mentions that video has helped his team stand out from its competition and create brand recognition. It's also driving familiarity with sales prospects by putting faces to names.
Putting faces to names with prospects and clients is a huge asset. Think about this.
Let's say your team is headed to an event and you send some pre-event videos. It takes the awkwardness of introducing yourself to someone or vice-versa off the table because they're already a friendly familiar face, which shortens the time to connect and get engaged in the sales process.
Client success and support
Imagine a world where all support questions and answers were in the form of video. How much better would that experience be?
That's what Vidyard enables client success and support teams to do; create knowledge bases, reduce the amount of tickets, respond to FAQs, and open up success and support capacity.
Brent Rogerson leads a team of success managers at Miovision.
Their business is high touch and given the nature of it, clients demand a high level of attention. So, Brent needed to be creative and find efficiency to solve for capacity.
Video is "...an efficient way to create a warm touch with a customer while minimizing logistical effort."
Understanding his customers are busy too, he added,
"You can't expect them to find half an hour or an hour in their schedule to meet with you. This way, I can flip them a five minute video they can watch and digest on their timeline, and we can follow up with a quick phone call. We're getting our message through but not creating an interruption in their day."
Brent estimates he's increased his capacity 400% by using video.
Internal communications
I've never spoken with a single manager or leader at an organization that's said "Our internal communications couldn't get any better." In fact, most organizations admit they need better internal communications.
Vidyard, allows you to securely store company content and be a host to training materials and general company communications that are actually engaging. Who wants to read 1,000 words in a wiki post or slack channel? (Not me! And not most of you.)
Igloo has been successful at increasing employee engagement using Vidyard. Like many companies, they are growing fast.
They've got employees spread throughout buildings and employees who are located remotely. Determined to not let communication challenges get in their way, they use video to make a visual connection with employees no matter where they are located to talk through company updates.
They strive to make what could have been a boring memo or email announcement more exciting by leveraging the Vidyard platform. It's not uncommon for the organization to interview employees and executives in the videos they sent out to their staff to emphasize the company's mission, vision, and values as well as product strategy and marketing approach.
The common thread I see across all of the use cases here is that video helps organizations build trust at all levels, internally and externally. Sure there are other video tools out there that you could use. Wistia is another common video hosting platform some choose to use.
YouTube is another common option.
Learn more: Vidyard vs. YouTube: Which One Is Right for Your Business? [Video]
As you'll read below, the Vidyard platform is one that can be used at all stages of a business' maturity and the costs can grow with you as you need more robust features.It's the additional features and functionality of Vidyard, as it compares to YouTube and Wistia that make the product completely worth it.
Why Vidyard is worth the cost
There are a lot of tools out there that can help with your video selling and marketing strategy. But Vidyard allows you to streamline this process and put all of your videos in a single spot.
From a selling perspective sales teams who have never thought about using videos before can jump right in and start recording videos. They can as easily send these videos to prospects to create a more human connection.
On the marketing side, having the ability to control the funnel of videos on your website is key to providing a seamless viewing experience. Platforms like YouTube are great for setting up your own channel, but when it comes to your website, you don't have control over what is shown next, for example.
What Vidyard isn't
It's important to remember that Vidyard is a tool, not a strategy. You might be reading this thinking about all the great things you could do with video if you sign up and start paying for Vidyard.
And that's great, but there is more work that needs to be done than just signing a contract with Vidyard to get started and then forgetting to use the platform you're invested in. To make this worth it for your business, you have to be committed to video.
So if you're considering Vidyard, but aren't sure how you're going to create enough video content to make it worth the investment, consider first hiring a videographer. We have a lot of great resources to help you get started with this process:
To be committed to video, that means someone within your organization must own the process of conceptualizing, creating and reporting on the content. The person to own this within the companies I work with is the in-house videographer.
Not only does this person own the process, this is a great person to have on staff to help coach those team members who are unsure about how to produce great 1-1 or 1-many video content.
Working with Vidyard
At IMPACT, we're an education-first company, and also practice what we preach. Vidyard is committed to education through the resources they provide in their blog and on their YouTube channel. Tyler Lessard, VP of Marketing at Vidyard also co authored The Visual Sale with Marcus Sheridan.
Video can seem like a daunting undertaking for a company who has never experienced it before. But the key to success is aligning your company through making video a vital part of your team culture. Vidyard is a tool that makes video accessible to everyone in your organization.
You're in the driver's seat for your video sales and marketing efforts. Add a tool like Vidyard to your tool box to help generate the results you want to see.
Free Assessment:
How does your sales & marketing measure up?
Take this free, 5-minute assessment and learn what you can start doing today to boost traffic, leads, and sales.