What is your average landing page conversion rate?




It is important to know how many visitors are visiting your page and filling out the lead capture form.




If you're seeing more visitors hitting the back button rather than download now, you're losing the opportunity to convert qualified visitors into leads.




Unfortunately, many companies

Free Guide: The Ultimate Inbound Marketing Strategy Playbook 2021

will see this as a huge problem, since the main objective of a landing page is to generate conversions and leads.


You may be asking yourself, why are none of my website visitors downloading any of our offers or even scheduling a free assessment.




The simplest answer to your question is if your landing pages don't include the right mix of elements that make a terrific landing page, no one is going to convert.



5 Ways to Boost Landing Page Conversions
The goal of creating inbound marketing offers (such as ebooks, templates, webinars, free tools, and kits) is to educate and target your audience. If the content within your landing page isn't pulling those visitors in, it won't matter how many landing pages you have. It's important that you don't just go and develop 35 landing pages. Even though HubSpot stats that, companies with 30 or more landing pages generate 7x more leads than those with fewer than 10. It won't matter how many landing pages you have if they aren't remarkable, and your not generating any conversions.
Elements that can diminish your landing page conversions include:
A wall of text. Don't just write 1000 words of mindless text. Utilize short paragraphs around 1-3 sentences that highlight key points. Also, don't be afraid to bold keywords and use bullet points to emphasize the importance of those elements.
Horrible testimonials. A great way to boost your landing page conversions is through a great testimonial. Don't just say something like ... This company is great - John Smith. This won't make someone one want to fill out your lead capture form. Consider developing and including testimonials that look something like this...

Slow loading landing page. Are you looking to keep visitors away? The best way to do that is with a landing page that takes over 10 seconds to load.
No whitespace. This goes back to a wall of text. You don't want the whole page to have words or no words at all. Don't just place one sentence on the page and a form fill. Add an image or other smaller paragraphs that get your point across while effectively utilizing the white space on the page.
A/B Testing
One of the easiest ways to see which type of content attracts visitors and increases landing page conversions is through a/b testing. A/B testing allows you to conduct a "marketing experiment". There is no better way for you to compare alternate versions of your landing page. The main goal of a/b testing isn't about trying to see which page would win a beauty contest. You want to see which page produces the best outcome. In this case, we're looking for the page with the most conversions.
Consider performing an a/b test on:
The copy of your landing page
The length / questions used in your lead capture form
The objective of your a/b test should be to identify what elements of your current landing page aren't generating more conversions.
Change Your Headline
Sometimes the easiest change you can make is to your headline.
Are you effectively telling your target audience what your offer is about? Before you even publish your landing page consider asking yourself, "Is the headline related to the content and offer you are providing?" It could be one word in your headline that is turning people away, causing your page performance to go down.
Lets take a look at these two headlines by Highrise. Which one do you think generates the most conversions?
Version 1

Version 2

Version 2 actually generated the most conversions (30% more). The combo of the words put an emphasis on the 30-day free trial by making that the headline. The second line if version 1 probably confused most people, "pay as you go. 30 day free trail on all accounts". What exactly does that mean? I don't know about you, but why would you need to pay as you go if it's a FREE 30-day trial. I love in version 2 how they told you how easy it is to sign up. Often times you have to fill out 20 questions.
Change Colors of Buttons
Do your buttons blend in with your website? Make them "pop". Don't just stick with the traditional colors of your website consider using a color that stands out from the crowd.

By changing the color of the request an assessment button from one color to another, it can actually boost your landing page conversions. Some reasons why a particular color might perform better than another could be due to the color preferences of your target audience or how a particular color stands out in contrast to your website's color scheme.
Fresh/Informative Copy
This was previously mentioned, but don't just copy and paste a novel onto your landing page. No visitor is going to read all of that text. When developing the copy of your landing page, consider using the layout of a poem, short little paragraphs. With the length of each paragraph somewhere between 1-3 sentences.
Consider including:
Using different color text
Still need a little help? Here's a section of our landing page for our brand new ebook, The Ultimate Inbound Marketing Checklist.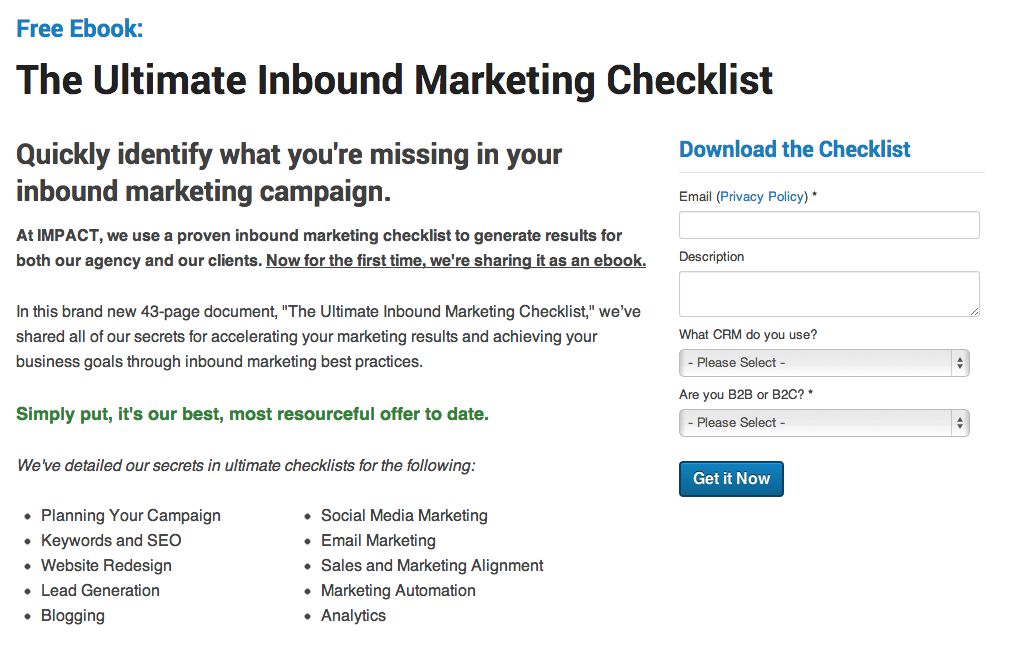 Better Forms
Your lead capture forms can either decrease or boost your landing page conversions. Some of the reasons why you might have poorly designed landing pages are too many fields, an overly complicated design, or you're asking the wrong questions. A well-designed form will help you truly get to know your customer, and will leave the door open for future encounters. You don't want to ask prospects all the questions you want answers to in one form. Not only is this overwhelming but who has the time to answer all of those questions in one shot. Consider using progressive profiling to not only shorten your forms but so you can provide different questions to those leads reconverting.
The 7 things you should be asking:
Job title / role at company
Just remember, you shouldn't ask all seven questions on one form, unless it's a bottom of the funnel offer.