How to Use the Facebook Ads Manager in 9 Easy Steps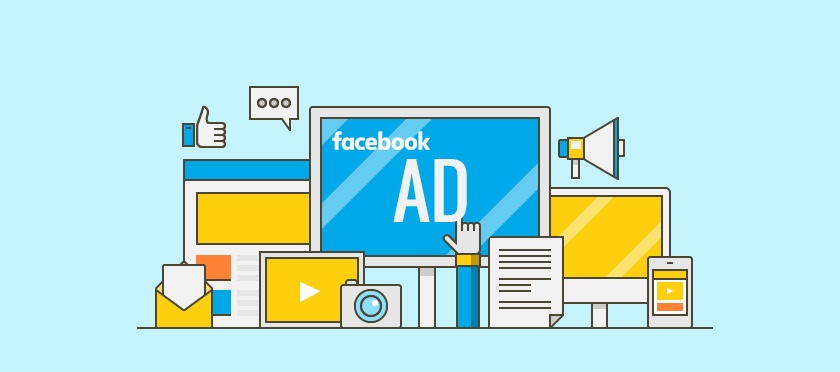 According to Facebook, 1 out of every 5 minutes spent on a mobile device in the U.S. is spent on Facebook or Instagram.
With 1.8 billion Facebook users globally, the platform dominates our attention spans so when it launched its advertising platform, it was only natural that it would become an instant game changer in the space.
Unlike traditional advertising that involves high budget production and a creative team, advertising on Facebook allows anyone with a Facebook account to "pay to play."
For example, even a business with a budget of $100 can create an effective campaign to drive traffic to their website.
In addition, Facebook's user-friendly platform grants marketers of all skill levels the ability to take control of the look and feel of their advertising presence.
Why Facebook Advertising is Integral to Business Success
Advertising on Facebook gives businesses the unique opportunity to reach and engage with their target audience for several reasons:
It's cut above the noise: Last year, Facebook announced it adjusted its newsfeed algorithm in order to show people content that was most relevant to them, such as posts from family and friends. This implies that if you are not sponsoring content, your ads will most likely not be seen. By advertising on Facebook, you increase your chances of your target audience viewing your promotional material.

Unprecedented reach: With over 1 billion Facebook users worldwide, Facebook has world-leading targeting capabilities. Advertisers can now pay to reach a specific persona based on location, demographics, interests, online behavior, and more.

Monitor and learn from results: Facebook's Ads Manager provides complete transparency into critical metrics, allowing you to monitor ads and adjust your advertising strategy in real time.
Who Should Use Facebook Advertising?
Due to the sheer volume and diversity of people on Facebook, companies across industries can find value in advertising on Facebook. Whether you are a mom-and-pop shop or an established Fortune 500, Facebook advertising can be effective in:

Increasing awareness:

building brand awareness

or reaching potential new customers

Encouraging consideration: driving traffic, engagement, app installs, video views, or lead generation
Driving conversions: increasing conversions, product catalog sales, stores visits
While increased budget (how much you spend on each ad) often boosts results, you can also set a modest budget of $5/ day for ads. The accessibility of the platform is just one reason why there are 65 million businesses using Facebook to advertise today.
There are, however, slight differences in how B2B or B2C companies can leverage this platform.
Traditionally, B2C companies have used Facebook to inform and entertain consumers in a personal, friendly way in order to promote brand awareness and inspire action (i.e. buy a product, sign up for a course, navigate to a landing page).
With its diverse functionalities (details below), Facebook Advertising is an efficient way for B2C companies to connect with potential customers naturally where they are already "hanging out."
Similarly, B2B companies can also utilize Facebook to inform (or retarget) audiences about new thought leadership pieces, webinar registration, or upcoming events. B2B businesses can especially take advantage of Facebook's targeting capabilities to reach specific job titles, interests, age groups, and more. For example, if someone who "likes" your competitor's business page, you can target them with your ad positioning yourself against them.
Check out 7 of IMPACT's favorite B2B Facebook Ads here!
How to Use Facebook Ads Manager
Facebook continuously rolls out new functions that make their advertising platform more intuitive, but my goal is to give you the basics you need to get started.
While the guide below outlines how to setup a Single Image ad, we encourage you to explore and test different things in order to take advantage of all that Facebook has to offer.
Step 1: Set up a Business Manager Account
In order to begin advertising on Facebook, you need to set up a Business Manager account. Through Business Manager, you can access your Pages, ads, and grant access for people to manage your accounts. Setting up a Business Manager account is easy:
Go to

business.facebook.com

Click "Create Account"

Enter a name for your business, select the primary Facebook Page for your account, and provide your name and work email address
Next, set up advertising access through Business Manager:
Under People and Assets, click on "Ad Accounts"

Select "Add New Ad Accounts" and click "Create a New Ad Account"
Once you have set up your payment method and billing information, you're ready to navigate to Ads Manager.
Step 2: Navigate Facebook Ads Manager
Facebook Ads Manager is your advertising "headquarters." This home base includes functionalities that allow you to:

Set up ad campaigns, ad sets, and ads

Manage and modify media spend

Target specific audiences

Monitor campaign performance metrics
After creating your Business Manager account, you can access Ads Manager by clicking the drop-down arrow in the upper-right corner of your Facebook page and select "Ads Manager."
The Ads Manager dashboard looks like this:
[IMAGE 1: Facebook Ads Manager Dashboard]
Step 3: Select an ad objective
Once you are in Ads Manager, select the green "Create Ad" button in the top-right corner of the page. You'll be prompted to select a campaign objective, in other words, what you ultimately want to achieve with this ad: awareness, consideration, or conversion.
Awareness campaigns:

generate knowledge and interest in your product or service.

Consideration campaigns:

allow people to engage with your business, click on specific links for more info, and keep your product or service top of mind.

Conversion campaigns:

prompt audiences towards a call-to-action (i.e. click to purchase, sign up for a promotion).
The full list of campaign objectives is shown below: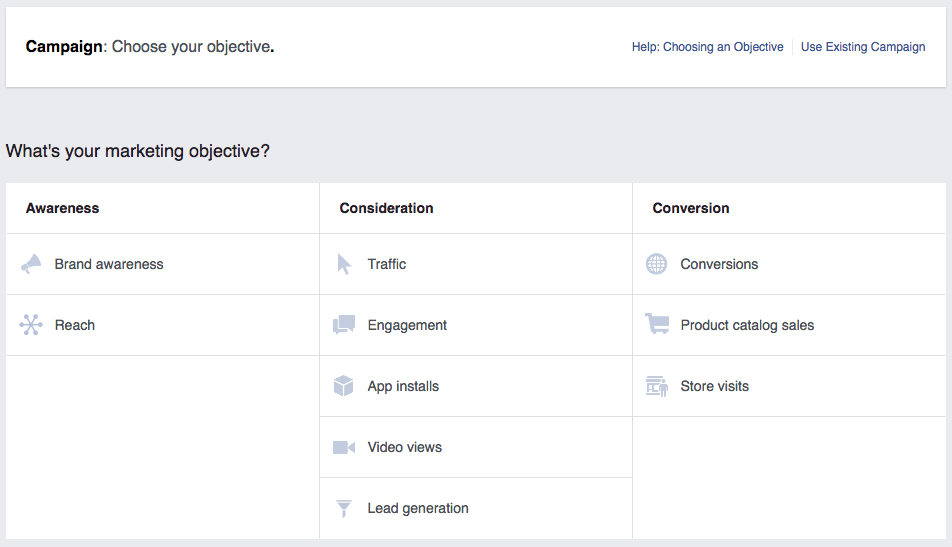 [IMAGE 2: Campaign Objectives]
Once you've made your selection, create a campaign name–congratulations, your campaign is officially created!
Step 4: Select your audience
Facebook's audience targeting capabilities are its bread and butter. With so much demographic information captured by users across the globe, it's possible to get extremely granular in who you push your ad to. Here are just a few ways you can filter people:

Location: country, state, city, zip code, or a mile radius

Age/ gender

Language

Education: schools, year of graduation, field of study

Interests: pages they like, areas of interest (i.e. Entertainment, Fitness and Wellness, Food and Drink)

Behaviors: purchase behavior, digital activities, charitable donations

Net Worth

Languages
Perhaps one of the best features offered in the Facebook Ad Manager is the ability to create Lookalike Audiences. Lookalike audiences are Facebook users who share similar qualities to other known groups (i.e. your customers, your Facebook fans, or known brand loyalists.)
When you create a Lookalike Audience, you can identify the initial criteria on your own or you can upload a custom audience list and Facebook will identify common qualities of the people (i.e. demographic information, location, or interests) and finds people who are similar (or lookalike) to them.
Essentially, this feature allows you to take your marketing team's list of existing customers and expand your advertising reach.
To ensure the quality of your Lookalike Audience, Facebook recommends that you upload an audience list that is between 1,000-50,000 people for better targeting results.
Step 5: Set your budget
Facebook then allows users to take control of how much they want to spend on each ad.
There are currently two main ways to allocate media spend:
daily media spend (the average dollar amount you'll spend per day on an ad)

lifetime media spend (how much money you will spend over a set duration of time on an ad).
While Facebook suggests a $20.00 daily budget by default, you can always adjust your budget while the campaign is live with either option.
As a rule of thumb, I recommend you spend at least $5 per day on an ad. In addition, keep your ads running for at least seven days so that you can monitor behavior across the week as research suggests people tend to react differently to ads depending on the day of the week. You might want to start with $100 to test a 2-week campaign.
When setting your media spend, it's also important to note the difference between CPM and CPC.
CPM is the cost per every 1,000 impressions (or every 1000 times your ad is displayed) while CPC means each time someone clicks on part of your ad that takes them to your website or app, you pay up.
(Note: You can set a manual bid, which is the maximum amount you're willing to pay per link click.)
According to Facebook, "Paying for impressions ("CPM") might be a good choice if you want to build awareness around your brand while paying for link clicks ("CPC") encourages people to visit your business's website or app." So, the latter may be best if you're trying to drive traffic or leads.
Remember, Facebook wants to maximize its earnings, so it will deliver your content to people most likely to convert. It's a win-win situation. Optimizing for conversions is an effective way to reach campaign goals and maximize your budget.
Lastly, keep in mind that you have complete autonomy over all aspects of Facebook Ads Manager, so play around with how your media spend impacts campaign performance–the more experimental you are, the more learnings you will gain for future campaigns.
Step 6: Decide where to run your ad
If you use Facebook, you will have seen ads pop up on your mobile news feed, desktop news feed, and on the right side of your screen (right column). In addition, with Facebook's acquisition of Instagram, you can create ads on Facebook Ads Manager for Instagram.

Below is a visual of where these ads are placed: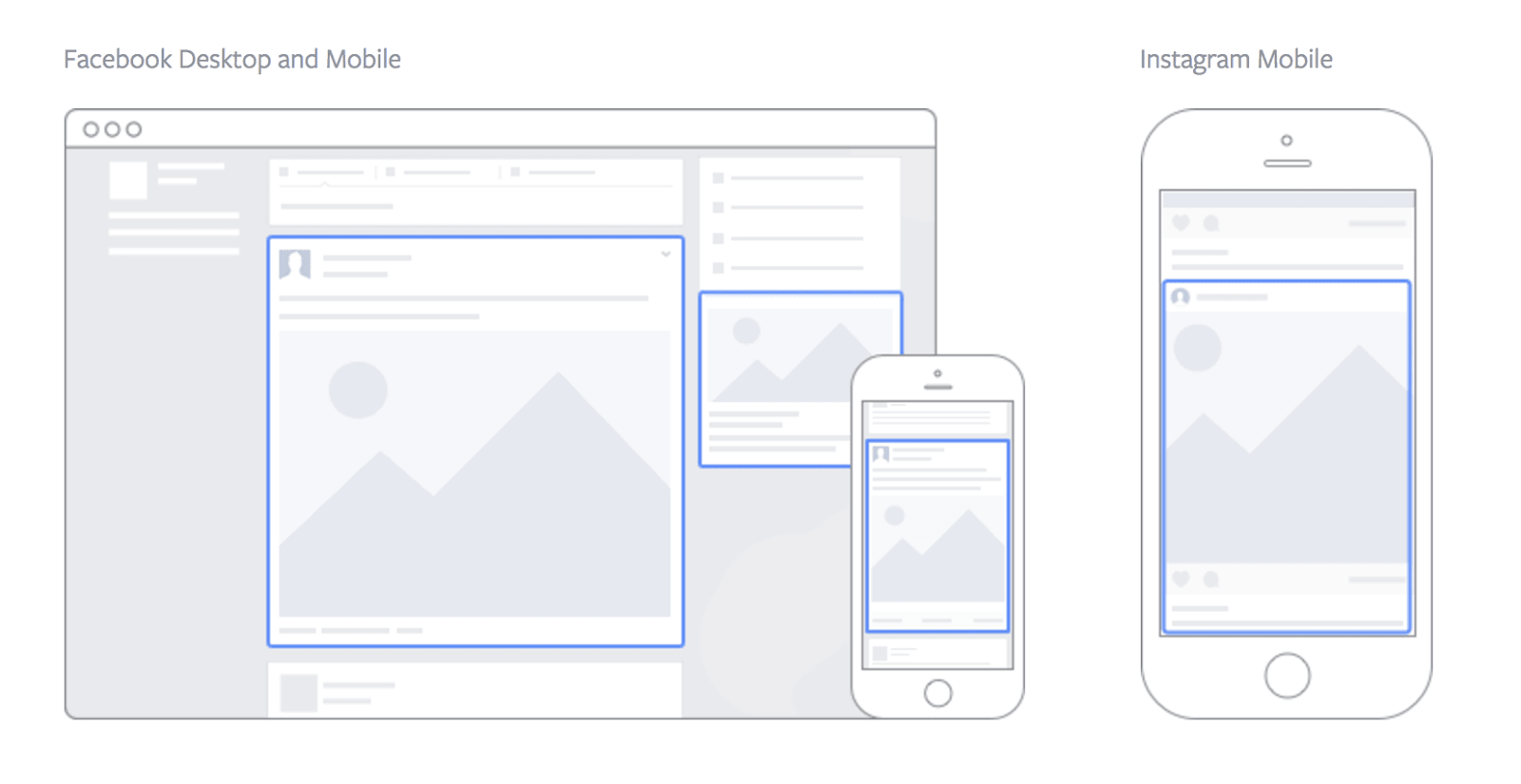 [IMAGE 3: BUFFER APP]
Desktop/ Mobile News Feed: Ads will appear embedded in the news feed of a user (alongside posts from friends and family). This is a good option for anyone who wants to build brand awareness and post engagement. Note: if you are driving users to a landing page from a news feed ad, make sure the website has a mobile responsive design so that mobile users have a seamless experience moving to the new landing page.
Right-hand Column: As its name suggests, this option places ads on the right column of Facebook and is the most traditional, "banner" style ad offered. This is only available for desktop users and is appropriate for ads encouraging users to purchase items or learn more about your product.
Facebook Audience Network: A network of mobile apps and websites that Facebook has partnered with to show ads. This is a good option if you want to maximize exposure and show your ads in front of people who are on different apps or websites. This placement is also effective in optimizing video views.
Instagram: Best for maximizing reach and building brand awareness to a target audience that is present on Instagram.
For more information on ad placement and how to get the biggest bang for your buck, refer to this Facebook guide.
Step 7: Create your ad
You're almost there! Now that you have set up your campaign, audience, and placement, it's time to input the creative and copy.
First, select how you'd like your ad creative to display:

[IMAGE 4: AD CREATIVE FORMATS]
There are 5 different formats:
Carousel

: An ad with two to ten scrollable images or videos. The carousel ad format engages users because they can scroll through up to ten images or videos at a time.

Single Image

: Ad with up to six variations of your ad displaying one image at a time. The Single Image ad is one of the most versatile ads and is a great place to start for those starting out with Facebook Ad Manager.

Single Video

: Ad with one video. The Single Video ad allows you to tell an engaging story to your target audience.

Slideshow

: Looping video ad with up to ten images. This ad format allows you to create a cohesive visual story. If done well, it can almost appear GIF-like for Millennial points.

Collection

: Ad that combines images and video that displays as a full-screen experience. This is a great option to bring an added level of interactivity with users.
Next, it's time to select your image and build out the copy.
When it comes to selecting a compelling image, take it from Facebook: "Remember your photos will be competing with pictures of babies and someone's fancy dinner. Focus on the things about your business that make it stand out. The people. The environment. The products. Try to pick an image that will grab your audience's attention as they scroll through Facebook."
Go for the thumb-stoppers!
Facebook allows you to upload and test up to 6 different images, so if you're not sure what to choose, experiment! The right image can result in 100% or higher difference in CPC (cost-per-click) or CPA (cost-per-acquisition) results.
Once you have uploaded your image, populate each field to insert copy for your ad (preview below):
[IMAGE 5: FB AD CREATION]
A couple of specs to keep in mind:

Main ad text: up to 90 characters

Headline: up to 25 characters

Link description: up to 90 characters
As a best practice, front-load your copy with what is most important. When people are on Facebook, they scroll through quickly, so you need to ensure you grab your audience's attention from the get-go.
Also be explicit about the call-to-action, whether it be urging them to click to learn more or signing up for an upcoming event. As a general rule of thumb, keep it short and sweet.
Step 8: Place your order
Once you have created your Facebook ad, click the green "Place Order" button. Your ad will be screened to ensure it does not violate Facebook's Advertising Policies before it is approved and goes live.
Step 9: Monitor performance
As mentioned previously, you have full transparency in Ads Manager on the ROI (return on investment) of your ads. Some noteworthy metrics to monitor are:

Clicks: the number of times someone has clicked on your ad

Impressions: how many times your ad was viewed

Conversion Rate: what percentage of people who click your ad goes on to become a lead or make a purchase
Set a reminder at the same time every day to check in on your ads. If you're not getting any traction try tweaking the creative, copy, targeting, or media spend.
Key Takeaway
With so many users on Facebook today, there are very few other platforms where you can reach and engage with your target audience in the same way. Perhaps more importantly, advertising on Facebook empowers users to take a once complicated process into their own hands.
Yes, you are competing against posts from family and friends, but that doesn't mean you can't get noticed. If you're advertising on Facebook, you're already one step closer to capturing the attention of your target audience. Good luck!
Free Assessment:
How does your inbound marketing measure up?
Take this free, 5-minute assessment and learn what you can start doing today to boost traffic, leads, and sales.
Get Started
Free Assessment:
How does your inbound marketing measure up?
Take this free, 5-minute assessment and learn what you can start doing today to boost traffic, leads, and sales.
Published on August 2, 2017