The Best-in-Class Way to Get Started in Facebook Ads [Interview]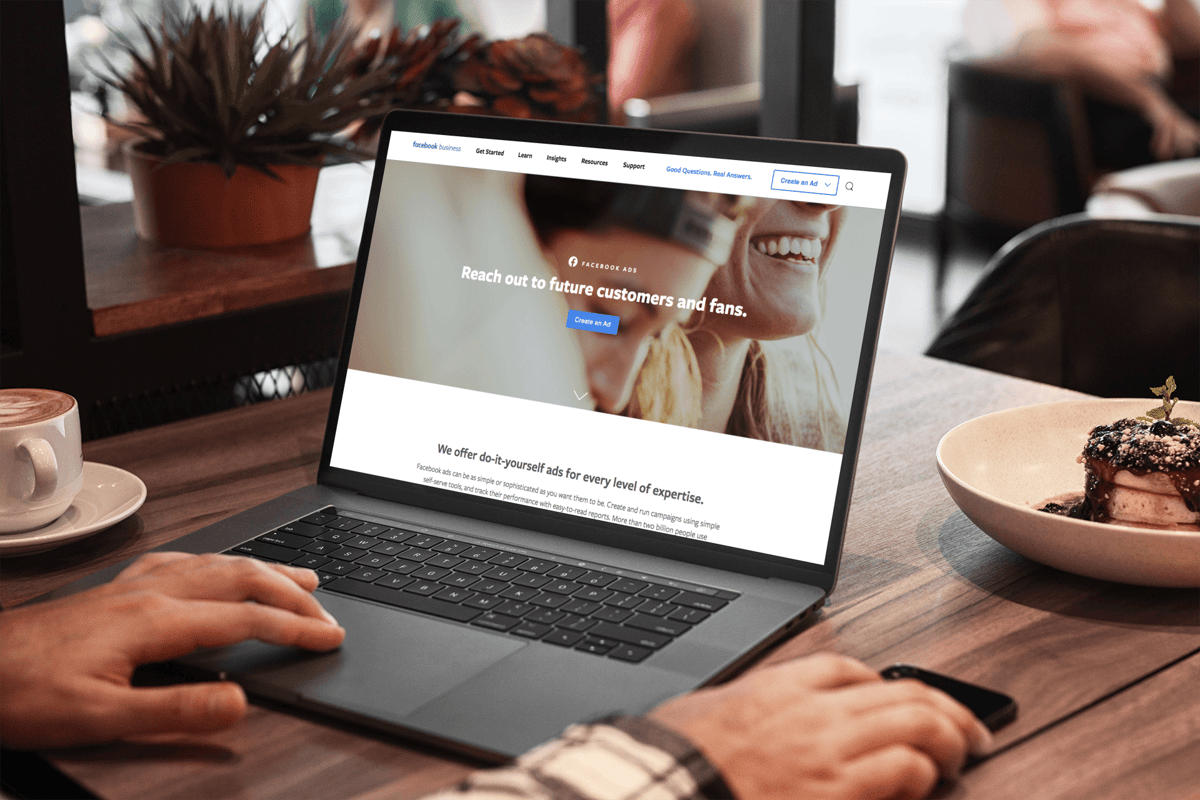 If you're unsure of whether Facebook ads will be a worthwhile investment for your company — or you're just not sure how to get started, you'd benefit from some expert advice before you start spending money.
I sat down with Ali Parmelee, IMPACT's paid media specialist and Facebook expert, to talk about the best way to get started with ads on the platform, what lookalikes are, and why "boosting" posts rarely makes sense.
If Facebook ads are in your Q4 plan, read this first.
John Becker: Who needs to hear this message? Who's the audience?
Ali Parmelee: This is for businesses who have maybe boosted posts or done a little bit in Facebook ads, but they might think, "Oh, I tried it, but it really doesn't work, it doesn't produce any results. I feel like I'm just wasting money."
Or they've been reading about it or they went to a conference and they keep hearing people like Mari Smith talking about it. And they think, "I've got to get in on that, but I don't know where to start."
I think you're going to find it either one of two ways. You're going to find people who are just gutsy and want to jump right in, and then you're going to find people who are paralyzed because they don't know where to start.
JB: And the best path is probably somewhere in the middle?
AP: Exactly.
JB: So if you were in that position, what are the things that you would need to do to start?
AP: First off, I want to differentiate between superficial Facebook ads and the more sophisticated, targeted ads that really drive results. The superficial ones are "boosting." That's where it's all on the front end. Facebook is like, "Oh, this post is getting good engagement. You should put some money behind it."
JB: When you put money behind it, what exactly happens?
AP: Nothing. You just give it to Mark Zuckerberg.
JB: But does that post get in front of more eyes?
AP: It does get in front of more eyes, but you typically are not doing any real targeting. When you're boosting, you are just scratching the surface of what you can actually do.
I don't want to scare people, but businesses need to realize that Facebook is a perpetual platform. This is media buying. Some people think, "I can just click this button and I'll turn some ads on." But it's actually media buying. So, you have to make sure you're doing it right and you're setting yourself up for success.
If you're just boosting posts, it does very little because you have not actually set up your pixel, which is the most critical piece of doing Facebook ads. And that is this little snippet of code. Think of it like cookies, but it's a snippet of code. You have to tie it in with your website.
This can seem overwhelming to people because it's code, but just by getting it on your site, you now have a wide-open playing field of who and how you target.
This is something that is more long-term and beneficial. It will actually do things like increase site traffic, increase page engagement, increased followers, and build seed audiences for attracting net new people.
Let's say you write a blog and share it on Facebook. It will probably get minimal engagement. However, if we work to turn that organic post into an ad (this is called amplifying — not to be confused with boosting), it becomes a real ad and starts to drive engagement on Facebook.
And, even better, on your site.
Here, let me share my screen. This is from a client we have worked with since 2015. They were writing blogs, sharing organically, and having ho-hum success. In August, 2016, we started amplifying. Then we moved to full-funnel in 2018. This chart represents their website page views.

JB: Wow! So, is amplifying content the way to move beyond boosting? How do you take those next steps?
AP: What you need to do first is a few housekeeping things. You have to make sure you're setting up an actual Business Manager account. You then get your pixel from there.
A Business Manager account is your home base for running all of your ads. Then you take your pixel, which you get from the business manager account, and you attach it to your site, depending on the type of site you have. If it's HubSpot, there's a special place that you need to put it. For a WordPress site, it's even easier. You just need to take the ID code and there's a plugin and you pop that in. If it's Shopify, same thing; you just pop it in there.
This is absolutely critical. You're wasting your money if you don't do this one step.
Then you start building actual real, thoughtful audiences. This allows you to target ads.
JB: Is targeting the silver bullet for Facebook ads?
AP: Targeting can certainly be done wrong. The most common mistake I see when I go in to audit an account of a client who hasn't been doing Facebook Ads properly is a tendency to target huge, massive buckets of audiences. Honestly, that's not very different than boosting.
I suggest starting out by selecting all website visitors for 180 days. I want Facebook page engagers for 90 days. I want Instagram page engagers for 90 days. And I want my email list.
Do that and that's technically your middle of the funnel. Then, I take all of those audiences and I create Lookalikes off of them. In essence, I'm running the same structure but top of funnel is Lookalikes, and the middle of funnel is the actual people.
Then, you get into retargeting at the bottom, which is for people who haven't actually gotten across the finish line. You can reach out to them.
JB: Can you explain Lookalikes?
AP: Lookalikes is one of the most powerful tools that Facebook can offer you. You give Facebook a seed audience and say, "Go find people who look, act, and behave like these people do."
Meta pixel tracking is even more powerful than cookie tracking. When you're on Facebook, you're signed in with your profile. It doesn't matter where in the world you are and what device you're on, you are building data for them on exactly how you behave.
With Lookalikes, you can scale between 1% and 10%, 1% being the closest to the seed audience and 10% being the furthest away.
If you are worried that a multi-million person lookalike audience will be too big (especially useful for brick and mortar businesses), you can also geofence.
JB: What's geofencing?
AP: So, we work with South Boston Animal Hospital. They don't need to be targeting people who are in Los Angeles — they're in South Boston. You have a finite area where people are going to drive from. So, we help bring in net new customers for them by building Lookalikes but then drawing a circle around the actual area.
So, you can do that by zip codes or you can do by radius.
Facebook even allows you to start excluding all current customers so you can focus entirely on finding new people.
JB: So, to go from seed audience to lookalikes, how many people are we talking about?
AP: A 1% lookalike audience should always be about 2 million people.
JB: Regardless of the size of your seed audience?
AP: Facebook will tell you you have to have a minimum of one hundred people in your seed audience to be able to make a lookalike.
JB: So there's enough data?
AP: Exactly. The more people you have in it, the better your lookalike is going to be. So I usually won't make a lookalike unless I have at least 200 people.
JB: Can you talk a little bit about both budget and timeline?
AP: When I start talking to people, I will actually have a couple check-boxes so I understand which way they're ready to go. Because there's boosting, then there's just getting started in Facebook, and then there's going full funnel.
So when you are going full funnel, you have very specific goals that you're going towards.
We work with an organization trying to drive enrollment requests for their online cyber school.
And so for them, I knew that I needed to move them into full funnel. But they actually started out in our Starter Package. If a business has an anemic Facebook page, not a lot of website traffic, followers, or organic posts, they're perfect for a getting started package.
Our Starter Package will set up your business manager, set up your pixel, set up your audiences, and then start amplifying all of your organic posts and blogs so that we can drive traffic and get engagement.
We recommend budgeting $1500 a month towards ad spend to be able to sufficiently get started.
You can't go from zero to trying to spend $5,000 to $10,000 (or more) in a month. Facebook is going to raise red flags. You really just need to warm it up before you're really a candidate for full-funnel
There's also something called "seasoning the pixel," which means you're trying to train the pixel on who are the right people so you can scale up your campaigns and audiences and find the right people. This, too, takes time.
So, you have to think about where are you in your journey of using Facebook ads.
If you are brand new to it or you've really only been boosting and you don't have a lot of engagement or followers or you're feeling like you have lackluster website traffic, a starter package is perfect for you. And you may only need to do it for two months.
If you want to start looking towards full-funnel, that can happen next. You can say, okay, great, I'm going to just get all the groundwork set. I'm going to start seasoning the pixel, building out these audiences, getting more site traffic.
It's all a cohesive circle. You want page engagement and you want website traffic. We build audiences and lookalikes off of that. The stronger that is, the better your chances of having great results for when you move full funnel.
Free Assessment:
How does your inbound marketing measure up?
Take this free, 5-minute assessment and learn what you can start doing today to boost traffic, leads, and sales.
Get Started
Free Assessment:
How does your inbound marketing measure up?
Take this free, 5-minute assessment and learn what you can start doing today to boost traffic, leads, and sales.
Published on October 3, 2019