15 tried-and-true content marketing tactics to never use again in 2021
Content marketing was supposed to be the answer to all of your lead generation problems... so, how's that working out for you?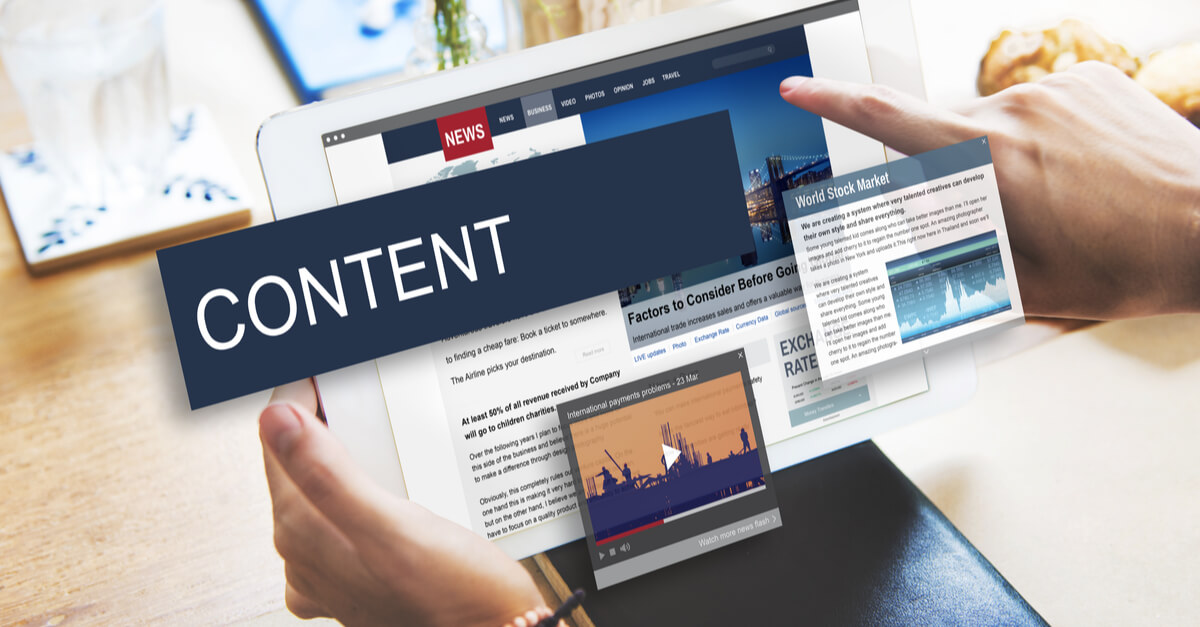 Content marketing tactics to avoid in 2021
Taking a blog-only approach to content marketing
Focusing only on keyword research for titles
Creating content for buyer personas
Using statistics in blog introductions
Steering readers from blogs to landing pages
Relying on your marketing team to come up with content ideas
Trying to write content for the largest possible audience
Using your primary keyword as many times as possible
Using your company as a blog author
Outsourcing your writing
Expecting organic social promotion to move the needle
Promoting content only when it's published
Counting on your top content to perform
Using stock photography for visuals
Ignoring the fact that you're a human
Think about the first time you heard about content marketing and how it was going to be the answer to all of our revenue and lead generation problems. How's that working out for you?
Has growth in your traffic, leads, and sales got you quoting Mean Girls, saying "the limit does not exist"? Have you been able to jump onto an initial sales call and close a big deal in a matter of minutes? Were you able to solve world hunger?
Those, well most of those, were promised to us, if we just embraced content marketing. In reality, executing a content marketing strategy that makes you money is a lot of work.
This is especially true now that everyone who knows the benefits of content marketing is producing content to organically attract their ideal buyers, which makes it more difficult to stand out to your audience. On top of that, there's no shortage of information out there about how to create and execute a content strategy, which makes it impossible to know which way is up.
🔎 Related: What should your 2021 content marketing strategy include?
I'm not going to sit here and proclaim that I know more than any other content marketing guru out there. But, I've worked with IMPACT for a year and a half and am the lead content marketing trainer in these parts.

And in that time I've worked with around 50 small to medium-sized companies across all industries to create revenue-generating content that helps them consistently grow their bottom line.
The vast majority went on to become world-class case studies of how to use content to achieve aggressive traffic, leads, and sales goes. Truth be told, however, some did not. From that, I've been able to come up with a laundry list of tactics to double down on and some to drop like Nelson Agholor in an Eagles uniform.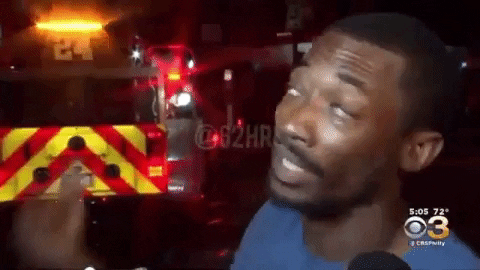 My aim with this article is to highlight the top 15 things that you might still be using that will hold you back in 2021 and beyond. Let's dig in.
1. Taking a blog-only approach to content marketing
Look, I talk every day to clients about the importance of publishing three blogs a week. Writing and publishing articles is a crucial part of your content marketing strategy. But if you stop there, it's like spending 12 hours smoking a brisket and forgetting to make the sides.
🔎 Related: How to write a blog post (+ free blog post template)
If we're keeping it real, I'm all for the entree-only meal. But I see the way people look at me when I buy a rotisserie chicken, and just the rotisserie chicken, for lunch.
Blogs are your entree, in this case. They are great for directly addressing the key questions that prospects and customers have, and providing your sales team with a vast library of assignment selling resources. But you have to provide different types of content to your audience.
🔎 Related: Ultimate blogging tips guide (ungated)
Video is a huge content marketing force that can bring in a new audience and align with how most consumers want to digest content, while also shortening your sales cycle. You can survey your audience to create great original research reports that can help with backlinks. Podcasts can be an opportunity for some businesses.
Don't just create one type of content. This, by definition, limits the potential that you have to speak to your ideal buyers. Get the most out of your content marketing tools and diversify.
2. Focusing only on keyword research for titles
"Let me just pop into SEMrush and find a keyword that I can kind of make work for this article I'm writing." As funny as that may sound, you've probably found yourself in this boat before. I bet you've even tried to rewrite an article to better align with a keyword you found that had some nice search volume.
Keyword research is still important, but you have to combine it with search intent. Otherwise, you will never rank well for the keywords you want, or you might rank well and see really poor engagement numbers.
Simply stated, keyword research will tell you what someone is looking for — what they're physically typing in. Search intent, and intent research, will tell you why someone is performing a search. Without this context, you can't consistently put your content in a position to succeed.
Performing intent research as part of your SEO strategy requires you to go to Google and start learning. Plug in a keyword and answer these questions:
What content is currently ranking high? Are the top results from companies like mine or that offer a similar product or service?
What format/structure is the content in? Are the results leading to product pages, informational blog posts, how-to guides, etc.? This can help guide the strategy on what type of content you can create.
What category does the keyword fall into? Understanding this will help you determine if the keyword aligns with what you can offer. If it's a transactional or navigational search for something that you don't offer, find other keywords.
🔎 Related: Intent research vs. keyword research, planning your SEO strategy
3. Creating content for buyer personas
Remember sitting down to fully flesh out your buyer personas and arguing over whether Store Manager Sandy had two or three kids? Or having a legitimate discussion on what activities Sandy enjoys in her spare time? (Was it golf or making papier-mâché cats?)
I remember when I was first learning about inbound marketing and having my inner voice scream out:
"I mean, I get it. But these people don't even exist! How is this a good use of my time?"
The intention behind buyer personas is great, and it's still a valuable idea (in theory), but relying on these semi-fictional representations will lead to formulaic and generic content that lacks soul and powerful positioning of your message.
Instead of relying on generic buyer personas, analyze the unique audience that would be interested in that piece of content. Dive into the motivation of the reader. Are they trying to solve a pressing problem? Why are they here reading this piece of content? If they're searching this, what can you tell about their current situation?
Ask yourself questions like these:
Who are they?
What do they do?
Why do they care about this topic?
Why are they asking this specific question at this moment?
If they were in front of you right now, how would they be acting?
What follow-up questions will they have?
What objections or resistance might they have?
These questions come directly from the tool that we at IMPACT have used to replace buyer personas, the Content Compass.
Fair warning, you might arrive at some of the same answers, like their function or role. But by using the Content Compass, you'll have a much better understanding of the person interacting with your content. After using the Content Compass, you'll be able to position your content as the solution to their very specific problem.
4. Using statistics in blog introductions
In her Blogging Tips guide, Liz Moorehead teaches six different strategies to help anyone write a powerful introduction.
One of the strategies is to start your article with a compelling statistic, one that provides context as to what you'll talk about or that'll help you explain why it's important. The biggest red flag is that when you cite a statistic like this, you need to properly attribute the source, most often through providing a link.
I'm here to tell you that I've seen this approach completely sink an article if done improperly.
Let's paint a picture. You search on Google for something like "How to add more hours to my day" and find an article that looks great. There's an interesting statistic in the first sentence of the article about how a Lithuanian scientist is experimenting with a 28 hour day.
You click the link to learn more and… then you completely forget what you were doing before and go down a rabbit hole. It's happened to all of us.
I like to think of stats in introductions as a pass/fail exercise.
Failing: You're not sure how else to start an article and search online for something loosely related to your topic to prove credibility.
Passing: Using a stat in your introduction that comes directly from an original research survey that you've done.
Failing:

If you imagine that the reader could become more interested in the stat (and subsequent page) than what they originally came here to learn.

Passing:

A stat that's closely aligned to the topic of your article and creates a sense of urgency for reading your article.
As content creators, the last thing we want to do is send someone elsewhere before they've had a chance to see all the great words we've written. So make sure to limit your usage of statistics in the introduction of blog articles. If you really feel compelled to do this, please for my sanity make sure the links open in a new tab.
5. Steering readers from blogs to landing pages
We all remember reciting the old nursery rhyme "Attract, Convert, Close, Delight." It was one of my personal favorites growing up. Now HubSpot has replaced the funnel with the flywheel, but we all still have remnant practices from the Funnel Era.
After reading hundreds and hundreds of articles, I've noticed that in article conclusions we tend to go for the kill when we show them what their next step is. After all, we're writing blogs that are going to help us sell more. So doesn't it make sense to propose at the end of the blog that someone give us their contact information on a landing page?
🎓 IMPACT+ course: Digital sales and marketing framework for today's buyer
I mean think about your own life. Every time you read an article from a company that you don't know, aren't you ready to give them your email address and move forward in their sales cycle? Didn't think so.
Instead of trying to get as many top-of-the funnel leads as possible and increasing your marketable list of contacts, focus on what your reader wants.
You'll be able to find the right next step by asking yourself a simple question:
"If someone is here reading this article, what's the one thing that you give them that they couldn't help but to click?"
Maybe it's another article where they can continue learning about the thing they're interested in. Maybe it's a calculator on your website where they can get a cost range without having to talk to you.
Regardless of what "it" is, it should be something that's such a no-brainer that any reader would want to click it and continue to interact with you and your website.
6. Relying on your marketing team to come up with content ideas
Your content marketing team creates content, obviously. But that doesn't mean that they'll always know the best type of content to create that will help increase sales. The team that will have their finger on the pulse there? You guessed it, your sales team.
That's why IMPACT customers have been using and succeeding with the creation of a revenue team.
Watch: What is a revenue team?
According to IMPACT Digital Sales and Marketing Coach Chris Marr:
"One of the main challenges the sales team faces is that they need 'better quality leads,' with only around 27% of leads passed from marketing to sales deemed to be qualified. This isn't because the marketing team is rubbish at their job. It's because they are working with an incomplete picture.

If your sales and marketing team are disconnected, then it will be dramatically more difficult for your marketing team to attract relevant and qualified leads.

By leveraging your sales team to bring ideas to the table, you'll know that content could help them save time or close more deals. The marketing team needs to be allowed to push back and say:

'How will this help you save time or close more deals? How do you imagine you'll use this in the sales process?'

If your revenue team can align that this topic has sales value, then it becomes an immediately important topic to write about. This conversation should help you prioritize content that will attract the right type of leads."
7. Trying to write content for the largest possible audience
There's this misconception that in order to make sure you get enough leads and traffic, you need to create content that brings in big traffic and keeps as many people interested as possible.
Well, here's my counterpoint to that. If 95% of them are never going to be a good fit to buy what you sell, what's the point?
Let's say you're a pool builder in Arizona, and you only sell to pool buyers in Arizona. It doesn't make sense then to not specifically and exclusively create content that buyers in Arizona will find engaging. If you get a ton of traffic and leads from North Carolina, it's not going to do you any good.
This will put a limit on the amount of traffic and leads that any one article will produce, but you'll also be dealing only with potential good-fit prospects. Instead of ranking for a bunch of keywords that don't align with people that can make a purchase from you, your results would instead look more like the image below.
The example above speaks to using geo-targeted content, but that's just one way that you should limit the target audience with your content.
Make up a list of characteristics that make up your ideal buyers and create content custom-built for them. Don't get caught up in the allure of high volume keywords that have no relevancy to your buying audience.
8. Using your primary keyword as many times as possible
Content marketing 101 taught us to identify a primary keyword for every piece of content and then use it early and often. I remember slouching in the back of the class playing calculator games and hearing "Use your primary keyword in the H1 that lives at the top of each page. Use it several times throughout the page as well."
Well, this doesn't mean as much as it used to.
Don't try to stuff in a keyword as many times into a page as possible. Focus more on having your titles, subheaders, and body copy speak directly to the reader. Using LSI keywords, or key words or phrases that Google understands the connectivity of, can prove beneficial when trying to provide additional context to Google.
Here's a sneak peek at every single algorithm update from here to the end of time — they will continue to focus on favoring content that's written for readers, not written to game the SEO system.
9. Using your company as a blog author
Have you ever read a blog that was written by "X company" like some collective tribe of employees got together to craft the perfect article?

Well, since Google started focusing on expertise, authority, and trustworthiness (or E-A-T) in a 2018 algorithm update, generic authors have been getting punished. Publishing under a generic author like this has long been what you do if you have an outsourced writer creating content for you.
In the never-ending quest to deliver the best content, written by the people with the most knowledge, Google has reinforced this in search ranking. It's important to have every article written by a real individual in your company. It's also important to be able to prove their expertise somehow.
This could be done with a quick author bio on an article, or a fully-fledged out author page: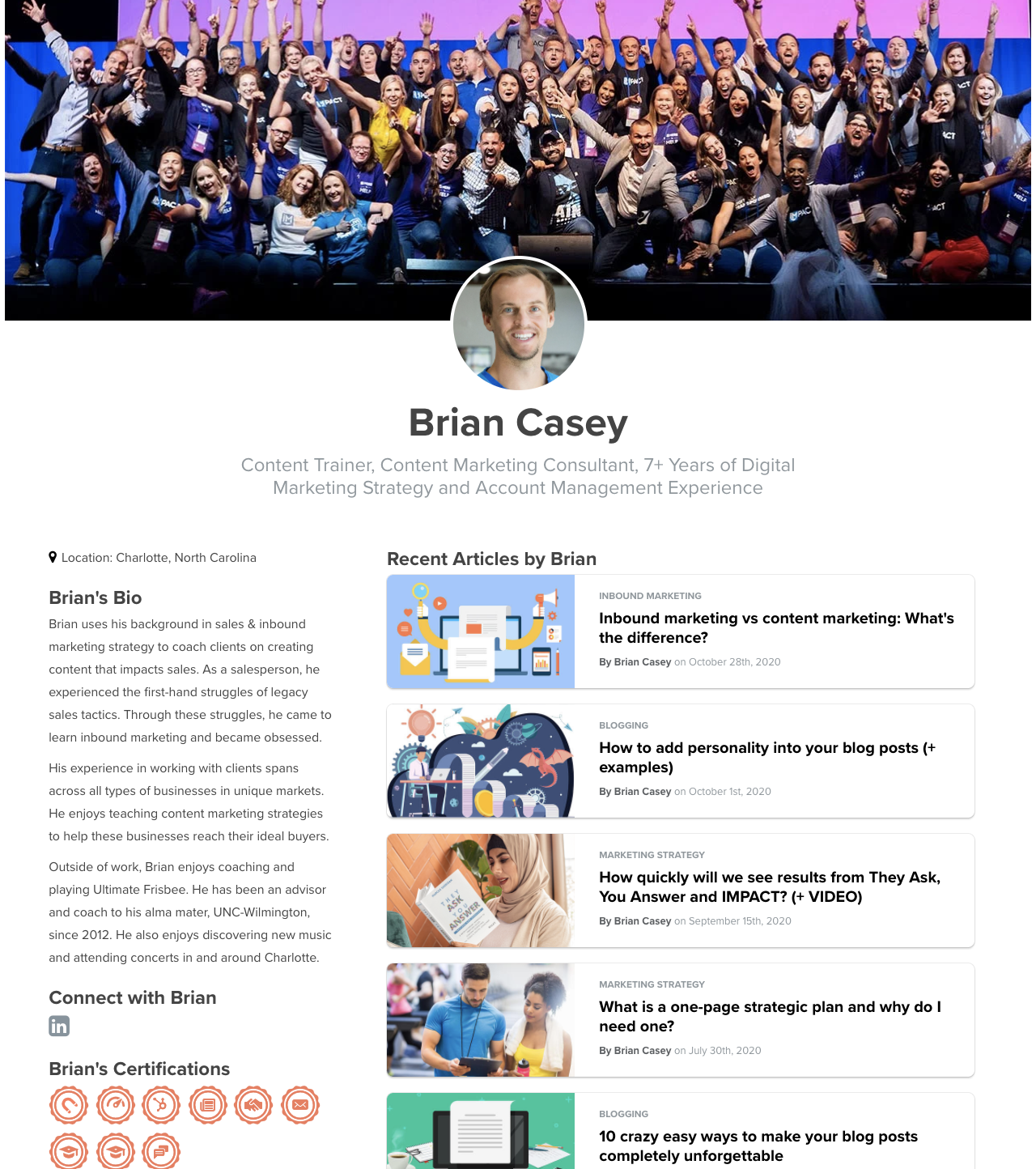 Who's this guy?
Either way, you need to show that your content is written by real people, with real expertise.
10. Outsourcing your writing
We already started talking about the downsides of using outsourced writers a bit when talking about E-A-T. But wait, there's more!
Outsourcing your writer is a common practice when you know you need to write content, but don't have the personnel in place to own this initiative in house. This approach will help you get published content up on your site, but it's money that could be unwisely spent.
Outsourced writers are paid to write good content. They're not paid to understand your brand, your solution, the personality of your company, or your ideal buyers. The result is often generic content that attracts a universal buyer. When that happens, you're likely to see an influx of traffic and leads, but not leads that look and feel like qualified sales opportunities.
Moreover, we've seen time and again that even the best freelance and outsourced writers can still be unreliable and difficult to manage.
All of our case study clients at IMPACT took the necessary step of hiring a full-time content manager to own content creation in house. It's required to write content that attracts the right type of leads for your business.
11. Expecting organic social promotion to move the needle
When you write that newly minted article that you're so proud of, you want to show it off to the world. So you head over to your social media scheduling tool and share on your company accounts.
🎓 IMPACT+ course: Fundamentals of social media marketing
Immediately the world responds lauding your creativity and expertise, engagement on the posts goes through the roof, and the next thing you know you're walking up on stage to receive your award wondering how you're going to thank everyone you need to before the walk off music begins to play.
Or, your mom ends up becoming the only person who likes the post and you begin to question if publishing on social media is worth the squeeze. I'm guessing you fall into this category.
Mari Smith, at IMPACT Live 2019, talked about how social media networks deprioritize organic business posts so much that any post is likely to only be seen a couple of times.

By putting even one dollar in to promote your content, you'll see a massive uptick in views and give yourself a much better chance to be found on social media. It's a small investment to make that can help you get more out of the content you've worked so hard to publish.
12. Promoting content only when it's published
As mentioned just above, you should always promote your content when it's still got that new car smell. But don't limit yourself to promoting a piece of content just at that time.
I'm going to let you in on an uncomfortable truth. For 99% of businesses, not a single person in the world is sitting there continually refreshing the screen to see what you posted next. On every single social media site, you have a finite amount of time for your post to be seen. After a few hours, it'll probably never show up again on somebody's feed.
🔎 Related: Top 5 best business blog topics you must tackle in your strategy
With that in mind, if you have a piece of content that you feel is important for your followers to see, don't hesitate to promote it more than once. When you're doing this don't use the exact same post over and over again. That'll just turn off anybody who might have seen it the first time.
Instead think of how you can write original posts that might capture the attention of your audience.
Maybe one time you highlight a great quote that is sure to make people stop and think. Maybe the next time it's a statistic that will really create urgency around the topic. After that, maybe it's a post that asks a question about the problem someone is going through that your piece of content could solve.
13. Counting on your top content to perform time and time again
We all have those pieces of content that are our blue-ribbon winners. Every time we pull traffic analytics, there are some pages that dependably always come through for us. But, if you rest on your laurels, you could be setting yourself up to see a massive traffic drop or keyword loss overnight.
It's always best to make historical optimizations to your top performing content to make sure that it always contains the most up to date and accurate information. You'll also want to repurpose these top performing pieces of content into other forms: think spin-off articles, videos, infographics, and other premium content offers.
Newly published content pops up on a daily basis. This means that the competition for attention and clicks on Google is always rising. So put in the time to make sure your top performers stay that way.
14. Using stock photography for visuals
"Let me just head over to Shutterstock real quick and grab an image for this article."
As you scroll through you find yourself saying, "I've used that one before. Oh dang it, that one too. That one would be good if it didn't have the keyword I typed superimposed over the image, why would they do that?" Twenty minutes later you land on an uninspiring image that's good enough.
Well, if the images you're choosing are passing the "good enough" test, they're probably also going to be largely ignored by the reader as well. Imagery is one of the first things that catches the eye of a reader and engages them or bores them.
🔎 Related: 6 mistakes you're making with your website imagery and photos
If a potential buyer sees your article on their Facebook feed with a stock image, they're going to continue scrolling. If someone comes to your article from Google and immediately sees an image that screams stock photography, what's to stop them from thinking your content is going to be templated and uninspiring as well.
Seriously, take a look at this super stock-y photo that I found and used as the feature image of this article just to prove a point. This photo is a masterclass of everything you want to avoid in a stock photo.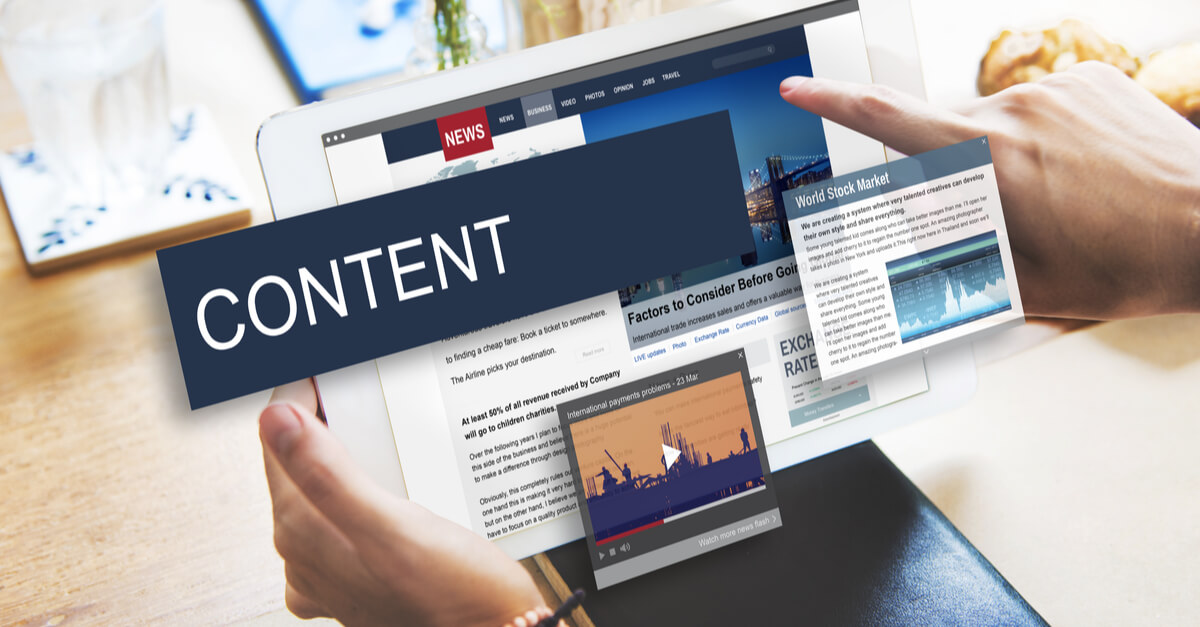 The phone that you waste hours away with every day can take pictures that are good enough to use for your content. Spend some time building a library of photos and videos around your workplace, showing interactions with customers, or showing how to use a product you sell. This shows that you've taken the time to care about the user experience and will draw your readers attention from the start.
It's important to note that it's way harder now to get custom photography now that we're all trapped indoors. I get it. But as we plan for 2021 and hope that one day we can see another human, unique and personalized photography has benefits and should be on your radar.
15. Ignoring the fact that you're a human
I've written about this before. Here's a quote from my article, on the 13 best website copywriting tips for digital marketers.
"There is this really strange dynamic that occurs when marketers start to write online. It's like there's a competition to see who can write the most convoluted statement with the fanciest words. We turn into robots devoid of emotion who are programmed to generate business website copy."
When you start to write, keep in mind that you're writing to another person on another screen in another place. Content has the potential to truly make personal connections without direct communication.
Just take a look at an email that resident content wizard Liz Moorehead received after someone attended her session at Video Sales & Marketing World.
Write conversationally, write like you're writing to a friend, and emphasize who you are personally in your content.
The right content marketing approach in 2021
You've just been given a hurricane of content marketing no-no's to think about. Your head might be spinning. Really you want the step-by-step playbook of how to turn your content marketing efforts into real results.
And you might want to kill me for saying this, but your next step isn't going to come from a pre-built playbook. Instead your next step should be determined by your answer to one question:
What's the biggest content marketing struggle that I'm having right now?
Maybe you're seeing a bunch of leads come in, but none of them feel qualified — if so, try limiting the breadth of who you're speaking to. Are you getting high engagement on blogs, but then having everyone drop off before becoming a lead? Take a look at what you're setting up as the next step.
The best piece of advice that I can give you is to take immediate action if you're not seeing the game-changing results you expected. The group of you that read this article and make an action plan right away will have the advantage. The group of you that read this article and hesitate will continue to see lackluster results.
Free Assessment:
How does your inbound marketing measure up?
Take this free, 5-minute assessment and learn what you can start doing today to boost traffic, leads, and sales.
Get Started
Free Assessment:
How does your inbound marketing measure up?
Take this free, 5-minute assessment and learn what you can start doing today to boost traffic, leads, and sales.
Published on December 11, 2020