How to start a Google AdWords PPC (pay-per-click) campaign in 5 basic steps in 2020

How to create PPC campaigns
With a little know-how, a good strategy, and an understanding of the basics, you can get started with Google AdWords without stressing out.
Start with keywords
Strategize your content
Create awesome landing pages
Focus on quality score
Review, react, repeat
Managing a pay-per-click (PPC) campaign can be an intimidating task.
Knowing that you're playing with you or your client's money is enough to scare many marketers away from PPC.
But rest easy.
With a little know-how, a good strategy, and an understanding of the basics, you can get started with Google AdWords without stressing out.
What is Google AdWords and what do I need to know?
Before we dig into strategy, let's get a bit of background first.
AdWords is Google's advertising system that allows users to bid to the highest spot on their Search Engine Ranking Page (SERP). The better your ad relevance and higher your bid, the more likely you are to rank well, and receive more clicks because of it.
The service of Google AdWords itself is pretty popular, holding 30% of the global net ad revenue in 2015 (SearchEngineLand) and with good reason. Depending on your market and how active your competitors are, it can be a great way to get in front of your audience as they search as long as the cost of acquisition makes sense for your business.
As of March 23, 2016, the average cost of acquisition for search ads was $59.18 (eMarketer). Not too shabby.
That makes having an optimized campaign all the more critical. Now, let's review the AdWords structure real quick.
Campaigns and Ad Groups
The foundation of AdWords is fairly simple.
Campaigns are your highest bucket, followed by Ad Groups, which is where your ads live. Like everything in inbound marketing, your Ads are fueled by keywords.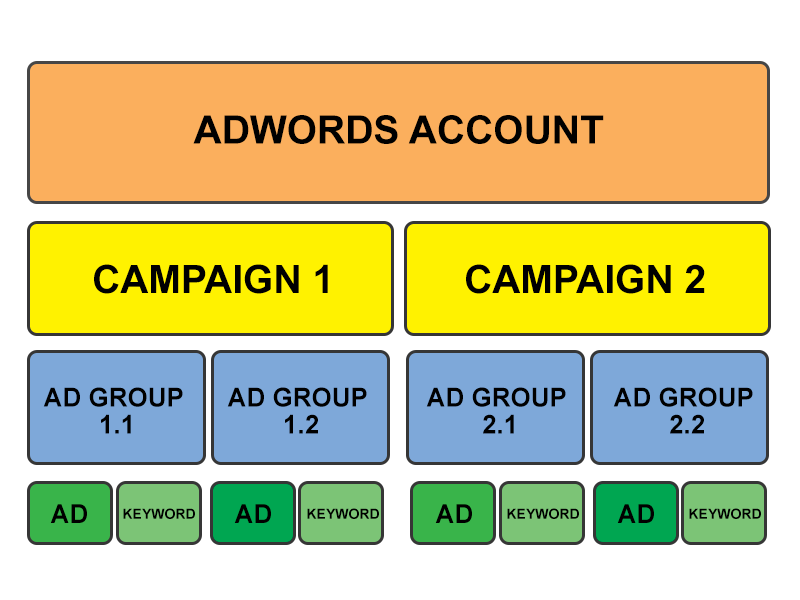 Campaigns are great for organizing at a high level, and can be targeted to specific locations. This is also where you'll set the type of search network (group of search-related websites where you ad can appear) you'd like to use.
Each Campaign has a dedicated per day budget that you'll manage your Ads to.
Now, Ad Groups allow you to focus on specific variations of your campaign.
For example, if you sell office supplies, your campaign might be Pens, Pencils, & Markers and you'd have Ad Groups setup for Fine Writing Pens, Pencil Sharpeners, Colored Pencils. That allows you to focus your keywords, which can help keep your campaigns running efficiently.
Now that you have the structure of Adwords, let's review 5 basic steps that will help you create an optimized campaign.
1. Start with keywords
When creating your Ad Groups, it's very important to have focused Keywords. By grouping similar keywords together, you'll set yourself up for very relevant ads, which helps you achieve a high Quality Score (we'll go over these later).
Sticking with a max of 15 keywords will help your Ad Groups perform at their peak level. Then if you build your Ad Groups from these lists, your campaigns will be laser-focused, from top to bottom as well.
Keyword Match Types are variations of your keywords that can help you to improve your campaign's performance even further. The 4 Match Types available are:
Broad Match

Modified Broad Match

Phrase Match

Exact Match
Below, WebRanking.com created a great reference infographic to help you choose and use the right Match Type for your campaign. In it, you can easily see the hierarchy of Match Types, from general to extremely specific, and how yours might fit in.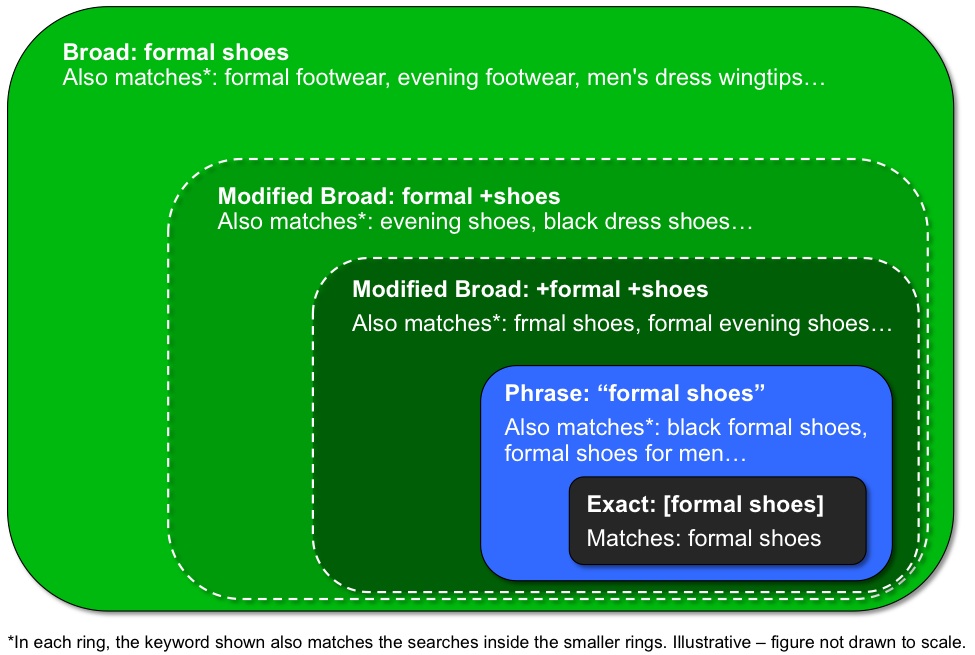 Another important Keyword type you should have in mind is the Negative Keyword. This is a list of Keywords you don't want your Ads to display for.
Using negative keywords helps to keep your campaigns in line with your objectives. If you're only selling pens, but ads keep being triggered for pencils, that's not going to help you. Adding pencils as a negative keyword would be a wise choice.
2. Strategize your content
Starting with keyword groups before writing your ad copy is a good habit to get into.
In your group, you'll want to include some of the more popular keywords in your Ads to, as you guessed it, keep everything relevant (are you noticing the trend yet?).
It's also critical to think like your user when strategizing your content.
What type of pain are they feeling that you solve? What will resonate with them? What messaging would stop them and make them say "That's exactly what I need"?
These are great things to consider when writing your ad copy, but unfortunately, it's usually easier said than done once you bring the AdWords character limits into play.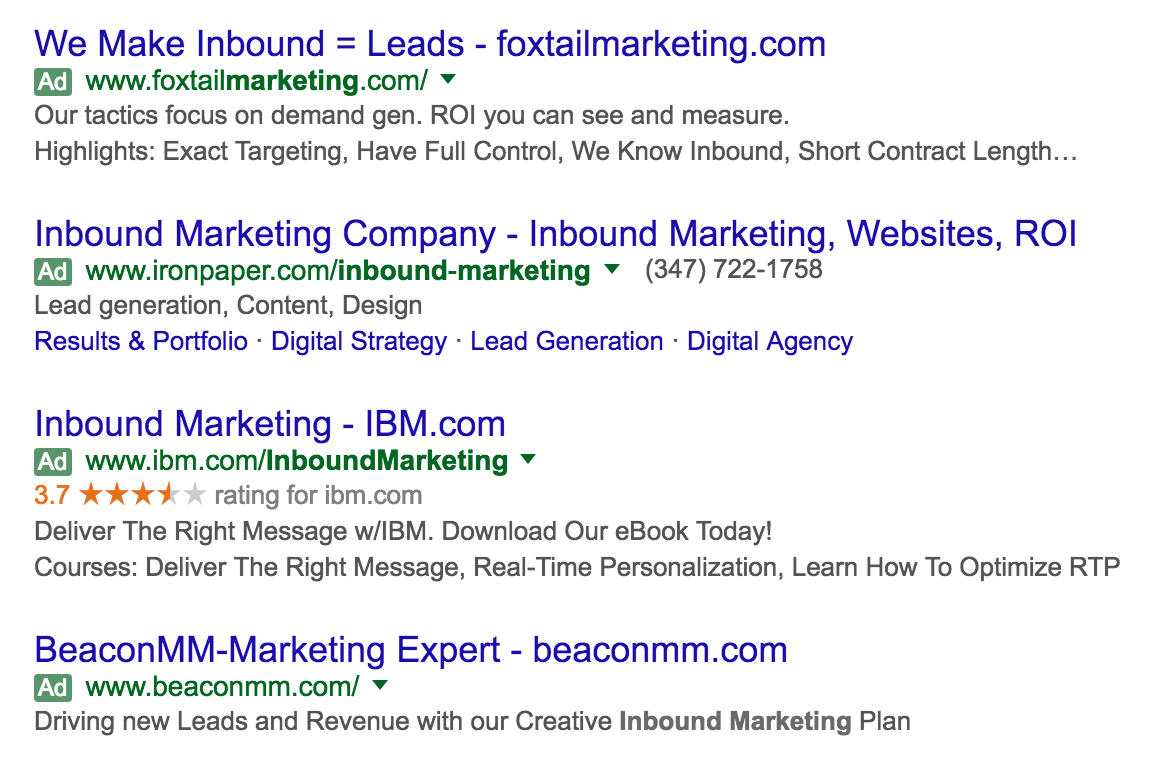 Long story, short (no pun intended), you don't have much space to work with.
Google AdWords limits you to:

25 characters for the headline.
70 characters of ad text. (35 per line including spaces)
35 characters for the Display URL.
I know what you're thinking, 70 characters?! That's less than Twitter!
That's why the majority of your PPC effort will likely be spent creating remarkable, compelling ads, with 35 characters per line.
Your ad copy is one of the most important parts of your campaign, but where the user lands after clicking your awesome ad requires just as much effort.
3. Create awesome landing pages
The goal of any AdWords campaign is conversions.
In order to achieve this, you have to create strong, persuasive content for your PPC landing page that is keyword optimized and relevant to your campaign.
Your content should show the value the user will get, and incorporate your Ad Group's keywords so Google knows it's a logical next step from your Ad.
Implementing some key best practices here in terms of landing pages is important:
For instance, your PPC landing page should have a clear conversion point, usually a form or a phone number for people to get in touch with you. If you do opt for a phone number, this should be a Google tracking number so it gets logged as a conversion in your campaign.

Including a visual can also help keep your user engaged and reading long enough to want to take action, but overall, you want to keep everything as clean and organized for the user as possible. Any confusion or distraction could potentially push them away.
4. Focus on quality score
Quality score is by far where the your attention should be when reviewing and optimizing your campaigns.
Your quality score is a measure of how relevant your ads are to your keywords and landing pages, and Google breaks them down into three main factors:
Expected CTR (click through rate)
How many clicks google is projecting for your keywords.
How relevant are your ads to your keywords/landing page?

Does your ad include your keyword?

Do your keyword appear in your ad and your landing page?
How relevant is your landing page to the keywords/ad group?

Is there good keyword density?

Is there a clear conversion point?

Is the content unique and well organized?
There are a few other contributing factors that come into play, such as your Ad's historical performance and your geographic performance, but those three are where your focus should be.
Make sure to monitor your quality scores closely so you can catch and drastic changes early on. Having a high quality score can lead to a lower cost per click (CPC), better ad position, and lower overall bid estimates, but leaving a major change in quality score untouched could lead to a much higher CPC than you were anticipating, ruining even the best marketer's ROI.
5. Review, react, repeat
As with everything you do, you should review your AdWords data and pivot as much as needed.
Once you launch your AdWords campaign and allow some real data to flow through, you'll most likely find you need to make some edits.
Quality scores will shift, CPCs will go up, and keywords will change, and you need to be ready to adapt.
Focus on your conversion rates. If you're getting tons of clicks but no conversions, you may be attracting the wrong audience, or your landing page copy may not be valuable enough to entice them to convert.
Set reminders for yourself to review your campaign data each week and don't be afraid to make changes.
Experiment with different landing page content, try new ad copy, or even add a different modified keyword. Small changes can sometimes make a huge difference when it comes to optimizing your Google AdWords campaign.
Featured Image Created with Placeit.net
Free: Assessment
Does your website build trust with buyers and bring in revenue?
Take this free 6 question assessment and learn how your website can start living up to its potential.