"6 Elements of Product/Service Videos" [Film School For Marketers Podcast, Ep. 2]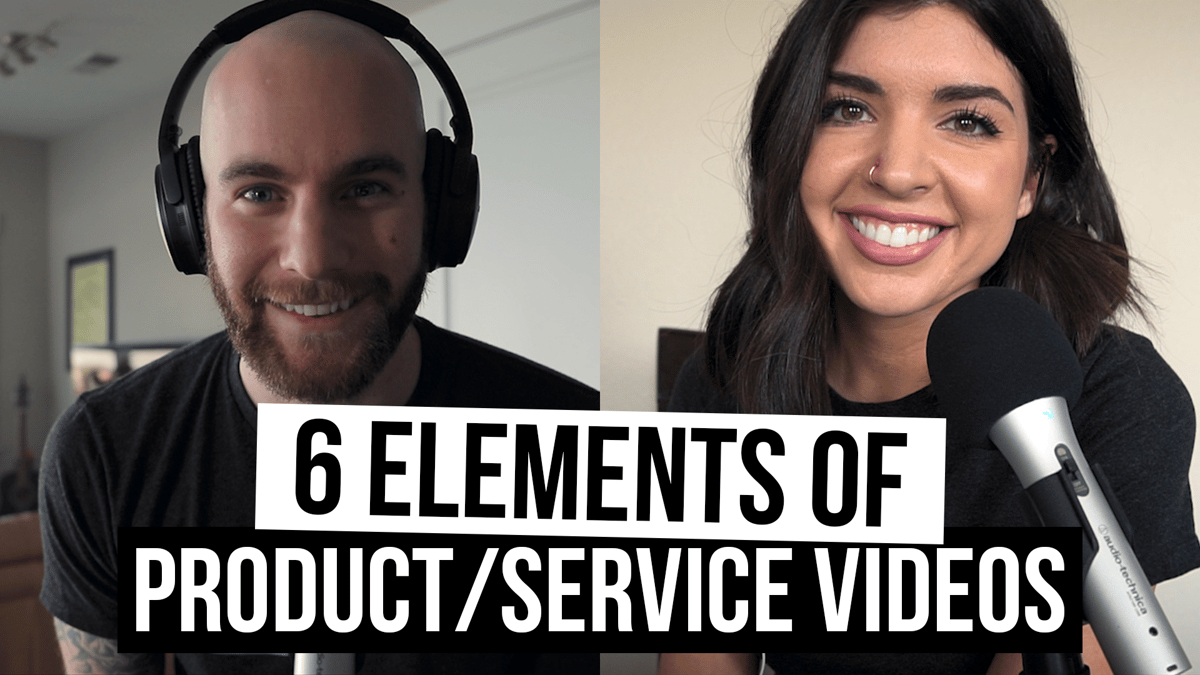 Product/service pages are some of the most trafficked pages on your website.
Additionally, using great product/service videos in the sales process can radically improve trust and revenue.
In this episode of Film School for Marketers, Myriah and I discuss the six most important elements of product/service videos and how to cover them.
Spend Valentine's Day with Wipster and IMPACT
Want to learn how to insource your video production, what kind of videos you should be making, and a framework to do so?
Join Andre van den Assum from Wipster and I for a special webinar event...
"Make Better Videos In-House: How to Create Consistent Video Production."
Thursday, February 14, 2:00 PM EST
Now, onto how to make GREAT product/service videos!
Listen to the full episode here (or scroll down to watch the video):
What is a Product/Service Video?
No, we're not talking about advertising product/service videos like Dollar Shave Club.
Great product/service videos aren't salesy. They must be helpful videos that describe your offering properly and educate your consumer better than anyone.
They can be used on product/service pages as well as before or during your sales process.
What Should a Typical Product/Service Video Include?


1. What is it?
Don't assume that the consumer knows your stuff as well as you do.
We've got to be good at describing things with such clarity that your viewer could clearly articulate your offering to someone else.
For a product, this might include technical specs, software versions, product dimensions, and other similar descriptors. For services, this might include deliverables, duration of engagement, or time ranges.
2. Who's it a good/not good fit for?
Who is this product/service made for?
Certainly, it's been created to solve a challenge or provide a solution. The question is, for whom? Likewise, it's likely not a good fit to solve someones challenge. It's okay to say that. In fact, it's encouraged.
3. Why do I need it?
Without this particular solution, what challenges may continue to present themselves? Are there things the consumer might not be taking into account when assessing your offering? This is your chance to clearly present your value. So, make it count.
4. How much does it cost?
Surely, this is your favorite, right? We all must get good at discussing cost/price about our products/services.
To be clear, you don't have to say the price. In fact, "it depends" may be the best answer you could give. No matter how you approach the subject though, it must be addressed.
5. When should I buy it?
There has to be a moment when the time is right. "Now" isn't acceptable. As a consumer, don't you wish someone would have told you that you were OR were not purchasing a solution at the right time?
6.

How do

I buy it?
This one is simple, but an incredible opportunity to be helpful.
What is the buying process typically like? How long does it take? How do I get started?
Once again, don't assume that the viewer is either familiar or comfortable with your sales process.
Five More IMPACT Podcasts

The IMPACT Show (with Steph & Nick)
Hosted by IMPACT's Director of Audience Engagement Stephanie Baiocchi
& Inbound Marketing Strategist Nick Sal, this podcast explores a unique theme or concern each week that's plaguing growth leaders.
Inbound Success Podcast
What do the most successful inbound marketers do to get great results?
Each week, host Kathleen Booth interviews inbound marketers on the front lines with one goal: to "peel back the onion" and learn what works, what doesn't and what you need to do to really move the needle.
The Hubcast Podcast
If you're looking to stay up to date with all the latest and greatest HubSpot tools, tips, and tricks then you've come to the right place. Your hosts from IMPACT are ready to help you take your business to new heights of inbound marketing awesomeness!
Creator's Block Podcast
Justine Timoteo and Marcella Jalbert come together each week as hosts of the Creator's Block podcast with different perspectives, but a common goal.

They want to empower marketers and agency creatives -- designers, developers, content creators, and everyone in between -- with honest conversations about doing the work, big ideas, and agency life.
Content Lab
Are you a marketer or content manager struggling to create content? Are you tired of high-level "insights" that don't give you anything to do right now to make your content better? If so, Content Lab is for you.

Join IMPACT Director of Web & Interactive Content Liz Murphy each week for shenanigans, candid conversations with fellow content nerds and industry experts, and the inside scoop on the tools and tactics that will transform you into a content rockstar.
We'd Love To Hear From You!
First, subscribe to our Film School For Marketers Podcast.
Second, leave us a review on iTunes or share the love with fellow marketers and sales professionals who could benefit from our content.
Lastly, have a question or idea for a future episode? Let us know!
Free Assessment:
How does your sales & marketing measure up?
Take this free, 5-minute assessment and learn what you can start doing today to boost traffic, leads, and sales.