6 reasons why your virtual sales training was a flop
Are you scratching your head as to why the virtual sales training you invested in didn't pay off? If so, you're not the only one. Here are some of the reasons why.
Marcus Sheridan also recommends this free course: Fundamentals of Virtual Selling.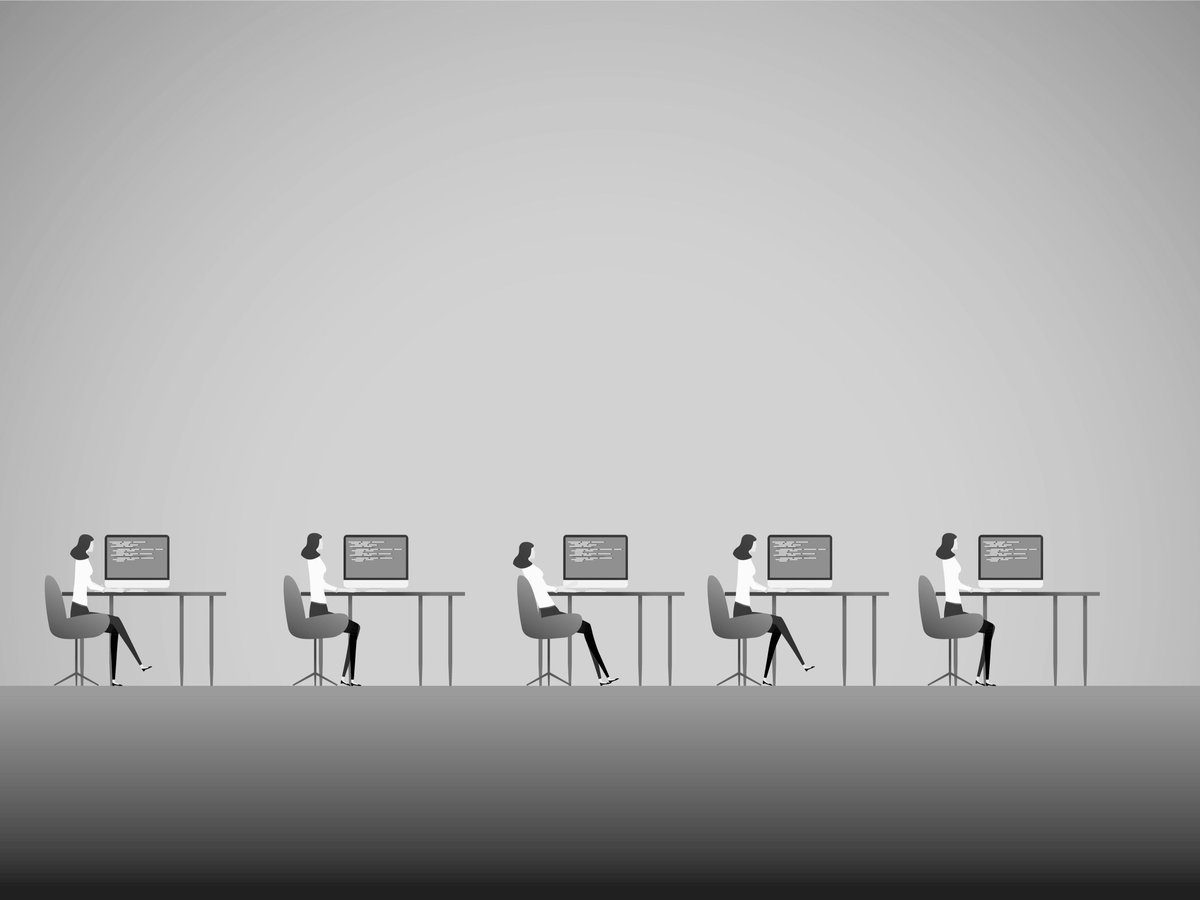 When the pandemic hit with full force back in March, companies scrambled to figure out how to do business in a world where face to face meetings were no longer possible.
Pro Course: Fundamentals of Virtual Selling
Some organizations jumped into the fray, embracing the new normal as best they could. Others tried to wait it out, hoping a few weeks would go by and things would start to settle down. Well, a few weeks turned into more than six months.
Now, even with promising vaccines in production, I think we're all aware that COVID will have an effect on business for a long time to come.
During the past months, many organizations sought to get ahead of the pandemic by investing in sales training. After all, if your sales team could keep bringing in revenue, you could stay afloat. But in too many cases, that training was sub-par, and it didn't have the effect business leaders were hoping for.
Does this sound familiar to you? Did you invest in virtual sales training, only to find that your sales team was not fully receptive and that no improvement materialized?
Here are six of the reasons why your virtual sales training might not have delivered the results you hoped for.
1. Too much emphasis on technology
It sounds great, right? We'll train you on the latest technology! Not so fast.
Virtual sales training tends to focus too heavily on the technology. Sure, you need some familiarity with the platforms you'll be using, but that should only take up 10% of instruction.
Rather, virtual sales training needs to focus on the skills and best practices that make clients feel comfortable, build connection, establish trust, and play to the strengths of the medium.
The finer points of Zoom can be covered in a video on YouTube. Virtual Sales training is best optimized when it's focused on the people and processes, not the platforms.
🔎Related: 6 top questions about jumping to virtual sales in the age of coronavirus
2. A firehose of training
Too often, because organizations are "rushed" to get results, virtual sales training takes place over the course of a single day, with hours of instruction and tips mixed with platform walkthroughs and other sessions.
One day of training will not do the trick. A one-day session is not going to allow your team to fully learn and adopt new techniques. Sure, they might pick up a few best practices, but they're not truly able to grow their core skill set in a day.
For some, a full day of training can feel overwhelming, and it can leave them feeling behind in their regular work. They're likely to spend the next day playing catch up from the training day, too, which adds to the wait before they put things into practice.
We've found that a more effective training model occurs when you break up the instruction into multiple shorter sessions.
Rather than one six hour day, imagine six one-hour sessions that focus on learning a skill and then practicing it. Then, at each next session, there's a recap and additional practice. Sales reps can bring in video recordings of their sales calls so they can watch the game film with teammates, observe improvement opportunities, and receive feedback from their trainer as well.
This feedback loop is critical because this is where true learning takes place.
If you can see your own missteps, you're less likely to make them again. The right coach can help you see the ways you can be better and suggest the skills you should work on.
This way, the best practices being taught are much more likely to become a part of a sales rep's repertoire.
🎧Related: (Podcast) How to seamlessly transition to virtual selling
3. No role-playing means no adoption
The most effective way to truly learn a new skill is to practice it. I know role-plays get a bad rap. I know people roll their eyes when they think they have to pretend their colleague is their client. In these situations, though, role-plays are not the problem.
Rather, the problem is that the company has a poor role-play and training culture.
This is because most organizations don't do role-plays well.
The fact is, role-plays are critical to professional improvement.
Sales reps talk and listen for a living. They need to anticipate customer questions so they can be ready with a complete answer to whatever comes up.
Practicing a new skill with role-plays makes each person more likely to use that skill in their actual work. Effective virtual sales training must employ some form of role-playing to truly encourage adoption.
Without role-play activities, the lesson just stays on the shelf getting dusty.
And let us not forget — it's always better to make mistakes with peers in a role-play than it is to make those same mistakes with a customer when revenue is on the line.
4. Only focusing on the negatives
The COVID pandemic has been a devastating tragedy in our country (and around the world). I'm not suggesting otherwise.
However, the more we focus on the negative repercussions of quarantines and shutdowns, the more we ignore the potential upsides for our professional work.
When virtual sales training puts the focus on all the limits placed upon us by the quarantine, it's starting off on the wrong foot. Yes, we are limited from meeting face to face. Yes, we are not going to any in-person trade shows anytime soon.
But, we are witnessing a sea change in the way people sell, buy, and interact. This presents tremendous benefits and opportunities.
What are those upsides?
With virtual sales, you can easily have more touch points with your clients. You can respond more quickly. You can have less downtime between a form fill and an explore call.
How can you use the situation to enhance and improve your sales process? You begin to see opportunity when you focus on what you can do, not what you can't.
The reality is that when you meet with a person over video, you can often times offer them more value than at a face to face meeting. Smart companies are embracing that vision.
🔎Related: How does a virtual sales demo work during the COVID pandemic?
5. Ignoring email marketing
A troubling truth about modern sales pros is that very few have been trained to write prospecting emails.
In the COVID world, inboxes are more flooded than ever, so prospecting for salespeople over email has become extremely difficult.
Data shows that small tweaks to emails — from subject lines to message copy — can have huge effects on open rates and click-through rates.
For many of your customers, their buying experience starts with an email. You need to make sure you're creating the right experience from the get-go so they feel valued and understood. You need to think of your sales process as one cohesive journey, from initial contact to close of deal. With that mindset, you start to really see how email marketing is a core part of your sales process, virtual or otherwise.
Therefore, sales training must not ignore this aspect of sales.
🔎Related: What is 1:1 personalized video training and do I really need it?
6. Training too big a group at once (if you have a larger team)
If you have a big sales team — say, more than 30 — you should focus on training smaller groups instead of everyone at once.
First, train a subset of influencers, early adopters and high performers. Select those that would be most receptive to new training, and let them go through the process. Then, let them put the new techniques to work.
Sales teams always have a competitive streak in them. Once this subset starts experiencing success with what they've learned, the rest of the team will be eager to try the same training.
If your goal is full adoption and buy-in, this is the way to do it.
📚Related: (Free course) Fundamentals of the Visual Sale
Facing the pandemic — the stages of grief
Psychologists talk about the five stages of grief:
Denial
Anger
Bargaining
Depression
Acceptance
People facing the pandemic have gone through a similar cycle. In a way, they're grieving for the way life was before everything went upside down.
We have to accept that the world has changed, and our professional experience will change accordingly. Your sales team needs to embrace this new reality in order to thrive in the months ahead.
However, too many businesses have engaged in ineffective virtual sales trainings that don't end up improving sales processes and closing rates. If you're in that position, don't lose hope. Better sales results are possible. Revenue growth is possible. It all starts with coming to terms with the new reality and realizing that we need to adjust our processes to prosper.
If you'd like to learn more about IMPACT's virtual sales training, contact us today.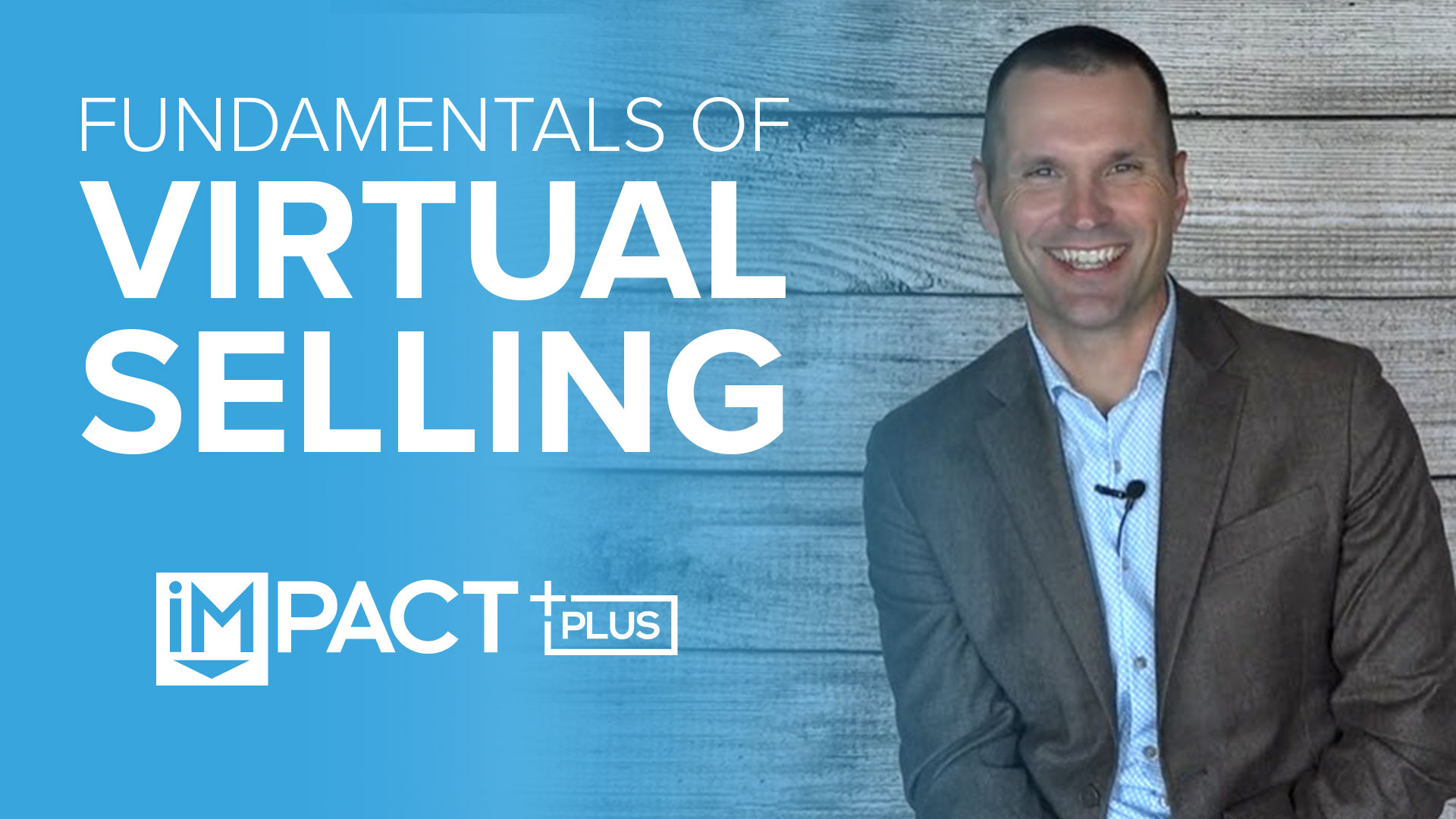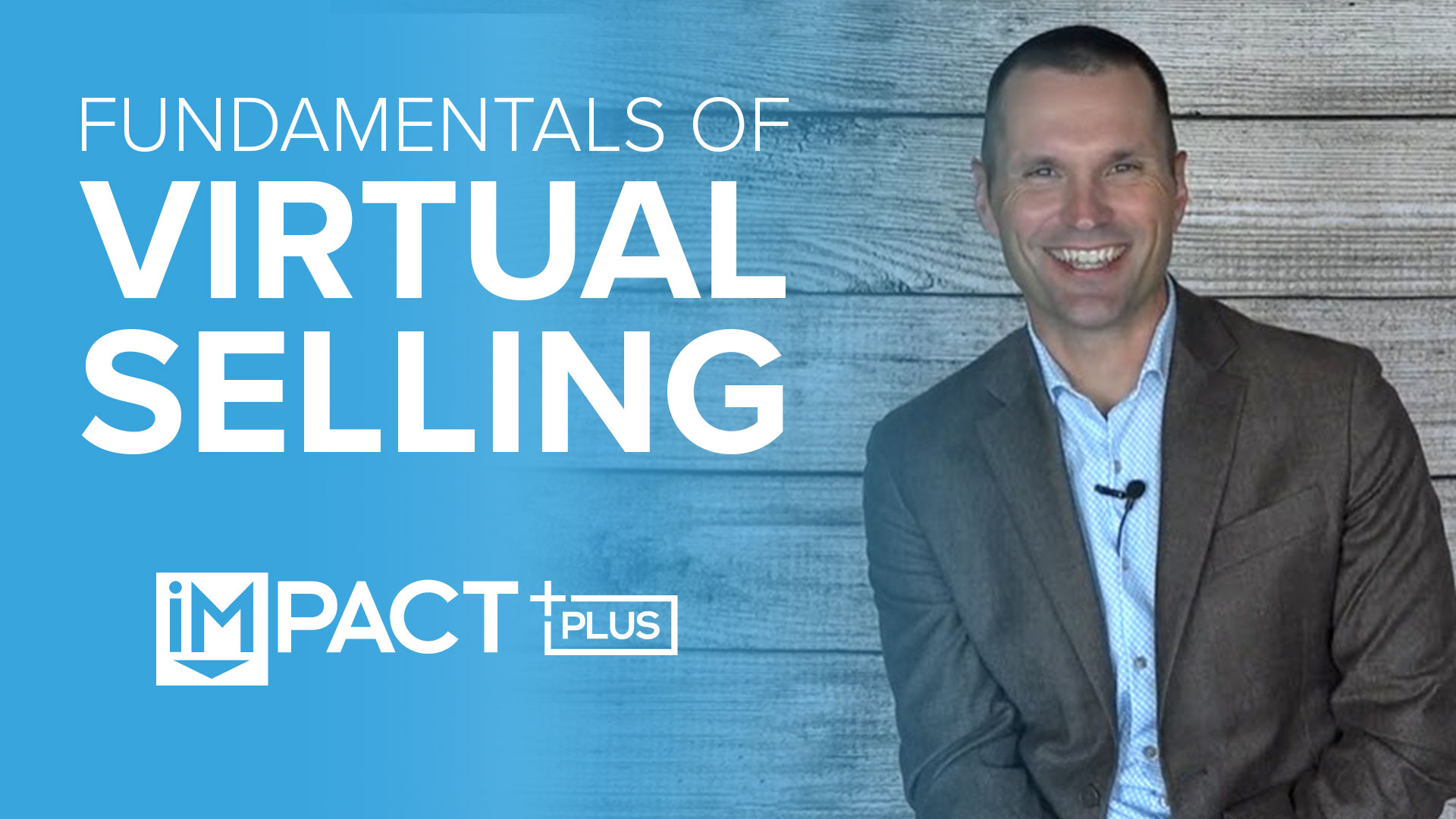 Pro Course:
Fundamentals of Virtual Selling
Learn how to close more deals in a video-first, virtual workplace
In this course, you will learn:
How to use video through different stages of the sales process
How to use video to improve engagement and increase revenue
How to measure your success with virtual selling
Published on November 25, 2020