4 reasons your They Ask, You Answer content isn't working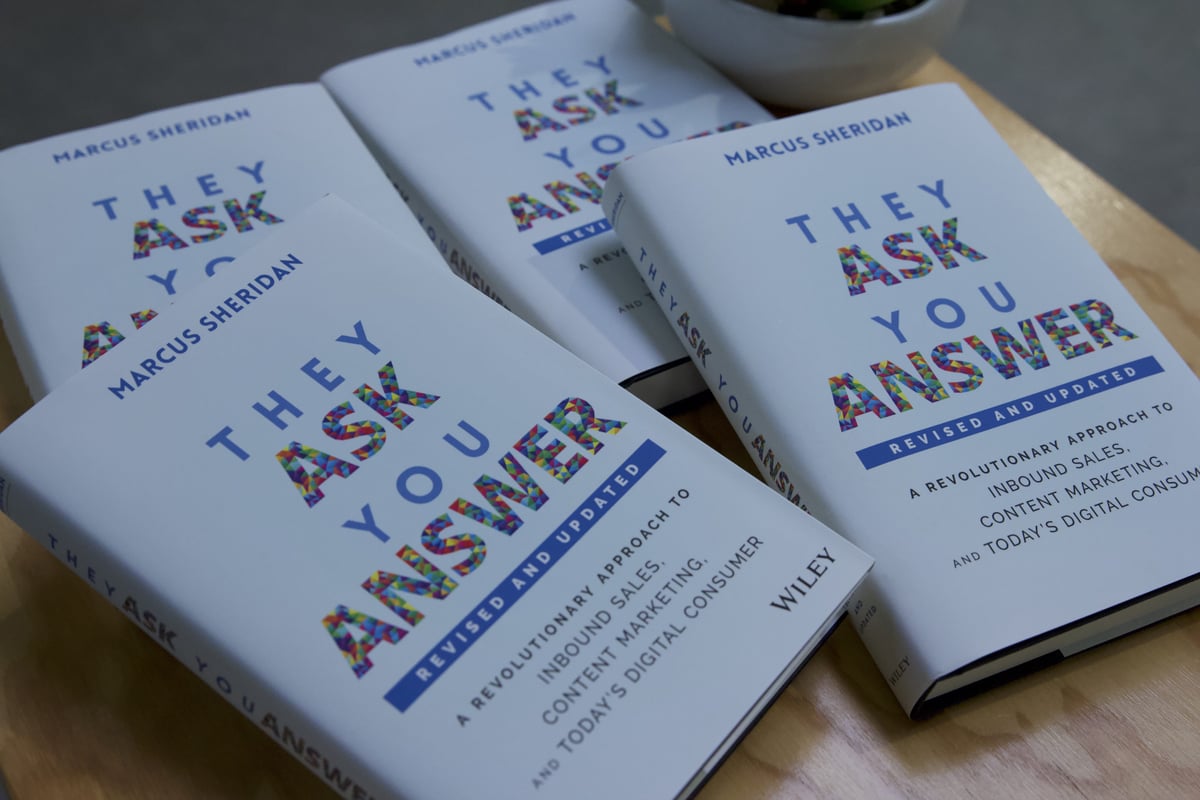 "Connor, thank you for a great tryout. However, we are sorry to tell you that you didn't make the cut. We hope to see you back next year."
My final tryout for varsity baseball had not gone as planned.
I attended every pre-season practice. I went to the gym for the first time ever so I could put on some muscle and showcase my work ethic.
I worked my tail off and this is what happened?
After that, any motivation I had to keep trying went right down the drain.
Walking out of the meeting, I was somewhere between crying a river and punching a hole in the wall.
This happens in a lot of different situations throughout our lives — family, friends, even work. You put your heart and soul into a goal and it just doesn't work out.
This feeling, whether you want to call it failure, shock, sadness, frustration, or some combination of them all, SUCKS.
If you write content for your business, you've probably felt it too.
You put a ton of effort into creating a piece of content that will help your company close deals and drive sales.
Then, it doesn't do that at all.
Sometimes, it doesn't even make it onto your website.
Trust me, you are not alone in this struggle, especially when writing They Ask, You Answer content.
Not only is writing They Ask, You Answer content difficult, but it is also against the norm of traditional sales and marketing tactics.
"I read They Ask, You Answer. I did everything Marcus told me to and he said it would work, but nothing! "
Whether you are just starting your They Ask, You Answer journey or have been trying it for ages and are convinced it isn't right for you, there are common challenges that all content creators struggle with.
As a content trainer (and attempted baseball player), there are many challenges, even some not covered in They Ask, You Answer, that myself and our team at IMPACT have worked through with clients.
Here are the four biggest challenges you must overcome to write great They Ask, You Answer content.
1. Following the wrong metrics
Hypothetically, if I were to ask you "what is the most important metric for your content marketing efforts?," what would your answer be?
Take a moment and really think about what metric(s) you look at and get excited about.
If at any point you thought of views, you are not writing great They Ask, You Answer content.
While traffic is important, it is not the end-all-be-all metric.
As a writer of They Ask, You Answer content, your top goal should not be to get thousands of views, it should be to drive sales.
Consider this comparison:

While Article A is driving a lot more traffic to your website and ranking for more keywords, Article B has a lower bounce rate, more form submissions, and significantly more revenue attached to it.
Let's think this through.
Article A is bringing a lot of people to your website, but less than 7% of them are staying on your site after visiting this page (bounce rate).
Further, less than a third of a percent of the audience is actually submitting the form linked at the bottom of Article A, meaning consumers are not reading it or seeing the value in taking the next step.
These two metrics alone can help explain why the article is driving such low revenue.
On the other hand, Article B has less than one-third of the viewership compared to Article A, yet greater than 15% of consumers are sticking around on the website after reading the article and nearly the same amount of consumers still submitted the form.
That is HUGE!
Even if fewer people are coming to the website from that article, they are much more qualified and interested in what the company has to offer by either reading more pages on the website or actually filling out the form.
Now, which is doing better in terms of keywords?
In my opinion, there are pros and cons to each article's keyword rankings.
Article A was written to be a catch-all of keywords, meaning it goes after both short and long tail keywords to draw in a larger audience.
Article B is more focused on targeted, long-tail keywords that have a higher search intent — meaning people who have intent of buying or taking action.
Here's an example.
As a dog lover (it's literally in my LinkedIn bio), I want only the best for my pups, especially their beds.
This is the current situation at home.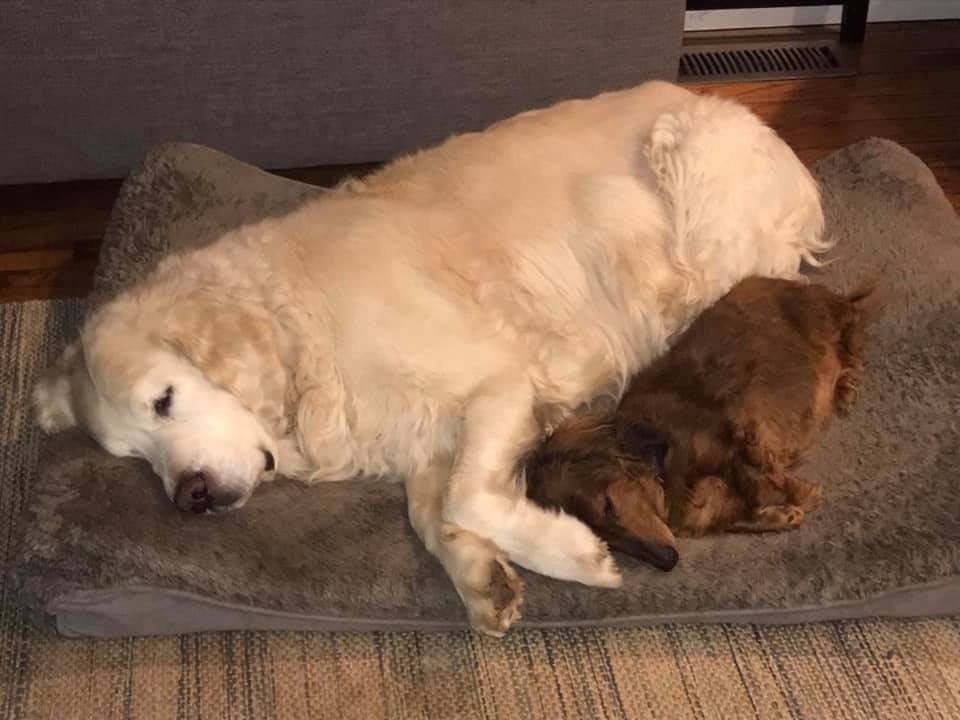 Teddy (Golden Retriever) and Mr. Rochester (Dachshund)
While they are super freaking cute, I have to be prepared if one of them needs a little more personal space and wants their own bed.
When I want to find what dog bed to buy, I might start by going to Google and searching "dog beds."
What do you think would come up if I searched that?
Try 275 million search options.
---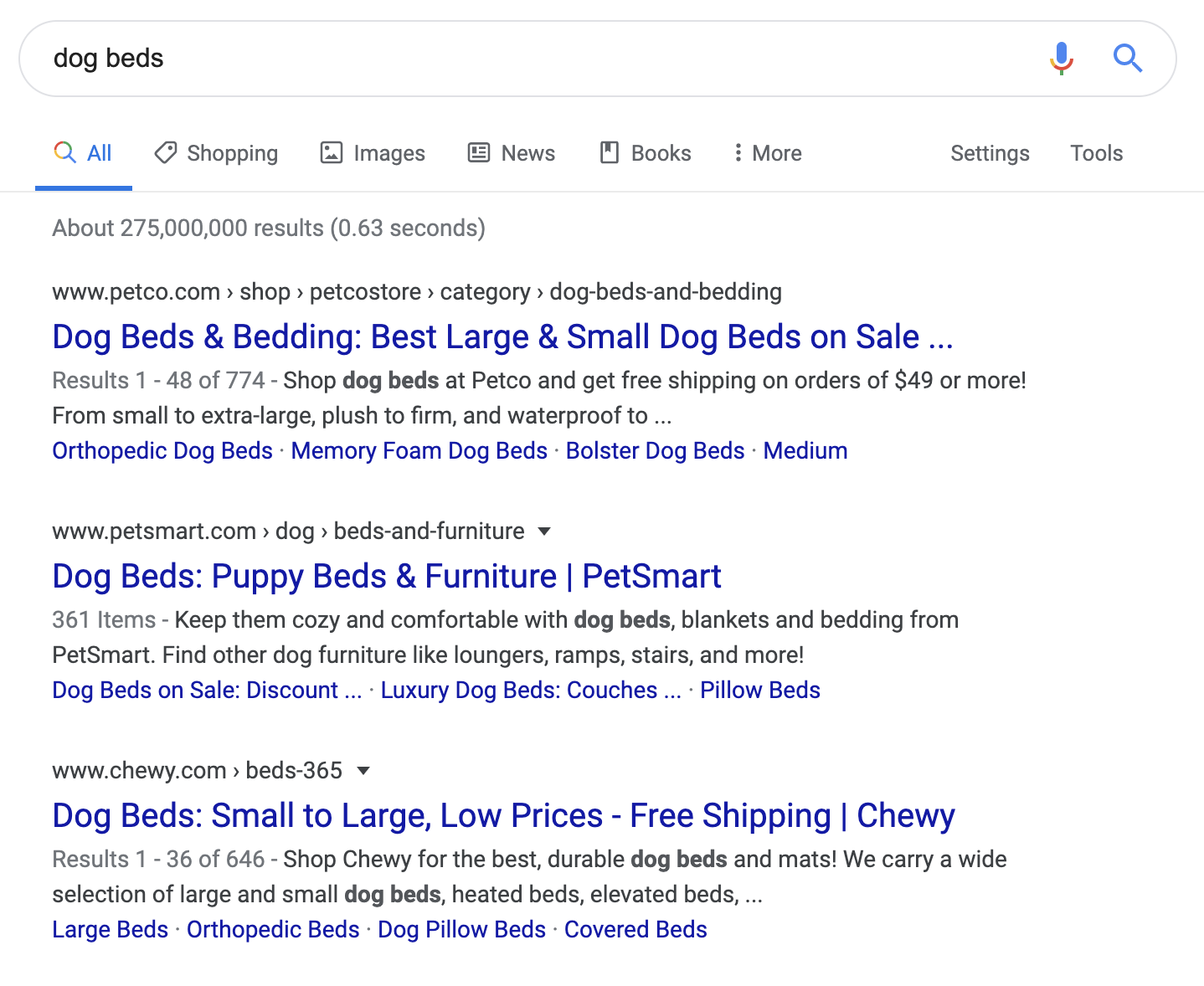 ---
Google: Dog beds
The issue is, I want to find the perfect bed that my dogs will love.
This search captures dog beds of every shape and size. The first and third search results actually say the words large and small together.
Alternatively, I could do a search for something more suited to my needs and intents, like "best dog beds for golden retrievers" or "blue dog beds for dachshunds."
---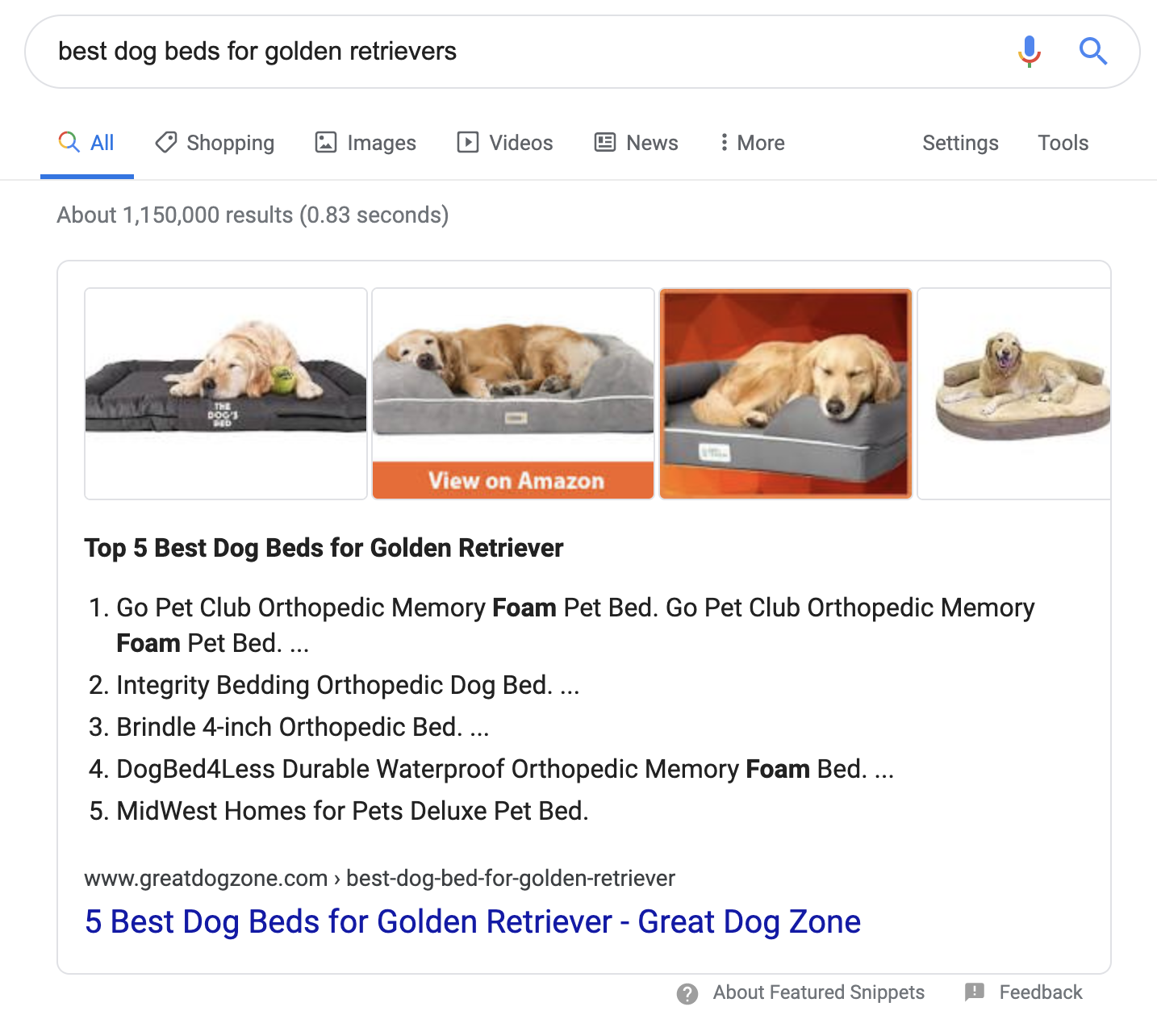 ---
Google: Best dog beds for golden retrievers
As you can see, we now have just over one million search results and the first option in the featured snippet isn't a Petco or Chewy, it is a dog bed review site with the top brands for golden retrievers.
These types of searches show I actually intend to make a purchase; they are longer and specifically show what I'm looking for.
By adding qualifiers such as "blue" or "for golden retrievers," my search becomes much more detailed and focused.
Given this example, clearly looking solely at keyword ranking also is a vague and flawed metric.
Flashy vanity metrics like traffic and number of keywords no longer hold the same value, so you as a content creator must find ways to adapt.
How do you overcome this challenge?
The easiest way to begin working on this issue is by focusing on creating content that will work in the sales process. (hint: Articles built for Assignment Selling).
Assignment selling is a pillar in the They Ask, You Answer journey.
Your content, while it may not drive a ton of traffic early on, can still be mobilized as a great sales tool.
Put it this way: If your sales team can't go out and use a piece of content with a prospect the same day it is published, it's likely not They Ask, You Answer content.
Another priority to keep in mind in overcoming following the wrong metrics is learning how to implement intent research vs. keyword research into your SEO strategy.
This differentiates They Ask, You Answer content from regular old content. Think back to our example of buying dog beds. How much more traffic do you think Petco.com is getting compared to Greatdogzone.com?
I'd wager a nice George Washington $1 bill you had never even heard of Greatdogzone.com.
But, which website did I go on and find the answer to my question?
In my mind as a consumer, Greatdogzone.com is a thought leader in this space. They gave me the best options for my dog and even made an easily digestible list for me to review.
This is the magic of They Ask, You Answer content.
If I can buy the bed they recommend right on their website, I am going to do so. If I can't, I'm going to find the bed they recommend somewhere else and remember them as a resource the next time I need a dog bed.
Understanding intent research will not only help you in learning the keywords your consumers are searching for, it will force you to focus on the metrics you need to care about when it comes to They Ask, You Answer.
By focusing on the right metrics and publishing content that will drive them, you will see a shift in your content.
You will have the right consumers finding and interacting with your content, and eventually even converting into paying customers.
2. Being too Sales-y
Now, picture it: After studying for countless hours what intent-based SEO is and how to master it, you finally get a hit.
They see your site in their Google search results and can't wait to learn more, but, in all the excitement, you pushed the sale right away and forgot the most important part of writing They Ask, You Answer content.
The purpose of writing They Ask, You Answer content is to answer the consumer's questions and become the most trusted voice in your space.
You build trust by being educational and empowering the consumer to make the right purchase decision for themselves, even if it's not necessarily in your favor.
Continuing with the dog bed example, rather than pushing your own sales agenda and telling them, "We have the best gosh-darn dog beds on this side of the Mississippi," you provide them the value they are looking for by simply answering the question they asked.
If you answer that question in an honest way that doesn't come off as a sales pitch, your content will be more impactful for consumers AND drive more sales.
How do you overcome this challenge?
Put the consumer first.
Plain and simple.
When you don't put the consumer first, your content becomes not only sales-y, it becomes focused on you instead of the consumer.
The moment your content becomes about you and not the consumer, they begin to lose trust in you. Their ears perk up at your money-focused intentions and you lose their attention. .
To fix this, I recommend using the 80/20 content rule: 80% educational, 20% promotional.
By not forcing yourself in front of them, they will develop trust with your organization and think of you as more than just a service provider out to take their money.
Another solution to keep in mind, you want to write content that is prospect-focused rather than customer-focused.
To clarify, answer the questions that prospects are asking, not your paying customers.
For They Ask, You Answer content to succeed, you need to focus on what the industry is asking or dealing with.
Paying customers, assuming you are the established voice in your space, will vouch for you and can come to you directly with questions.
Inversely, prospects will want to get a lot of information before even considering buying from you. When you are the source of that information, that is when the magic of They Ask, You Answer comes alive.
3. Working with Subject Matter Experts
Have you ever wanted to write a piece of content for your company, but not had the expertise to do it yourself?
When this happens, you have two, maybe three options.
Don't write the article
Research the article
Find a subject matter expert to help
Option 1 is not an option for a They Ask, You Answer content writer like yourself. You and I both know that Marcus would be deeply disappointed if you didn't answer every question you or your company gets asked.
So, you have two options and now must decide whether you spend hours working with Google to come up with the answer you want, or you reach out to a subject matter expert at your company for a 30-minute interview.
Does that sound biased? Oops, it is.
As someone early in my career, I know it can sometimes be intimidating to talk to subject matter experts, especially when they may not want to give you the time of day because they are "too busy" or "have more important things to do."
However, when you are working to write great They Ask, You Answer content, you want to provide the strongest and most accurate answers to the consumers questions.
As a content manager or content writer, you may not have expertise in the actual services of your organization.
Rather, the most accurate, representative information will come from those SMEs working in and on the business every single day.
They can provide an answer very different to what Google will find as they will respond with how your business would answer the question, not how everyone else on the internet would.
How do you overcome this challenge?
Wouldn't it be great if leadership could just flex their muscles and tell those SMEs "you have to do this or else."
That'd certainly make it easier, but that is rarely the case and still not the way to approach this situation.
Instead, you need to be able to showcase the value your content will bring to them and the organization.
Going back to what we discussed earlier with assignment selling.
If you are working with a sales team member who is an expert in a specific sector of your product offerings, you will need to present the content as a tool that is helping make their job easier and will close more deals, faster.
There are two key pieces of this conversation: sell the value and here is how.
Selling the value means presenting this as an opportunity for them to show their expertise in the field and reminding them of the pain point(s) they may be feeling.
Here is how means the homerun moment where you share how this piece of content fixes that pain point.
I imagine the conversation going something like this:
Content Manager: "I am working on this article about XYZ project and I could really use your insights into some of the issues."

SME: "I'd love to help, but I'm simply too busy right now. You work here, don't you know how it works? Or, better yet, can you Google it instead?"

Content Manager: "I really think it has to come from a subject matter expert like yourself, especially since you drive that part of the company.

Plus, it will help save you a lot of time during your prospecting calls since you can share it as a valuable resource with that potential customer.

Rather than have that same conversation over and over again, you can send it to them to read ahead of your call so you can get down to the more important parts of the conversation and close the sale."

SME: "It will do that? If this article will make my job easier, I'll make 15 minutes later this afternoon. Talk to you then."
By showing that this isn't just a passion project of yours and instead is a valuable resource for other members of the organization, you will get the time with the people who matter most in creating this great content.
Once you have landed that time with your SME, it is important to know how to produce content with your SME and how to gauge the type of interaction you will have with them.
Depending on the situation, you may grab 30 minutes to sit down for a formal interview, record an audio discussion that you can transcribe and clean up for publishing, or you may just get an email thread of questions and answers.
Whatever style works best for you and the SME, be sure to make the most of that interaction.
This article from our very own John Becker provides an in-depth guide into how you can effectively make content from your SME.
4. Slow review process
I've seen great content be written and never make it to the website for weeks or even months on end because of the review process.
Have you ever heard the phrase, "Too many cooks in the kitchen?"
In some cases, there are serious log jams when five different people have to review a single piece of content before publishing.
When the goal is to publish 2-3 pieces of content per week, that is 15 pairs of hands per week that touch the content.
That is inefficient and will very likely slow down your process dramatically.
On the reverse side, there are also times where one individual, usually a manager or director level employee, commits to reviewing the content but fails to make it a priority. The content sits collecting virtual dust in their inbox and doesn't see the light of day for weeks.
Your great piece of content is now roadblocked, which is both frustrating and demotivating.
How do you overcome this challenge?
You must have a dedicated leader in the content process.
Increasing headcount can be difficult for some organizations, but finding someone who can be fully committed to the content is the key to thriving in your They Ask, You Answer journey.
The role of the content manager is much bigger than just putting words on the page. They are responsible for tasks such as:
Writing the content
Researching keywords and topics worth writing
Editing content that you or other employees write
Publishing the content to your website
Interviewing SMEs and other interested employees
Planning the content strategy
Delegating assignments
Tracking and measuring the results of the content
Reporting on results and content performance
SEO tracking to win the keywords that matter
Training and development of new or interested content writers
By having someone in place to manage this full-time responsibility, you make it easier for all parties to be held accountable.
Think back to the bottleneck example I mentioned earlier. If you write an article that your sales team and your company needs, you now have someone in place to push it to the finish line.
Your company can't make the excuse of "not having time" because it is someone's job to spend all their time on it.
There must also be a clear and efficient process for getting the content produced and published to the website, starting with a content calendar template.
From the discovery of the question you wish to address to hitting publish on the website, you must have all your ducks in a row so every person involved in the process can hold each other accountable.
Without the people and process in place, your content will get slowed and your They Ask, You Answer strategy will slow with it.
None of these challenges can be overcome without full organizational buy-in
All of the challenges come back to this very statement:
A lack of buy-in will lead to a lack of success in implementing They Ask, You Answer content across the board.
They Ask, You Answer is not just a content strategy, it is a business philosophy.
Before anything else, your organization must be bought into the They Ask, You Answer journey.
If the whole team is not bought into the process, your individual effort will not shine through. It will be that much harder to get cooperation from subject matter experts; that much harder to identify goals and metrics; that much harder to avoid being overly promotional, and that much harder to get the content onto your website.
My wishful baseball career ended with me putting my best foot forward, but still not succeeding.
That isn't saying I did everything right and the coaches made a mistake; That is saying that I individually did what I could — but you can't win a baseball game with one player.
It takes a whole team effort, just like it does with They Ask, You Answer.
Once you overcome the challenge of organizational buy-in and you will be far better equipped overcome the other challenges of writing great They Ask, You Answer content.
Free Assessment:
How does your sales & marketing measure up?
Take this free, 5-minute assessment and learn what you can start doing today to boost traffic, leads, and sales.